Aura Bora is a type of herbal sparkling water that appeared in Shark Tank Season 12 Episode 11. The founder of Aura Bora was able to pitch the judges of Shark Tank very well and they also got a lot of funding. In this article, I am talking about Aura Bora Shark Tank Update, Net Worth, Deals.
Aura Bora is a small soda startup made from herbal ingredients, says the founder. This sparkling water is healthy and comes in different flavors, there are many users who are using this sparkling water in their daily life.
Aura Bora sparkling waters are in high demand in the American sparkling waters market.
What Is Aura Bora?
Every person in his daily life consumes soft drinks whether it is soda or sparkling water. Aura Bora is an American company that makes plant base sparkling waters in different flavors.
There are many sparkling waters available on the market, but these Aura Bora's products do not contain any calories, sugar, or sodium and have no artificial taste.
Aura Bora's products are made from plant-based fruit and flavor, currently, this company is making its own product in different varieties.
Many flavors of 'Aura Bora' are currently running in the market like Peppermint Watermelon, Basil Berry, Cactus Rose, Lemongrass Coconut, and Lavender Cucumber.
| | |
| --- | --- |
| Company Name | Aura Bora |
| Founder | Maddie Voge and Paul Voge |
| Founded | 2019 |
| Business | Type of Herbal Sparkling Waters Made From Herbs, Fruits, And Flowers |
| Asked For | $150k For 5% equity |
| Final Deal | $200k For 15% equity |
| Shark | Robert Herjavec |
| Episode (Shark Tank USA) | S12 E11 |
| Air Date | Jan 22, 2021 |
| Business Status | In Business |
| Website | Visit Website |
| Headquarters | San Francisco, California, United States |
| Lifetime Worth (Sales) | $30M *estimated |
| Go To Amazon | Buy Now |
| Watch On | Amazon Prime |
Who Are the Aura Bora Founders?
The couple is the co-founder of Aura Bora. The husband's name is Paul Voge and the wife's name is Madeleine Voge. Both of them started this startup.
Paul has studied Bachelor of Arts in Political Science from the University of California, Los Angeles.
After completing his graduation, he started Aura Bora Startup in 2019, Paul is the Co-Founder + CEO of this company.
Success Story Of Aura Bora Founders
Before starting this startup, founders Paul & Madeleine had analyzed the sparkling water market and found a need in this market.
The founder tested the flavors of many sparkling glasses of water and found that most of the sparkling waters contained artificial flavors.
After testing the market, the founder started experimenting with how to make sparkling water natural. Many flowers of Aura Bora were made, in today's time, people are very fond of its flavor.
Aura Bora Funding And Investment
According to a CrunchBase report, Sparkling Waters Company has raised $2 million in funding in 1 funding rounds.
5 investors have invested in this startup, their names are SKU, Scott Eastwood, Marley D. Williams, Balanced Breakfast, and Leon Chen.
| | |
| --- | --- |
| Funding Rounds | Total Funding Amount |
| 3 | $10 Million |
| | |
| --- | --- |
| Investor Name | Funding Round |
| SKU | Seed Round |
| Scott Eastwood | Seed Round |
| Marley D. Williams | Seed Round |
| Balanced Breakfast | Seed Round |
| Leon Chen | Seed Round |
Did Aura Bora Get a Deal on Shark Tank?
The founders of Aura Bora appeared in Maddie Voge and Paul Voge in Shark Tank Season 12 Episode 11. He had asked for a $150,000 deal for a 5% share in Shark Tank for Sparkling Herbal Waters. Shark Robert Herjavec has invested an amount of $200,000 in 15% shares in this Aura Bora company.
Kevin, Mark & ​​Robert tested this drink product and they liked its different flavors very much. The sharks were very happy seeing the packaging it had.
Kevin said that Paul he has signed a lot of beer deals in Shark Tank, But if he sees any scope of this business then he will invest in it.
Paul said that he is already working with the two largest natural foods distributor in the United States. It sells its product in 488 different stores.
Paul says he has sold $200,000 from January to January 22, 2021, in different stores. He promoted his product in the telemarketing model and gave a free test of this product to many people, the feedback of the people was good.
The founder raised a fund of $700,000 and for Aura Bora's business, the founder is a 74% shareholder of the company in January 2021.
The cost of manufacturing this drink product is 57 cents and they sell it to the distributor for $1.15 which their margin is 50%.
FY21 His target was set that he would sell from $500,000 to $600,000. He has already spoken with a number of big-box retailers, Paul says he will make between $2.5M and $3.5M by 2022.
Lori Greiner had to say about Aura Bora that she likes this name, its packaging is also very good, But before making any investment, it is necessary for them to have passion in it. So she is not passionate about its flavor, so that's why she is out of this offer.
Daniel Lubetzky said that it is a beautiful brand but it is very difficult to get success in sparkling waters, because of which he is out.
Mark Cuban said even now it is making more than 50% profit but when he scales to go national the profit margin will also decrease. There are going to be a lot of challenges in this and it is very difficult, so because of this, it is out.
Kevin O'Leary loves the beverage industry and wants to invest in Aura Bora too, so his offer is $150K for 5 cents per can until $300K is recouped + 5% equity.
Robert Herjavec had to say about Kevin's offer that he had not heard such a Worst offer in his 12 years. Robert thinks this product is ready to go national, if it goes fast then it could be a crush. He believes that it is right to go slow. His offer was $150k for 12% Equity.
Paul did not accept Kevin's royalty deal because it is not possible for him to take it now.
So Founder Paul made a counter-offer to Robert for $200k for 12% of the equity, But it backfired for Paul as Robert made another counteroffer of $200k for 15% of the equity.
In the end, Paul singled out Robert's offer of $200k for 15% equity. This turned out to be a great and fun deal at Shark Tank.
🤑); – Super Potty Trainer Shark Tank Update
What Happened To Aura Bora In Shark Tank?
Even after many years have passed since Aura Bora came to Shark Tank, this Robert has not closed this deal since July 2022.
Robert has been guiding Maddi Voge & Paul Voge on how to grow this vision business internationally.
By the end of 2021, this company has made its product available in 1500 stores, this includes 7-Eleven, Sprouts Farmers Market, Whole Foods, and Fresh Thyme stores.
He has added some new things to his business, it is working in direct-to-consumer sales efforts with a subscription service.
On June 8, 2021, Aura Bora raised $2 million in a seed round from Sku, Venture, and Balanced Breakfast, according to Crunchbased.
In July 2022, this company is in profit, its headquarter is in San Francisco, California, United States.
What's new on Aura Bora
As of April 2023, the company's product is available in 5,000+ retail stores nationwide, including Publix, Green Star Food, Downtown Pharmacy, Whole Foods, Thrive Market, Sprouts and many more.
In the current situation, this company is growing very well. According to Curnchbase;s report, the company raised a total of $10M from various investors in the Series A round on Sep 21, 2022, led by Siddhi Capital.
Aura Bora Shark Tank Update
Maddie Voge and Paul Voge both gave a very good presentation after entering Shark Tank with their company. They explained to Shark about their business idea and also told about how much revenue they have made so far.
For more information we are following Maddie Voge and Paul Voge and their company.
What Is the Net Worth of Aura Bora?
As of 2022, Aura Bora Worth is estimated at $20 Million. Market Value of Aura Bora is very high The demand for Aura Bora's product is very high in the sparkling waters market of the United States, people are liking it.
This product is sold in bulk in the online market, its 1 case contains 12 Sparkling Waters cans, which cost $30.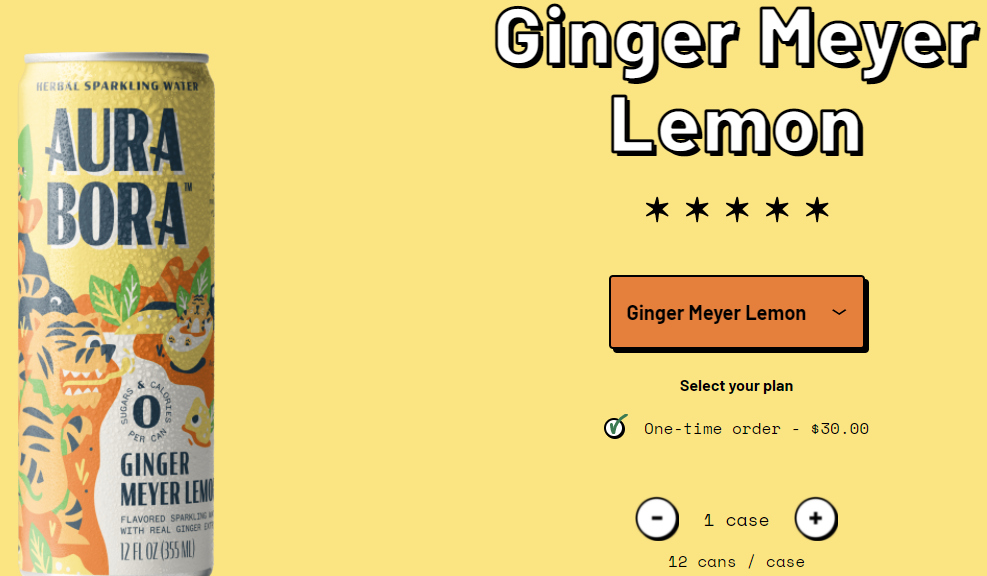 Is Aura Bora Still In Business?
The Aura Bora startup company was started in California in 2019 and is currently being sold in 5,000 retail stores in the US.
The demand for this product had increased a lot during the Pandemic time, now this company is running on growth potential.
Yes, Aura Bora is still in business as of April 2023.