Dino Don is a robotic custom design dinosaur manufacturing business. Dino Don appeared in Shark Tank Season 12 Episode 25 and asked the Sharks for $500,000 for 10% equity at a $5 Million Valuation. This business works to give a real look to dinosaurs through its animation design.
Don Lessem, the founder of this business idea, had been science advisor to the original Jurassic Park film and to Universal and Disney theme parks. Lessem knows everything about Dinasaure because he has already been a researcher.
Dino Don mainly designs different types of Robotic Dinosaur species and provides them for Touring Exhibitions & Museums etc.
Due to the Jurassic Park movie, the popularity of dinosaurs has become very high. Many people are having a desire to see this dinosaur too.
Although dinosaur species lived between 245 and 66 million years ago, none of them exist now. In recent times, dinosaur skeletons are being found in many places, this includes North America, China, and Argentina.
Still, we have not got much information about this dinosaur, scientists are doing research on dinosaurs.
In today's time, there are very few museums that are settled on dinosaurs. People are very curious to see dinosaurs. All the museums related to Dinosaurs are skeletons, there is no real look that feels like Dinosaurs.
To solve this problem, Dino Don, Inc presents Real Look Robotic Custom Design Dinosaur. Shark Mark Cuban invested $500,000 for 25% equity in this business. This company has made $10 million in annual revenue by September 2022.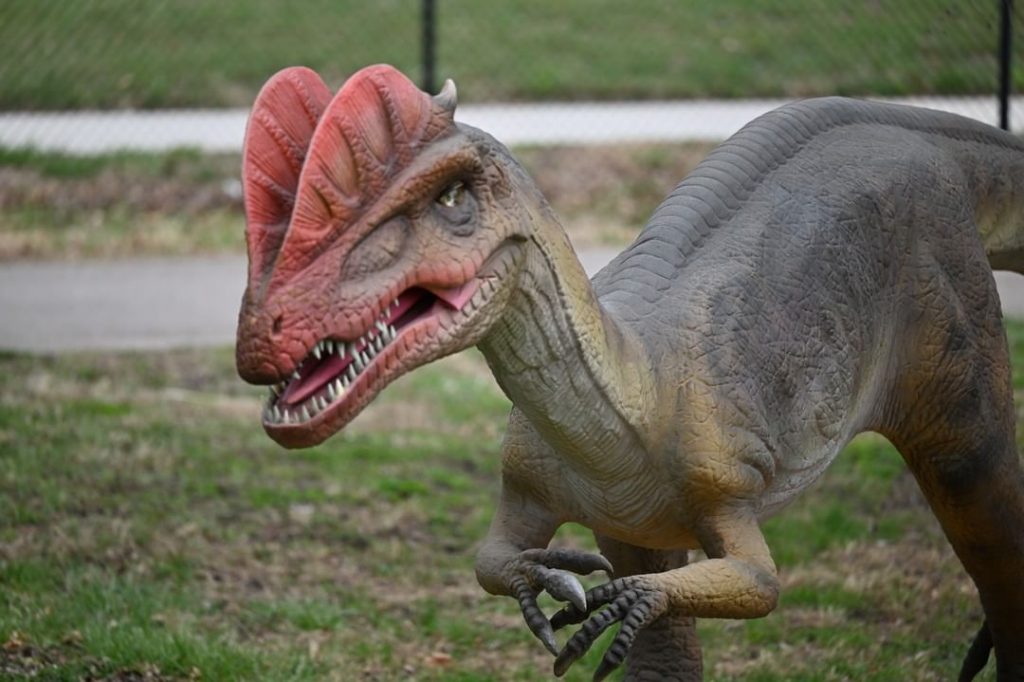 What Is Dino Don?
Dino Don is a company making Biggest and Most Accurate Dinosaur Robots. It designs different types of dinosaur models. This company tries to give a real look to the dinosaur models that are made. This company's owner Don Lessem is an author and researcher.
He has already done a lot of research on dinosaurs and he has a lot of knowledge about the species of dinosaurs.
Before designing a Dinosaur model, a lot of research is done on it, and care is taken that that model provides a real look.
Different models of Dinasaure giving real experience are made available for aquariums, museums, gardens, zoos, etc. Sound effects of every species of Dinosaur are also added to it so that children feel like the original.
This company also works on Natural History Exhibitions. The robotic exhibitions attracted 3.8 million visitors to 21 Zoos & Mimes in Europe and North America.
The company has collaborated with several venues like Brookfield zoo, Louisville Zoo, Zoo Copenhagen, and many more.
They have more than 1,000 species apart from Ankylosaur and allosaurus and their price depends on their size. It does its own delivery and installation and also gives 12 monthly guarantees.
This Dino Don business works on both rent and selling basis and its Robotic Dinosaurs are provided to zoos, Musumes, and aquariums all over the world.
| | |
| --- | --- |
| Company Name | Dino Don |
| Founder | Don Lessem and Val Jones |
| Founded | 2016 |
| Product | custom design robotic dinosaur |
| Asked For | $500k for 10% equity |
| Final Deal | $500k for 25% equity |
| Shark | Mark Cuban |
| Episode (Shark Tank USA) | S12 E25 |
| Air Date | May 21, 2021 |
| Business Status | In Business |
| Net Worth | $4 Million *estimated |
| Website | Visit Website |
| Headquarters | Media, Pennsylvania, US |
| Go To Amazon | Buy Now |
Another Shark Tank Pitch
Who Is The Founder Of Dino Don?
Don Lessem is the CEO and President of Dino Don, Inc. He started this company in 2016. This company makes different types of robotic animals like Dinasaur etc. and gives them on sale and exhibition rental basis.
Lessem started a company called Exhibitsrex, Inc. in 1993, which does Quality Dinosaur Robotics, Natural History, and History Exhibitions, Children's Books
He did his Bachelor of Arts degree from Brandeis University, followed by a master's degree from UMass Boston. He worked as a dinosaur expert in Stephen Spielberg's Jurassic Park for two years.
Lessem has written more than 50 science-related books, he is the founder of the Dinosaur Society and the Jurassic Foundation.
Dino Don Before Shark Tank
Dino Don company was launched by Lessem in 2016 but in 1993 he started another company called Exhibitsrex. This company's aim was to have quality dinosaur robotics, so they traveled to many exhibits.
Lessem was also an advisor to the Jurassic Park movie, but he was not happy with the model for Dinosaurs. Because they felt that this Dinosaur model is not properly complete.
After this, he decided that he would make his own Dinosaur model. Lessem already knew about this Dinosaur model, so he went to Zigong, China to make his first model.
He signed a deal with China's robotic industry and made his first Dinosaur model. After this, he opened a shop in his home town Medina, PA, in which he used to sell products related to dinosaurs.
He has hosted Nova Documentaries and is also collaborated with Disney Movies and Theme Parks.
Their exhibitions raised $3 million for dinosaur research. This company did its first sales in 2019 with Bronx Zoo.
The company had invited 20 zoo directors to its exhibitions to boost its sales. With this, he did sales of $5 million in 2020. He has 40 orders in 2021 and is projecting to do $15 million with this.
The company had sold a full-size 120-foot-long Argentinosaurus to the Leipzig Zoo in Germany. Lessem played important role in the Jurassic Park movie to create this Dinosaur model.
They have decided that if they want to grow then investors are needed. That's why he thought of taking funding from sharks in the Shark Tank show.
How Was The Shark Tank Pitch Of Dino Don?
Don Lessem and Val Jones entered Shark Tank with the Dino Don Company and asked the Sharks for $500,000 for 10% equity. Val told Shark about this business journey and it seemed interesting to Shark.
They also mentioned that they are the biggest supplier of robotic dinosaurs in the United States. Lessem told that his business is that zoos and museums will make people trip to the dinosaur Group.
In 2019, they exhibited a huge 45 Dinosaurs, and 440,000 people came to see Dinosaurs. These people were charged $6 per person and in this, they made a total of $2.2 million.
Robert asked the entrepreneur how much the making cost of an average dinosaur. The entrepreneur asked the shark to estimate it. Daymond says was $40,000, Mark says $18,000, Kevin says $50,000, and Robert says $15,000. But all the sharks were astonished to hear that Lessem said the average dinosaur's making cost was $5,000.
In 2019, they had made revenue of $1.6 million, despite this being a pandemic in the year 2020, they have made $1.8 million so far.
They have 150 Dinosaurs ready now. Their target is next year, they will make $3 million. In 2019, their profit was $250,000.
Kevin says, he doesn't have the confidence, Don, that you can execute, he's out. Daymond says he does not think that he can add value to this company, so he is out. Lori says that she is not able to visualize this business so she is out.
Mark likes this business idea and will invest in it, and help in marketing, and concert promotion. Mark made an offer of $500,000 for a 25% equity at a $2 Million Valuation. Robert says that Mark's offer is very good, so he is out.
Lessem agreed to Mark's offer.
Finalize: Mark Cuban invested $500,000 in Dino Don in return for 25% equity.
What Happened To Dino Don After Shark Tank?
Mark Cuban has made a very good partnership with Dino Don Inc Company. Mark said that he would market this business very well so that it could do million-dollar sales per month. With this, the company will grow every year.
Before Shark Tank, this company had made only 150 Dinosaurs and as of September 2022, they have more than 1,000 Dinosaur species.
Along with making dinosaurs in the present time, this company is also building custom robotics with a real look. They say that in whatever things they make, they will focus on maximum Accuracy.
Their exhibitions can be seen at popular zoos and museums across the nationally and internationally. It is also installing more exhibitions at different locations in different countries.
They have partnered with Universal Studios and the Smithsonian Museum of Natural History in addition to Russia, China, Mongolia, and Argentina, and organizations.
It is currently maintaining 200 Dinosaurs and other robotic creatures which are 110 feet long.
Dino Don's Dinosaur Safari at the Sacramento Zoo has a 40-foot-long Tyrannosaurus rex that has become an attraction for the public.
Apart from Belgium, Germany, England, France, and Finland, the dinosaurs made by them are also available in Russia and China.
Dino Don Shark Tank Update
After Dino Don got the deal in Shark Tank, the popularity of this company increased even more. This company had received orders from many zoos and museums for the dinosaur exhibition.
In 2021, this company made an annual revenue of $ 4 million. On February 2022, the company had a Traveling Dinosaur Roadshow at the Bishop Museum of Science in Bradenton, Florida.
their 50 dinosaurs were featured in this show of different sizes, which earned him a revenue of $10 million. This dinosaur was featured in a documentary film "The Dinosaur Factory" released in 2022.
In shark tank season 13 episode 23 update was given about Dino Don's business. It was told that this company has reached from 150 dinosaurs to 400 robotic dinosaurs. They have added some new creatures, this includes Ice Age Animals, Huge Bugs, and Dragons.
It was also reported on 7th May 2021 that this company is working in 4 countries with 25 employees. Their annual revenue is $1.8 million so far and will be $4.2 million by the end of the coming year.
With funding from Mark, they created Traveling Dinosaur Shows with 60 dinosaurs. Mark said that this company would reach $10 million in revenue within these two years.
What Is Dino Don's Net Worth?
This company has been growing very well. This business was funded at a $2 million valuation in Shark Tank. At the present time, this company's annual revenue has reached millions of dollars.
If it continues to grow like this, then in the coming time it will become a billion-dollar company. Looking at the revenue of this company, we think Dino Don's net worth will be $4 million.
Is Dino Don Still In Business?
Dino Don business was started in 2016 and it started earning profit from the very beginning. However, they were not earning much profit. But Lessem said in Shark Tank they would make $1 million in profit in 2021.
With the help of Mark, this company has now made Dinosaur available both nationally and internationally. For the maintenance of dinosaurs, this company also provides employees and technicians.
Dino Don has opened their Merchand store in which they sell things related to dinosaurs and T-shirts etc.
Dinosaurs attract children a lot, so they go to Zoo and Musume again and again to see them. This also increases the revenue of the Zoo and Museum.
Dino Don Inc company's headquarters are in Media, Pennsylvania and this company has 51-200 employees working nationally and internationally.
This company offers tours to people in one of the largest dinosaur exhibitions.
Yes, Dino Don Inc is still in business as of September 2022.