Flatheads is a casual footwear brand. The brand focuses on manufacturing semi-casual and casual styles shoes. This brand makes comfortable casual footwear for both men and women. All its products are of premium quality with premium price range.
This D2C footwear brand was launched in 2018 by Utkarsh Biradar and Ganesh Balakrishnan. Both of them started the fintech startup MomoE Mobile Payment, which was acquired by ShopClues in 2016.
While working at ShopClues, they noticed that there are many consumer centric problems in Footweare. So to solve this Flatheads was born in 2018. Till 2019 they worked with China vendor to manufacture footwear.
From the beginning of this footwear company, the growth was going very well. On September 2021, this company raised 7.3 crore funding under the leadership of "WeFounder Circle" and "Dexter Angels". By September 2021, this company had raised a total of $1.5 million funding.
The co-founders of this company Utkarsh and Ganesh both appeared in Shark Tank India Season 2 Episode 5 for funding and asked for ₹75 Lakhs for 3% equity at ₹25 Crores Valuation from the sharks.
What Is Flatheads?
Flatheads is a casual footwear brand based in Bengaluru, Karnataka, India. This brand new stylish design comfortable casual & sneakers design for men & women.
This company was founded in 2018 and in 2019 the growth of this company increased to 5x. This brand has different casual footwear and sneaker apart from this there is also some vegan footwear.
Banana Kicks, SoftKnit Loafers, Linen Sneakers, KoolTex Trainers, Bamboo Loafers, Breathable Sneakers and more are available in the footwear collection. The brand has launched a clothing line in partnership with The Souled store.
The cost of shoes of this brand ranges from ₹1,000-₹5,000. Flatheads products are available on multiple e-commerce platforms such as Amazon, Flipkart and more.
Company Name
Flatheads
Founder
Utkarsh Biradar and Ganesh Balakrishnan
Founded
2018
Product
Indian D2C casual sneakers brand
Asked For
₹75 Lakhs for 3% equity
Final Deal
No Deals
Shark
No Sharks
Episode (Shark Tank India)
S2 E5
Air Date
Jan 6, 2023
Business Status
In Business
Website
Visit Website
Headquarters
Bengaluru, Karnataka, India
Lifetime Worth (Sales)
₹4.5 Crores *estimated
Buy and Watch
Buy Now
Amazon Prime
Another Shark Tank Pitch
Who Is The Founder Of Flatheads?
The co-founders of this footwear company are Utkarsh Biradar and Ganesh Balakrishnan. They started this company in 2018. Both of them started the mobile payment startup "Momoe" in 2013, however in 2016 this company was acquired by ShopClues. After working in ShopClues for 2 years, quit the job and started Flatheads company in 2018.
Utkarsh Biradar
Utkarsh is the co-founder of this company and did his master's in design from the Indian Institute of Technology, Bombay. After their studies, he worked in many companies. He joined Tata Elxsi in December 2022 as Chief Designer.
Ganesh Balakrishnan
Ganesh is another co-founder of this company and has run a company called Windsleeve Technologies. After completing his business management studies at the Indian Institute of Management Bangalore, he worked in various companies including Shopclues, Honeywell, and more.
How Was The Shark Tank India Pitch Of Flatheads?
The co-founder of this company, Ganesh Balakrishnan entered Shark Tank India and demanded 75 lakhs from the sharks for 3% equity at ₹25 Crores Valuation. The products of this company are made of Banana fiber, Linen fiber, and Bamboo.
Currently, 20k+ customers are associated with this brand. Products of this brand are on their own website and on marketplaces like Amazon, Myntra, and more. The price range of the product is up to ₹1,000-₹5,000 range.
Ganesh and Utkarsh hold 30% equity (Total 60%) of the company. The angel investor holds 33% equity in the company. 7% is ESOP. Their sales in FY 2021-22 were 3.4 crores (COGS -40%, Gross Margin 60%, Trade Margin -12%, Logistics -8%, or Contribution Margin 48%).
In April 2021 they had raised ₹5.2 crores at 28 crores pre-money valuation. Last month's sales were ₹15 lakhs and the cash burn was ₹5.5 lakhs. So far they have raised 10.2 crores amount.
Anupam Mittal offered a job to Ganesh if, after a few years, Ganesh is able to grow the business, then he would invest. Peyush Bansal made an offer of ₹75 lakhs for 33.3% equity at ₹2.25 crores but with conditions. Vineeta Singh said that she will join Peyush in this deal.
Finalize: Flatheads did not get funding in Shark Tank India.
What Happened To Flatheads After Shark Tank India?
This footwear brand did not get funding in Shark Tank India but Co-founder Ganesh got very good feedback from Sharks. The co-founder did not figure out the basic issue of the company, due to which the company was making losses every month.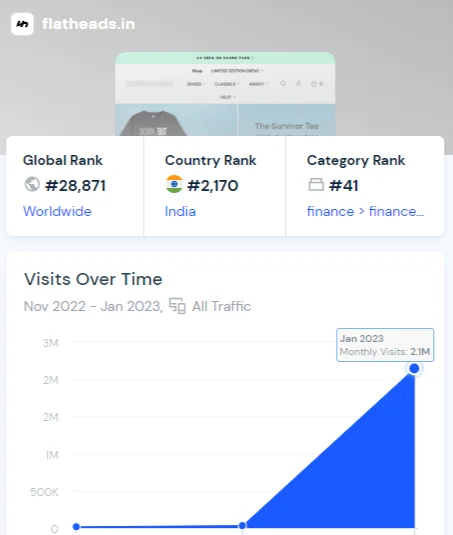 After the airing of this episode, in the month of January 2023, 2.1 million users visited the brand website flatheads.in simultaneously. 69% of users came from organic search only.
On Jan 16, 2023, The brand launched the Not Out Edition sneaker with 900 pairs at a price range of Rs 2,999. Within a few weeks, 900 shoes of the brand were sold out.
What Is the Net Worth of Flatheads?
CO founder Ganesh on Shark Tank India had demanded funding at ₹25 crores valuation. Seeing the performance of the company, none of the sharks gave investment but Ganesh got a job offer from Anupam Mittal.
Is Flatheads Still In Business?
This footwear brand makes comfortable and sustainable sneakers at a premium price. It is not easy for the Indian customer to sell the product in this price range because the Indian customer is not able to trust any brand soon.
Although the cofounder said that they are about to launch this product in America. But till now the proper testing of the product has not been done in America.
The brand has been featured in several media publications including MSN, Business Today, and many more.
Yes, Flatheads is still in business as of August 2023.
frequently asked questions
What is the valuation of Flatheads?
According to co-founder Ganesh, the valuation of Flatheads was ₹25 crores in Shark Tank India.
Where is Flatheads from?
Flatheads is headquartered in Bangalore, Karnataka, India.