The HiccAway is a hiccup stopping device featured in Shark Tank Season 13 Episode 12. The founder of HiccAway has demanded $250,000 in exchange for 10% of his company's share in Shark Tank. So let's see how much funding this startup gets.
There are many new startups happening all over the world that solve some of the other problems. However, there are many startups that are not able to survive further due to funding or doing something different. So this shark tank is for those startups who are unable to grow due to lack of money, it gives funding to unique business ideas.
What Is HiccAway?
HiccAway is a startup that appeared in Shark Tank that helps stop hiccups. This product of theirs is a natural remedy that was used since time immemorial to stop hiccups. So he has turned this remedy into a startup.
Hiccups are quite an embracing thing, if you are traveling somewhere on the train or where you are sitting in a public place if only then the hiccups come, what will happen?
So to solve this kind of problem, this HiccAway device has been made which works to stop the hiccups in no time. The price of this device is $14.00, which you will find on their official website and on Amazon.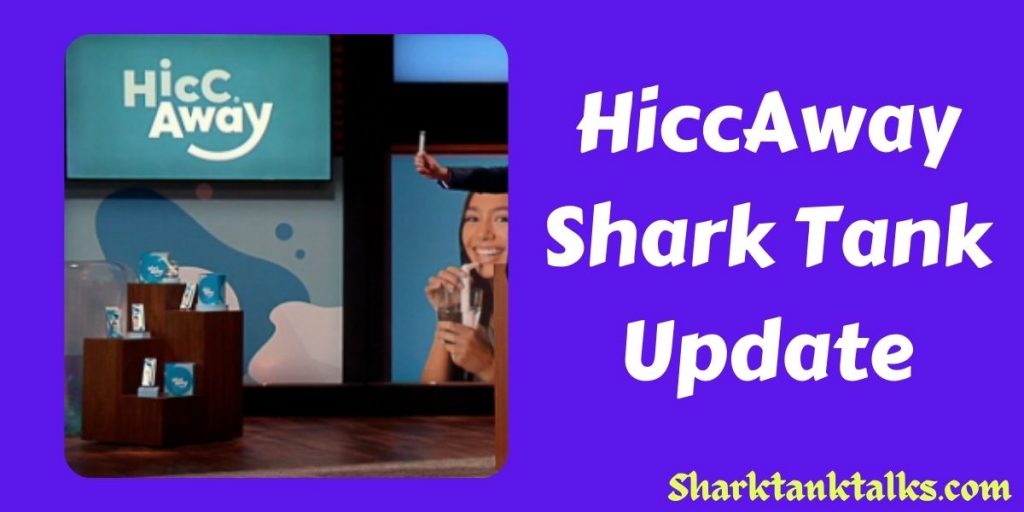 How can you use this device, then it is also very easy, you just have to take a glass of water and you have to drink the same water through this device.
HiccAway Shark Tank Update
| | |
| --- | --- |
| Company Name | HiccAway |
| Founder | Dr. Ali Seifi, Amanda Azarpour and Victor Feldberg |
| Business | Natural Remedy for Hiccups |
| Asked For | $250,000 For 10% Equity |
| Final Deal | $250,000 For 20% Equity |
| Shark | Mark Cuban |
| Episode (Shark Tank USA) | Season 13 Episode 12 |
| Business Status | In Business |
| Valuation/Net Worth | $1.2 Million |
| Website | Visit Website |
🤑);- Tania Speak Shark Tank Update
Who Is The Founder Of HiccAway?
So this HiccAway device was developed by Dr. Ali Saifi. Ali is an Associate Professor of Neurosurgery and Director of the Neurological Intensive Care Unit at the University of Texas Health Science Center. He has solved a very old problem through his knowledge and experience of 25 years. Amanda Azarpour and Victor Feldberg also joined to grow this business with Ali.
HiccAway Before Shark Tank
His product was being sold even before he entered the HiccAway sHARK tank. Amanda Azarpour, who looks after the marketing of this product, has marketed this product very well, this product is available on Amazon and their website. This product was launched in 2019, it has been featured in many popular magazines like Business Insider, New York Post, Daily Mail, The Guardian, Washington Post, etc.
HiccAway Get Deal's In Shark Tank
The founder of this startup has asked for an investment of $250,000 in exchange for 10% of his company's share in Shark Tank. Shark said a lot of right and wrong things about this product and also got a lot of good information from the founder about it. Mark Cuban invested $250,000 in this business but in exchange for 20% shares of the company.
What Happened To HiccAway After Shark Tank?
HiccAway cloud of Shark Tank is growing very well, they have got investment. Due to this investment, the growth of their product is also getting very good because if people see that shark has invested in it, then something good will happen in this product.
This product is currently available internally on Amazon. If you want to buy then you can buy it from Amazon.
Its available in Wal-Mart and Heb stores as well as retailer stores in Spain, Australia, Germany and China. This product is listed on Amazon and is priced at $14.
What Is The HiccAway Net Worth?
They have got a very good deal, so HiccAway net worth has become $1.2 Million in 2022 which is a very good thing. We hope that this product will get a very good response in the coming time. So let's see how the next feature suits this product.
Is HiccAway Still In Business?
This HiccAway is running very well even in 2022, as you know it is a product related to Science and is useful to stop the hiccups.
This HiccAway can be used anywhere. If you ever go travel, you can carry it by keeping it in your pocket.
Next, we will give you information about this HiccAway startup.