The Mountainflow Eco Wax Company manufactures plant-based, biodegradable ski and snowboard wax. Mountainflow Eco Wax appeared on Shark Tank Season 12 Episode 12 and demanded $250,000 from the Sharks in exchange for 12% equity.
Ski wax is used for friction in snow, most ski waxes are made from petroleum, fluorine, hydrogen, and carbon. Apart from this, toxic and carcinogenic fluorocarbons are found in many waxes, it is harmful to humans, and wildlife, it is also called "Forever Chemical".
Due to the prose of petroleum in ski wax, it also works to harm the environment. To solve this problem, plant-based MountainFlow Eco-Wax has come up with its own product. This wax glides has hydrophobicity, and durability, and is easy to use.
It becomes difficult to achieve fast and smooth glides during snowtime, so there are many people who use wax in snow.
When you snowboard without waxing it, it will be difficult to turn it into the snow, it can also slow down the performance.
Do you know how a ski wax work? The wax acts as a buffer between the snow surface and your skis/snowboard.
When you are gliding alone, you will feel that the snow crystals are pulling the wax particles out of your base.
Worldwide ski wax is mostly made from petroleum. Worldwide there are 400 million skier visits/year. This equates to millions of pounds of wax being introduced into the environment every year.
What Is Mountainflow Eco Wax?
Mountainflow Eco Wax is a sporting goods manufacturing company based in Carbondale, Colorado, it was launched in 2016.
This company manufactures plant base wax for skis/snowboards. Apart from this, there is a different type of wax-like Hot Wax, Quick Wax, + Skin Wax Rub-On.
Its wax is biodegradable and non-toxic which is very good for the environment. They have also created a water base skin wax spray, which is also non-toxic, and non-hazardous.
After using their product Hot Wax once, it lasts for 4-6 days depending on the snow conditions. This quick wax, skin wax lasts for a day once it is done.
Mountainflow Eco Wax Shark Tank Update
| | |
| --- | --- |
| Company Name | Mountainflow Eco Wax |
| Founder | Peter Arlein |
| Product | Plant-Based, Biodegradable Ski and Snowboard Wax |
| Asked For | $250k for 10% Equity |
| Final Deal | $300k for 20% Equity |
| Shark | Kevin O'Leary and Barbara Corcoran |
| Episode (Shark Tank USA) | S12 E12 |
| Air Date | Feb 5, 2021 |
| Business Status | In Business |
| Net Worth | $1.8 Million *estimated |
| Website | Visit Website |
| Address | Carbondale, Colorado, United States |
| Go To Amazon | Buy Now |
See This Quevos Shark Tank Update
Who Is The Founder Of Mountainflow Eco Wax? – Peter Arlein
Peter Arlein is the Founder and CEO of Mountainflow Eco Wax. Peter has been running this company for a long time.
Peter grew up in the skis of Carbondale, Colorado. When he was in high school, he become a ski instructor and a member of the ski patrol.
After he completed his MBA at the University of Alaska Anchorage, he started working as an account coordinator in Schiedermayer, Alaska, Inc.
He worked for 6 years in different companies, it includes Kodiak Jig Seafoods, Alaska Communications, and FASTG8, Inc.
When he worked as a marketer in the ski industry, he found out how toxic the wax used for snowboards was.
To solve this problem, Peter started searching on the internet but he could not find any right solution.
Peter decided to make a friendly plant base ski wax himself.
Mountainflow Eco Wax Before Shark Tank
Mountainflow Eco Wax Company manufactures different types of products, it currently has Anti-Stick Topsheet Spray, Skin Wax, and Rub-on Base Wax.
Peter decided to crowdfund the funding so he launched a Kickstarter campaign, Due to this campaign, he raised a fund of $21,506 from 358 backers.
Denver's 2020 Outdoor Retailer Snow also won the Mountainflow Eco Awards, which include Outdoor Retailer Innovation Award, Gear of the Show from Outside magazine, Best New Gear Award from the Gear Institute, and Best of Outdoor Retailer from Business Insider.
MountainFlow is certified by B Corporation, It is also USDA Biobased Certified.
Did Mountainflow Eco Wax Get a Deal on Shark Tank?
Peter Arlein, the founder of Mountainflow Eco Wax, came to Shark Tank and demanded $250,000 from the sharks in exchange for 10% equity in his company. Due to this demand, the valuation of this company is $ 2.5 million.
Peter had kept his presence very well in the television show Shark Tank, the sharks also impressed him a lot.
Whatever information Peter revealed in the conversation with Shark and whatever the shark said to this product, we have told this information.
This quick wax has an average selling price of $16 and is made for $2.50, which makes for a huge margin.
In 2020, this company generated $150,000 which is a good amount. Peter says he is projected to have $750,000 in sales in 2021.
For the estimate of having such a high sale, Peter said that he is going to move internationally. Apart from this, he will add Race Wax to his product list.
Lori Greiner told Peter for this product, is a very good innovation and also very good for the environment. Because she is not Sakier and she does not have proper knowledge of this field, then she cannot invest in it.
Mark Cuban also said that he has never been Skied in his life, and because of this he out.
Barbara Corcoran also said that she has an offer for Peter. She will invest $250k in this business but she wants 20% equity.
Kevin O'Leary said that he is a skier and if he wanted this deal, he would invest $250k but he wanted 15% equity.
Barbara and Kevin decided to enter the deal together and invest $250k they want 20% equity.
Daymond John also wanted to invest in this business, so his offer was $250k for 25% equity, which is more equity than Kevin and Barbara's offer.
Peter told Daymond that he appreciates this offer but 25% of the company is too much for him.
Peter tells Barbara and Kevin that he is interested in their offer but will make a counteroffer of 15% of the equity.
So in the meantime, Daymond John has changed his offer. Right now his two offers are $250k for 15% and $250k for 25% + pro skier Lindsey Vonn.
Peter said thank you but this is still too much.
Barbara & Kevin made another counter offer of $250k for 17.5% of the equity. But Peter countered this 16% equity to 8% each.
When Peter declined for 17.5% equity, Barbara & Kevin increased their cash by offering them $300K for 20% equity at a $1.5 million valuation.
The deal is finalized. Mountainflow Eco Wax will invest $300k in Barbara and Kevin for 20% equity.
What Happened To Mountainflow Eco Wax After Shark Tank?
Peter, the founder of the Mountainflow Eco Wax Company, has signed a deal with Kevin & Barbara in Shark Tank.
When this episode of the television show aired, many people saw this episode, they liked this product so much That it is known by looking at the sales rate of the company.
This episode was shot in September 2020 but it came after 4 months in February 2021.
As we saw on Shark Tank, Barbara and Kevin have signed the deal But after the stock tank, no evidence has been received about it, whether the deal is done or not.
After his deal in Shark Tank, a lot of stories were published in the media about Peter of Colorado. Because of this, the promotion of Mountainflow Eco Wax was also done for free.
Do you know this plant-based wax is used by national-level skiers and celebrities including Colby Stevenson, Chris Davenport, Christian Pondella, Jeff Cricco, Asher Humphreys, Victor Delerue, etc.
Peter has launched a new product for bikers to ride well in snow called Bike Lube. It is a type of plant base oil that prepares the rider for fast + smooth riding conditions.
This company had projected that it will do 750k sales by 2021 as it is going to expand internationally.
Barbara & Kevin are very good investors, they know how to market the product, they can help Peter in this. According to some media reports, this business's annual revenue was $3 million in July 2022.
How is the Mountainflow Eco Wax going?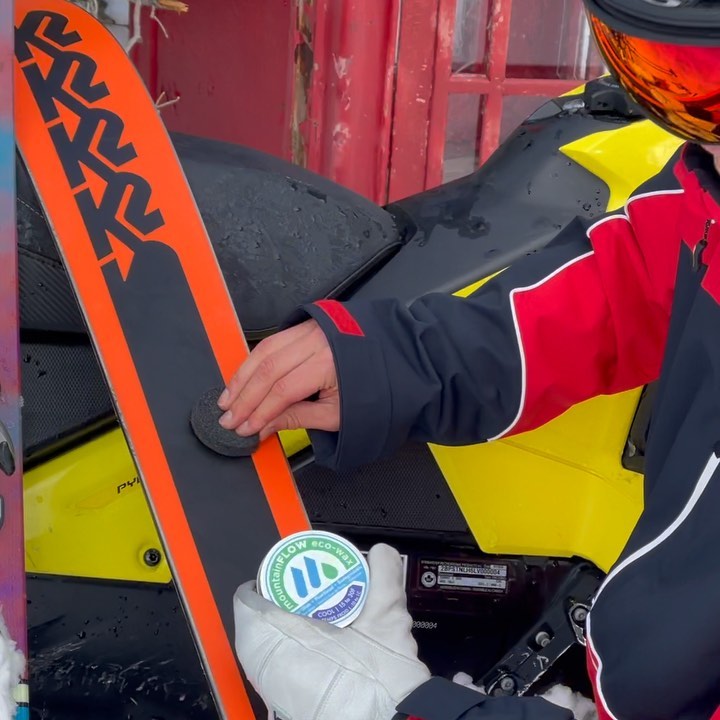 Do you know where you can buy this Mountainflow Eco Wax? If you want to buy this wax for your snowboard or bike, then the sure method is this wax company's website and Amazon.
If this product is available in your nearest retail store then you can buy it from there. Its price range is from $16 to $20.
As we know Europe is a very big market, according to the show, most of the snow falls in Europe only.
If this company can provide plant base wax to all the snow-falling countries quickly, then its chances of success are high.
Looking at the present time, whatever goes on, is copied and made by a company. We are sure that it must have become a copy version of the wax company.
If Mountainflow Eco improves its supply chain and marketing strategy, then it will be able to become a trusted brand in the coming times.
They should increase their social media presence as well as do social media marketing well. Because most of the customers can meet them only through social media. This is only 9,056 followers on his social media in July 2022.
What Is The Mountainflow Eco Wax Net Worth?
Today, July 2022, Mountainflow Eco Wax had annual sales of $3 million. Looking at this sales rate, estimating the Mountainflow Eco Wax net worth can be $1.8 million.
Is Mountainflow Still In Business?
Yes, it is Mountainflow Eco Wax doing its business right in July 2022.
This business is currently focusing on growing, the founder told Shark Tank that he is going to expand internationally.
According to Peter, this product has become available in the United States as well as Canada.
Currently Its Partner Is American Avalanche Institute, high Fives, Pow Protect Our Winter, Winter Wildlands.
Content Photo Credit: Amazon.com & mountainflow.com