Truffle Shuffle is an online home cooking learning class platform & sells Truffle products that Appeared in Shark Tank Season 12 Episode 21. This platform exclusively provides easy cooking classes for truffles or other types of recipes to chefs & homemakers.
Truffle Shuffle Co-Founder Chefs Jason McKinney and Tyler Vorce and Jason's wife, Sarah started the company in 2018.
This company was started in different restaurants to sell truffles because they felt that many fake truffles were being sold in the market.
Currently, the price of 1 pound of truffles in the market is more than $1000 because the process of making them is difficult.
Truffles are very tasty and very good for health, so many doctors recommend this food to protect against oxidative damage.
Earlier, he was providing fresh truffles to a California restaurant, but his restaurant was shut down when the Covid19 pandemic hit.
Due to this pandemic, due to a lack of truffle sales, they had a stock of about 20 pounds, which is worth $20,000.
They got the idea that They would do an online cooking class on different recipes of truffles and they would also provide ingredients for cooking to the user.
Jason McKinney and Tyler Vorce and Jason's wife, Sarah started their journey of online cooking classes from Jason's apartment.
Due to this pandemic, many new online businesses were started, including online cooking buses are one. In today's time, people have become accustomed to online.
Currently, the meal kit delivery services market size is growing very fast, according to the source, the market value of this industry in 2021 was USD 15.21 billion.
What Is Truffle Shuffle?
Truffle Shuffle is a Home Cooking Learning Class & Meal Kit delivery service. It provides online cooking classes to direct chefs and customers as well as the food ingredients required for cooking.
It lists different types of recipes related to truffle foods on its platform and offers live classes or recording sessions through Zoom.
Here professional chefs teach and provide instruction on everything in cooking so that you can make good food.
Different types of chefs will teach you different types of cooking recipes, this includes Chef Jeremy, Chef Connie, Chef Jason, Chef Tucker, Chef Tyler & Somm Sarah.
Provides +52 cooking classes and also provides fresh truffle food ingredients. Each of their cooking sessions lasts more than 1 hour.
Their product Fresh Australian Truffles, Balinese Truffle Salt, White Truffle Butter, Truffle Carpaccio, Truffle & White Cheddar Kettle Corn, Brown Butter Truffle Honey are sold on Whole Foods, Amazon, and their website.
| | |
| --- | --- |
| Company Name | Truffle Shuffle |
| Founder | Jason McKinney and Tyler Vorce |
| Founded | 2018 |
| Product | Home Cooking Learning Class & Meal Kit delivery service |
| Asked For | $500k for 5% equity |
| Final Deal | $501k for 18% equity |
| Shark | Mark Cuban |
| Episode (Shark Tank USA) | S12 E21 |
| Air Date | April 16, 2021 |
| Business Status | In Business |
| Website | Visit Website |
| Headquarters | Oakland, California, United States |
| Lifetime Worth (Sales) | $10M *estimated |
| Go To Amazon | Buy Now |
| Watch On | Amazon Prime |
Another Shark Tank Pitch
Who Is The Founder Of Truffle Shuffle?
Jason McKinney is the Founder & CEO of Truffle Shuffle. Prior to this, he worked at the California base "The French Laundry Restaurant". Jason has worked in Hawkeye Ranch and has been a director in Project No 4 IIc.
Jason's wife Sarah Rundle-McKinney is the co-founder of this company, she did her graduation from the Academy of Art University.
Tyler Vorce is another co-founder of this company. he used to work with Jason at "The French Laundry Restaurant".
Truffle Shuffle Before Shark Tank
The Truffle Shuffle Company was started in 2018 and used to sell this truffle product in different restaurants in California & Whole Foods, etc.
But when the pandemic came, the restaurant shut down, due to which the chef's job was also lost and the sales of truffles also stopped.
They had a stock of 20 pounds of truffles which were worth $20,000 in the market. So keeping all these things in mind, they came up with the idea that chefs and people should be taught cooking related to Truffles Foods.
After that, they started the first meal kit service from Jason's apartment. When their business started to grow slowly, they hired 11 chefs, and after 5 months, they hired 46 employees whose jobs were lost in pandemic.
They started teaching cooking through the Zoom platform and also used to send cooking-related ingredients to the people.
To entertain the people, they had also invited some celebrities as guests in this cooking class which includes Snoop Dogg, rapper E-40, NFL Hall of Famer Ronnie Lott, and others.
For people, who have launched a membership plan, the price of a bronze membership is $ 1724.99.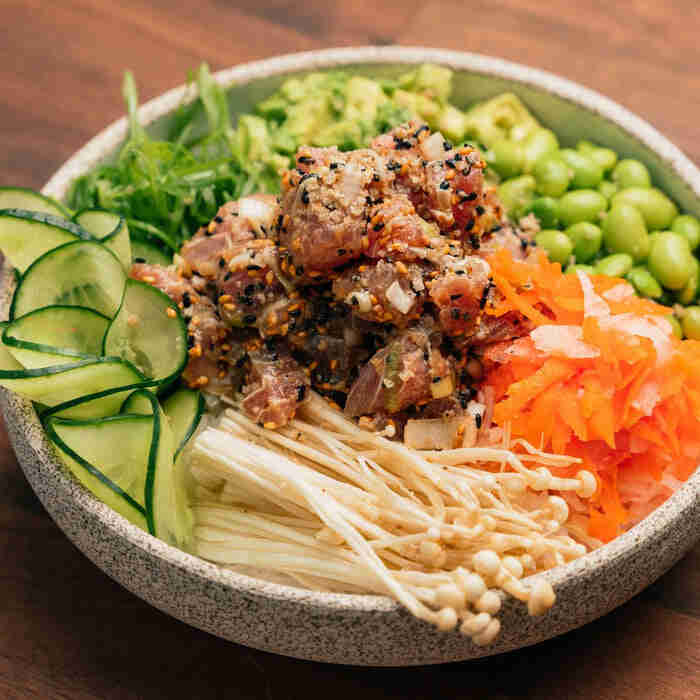 How Was The Shark Tank Pitch Of Truffle Shuffle?
Truffle Shuffle, Co-founders Jason McKinney and Tyler Vorce entered Shark Tank Season 12 Episode 21 and asked the Sharks for $500k for a 5% equity.
Both of them told the story of their chef career and their business journey to Shark. they also explained to the shark about this cooking teaching business so that the shark could invest in it.
Their Balinese Truffle Salt costs $20 per jar and is made for $2.80. In the first year of its launch, it did $65,000 in sales of truffles. In 2 years, their sales became $486,000.
The truffle is very sensitive and has a shelf life of 5 days. In 2020, they had sales of $ 1.4 million. They charge $95-$125 for a virtual cooking class and their profit margin is 60%.
The surprising thing is that they have a net profit of $8,000 out of their $1.4 million. They currently have $165,000 in the bank.
So far this year they have sales of $212,000 only on truffle product platforms like Whole Foods etc.
Lori, Mark & ​​Daymond are out of this business offer. For this, Robert offered $500k for a 20% equity.
Kevin is interested in this business and wants to offer him $500k as a loan at 9.5% interest for a 25% stake.
Entrepreneur offered Robert & Mark $500k for a 7% equity each. Mark says no. Robert sticks with 20% equity, he can become a partner in it alone or with Mark.
Entrepreneur counter offers 15% but Mark ate 18% Entrepreneur counter 17%. Mark made a counteroffer of $501K for an 18% Equity.
Finally, the entrepreneur agreed to the offer of Mark.
What Happened To Truffle Shuffle After Shark Tank?
Truffle Shuffle got a deal at Shark Tank for a $2.7 million valuation, and Mark became a partner with the business.
The Truffle Shuffle is listed at Minot's Dakota Square Mall in 2022 to be available on Amazon, and Whole Foods.
Right now they have hired a lot of chefs to expand their business but are teaching them to make different types of dishes.
On February 2022, American rapper Raekwon the chef came to his live cooking class session as a guest.
In June 2022, they launched their membership program Foods Is Love. This membership plan has been divided into 4 sections Bronze, Silver, Gold & Platinum. It is priced at $1724.99, $2,620, $3,550 & $5,800 in August 2022.
What's new on Truffle Shuffle
In 2022, the annual revenue of this company was estimated to be $6 million. They have made many new recipes and they are sharing the recipes in the cooking classes.
Many chefs have joined them such as Jeremy, Tucker, Connie, Somm Sarah, Dave and many more who are also taking online cooking classes.
Truffle Shuffle Shark Tank Update
The Shark Tank episode of Truffle Shuffle went on air on April 16, 2021, which earned the business a lot of customers. We believe that due to this their sales must have grown a lot.
According to the source, in August 2022, Truffle Shuffle closed the deal with Mark and they partnered with Fruitful. They have added "Wine-o-Matic 5000" to their website.
What Is Net Worth of Truffle Shuffle?
Truffle Shuffle struck a deal with Mark at a $2.7 million valuation. According to some reports, Truffle Shuffle's worth is $15 million. Many companies have been formed in the online cooking class business and the competition is also increasing in this industry.
Is Truffle Shuffle Still In Business?
The business of Truffle Shuffle is going very well now but Mark has closed his deal with it.
This product did not become available on Amazon in August 2022 but it is listed on Minot's Dakota Square Mall.
It is doing paid marketing on social media platforms like Instagram etc. so that customers can be found.
Yes, Truffle Shuffle is still in business as of April 2023.