Jada Spices, also known as Chicken Salt, the founder Dr.Khasha Touloei and Maynard Okereke had featured in Shark Tank about their Jada brand. The founder asked Shark Tank to fund $250,000 in exchange for 20% of his company's equity to bring this kitchen product to the kitchen of every home.
Jada Spices is a brand that produces Vegan Chicken Salt, as well as recently this company has launched the Chick'n Mix product. This is a ready-made food, if you want to taste it after adding only some water and oil, then you can also say Jada spice salt to it.
Today is the time for Vegan Foods, to take Vegan Foods to the next level, a lot of food items are being invented. This industry is slowly growing and a lot of new foods are being added in it which were not there for some time to come.
Talking about the Jada Spices brand, it focuses on Vegan Chicken Salt so that one can take a good taste at Vegan Foods.
If there is a vegan who wants to taste the chicken, then this Jada Spices Chicken Salt can help them with that.
Talking about the Vegan food industry is a growing market, its global market value in 2020 was $15.4 billion. It is increasing every year, in which most people are following the vegan diet, in which salt is also used.
This chicken salt is very popular in Australia, it is very high in sodium and also has the quality of MSG.
Founder Kasha who grew up in Australia and today came to America to become a doctor and the idea of ​​this product came to him from this.
During the launch of the product, the founder organized a number of offline events through which he campaigned for the slogan Love of Chicken Salt. During this campaign, he used to give his product Chicken Salt to the people for test for free.
What Is Jada Spices Chicken Salt?
Jada Spices, based in Miami, Florida, is a food and beverage services industry brand that manufactures healthy, vegan chicken salt. This company was started in 2015 and it is headquartered in Florida.
This chicken salt has been made to remove the high sodium levels, MSG, and unnatural ingredients from the traditional chicken salt.
The ingredients "Sea Salt, Turmeric, Onion Powder, and Garlic Powder" have been used to make this Vegan Chicken Salt.
This JADA's Vegan Chicken Salts can be eaten in meals every day. This Chicken Salt Comes With A Variety Of Flavors Including Original, Reduced Sodium, Lime, Red Pepper, and BBQ.
Turmeric Salt is a product of theirs and it is made from a Savory Blend of Sea Salt, Herbs, and Spices. Many healthy nutritions are found in it with anti-inflammatory benefits. Mixed with Onion, Garlic, and Spices.
Originals are used for all foods, such as soup, noodles, salads, mashed potatoes, quinoa, black beans, fajitas, and veggie burgers.
Reduced sodium contains 50% less sodium and is used in a few foods.
The smoky and sweet flavor that barbecue provides, is used for some dishes like baked beans, ribs, and brisket.
Red pepper is very spicy, it is used for curry, chili, and Cajun recipes.
Recently this company has launched some new products Plant-Based Chick'n and Plant-Based Pork.
Jada Spices Shark Tank Update
| | |
| --- | --- |
| Company Name | Jada Spices, LLC |
| Founder | Dr.Khasha Touloei and Maynard Okereke |
| Product | plant-based, vegan chicken salt and spices |
| Asked For | $250,000 for 20% Equity |
| Final Deal | $250,000 for 33% Equity |
| Shark | Barbara Corcoran |
| Episode (Shark Tank USA) | Season 12 Episode 4 |
| Air Date | November 6, 2020 |
| Business Status | In Business |
| Net Worth | $757K *estimated |
Chicken Salt Contact Details
| | |
| --- | --- |
| Website | Visit Website |
| Social Media | Linkedin |
| Place | Miami, Florida, United State |
Who Is The Founder Of Jada Spices? – Dr.Khasha Touloei and Maynard Okereke Shark Tank
Khasha Touloei is the founder and CEO of this company or grew up in Australia. He saw that when his mother gives him to say, he puts chicken salt to increase his test.
This chicken salt originated in Australia. According to the American Heart Association, they found that 70% of sodium comes from foods.
After that, he brought chicken salt from Australia and made it vegan. Reduced sodium in it, then made healthy salt.
So this salt helps a lot for those people who are suffering from high blood pressure and diabetes.
Maynard Okereke and Khasha became friends at the University of Washington in 2002. After that, both of them started making their business with this product.
Kasha who is a dermatologist and his friend Maynard who is an Engineer, of them started hip hop science. This is a business that teaches STEM to children.
Maynard works full-time with Flow Media Group, a social media digital agency. Both of these friends have been featured in Shark Tank.
Jada Spices Before Shark Tank
Jada Spices Chicken Salt is Vegan and a lot of things have been used for it it comes with Vegan Certified, All-Purpose Seasoning, NON – GMO, No MSG, Gluten-free, Sugar-Free (except BBQ Flavor), No fillers, No Soy, Paleo, No animal products, no artificial sweeteners or flavors, No preservatives.
This chicken salt has come from Australia and it was made vegan before launching it in America. A lot of healthy ingredients were used in it which are wanted for diabetic patent and for healthy people.
Khasha and Maynard attended the First Vegan Mania Festival in Chicago, where they gave a free test of their product.
During this event, he got a very good response, many people also used his product. Chicken salt was one way to complement the vegan diet.
Now they have launched Chick'n Mix product. This Chicken Nuggets, Plant-Based Chick'n Mix is ​​a meat-free alternative for healthy people and is rich in Vitamin B12.
When you're craving a chicken patty, nugget, or nachos, just add water, oil, seasoning, and mix! You're able to mold the mixture into any shape. So this makes it a perfect meal like pasta, kabobs, or wraps.
Maynard encourages the kids to take an interest in STEM classes.
How Was The Shark Tank Pitch Of Jada Spices?
Founder Dr.Khasha Touloei and Maynard Okereke joined Shark Tank over more spice and asked Shark for $250,000 to exchange 20% equity for the growth of his company.
Before taking the investment, there was a lot of talk between Shark and the founder, due to which Shark got some information about this business.
Khasha said that the making cost of this product is 80 cents and the retail sale price comes to $4.99. It sells on Amazon for $8.99.
In 2019, he made $319,000 with $60,000 in EBITDA. Khasha believed that he would sell it for $500,000 in 2020.
Regarding this business, Kevin said that he is running this business on the side of the job the founder is doing. One has to choose between job and business, that's why he is out of this offer.
Mark, Lori, and John walked out of this business offer.
Barbara made her offer Her offer for this business was that she would invest $250,000 in it but she wanted 33% equity.
Khasha made his counter offer to Barbara, his counter offer was $250k for a 28% stake.
When Barbara did not change her offer, Khasha Touloei and Maynard Okereke finally the deal with an offer of $250,000 for 33% equity.
What Happened To Jada Spices After Shark Tank?
Before Jada Spices got the investment, the shark Barbara had one thing if she would invest $250,000 in it So how will he spend this investment?
Maynard said that he would invest some of this money in the development of this plant-based chicken.
After that, he will improve his packaging. After that, he will launch the chicken sat line in the food service spaces.
He said that he already had offers from the largest restaurants and entertainment chains.
A few hours after her appearance in the show, her sales had seen a lot of growth.
Coming to July 2021, it seems that his deal with Barbara is not closed. After that, this company changed its name to Jada brands and added some new Items. Mediterranean Chicken and faux pork products were also added along with Vegan Chicken. In May 2022, his annual revenue was $ 4 million.
Where Can You Buy Chicken Salt?
This Chicken Salt is available in the United States retail store Walmart etc. Along with retail stores, it is also available on Jada brand websites and Amazon. Amazon has priced this product's 5 Flavor Chicken Salt for $29.99.
3 Varieties of Chick'n Mix Plant-Based Original, Plant-Based Mediterranean, and Plant-Based Barbecue are priced at $17.99 on their website.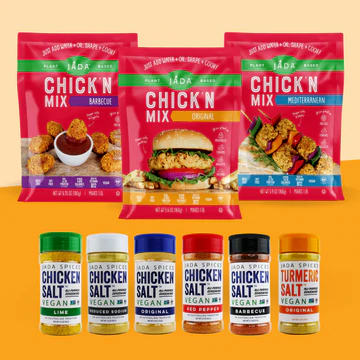 What Is Jada Spices Net Worth?
After getting the deal for Jada Spices in Shark Tank, this company has been worth $757K. In May 2022, this company generated $4 million in sales. By the end of 2022, the sales of this company can be even more.
| | |
| --- | --- |
| Jada Spices's Worth | $757,000 *Approx |
Is Jada Spices Still In Business?
Yes, Jada Spices right now it is going quite well even in June 2022. Its growth was very high after Shark Tank. After a few weeks of appearing in the Shark Tank show, the company generated 2x sales from its previous year's sales.
This company is manufacturing its product in the United States. More than 50 employees are working in this company. With good revenue generation, it has been possible to give employment to some people.
We expect it to take its annual revenue to $10 million in the coming few years.