The Woobles is a crochet Kits business that teaches how to make handmade gifts using crochet. This business appeared in Shark Tank Season 14 Episode 2. The experts of Woobles guide through videos to make different types of handmade products in crochet.
There are very few people who know how to use crochet, most women like to do it. To learn Crochet, it is necessary to have the right knowledge and there will be many videos on YouTube related to it.
But to learn this, it is necessary to have the right quality crochet kites. So to solve this problem, The Wobbles launched Crochet Kits.
Through crochet, different types of handmade like dogs, mouse, cats, etc. can be made and sold. Due to this, the time is utilized in the right place and one gets to learn some new things.
This business was discovered by Justine Tiu when she was trying to make handmade gifts for her friends. Justine wanted to make some new things with crochet-like cute penguins but she doesn't know how to do it.
Due to her research, she found that this is not happening only with him, there are many people who are facing this kind of issue.
Adrian Zhang and Justine Tiu started this startup with only a $200 investment but now its worth is $5.3 million.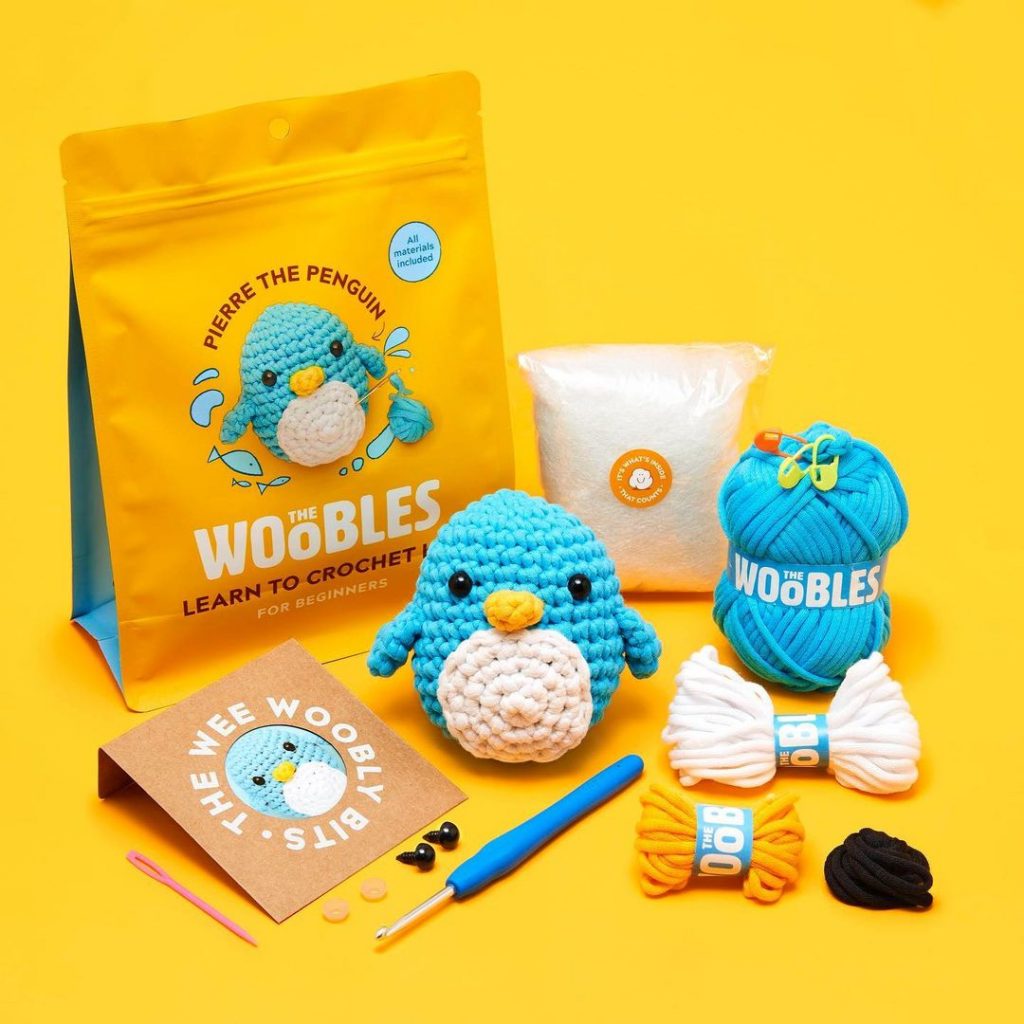 What Is The Woobles?
The Wobbles is a business that teaches beginners to crochet kits. Through crochet, it helps to make different types of penguins, dinosaurs, Tiny Baby Bee, Birds, Fox, Bunny, Lion, Elephant, Bear, and many more.
It offers three types of kits pack, Beginner, Intermediate, and Limited Edition, and differs in its price. It also offers bundles packs which have 3 to 4 types of handmade product-making crochet kits.
In each of its packs, multiple things are provided to the user, this includes Yarn Needle, Eyes, Easy peasy yarn, Pre-Started yarn, 4mm crochet hook, Stuffing, A Bag that holds it all, and Step by Step Video Instructions.
Different types of items are found in each pack, however, they contain pre-started yarn and a 4mm crochet hook, but the colors change.
Separate video and blog tutorials also provide this for beginners related to crochet. This yarn is made from 75% cotton and 25% nylon. Crochet amigurumi kits can range in price from $25-$100.
| | |
| --- | --- |
| Company Name | The Woobles |
| Founder | Justine Tiu & Adrian (Xinli) Zhang |
| Founded | Jul 2020 |
| Product | The Woobles makes fun, simple kits that teach you how to crochet. |
| Asked For | $250K for a 5% Equity |
| Final Deal | $450K for a 6% Equity |
| Shark | Mark Cuban and Lori Greiner |
| Episode (Shark Tank USA) | S14 E2 |
| Air Date | Sep 30, 2022 |
| Business Status | In Business |
| Website | Visit Website |
| Headquarters | New York, New York, US |
| Lifetime Worth (Sales) | $2.1M *estimated |
| Go To Amazon | Buy Now |
| Watch On | Amazon Prime |
Another Shark Tank Pitch
Who Is The Founder Of The Woobles?
The Co-Founder and Inventor of The Wobbles are Justine Tiu and another Co-Founder is Adrian (Xinli) Zhang.
Justine joined Google as a UX Designer after studying B.S.E., Electrical and Computer Engineering at Duke University. In 2018, she joined Kenzie Academy as a Senior UX Instructor. In July 2020, she started the Woobles business.
Adrian also completed his Bachelor of Science, Biomedical Engineering, and Economics at Duke University.
After his studies, he worked as an associate at "JP Morgan" for 4 years, and after that worked as a director at Deutsche Bank for more than 2 years.
In September 2022, Adrien is running the Woobles business full time.
The Woobles Before Shark Tank
Justine started The Woobles business in July 2020. She had to make a handmade gift for her friend and has spent many weeks on YouTube videos, diagrams, and crochet blogs.
For this, she tried a lot of things, and in that she also had a lot of mistakes. However, she did not give up and kept doing this thing.
All I could think was – what's a girl gotta do to crochet a cute penguin, goshyarnit?! So that's why she started the Woobles business.
This business is completely based on crochet, through which it teaches people to make fun and handmade crochets from scratch.
Justine Says, "We were inspired to start The Woobles because of a woman named Emily,".
So far, more than 100,000 people have learned crochet from The Woobles and their beginner kits are for 100% complete beginners.
It has taught crochet to over 100,000 consumers so far and it has sold 150,000 crochet kits. This husband and wife started growing the business in 2020 by selling amigurumi and 3-D animal crochet kits.
This company launches a new crochet kit every month. Its products are available on Amazon, Real Canadian Superstores, and Etsy with its website.
Many media publications have featured this company, including USA Today, Business Journal, BuzzFeed, Modern Retail, and many more.
This husband and wife need funding and expert opinion to grow their business so they participated in the shark tank. They believe that sharks help them to grow their business.
How Was The Shark Tank Pitch Of The Woobles?
Couple Justine and Adrian entered Shark Tank with Woobles Company and asked Shark for $250k for a 5% equity at a $5 Million Valuation. Both of them pitched their business idea to Shark and also told how they came up with the idea.
This product has a landed cost of $3, wholesale $15, and retail $30. 90% of their sales are direct consumers and they get all these sales from their website.
This business was started 2 years ago with $200 worth of yarn and a domain name year to date this business has become $5.3 million. The sharks were completely surprised after hearing this. Kevin said it is incredible.
Year To date, they have earned $3.1 million and they are expecting to grow up to $7 million. It spends 20% of its revenue on advertising. Their average order value is $57. 86% gross margin, 32% net margin lifetime, and 38% year to date.
This business has a very good margin, so this thing Robert says is why $250K is needed. Adrian said that he needed licensing, wholesale, and mentorship.
Kevin said in this that he can help reduce the cost to acquire customers, by around 8% to 10%. (2) Will help with licensing, And he will help with new interesting ideas. Kevin offered $250k for 10% equity at a $2.5 Million Valuation.
Barbara Corcoran made an offer of $300k for a 10% equity. Lori Greiner also liked this business very much, she would make an offer. Her offer was $300k for a 10% equity.
Barbara countered $350k for a 10% equity. After that Lori countered $300k for an 8% equity. Barbara makes another counteroffer of $350k for a 5% equity. Barbara approaches Mark to team up with her.
Lori is with her 8% equity offer. Adrian says he reads her book and thinks Lori will team up with another shark.
Barbara & Mark teamed up to make an offer of $350k for a 6% equity. Robert & Lori teamed up to make an offer of $450k for a 6% equity.
Justine and Adrian discussed for a few minutes and wanted the Mark and Lori team to $450k for a 6% equity at a $7 Million Valuation. Barbara & Robert were completely surprised to hear this.
Finalize: Mark & Lori invested $450K in The Woobles for 6% equity.
What Happened To The Woobles After Shark Tank?
The Woobles business was highly favored in Shark Tank with all the sharks showing a lot of interest to invest in it. The entrepreneur had signed a deal with Mark & ​​Lori but Barbara & Robert were surprised by it.
Sharks did not believe it when they heard about the company's 2-year sales of $5.3 million. Because this company was started in 2020 and it has done so many sales in just 2 years.
Their sales track is running for $3.1 million by September 30, 2022. The entrepreneur expects to reach $7 million. This is a lot of sales for a startup company.
The fans of Shark Tank are considering it a good business. Shark Tank Viewers liked this product very much, he feels that learning yarn is a good thing.
When Adrian did not sign the deal with Barbara, Barbara tweeted and said.
There are many Twitter users who are congratulating the entrepreneur and also saying that they liked the pitch the entrepreneur.
Many Twitter users say that the price of this product is $30 too high. The company will have to reduce the price to increase its sales.
This company's product has been liked by both Shark and fans from Shark Tank, it is expected that the company's sales will be millions of dollars.
Justine shared reels on her Instagram business account and updated that she received a lot of orders after 24 hours of Shark Tank. Earlier, they had not received so many orders, their entire family started to ship the orders.
By November 2022, 'The Woobles' has taught crochet to a total of 100,000 people, in the coming few months, he is going to teach crochet to more people.
The Woobles Shark Tank Update
The Woobles' Shark Tank episode managed to attract people after it aired. This business will help those who wanted to make handmade gifts etc. through yarn. Mark & ​​Lori is a very good partners for this business because both of them understand the current trends.
As of September 30, 2022, the company's sales are $3.1 million and entrepreneurs are expecting to make $7 million.
We're following Justine Tiu and Adrian (Xinli) Zhang along with their company for further updates.
What Is The Woobles Net Worth?
This company's sales are increasing very well. They uploaded the shipping video of their product on Instagram, in which they were shipping thousands of dollars worth of products. The Woobles net worth is currently around $2.1 million.
This company had to ask for investment in Shark Tank at a valuation of $5 million, but after negotiating with Shark, the deal was signed at a valuation of $7 million.
Most of the time sharks invest by reducing the valuation of the company but it backfired with the company. Because this company's sales were incredible.
Is The Woobles Still In Business?
Justine is working on expanding her business internationally and has been selected in Real Canadian Superstores. Canadians can now buy crochet kits from this store.
Justine has launched a new book on Amazon this October 2022 called "Crochet Amigurumi for Every Occasion". The price of this book is $22.49.
Amigurumi is a Japanese word that describes small knitted or crocheted stuffed toys.
The Woobles products such as Books and Crochet Kits are available in 60+ retail and online stores across the United States.
The product is available at The Match Factory, Great Lakes Yarn and Creations, STASH Needle Art Lounge, and Real Canadian Superstores in Canada.
If you need any more information about this company then you can contact [email protected].
Yes, The Woobles is still in business as of November 2022.