Long Table Pancakes is a pancakes business it makes vegan, healthy, and tasty pancakes. This company makes pancakes as well as organic maple syrup. All their products are organic and tasty. It does not use any kind of artificial chemicals on the product, everything is natural and organic.
Samuel Taylor, the founder of this long table company, launched this pancake business in February 2015. Taylor fell in love with an acrobat in 2010 and made popcorn pancakes to impress her. Taylor married the acrobat and presented popcorn pancakes as a wedding present.
He started his first business with an investment amount of $5,000 in Farmer's Market. He is doing the long table business part-time as he used to work in Chicago theater full time.
Due to the 2020 Covid19 pandemic, the theater was closed and Taylor started working full-time in this long-table business. In 2 years, his business increased up to 2 times, and every month this business started growing.
Samuel Taylor appeared on Shark Tank Season 14 Episode 10 with his company Long Table Pancakes and demanded $140,000 for a 15% equity at $1.07 Million Valuation from the shark. Many pancake businesses have appeared in Shark Tank and some of those businesses have also got investments.
What Is Long Table Pancakes?
Long Table Pancakes is a Chicago, Illinois Base Pancakes Food and Beverage Business. This business makes organic maple syrup along with making pancakes of different varieties.
Currently, this pancake comes in 3 varieties as Popcorn Pancake, Blue Corn pancake, and Gluten-free Pancake. Waffle is mixed in all these pancakes. 2 to 5 times breakfast can be done with one pack.
Organic Wheat Flour (Veet), Organic Oat Flour, and Almond Meal (Almond) ingredients are specially used to make these pancakes.
Organic Maple Syrup comes in 7 flavors such as Sugarmaker's Cut, Bourbon Barrel-Aged, Ginger Root Infused, and many more.
The cost of pancakes is $11.25 and the cost of maple syrup is $18.95. The product is available on the company website and at select retail stores in Chicago.
| | |
| --- | --- |
| Company Name | Long Table Pancakes |
| Founder | Samuel Taylor |
| Founded | Feb 2015 |
| Product | organic and vegan pancakes & Waffle Mix |
| Asked For | $140K for a 15% equity |
| Final Deal | No Deal |
| Shark | No Shark |
| Episode (Shark Tank USA) | S14 E10 |
| Air Date | Jan 6, 2023 |
| Business Status | In Business |
| Website | Visit Website |
| Headquarters | Chicago, Illinois, United States |
| Lifetime Worth (Sales) | $2.3M *estimated |
| Go To Amazon | Buy Now |
| Watch On | Amazon Prime |
Another Shark Tank Pitch
Who Is The Founder Of Long Table Pancakes?
The founder and CEO of Long Table Pancakes Business are Samuel Taylor. Taylor launched this business in February 2015 in Chicago.
Taylor worked in Chicago theater before working full-time in the pancakes business. He was earlier a self-author and has written the book "My life with the Shakespeare Cult & Blueprints for a Shakespeare Cult".
Since 2019, Taylor has been working as a part-time lecturer at the University of Chicago. Since 2011, he has been the co-founder of "The Back Room Shakespeare Project".
Long Table Pancakes Before Shark Tank
This pancakes business was started in 2015 but behind the start of this business is the love story of Taylor & Acrobat which started in 2010.
Taylor used to make popcorn pancakes to impress his partner. When the couple got married, Taylor gifted popcorn pancakes to his acrobat wife as a wedding present.
Taylor was working full-time in a Chicago theater and as a side hustle, he started a pancakes business investing $5,000 of his own savings. The pancakes business started at farmer's markets.
Due to the 2020 Covid19 Pandemic, all the theaters were closed and Taylor had become a father then and could not see any way out.
Taking a risk, he started working full time on his pancakes business and in 2 years the business earned 2 times his profit.
As of January 6, 2023, the Company's Pancakes and Syrup are available at 13 retail stores in Illinois and are gradually increasing.
How Was The Shark Tank Pitch Of Long Table Pancakes?
Samuel Taylor entered the Shark Tank show with his wife and asked the sharks for $140k for a 15% equity. Samuel explains to Shark how he makes pancakes using organic ingredients.
The shark has liked the taste of pancakes. Along with pancakes, he also makes waffles, and Samuel calls his best customer David Schwimmer to tell him the facts about these waffles and make awesome waffles.
Schwimmer told that he gives these waffles to his daughter to eat every week. Schwimmer has also said that he is not yet an investor in the business.
Schwimmer first met Samuel and Lindsey at Chicago's not-for-profit theater company Looking Glass (Schwimmer is the founder of this theatre.). After Pandemic hit, his closest friends who used to perform live in the theater suddenly got unemployed.
His theater was shut down for 19 months. They fired more than half of their employees. 10 months back he had reached Shmuel and he said that Shmuel should go to Shark Tank.
The selling cost of one pack is $11.25 and it is manufactured for $3.10. This business started in 2015 and has total sales of $250,000 till date. He made $20,000 in sales every year from 2015 to 2019.
70% of his sales are direct to consumer and 30% are retail stores. It is sold online only on his website. He doesn't work on social media, Shark says it's a problem.
Lori Greiner said that she is not a fan of pancakes and she does not have passion in it then she is out. Barbara Corcoran said that she is out because of the slowness of the business.
Gwyneth Paltrow said this business is too small for her, so she is out. Mark Cuban said he is out due to fundamental issues. Kevin O'Leary said that any business needs to be on social media, so he's out
Finalize: Long Table Pancakes didn't get a deal in Shark Tank.
What Happened To Long Table Pancakes After The Shark Tank?
Actor David Schwimmer was involved in the Long Table Pancakes pitch but the business didn't get the deal on Shark Tank. Schwimmer had said that Lori likes pancakes a lot but Lori said that she is not such a big fan of pancakes.
This business has been around for 8 years till 2023 but its total sales are only $250k which is very low. However, the gross margin for this Pancakes Product is around 72%.
Samuel and Lindsey had invited their friends and colleagues to watch this episode of Shark Tank. After this episode aired, many people on social media Instagram and Twitter said that they ordered pancakes after watching this Shark Tank episode.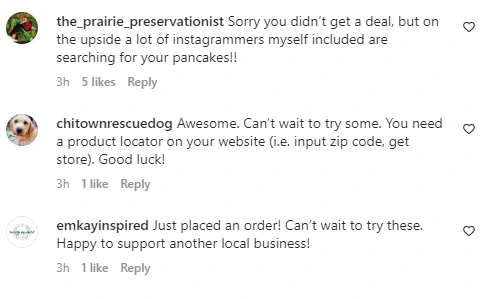 Thousands of visitors had come together on the longtablepancakes.com website, due to which the website was crashing again and again.
Long Table Pancakes Shark Tank Update
Founder Samuel Taylor appeared on Shark Tank on January 6, 2022, and pitched his product to the sharks very well. He has told Shark about the Annual Sales Report of his product. Till 2023 this business has completed 8 years.
We're following Samuel Taylor along with his company for further updates.
What Is Long Table Pancakes Net Worth?
As of now, the Long Table Pancakes Worth is estimated at $1 million. It has been 8 years till 2023 in the food and beverage business. Taylor started this business with his risk moments and he became successful within 2 years.
The growth of the pancake business is the highest in North America. The market growth of this industry is expected to reach $1.36 billion by 2025.
Is Long Table Pancakes Still In Business?
This pancake company claims that they use organic ingredients and natural methods to make the product. All its ingredients are natural and chemical-free.
Its products are available at most stores in Illinois and it is slowly focusing on expanding. Most of the sales in this business come from retail and wholesale.
The headquarters of this company is in Chicago, Illinois, United States, and 2 to 10 people are working in it.
Yes, Long Table Pancakes is still in business as of January 2023.
frequently asked questions
What is Long Table Pancakes worth?
The Long Table Pancake's net worth is an estimated $0.8 million.
Who is the Owner of Long Table Pancakes?
Samuel Taylor is the owner, founder, and CEO of Long Table Pancakes Company.