Kudos is a diaper business that manufactures 100% cotton disposable diapers. This disposable diaper was created by MIT engineer Amrita Saigal. No plastic is used in Kudos diapers and it keeps baby bums completely soft.
Amrita Saigal, founder and CEO of Mykudos, launched this business in January 2019. For one of her projects in MIT, she developed sanitary pads from sustainable banana tree fiber. In 2009, she developed sustainable sanitary pads and was successful.
When she was 30, a friend had a baby and wanted a diaper that followed the principles of elegant sustainability. She wanted a disposable diaper that was as convenient and as sustainable as cloth diapers. Keeping this thought in mind, Kudos was born.
The disposable diaper was first invented by Marion Donovan and it was patented in 1951. The market size of the baby diaper industry in the United States is expected to be $7.74bn in 2023. Huggies and Pampers are the two biggest players in this diaper industry which have taken 80% market share.
Polypropylene and polyethylene are used in most diapers, including big brands Huggies and Pampers. The company claims that it is replacing 500 million plastic pounds through its disposable diapers.
Amrita Saigal appeared in Shark Tank Season 14 Episode 10 with her product MyKudos and demanded $250,000 for a 5% equity at a $5 Million Valuation from the sharks. Shark's help is needed to make this business big.
What Is Kudos?
Kudos is a disposable diaper made from 100% pure cotton. Cotton is great for sensitive skin as it is naturally soft, hypoallergenic and free from skin irritation.
The plant base materials used to manufacture Kudos diapers are cotton, sugarcane and trees. They source all their cotton from farmers in the United States. They use specially TruCotton (TM) as cotton.
Their products contain 70% unbleached cotton and 30% bleached cotton. Kudos cotton is Oeko-Tex Standard 100 certified and USDA biobased certified.
In diapers, they use DoubleDry Tech. These diapers come in different sizes and designs. Cost of 216 diapers for 1 year old baby is $88. The cost of 126 diapers for a 6-year-old baby is $88, with each diaper costing $0.70.
You can buy on time purchase and monthly subscription basis. There is 11% discount on monthly subscription.
| | |
| --- | --- |
| Company Name | Kudos |
| Founder | Amrita Saigal |
| Founded | Jan 2019 |
| Product | a natural disposable diapers |
| Asked For | $250K for a 5% equity |
| Final Deal | $250K for a 7% equity + 3% advisory shares |
| Shark | Mark Cuban and Gwyneth Paltrow |
| Episode (Shark Tank USA) | S14 E10 |
| Air Date | Jan 6, 2023 |
| Business Status | In Business |
| Website | Visit Website |
| Headquarters | Los Angeles, California, United States |
| Lifetime Worth (Sales) | $5.3M *estimated |
| Go To Amazon | Buy Now |
| Watch On | Amazon Prime |
Another Shark Tank Pitch
Who Is The Founder Of Kudos?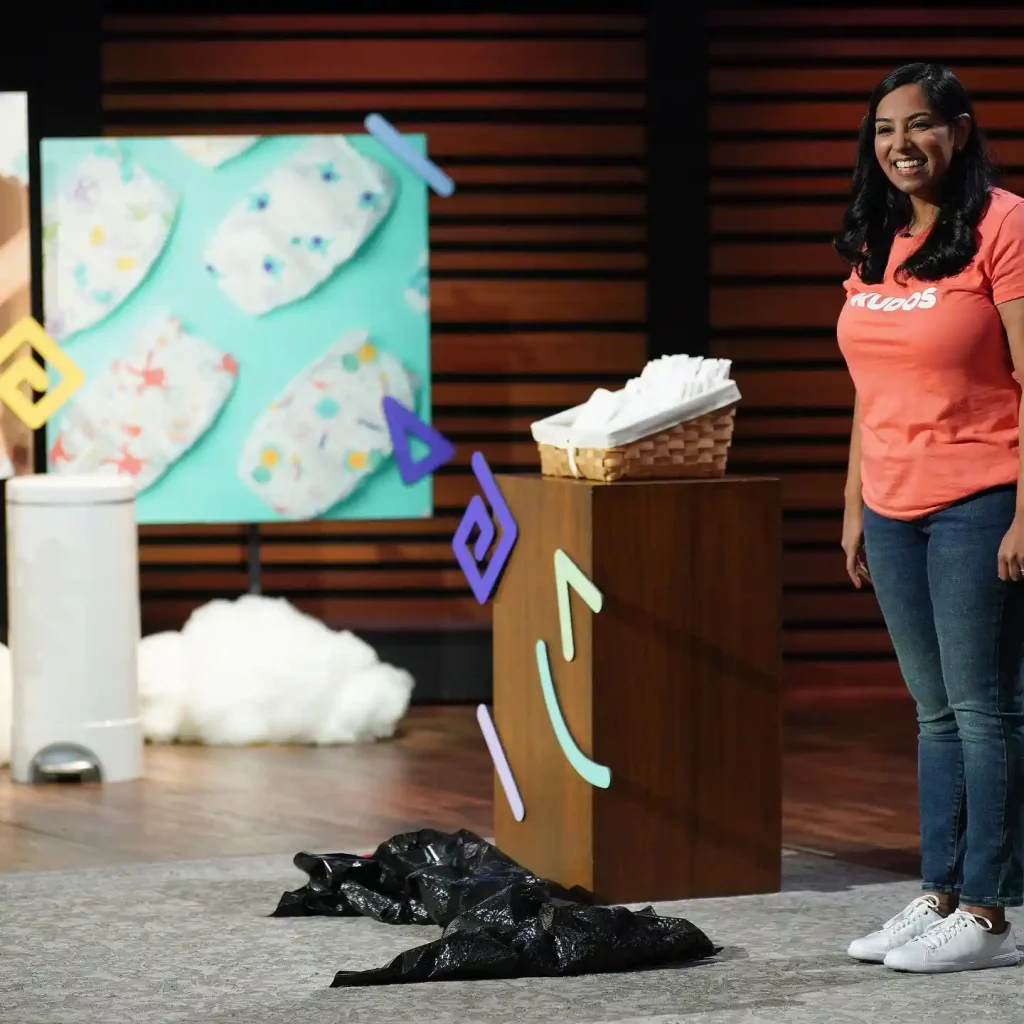 Amrita Saigal is the founder and CEO of Kudos. She studied MBA from Harvard Business School after studying mechanical engineering from Massachusetts Institute of Technology.
She has worked in various job positions for 2 years. In 2009, she launched the business "Saathi", which makes biodegradable sanitary pads from banana tree fiber for India women.
From 2016 to 2018, she worked as the Head of Business Development & Community at Thunkable. In January 2019, it launched Kudos.
The head of marketing for this disposable diaper business is Moira Finicane and the engineer is Jim Keighley.
Kudos Before Shark Tank
Before launching Kudos, Amrita had made biodegradable sanitary pads named Saathi and she had given these to thousand of women in India.
Amrita used to talk about diapers with her grandmother and she came to know that in 1940, in which condition her grandmother had to pass during her period.
Kudos disposable diapers were invented by Amrita to solve her friend's baby's diaper problem. On April 2021, Amrita won an amount of $25,000 as a runner up in Harvard's Annual Business Competition.
E-commerce startup Kudos raised $2.4 million in seed round on June 2021 from 9 investors (include Foundation Capital, XFund, PJC, Precursor Ventures, Liquid 2 Ventures, SV Angel, UnderscoreVC, Alpha Bridge Ventures).
India gave the 2021 Hygienix Innovation Award to this diaper subscription box company.
How Was The Shark Tank Pitch Of Kudos?
Amrita enters the shark tank wrapped in a plastic cover and asks the sharks for $250k for 5% equity. Amrita tells Shark about her premium disposable diaper product.
This product was launched in the market 1 year ago and in the first year she made $850,000 in sales. All these sales have come 100% directly from the consumer.
This is not a completely bootstrapped startup, Amrita has raised $3.2 million in funding so far. Amrita raised the last funding at $12.5 million valuation.
It's not profitable yet. Since starting the business, she has lost a total of $1.5 million. Amrita estimates that it will do $4.5 million in annual sales by 2023.
The landed cost of one pack of diapers is $39. In the first year she spent a little over $100k in the market. Their customer acquisition cost is $23.
3 weeks ago they launched baby wipes, they are expecting to launch training pants and swim pants. Mark Cuban and Gwyneth Paltrow Have Team Up to Offer $250K for a 12% Equity.
Amrita countered $250k for 8% equity. Amrita counters Mark and Gwyneth for $250k for 8% equity. Mark said 10% equity.
Amrita countered another $250k for a 7% equity + 3% advisory share. Mark Cuban agreed.
Finalize: Mark Cuban and Gwyneth Paltrow invest $250k for 7% equity in Kudos.
What Happened To Kudos After The Shark Tank?
Disposable eco-friendly diapers business kudos got a deal in Shark Tank. The founder of this company Amrita is a mature entrepreneur and she has very good knowledge of business.
Amrita pitched very well in Shark Tank and explained her business to the sharks like a proper business woman. Mark and Gwyneth made an offer to Amrita before all the sharks got their opinion on this business.
After this episode of Shark Tank aired, Amrita shared a video on Instagram account @kudostobaby and said thank you to all the people. By using the promo code "BABYSHARK" you can avail 10% discount on each diaper pack.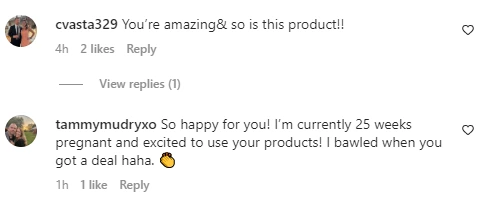 In this way, many mothers shared their true opinion about this pure cotton premium diapers on social media.
Kudos Shark Tank Update
The Kudos disposable diaper subscription box business appeared on Shark Tank and was pitched very well by founder Amrita. Amrita told about her business story how she made it from sanitary pads to disposable diaper business.
This business had sales of $850k in 2022 and Amrita says she is expected to make $4.5 million in sales by the end of 2023.
She is impressive and a fabulous salesperson! #Kudos#SharkTank

Barbara Corcoran
We're following Amrita Saigal along with her company for further updates.
Kudos Funding List
Here is the investment list of Kudos.
| | | | |
| --- | --- | --- | --- |
| Date | Amount | Investor | Round Name |
| Jun 1, 2021 | $2.4M | Foundation Capital, XFund and more.. | Seed Round |
Amrita told in Shark Tank that she has raised a total of $3.2 million funding till January 2023.
What Is Kudos Net Worth?
The current worth of disposable diaper business Kudos is $3.2 million. The company raised $2.4 million investment funding from 9 investors in the seed round in 2021.
The worldwide baby disposable diapers market size was $43 billion in 2020 and the industry is expected to reach $60 billion by 2031. With the increase in population in the world, the growth of this diaper industry is also increasing very fast.
Is Kudos Still In Business?
Kudos disposable diaper subscription box business has been running successfully since 2019. Along with the diaper product, the premium wet wipes product is also getting a very good response from the people.
You can buy these products from the official website mykudos. The price of this product has been kept according to the size.
This disposable diaper business has been featured in many media publications such as Fast Company, Forbes, The Boston globe and many more.
The headquarters of this company is in Boston, Massachusetts, United States and it employs 2 to 10 people.
Yes, Kudos is still in business as of January 2023.
Kudos: Latest Deals, Promo Code & News
Follow @sharkatanktalks1 for latest updates and promo codes related to this product and company.
frequently asked questions
What is Kudos worth?
The current worth of Kudos Company is $3.2 million.
Who is the Owner of Kudos?
Kudos was launched in 2019 by MIT graduate Amrita Saigal.