The Banana Phone is a Bluetooth handset designed in the shape and color of the original Banana. This phone is used for fun and it works somewhat like the original phone. This banana phone is good enough for a funny conversation.
This "Fruit Tech Revolution" startup was started by three friends Brian Brunsing, Charlie Katrycz, and Max Brown. They have grown up together and there is a very deep friendship between them.
The Banana phone startup was brought up by Max Brown and Brian Brunsing in Shark Tank Season 14 Episode 2. Because this company needed Shark's expertise with investment, this company could expand.
A kids song named Banana Phone was released on YouTube in 2017 and its artist is Raffi. This YouTube video has garnered over 25 million views as of September 28, 2022.
Banana Phone is a product that looks like a Banana. By connecting this Banana phone with the smartphone via Bluetooth, real people are talked to.
This is a new innovative product which is for entertainment. People will be very happy using this product and this Banana looking phone will also become a symbol of attraction.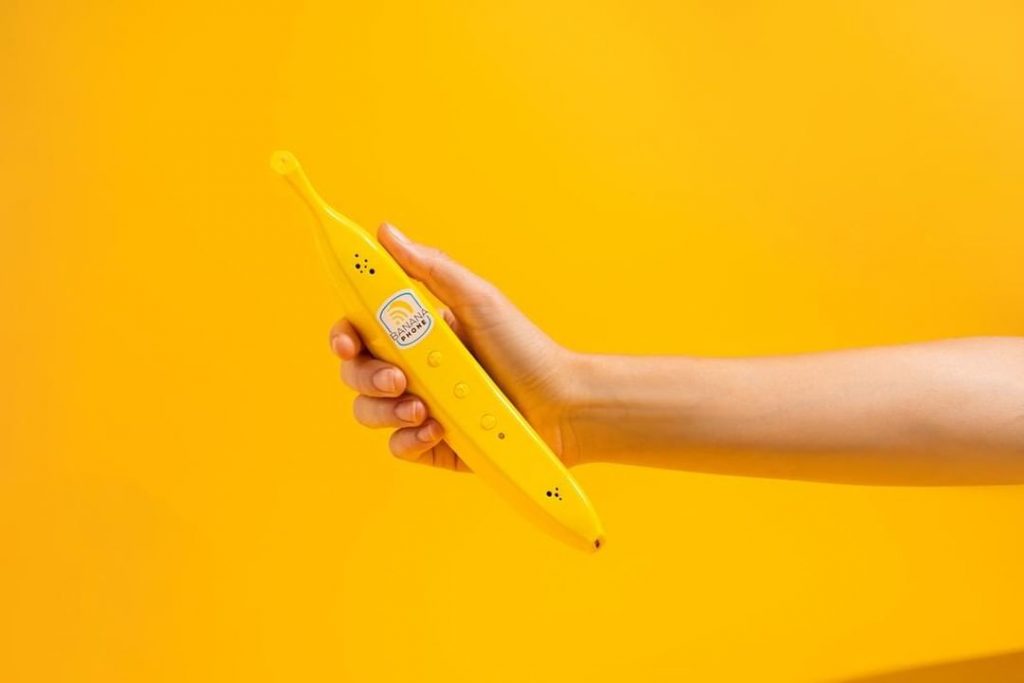 What Is Banana Phone?
A banana phone is a phone made with the purpose of entertainment which looks like a banana. To use it, it is connected to the smartphone via Bluetooth so that real people can be talked to and also listen to music.
Banana-like Bluetooth handsets can be connected to all devices, this includes the iPhone, Android, Alexa, Siri, Google, and other Bluetooth devices with full voice assistant capabilities.
This phone is made from recycled plastic and its packaging is also 100% recyclable. This is a perfect gift product for Mother, Father, Son, Daughter, Uncle, and Aunt.
Multiple things are available in this device like a phone, including a Steam, Speaker, Volume Up, Multifunction, Volume Down, LED Indicator, Microphone & Micro USB.
To recharge the phone, a lithium battery has been used in it. A 10-hours talk can be done after charging. It runs up to 70 hours on one charge. Apart from this, it has a Qualcomm chipset made with certified conflict-free minerals.
This Banana phone is available on its website as well as on Amazon and the current price of this phone is $39.99.
| | |
| --- | --- |
| Company Name | Banana Phone |
| Founder | Brian Brunsing, Charlie Katrycz, and Max Brown |
| Founded | 2017 |
| Product | Banana Phone Bluetooth handset for Cell Phones |
| Asked For | $250K for a 10% Equity |
| Final Deal | No Deals |
| Shark | No Sharks |
| Episode (Shark Tank USA) | S14 E2 |
| Air Date | Sep 30, 2022 |
| Business Status | In Business |
| Website | Visit Website |
| Headquarters | New York, New York, US |
| Lifetime Worth (Sales) | $1.9M *estimated |
| Go To Amazon | Buy Now |
| Watch On | Amazon Prime |
Another Shark Tank Pitch
Who Is The Founder Of Banana Phone?
Banana Phone LLC Company was started in 2017 by three friends Brian Brunsing, Charlie Katrycz, and Max Brown.
Max Brown is the CEO as well as the President of Garrett Lather Corporation. He studied business management at the University of Colorado Boulder.
Brian Brunsing is a marketing expert and is also the founder of Banana Phones. He is working in VISA as Sr. Director – Ecommerce and Digital Marketplaces. He studied business administration at the University of Colorado Boulder.
Charlie Katrycz is a CTO. This is the founder of Loonskin Labs. Charlie is currently pursuing his Ph.D. in Materials Science and Engineering at The University of Toronto.
Banana Phone Before Shark Tank
This Banana phone product was started in 2017 by three friends. So that this phone can be used as entertainment to talk to real people.
The shape and color of this phone are like a banana, any person will understand to make this phone after seeing it for the first time.
By connecting this device with a smartphone, real people can be talked to. In this, the option to receive and cut calls has also been given.
After this phone was made, its inventor launched a crowdfunding campaign on Indiegogo for the sales of the phone. In this, they raised $44,850 from 530 backers on June 1, 2017. In the same year, all the products were successfully delivered.
This company donates 1% of its sales every year to Gearing Up 4 Gorillas. According to the banana phone's Website Initially, this company had received 1000+ units of pre-orders for the phone from 18 countries.
Entrepreneurs decided to come to Shark Tank to boost their company's sales.
How Was The Shark Tank Pitch Of Banana Phone?
Brian & Max entered Shark Tank with their company Banana Phone and asked Shark for $250k for a 10% equity at a $2.5 Million Valuation. The entrepreneur told Shark about his story and also said that this phone is made for entertainment.
Lori asked the entrepreneur how long this business has been running, to which the entrepreneur said that it has been 6 years. Hearing this, all the sharks laughed.
Kevin said that this business would have done very good sales if it has been 6 years. The entrepreneur said that their lifetime sales of $1.6 million were very happy to hear about this shark.
In the last year 2021, they did sales of $540,000. their net income in the last 12 months is $123K. The entrepreneur entertained the shark a lot in his funny pitch.
The retail cost of this funny phone is $39.99 and each unit-making cost is $6. They haven't Pursued the design pattern yet. It can be copied easily but they have protected their trademark.
Last 2 years they had shifted to Robust Consumer Advertising Strategy and they did advertisements on Facebook, Tiktok, and Google. Their customer acquisition cost is $9.
Kevin O'Leary said this is a very eclectic category, he does not need a phone to make in his portfolio and product is not for him then he will be out.
Mark, Robert, Lori, and Barbara also opted out of this business deal. The entrepreneur had to leave Shark Tank without a deal.
Finalize: Banana phone could not find a deal in Shark Tank.
What Happened To Banana Phone After Shark Tank?
Brian & Max gave a very good presentation in Shark Tank, their banana phone made the shark laugh a lot too. However, Shark did not find this company valuable, so Shark did not make any investments in this company.
This product has a total lifetime sales of $1.6 million as of September 30, 2022. Shark did not believe after hearing about these sales. Shark does not think that the sales of this product can be so high.
Barbara also tweeted about this product saying "This is bananas! I can't believe these two have those sales!".
After this episode aired, there are many Twitter users who have given their opinion about this phone in different ways and also created memes.
The most viral on Twitter, was Kevin's talk "I do not need a banana phone in my portfolio." about the Banana phone.
Some people are saying on Twitter that they did not like this product, but there are some people who will buy this product for testing.
Banana Phone Shark Tank Update
After the Shark Tank episode of Banana Phone aired, there are many people who are making fun of this product. However, this product is for entertainment. At the same time, some people are saying that they have to use this product once.
This company's total lifetime sales as of September 30, 2022, are $1.6 million. It sold for $540,000 in 2021. Shark did not believe that the sale of this product could be so high.
We are currently following this company & entrepreneurs Brian, Max & Charlie for further updates.
What Is Banana Phone Net Worth?
This company's product is for fun and can be used by everyone. The sales of this company have also been good to some extent. If we talk about Banana Phone Net Worth then we think it can be $1.2 million.
Is Banana Phone Still In Business?
This "fruit tech revolution" startup needs many more things to grow. This startup current which is working on the product can become a big winner product for it if marketing is done properly.
Apart from this, how much product is needed for people, this thing also matters in bringing sales. There are many people who are liking this phone and are buying it as a gift.
This product has been featured by many media publications including HuffPost, The Verge, and Esquire.
American popular actress Reese Witherspoon posted reels on Instagram on March 12, 2022, in which she was testing the Banana Phone. She said, "Random stuff I bought from Instagram ads. Episode 1: Banana Phone"
Many people also commented on Reese Witherspoon's reel video to buy this phone.
75% of the people who bought this phone on Amazon gave a 5-star rating. Most people have given positive reviews to this phone.
Yes, Banana Phone is still in business as of November 2022.
My opinion on the Banana phone
The phone looks like a Banana and is for entertainment only. This phone is perfect for doing activities related to fun and other entertainment. This phone has a charging battery and therefore we do not recommend this phone for children to use alone.
This can be done in it only like entertainment. This banana phone cannot be used like a smartphone. This is a very good funny gift for a father, mother, girlfriend, and friend.
Think like a shark, this company can't get funding. Apart from this, the product is for entertainment and there are many people who will be easily attracted by a phone that looks like a banana.