Must Love California Base is a plan base frozen dessert company. This company makes different flavors of desserts as well as cookies, ice creams etc. It completely focuses on manufacturing Plant Base Vegan, Nutritional, Healthy Foods.
The founders of Must Love Company are Hannah Hong and Mollie Cha, they are best friends they met during Undergrad at UC Berkeley. Both of them have remained friends for 15 years.
Mollie had made Banana Nice Cream for dessert with almond milk one day for dinner. After taking the first bite, Hannah liked it very much. This "Nice Cream" was completely a dairy-free, simple ingredients, really delicious product.
To make this product a brand, both Hannah and Mollie quit their jobs and started this business full time. The Must Love brand was officially launched in 2016.
This Women Entrepreneur appeared on Shark Tank Season 13 Episode 11 for Funding and asked the sharks for $600,000 for 7.5% equity at $8 Million Valuation. That's a pretty high valuation for a frozen dessert startup.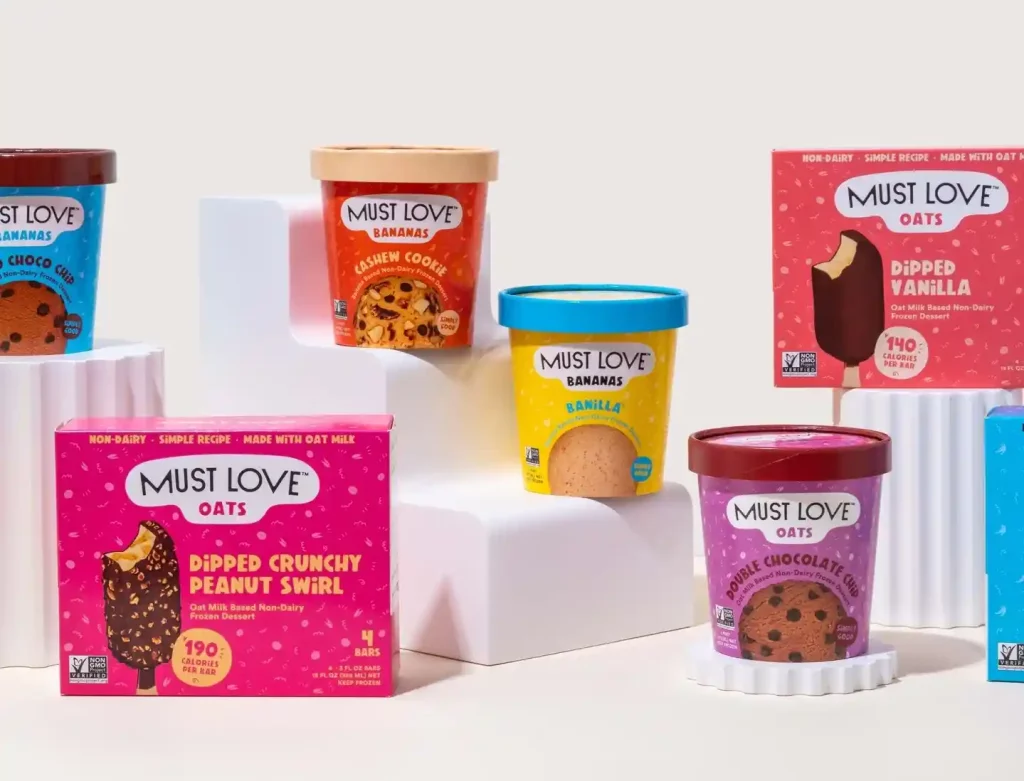 What Is Must Love?
Must Love is a Food and Beverage Business that manufactures Frosted cookies, (N)ice cream, Sprinkles and Sweet Dessert. This business started with making Banana Nice Cream.
It also sells variety frosted cookies like birthday cake and chocolate. It has different types of desserts available like Bananas, Chocolate, Cashew Cookies, Oats and many more.
Apart from this, it also sells Peanut Swirl Bars, Banilla Bars and Vanilla Bars. All these products are made from plant base ingredients. Its ice cream and sprinkles are gluten free but cookies are not, as all cookies contain wheat.
6 packs of cookies cost $42, sprinkles cost $2. 50, Dessert costs $5.99, and Dipped Bars cost $5.99. This product is available at Whole Foods, Sprouts, Costco, Instacart and Company shop sites.
| | |
| --- | --- |
| Company Name | Hakuna Brands LLC |
| Founder | Hannah Hong and Mollie Cha |
| Founded | 2016 |
| Product | Plant base Vegan (N)ice cream, and Sprinkles. |
| Asked For | $600k for 7.5% Equity |
| Final Deal | No Deal |
| Shark | No Shark |
| Episode (Shark Tank USA) | S13 E11 |
| Air Date | Jan 14, 2022 |
| Business Status | In Business |
| Website | Visit Website |
| Headquarters | Los Angeles, California, United States |
| Lifetime Worth (Sales) | $3.7M *estimated |
| Go To Amazon | Buy Now |
| Watch On | Amazon Prime |
Another Shark Tank Pitch
Who Is The Founder Of Must Love?
Must Love Business is co-founded by Hannah Hong and Mollie Cha, best friends since college and hail from California. Both of them left their jobs and launched this company in 2016.
Hannah Hong
Hannah worked for 2 years as a Senior Associate at PwC Consulting after MBA from the UCLA Anderson School of Management.
She worked in various positions for 2 years at Bolthouse Farms.
Mollie Cha
Mollie worked as a Strategy at Bolthouse Farms after completing her MBA from MIT Sloan School of Management.
She was the principal at Malibu Design Group for 1 year.
Must Love Before Shark Tank
The CO-founder had to face a lot of difficulty in launching this Food & Beverages company. This business brought many challenges for him for the first time.
Both the co-founders came from a business background and understood marketing and business growth very well. Their products are now available at Whole Foods, Sprouts, Costco, Instacart and more. Through this supermarket chain, their products have become available all over the United States.
This brand was included in the list of "Top 5 Non-Dairy Ice Cream Brands" on Instacart in August 2020. Hannah joined PepsiCo Stacy's Rise Project and won the $100,000 grand prize there.
By March 2021, the company's products have become available at more than 800 stores across the United States.
How Was The Shark Tank Pitch Of Must Love?
Hannah Hong and Mollie Cha both entered Shark Tank and asked the sharks for $600k for a 7.5% equity. When the sharks heard the valuation of this company, they were surprised. They did a simple demo session about their Plant Base Indulgent Treats.
The sharks really liked the taste of this plant based treat, Kevin O'Leary said he thought it would taste terrible but it tasted great.
Their parents immigrated to the United States from Korea, started their own business. In this business, Mollie mainly focuses on operations and Hannah on marketing.
In 2017 they started making sales and made $35,000. Every year their sales doubled and year to date (Mid 2021) their sales have crossed $1 million. By the end of 2021, they will do $1.7 million in sales. They are currently running at a $400,000 loss.
Nationally it is available at Sprouts Farmers Market and Whole Foods. This year they're going to launch at Costco. Retail cost of frozen dessert $5.99 and making cost $1.80.
Both of them invested $200,000 in this business and they have raised $1.4 million at an $8 Million Valuation in the last 5 years.
Kevin O'Leary said this company is not worth $8 million net worth, it is too much for him so he is out. Peter Jones had invested in a similar business to the Dragons Den British show and the sales of that business increased but the margin decreased, that's why he is out.
Mark Cuban said "There's not that one trigger that makes someone say, Okay I have to try this" that's why he is out.
Lori Greiner said she knows this space, She signed a deal with Frozen Farmer in Season 11 and all the sharks said that wouldn't make money in this space and right now in 2021 that business is going to do $20 million in sales. You are very competitive with my frozen farmer so that she is out.
Finalize: The Must Love frozen ice cream brand didn't get a deal in Shark Tank.
What Happened To Must Love After The Shark Tank?
Must Love didn't get the deal in Shark Tank because of the valuation of the company. Kevin O'Leary didn't think the company was valued at $8 million.
After this episode of Shark Tank aired, they received a lot of orders on Whole Foods, Sprouts and Online Shop website. In February 2022, these products became available at Costco Wholesale in Hawaii and South California.
As of August 2022, the company's ice cream bars will be available at Westerly Natural Market, Westside Market, and Health Nuts in New York.
What' New on Must Love
Dipped Banilla Bars are now available at most Costco wholesale stores in the United Kingdom.
Must Love Shark Tank Update
The Shark Tank episode of Must Love aired on January 14, 2022, although this business did not get a deal in Shark Tank but got free promotion on the national show.
The co-founder said in the Shark Tank show that they will do $1.7 million in sales by the end of 2021. To grow this type of food and beverages business, the profit margin has to be reduced by going into the feature.
We're following Hannah Hong and Mollie Cha along with their company for further updates.
What Is Must Love Net Worth?
Must Love was valued at $8 million at the Tank Show. The company raised $1.4 million in 2016-17 at an $8 million valuation. More funding is needed to grow this business.
The frozen food business industry is estimated to be worth $40 billion in the United States in 2023 and the growth of the industry is negative at present. There is a lot of competition in this industry, there are many brands which are sitting with more market share.
Is Must Love Still In Business?
This business has been running for a long time and in recent times this brand's dessert etc. foods product has reached internationally.
This startup has been featured in various of media publications like Food Business News, Go Dairy Free, FoodNavigator and many more.
The company's headquarters and manufacturing facility is located in Los Angeles, California, United States. Total 2 to 10 people are working in it.
Yes, Must Love is still in business as of January 2023.
Must Love: Latest Deals, Promo Code & News
Follow @Sharktanktalks1 account for latest Shark Tank deals, product promo codes, offers & more.
frequently asked questions
What is Must Love worth?
Must Love's current worth is $8 million.
Did Must Love get a deal on Shark Tank?
No' Must Love didn't get the deal on Shark Tank.
Where can Must Love product be bought?
Must Love Foods Products Available at Whole Foods, Sprouts, Costco, Instacart, Westerly Natural Market and Company shop sites.