NuMilk is a fresh plant-based milk-making machine. Through this machine, all types of vegan fresh milk or drinks of different ingredients are made. NuMilk was brought in by co-founder Joe Savino and Ari Tolwin on Shark Tank Season 12 Episode 18, asking for $1 million for 5% equity.
There are many people who do not like cows because they cannot digest them. There are some vegan people who do not drink the milk of cows or any other animal, so they prefer to drink almond & oats milk, etc.
Many big companies produce this Almond & Oats Milk. The shelf life of each milk is approximately 5 to 10 days.
Brands use different ingredients to make their plant base milk such as guar gum, locust bean gum, acacia gum, and carrageenan.
By using all these ingredients, the brands reduce their production cost without providing pure plant base milk to the consumer.
Plant base package milk is not good for health. There are many kinds of milk that come in plastic pouches so that a piece of plastic can enter the human body.
In order to provide fresh demand plant base milk to the people, Joe invented the NUMILK machine.
The rest of the almond milk package contains different types of ingredients and it is not Pure.
The NuMilk machine uses three ingredients – Almonds, Purified Water, and Maple Syrup to make fresh Almond Milk instantly.
There are many people who use almonds as an alternative to cow milk. Almond milk contains many things like vitamin E, calcium, phosphorous, iron, magnesium, zinc, selenium, copper, and B vitamins.
When NuMilk was pitched in Shark Tank, it was a two refrigerators size machine.
In this update of August 2022, the size of this machine has been made for different use in Home & Professional(Restaurant, Hotel & Event).
During the pitch of Shark Tank, it was told that these two refrigerators' size plant base milk-made machine has been placed in New England and New York Whole Foods Markets and mom-and-pop grocers.
What Is NuMilk?
NuMilk is a machine that is made using plant base milk nutrition ingredients.
Almond milk can be made through this machine using only three ingredients Almonds, Purified Water, and Maple Syrup.
Currently, this machine comes in two sizes Numilk Home and Numilk Pro, it weighs 15 lbs and 30 lbs.
Now they have launched the 32oz, NUMILKS Pouch. Different types of milk and shake can be made through these pouches.
There is no need to add any dry ingredients to this machine as these pouches come with the pack.
It has many ingredients like Almond Original, Almond Unsweetened, Oat Original, Cashew Unsweetened, Black Sesame, Chocolate Oat, Matcha Latte, Golden milk, Moonmilk, and many more.
This machine is also very easy to clean. All you need is a clean cloth to clean the pouch chamber.
It is very easy to use, you have to take a bottle, fill 28 ounces of water in it and place it in the bottom of the machine.
If this machine is connected to the water line then there is no need to take water in the bottle. All you have to do is select your favorite Numilk pouch and place it on the top of the machine.
After that press the start button and your fresh milk are ready.
The price of Numilk pouches ranges from $3.20 to $4.80. Numilk Home and Numilk Pro both cost $249 & $699.
| | |
| --- | --- |
| Company Name | NuMilk |
| Founder | Joe Savino and Ari Tolwin |
| Product | plant-based milk-making machine |
| Asked For | $1 Million for 5% Equity |
| Final Deal | $1M for a 7% stake + an optional $1M loan at 3% interest for a 3% stake in advisory shares. |
| Shark | Mark Cuban |
| Episode (Shark Tank USA) | Season 12 Episode 18 |
| Air Date | March 26, 2021 |
| Business Status | In Business |
| Net Worth | $10 Million *estimated |
| Website | Visit Website |
| Headquarters | New York City Metropolitan Area, US |
| Go To Amazon | Buy Now |
Another Shark Tank Pitch
Who Is The Founder Of NuMilk?
Joseph C. Savino is the Co-Founder & Inventor of NuMilk Company. Ari Tolwin is another co-founder.
Joseph studied BBA, Finance at Pace University – Lubin School of Business.
For 4 years, he was the Operations Manager at 121 Inflight Catering. Was the co-founder of Harvest Beverages Group for 5 years.
Ari Tolwin is an entrepreneur who was the Co-Founder & CEO of Happy Tree Maple Water for 5 years.
NuMilk Before Shark Tank
Joseph and Ari together started the business of making milk from Plant Base Ingredients.
According to LinkedIn, this company was launched in June 2018 and its sales are not very good at the time of launch.
It was just a very big machine that made almond milk and oat milk. The size of this machine is made up of two refrigerators.
This machine is most needed in grocery stores and coffee shops etc. Because many people come there for milk.
Numilk was selected for the 2020 PepsiCo North America Greenhouse Program.
This machine was first placed in Whole Foods' new Nut Butter Station. In this, they were selling a fresh almond milk bottle, which costs $3.99 per bottle.
Many grocery stores in the United States, it is implementing large refrigerators size Plant Base Milk Made Machine.
How Was The Shark Tank Pitch Of NuMilk?
Note This report is of Shark Tank Season 12 Episode 18 which aired on March 26, 2021.
Joseph and Ari came to Shark Tank and asked Shark for $1,000,000 for 5% equity for their business.
they gave complete information to Shark about the story of his business and this innovative product.
they only gave a demo session of Almond and Oat Milk in his pitch and made milk live.
The cost of a bottle is $2 and when refilled, it costs $3.99. This milking machine is currently installed in some grocery stores.
They had reveled in Shark Tank and have raised $12 million in funding so far at a $40 million valuation.
In 2018, they generated revenue of $40,000 within a year through one of their machines, but its R&D cost was spent $2 million in it.
In 2019, they had sales of $320,000 from their 10 machines, they had to spend $3 million to do this.
they had a track record of $6 million in 2020 but the grocery chains got closed during the Covid-19 pandemic.
During that time he had sales of $ 400,000, now there is $3 million available in his bank.
Barbara, Daymond & Lori all three got out of this business offer.
Kevin made an offer about this business $1 million loan at 9.5% interest for 3 years for 5% equity.
Mark made an offer for this business of $1M for a 7% stake + an optional $1M loan at 3% interest for a 3% stake in advisory shares.
Joe & Ari asked to negotiate with Mark but Mark refused.
Joe & Ari agreed to this offer Mark and the deal was completed.
What Happened To NuMilk After Shark Tank?
NuMilk got a deal in Shark Tank, Mark Cuban invested $2 million in this business.
The instant almond milk-made machine idea is an innovative one and people might like it a lot.
Although this type of idea has come before, there are many products that are similar to it. Many NuMilk alternative products will be found on Amazon.
As its alternative, a popular company is a ChefWave Milk made, its sale is getting very good on Amazon.
The same NuMilk has not been available on Amazon till August 2022. It is available only on its official website.
After Shark Tank, this company launched two new machines NUMILK Home & NUMILK Pro. then they launched multiple ingredient Numilks Pouch.
This product was featured by multiple media publications including CNBC, Veg News, and Well plus Good.
It has made its large milk-making machine available in more than 65 grocery retail stores in the United States.
It is shipping the product only in the US, Puerto Rico, and Canada in 2022, in the coming few years it will cover the continent of Asia.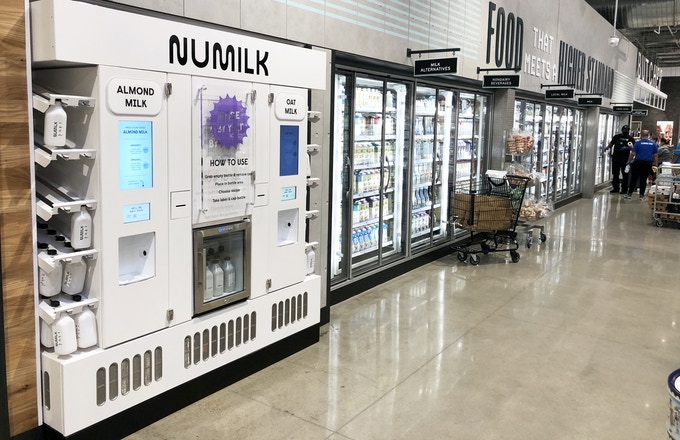 Numilk Shark Tank Update
Numilk is a trending product. When it appeared on Shark Tank many people felt the need for this product.
We can see that Mark has not closed his deal with this business in August 2022. We believe that Mark is still helping the co-founder to grow this business.
The business launched a Kickstarter campaign for its new product, Numilk Home, in which it raised $222,353 in funding from 888 backers.
This August 2022 We haven't received any sales & annual report yet.
What Is The Numilk Net Worth?
We looked at the valuation of this company and we think this Numilk net worth could be $10 million.
This is the market size of the industry of billion dollar valuation. Competition is very high in this industry.
Is Numilk Still In Business?
The company that is Numilk can grow a lot in the coming few years. If this business is marketed well then it can make a good hold in the coffee shop and grocery stores.
In the coming time, the plan of this business is to make its products available in grocery stores in different cities in the United States.
The co-owners of this company, Joe Savino and Ari Tolwin, are still associated with this business and Mark is probably with this business.
Although this product is not available on Amazon they have marketed this business very well. Their website is being grown slowly now.
Currently, the social media handle of this business is still active and is posting it quite actively on its Instagram account.
Yes, Numilk is still in business as of August 2022.