The Tandem Boogie is an inflatable bodyboard that is designed to carry two people. The Clark family, owners of this unique product, appeared in Shark Tank Season 12 Episode 17 and asked $100,000 for 10% equity from the sharks.
As this bodyboard can carry two people Through this, paddle boarding, surfing, swimming, water polo, Slow boarding, and, boogie boarding can also be done.
John and Manya Clarke created this tandem boogie. Through this bodyboard, his daughters Alleanna, Juliette, and Lyla used to have a lot of fun.
This Innovative Product Tandem Boogie Is Designed To Anyone who can use it to ride in waves with his Buddy whether he has experience or not.
Clarks loves watersports and has always been associated with water. Before inventing this product, Clarks thought that he wanted to be something that two people could enjoy together.
Due to this thinking, in 2019, the Clark family started designing the tandem boogie. This is an inflatable board that uses cross-weaved, drop-stitch technology.
The first boogie board event was done in 1977 by Tom Morey, a resident of Hawaii.
Tom Morey is a musician, engineer, surfboard shaper, and surfer He was born on 15 August 1935 in Detroit, Michigan, the United States, and he died at the age of 86.
The Clark family takes on different roles to scale the boogie boarding product.
John oversees Marketing & Sales, Alleanna its Social Media Community Manager, Lyla in apparel and merchandise, and Juliette a Chief Fun Officer.
After the design of the product, John Clark needed funding, he did a successful Kickstarter campaign that raised $31,230 in July 2020.
This company started selling its product in the middle of the Covid-19 pandemic. At the time of the pandemic, it was a restriction for people to come out of the house.
This bodyboard idea of ​​Clark was liked by shark Robert Herjavec & Daniel Lubetzky and both became Clark's partner in this business.
What Is Tandem Boogie?
The Tandem Boogie is an inflatable bodyboard that can carry two people at once. Nose and rails have been given for the handle in this board so that both the rider can easily hold and can also take the experience of riding.
The width of this board is 34 inches, which makes the rider quite comfortable. The size of this Tandem Surf bodyboard is 51 x 34 x 4 and weighs 7 lbs.
The special thing about this board is that it is made from military-grade, high-density PVC material that can handle whatever weather, chemicals, impact, and scratches.
It is strong, soft, and also has an easy-to-grip handle. The option of installing a camera has been given in it, which will record every movement of this board with you.
Its design helps in cutting the waves and moving forward without effort.
This board comes with a dual-stage pump and backpack and it is portable and it can be taken with you wherever it is allowed in flight.
It fits easily in a small bag, When it is to be used, it has to be filled with air through a dual action pump, after a few minutes it will be ready to use.
The bodyboard costs $299, the surfboard is $595, the adult hydro blade fins cost $79, and the Sit & Sup Kayak + Stand-up Paddleboard costs $995.
| | |
| --- | --- |
| Company Name | TANDM Inc. |
| Founder | Clark Family |
| Product | Inflatable bodyboard designed to carry two people |
| Asked For | $100,000 for 10% Equity |
| Final Deal | $100,000 for 35% Equity |
| Shark | Robert Herjavec and Daniel Lubetzky |
| Episode (Shark Tank USA) | Season 12 Episode 17 |
| Air Date | March 12, 2021 |
| Business Status | In Business |
| Net Worth | $750K *estimated |
| Website | Visit Website |
| Headquarters | San Clemente, California, US |
| Go To Amazon | Buy Now |
Another Shark Tank Pitch
Who Is The Founder Of Tandem Boogie?
Tandem Boogie is a family business founded by John & Manya. His three friends are Alleanna, Juliette, and Lyla who help him in this business.
Manya works as an Industrial Engineer with 30 years of experience in Manufacturing and Operations.
John is a marketing expert, who works in marketing and product development in the corporate world.
Juliette and Alleanna are both currently in Science, Computer Science, and Business Management. is studying at the University of California-Berkeley.
Juliette is the CEO of the company and Alleanna is its community manager.
Lyla is currently studying Business and Law and she is in Apparel and Merchandise of this company.
Tandem Boogie Before Shark Tank
John presented this innovative product John has been very close to the water in the beginning.
In 2007, he founded a (Stand Up Paddling) surf club, which provides information and learns about the sport.
When this inflatable bodyboard was first introduced to this club, it was well received by the members of the club.
John's first customer of this company was his Stand Up Paddling Surf Club. This is an expansive product, it requires a lot of capital for the market.
The Clark family launched this successful campaign on Kickstarter where they raised $31,230 from 101 backers in July 2020.
This product was soon shipped to the backers, however, shipping was delayed during the pandemic.
Many buyers had a good experience with this product and they were also able to surf very well.
Seeing this innovative product design, Tom Morey said "The Clark family has done a marvelous job of designing the Tandem Boogie,"
How Was The Shark Tank Pitch Of Tandem Boogie?
The Clark family brought the Tandem Boogie Company to Shark Tank and demanded 100,000 for 10% equity from the Sharks.
In this pitch, he also told the story related to the product's journey and sales report as well as gave demo sessions on how these bodyboards work.
In the 2 months from the start of this business, their sales were $43,000 – $31,000 through kickstarts.
Each board has a making cost of $150 and a selling price of $459, with a profit margin of around 60%.
John told Shark Tank that this product is currently available in 4 retail stores.
John has a plan to expand this product globally. He will set up 25 accounts this year and generate $300,000 in sales by the end of the year.
Mark, Kevin & Lori opted out of this business offer. For this business, Mark said that it needs a lot of marketing.
Robert & Daniel offered John $100,000 for 35% equity, The Clark family made a counter offer of 30%, but Robert declined it. The Clark family agreed to 35% equity.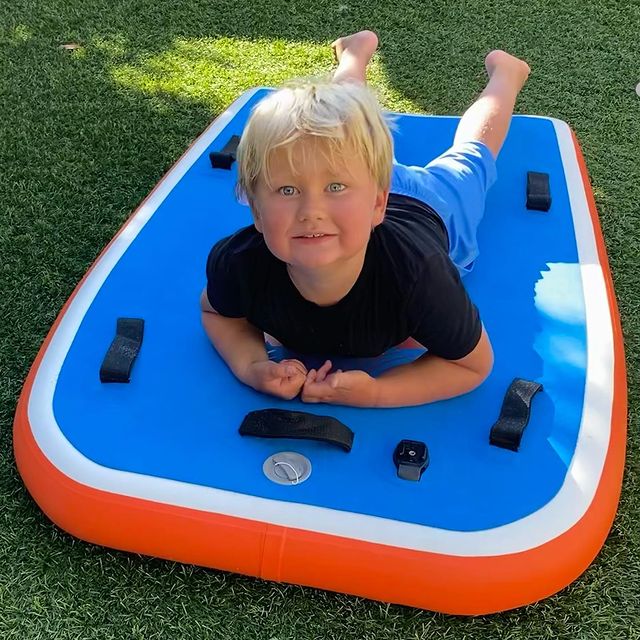 What Happened To Tandem Boogie After Shark Tank?
The deal was signed by Robert & Daniels with a 35% stake in Tandem Boogie.
This is a unique innovative bodyboard and is great fun for the family. Two people can do boarding together on this board.
John went to Shark Tank so that he could expand this business globally.
This is such a business that if it is done with online marketing, then it can bring millions of dollars in sales.
This industry is very competitive and expansive, many competitors are already present in this business.
Shark Tank, when it was previously selling products in the United States, it is now shipping through FedEx outside of the United States.
It includes many countries like Canada, Mexico, Europe, Japan, New Zealand, Australia, and Africa.
The company launched a "Tandm Surf Bodyboarding Contest" on Sunday, June 26, 2022, with an online registration fee of $60.
TANDM Surf has partnered with Surf Style. Surf Style is available in 60 mega-sized retail locations in the Southeastern United States. It has expanded to many new locations.
According to the tandmsurf blog, many kids were seen using tandm boards at the California bodyboard camp.
Tandem Boogie Shark Tank Update
The Shark Tank episode of Tandem Boogie was released on March 12, 2021, it was liked by many after its release.
This bodyboard is very expansive so it will be more likely that fewer people have bought this product.
After some research, we came to know that this deal was closed with Daniel and not with Robert.
After Shark Tank, he introduced his three new products which are a surfboard, adult hydro blade fins, and Sit & Sup Kayak + Stand-up Paddleboard.
This is in August 2022. We do not have official revenue figures available for this.
What Is The Tandem Boogie Net Worth?
This company's sales report is not available yet but we can guess that Tandem Boogie Net Worth can be $750K.
Is Tandem Boogie Still In Business?
If you want to buy Tandem Boogie, then this product is available on Amazon and Surf Style retail stores.
Many media publications have featured this product, including Los Angeles Times, and Many More.
This business needs a good marketer who can take its sales to the next level.
He has got his patent done for his product and is also very active on social media.
Yes, Tandem Boogie is still in business as of August 2022.