Drink Moment or Moment Drink is a beverage company this company makes drinks that do not contain any kind of unhealthy ingredients like caffeine, added sugars, artificial flavors, junk, etc. The founder of this company, Aisha, Faheem appeared in Shark Tank Season 12 Episode 6 asking for $200,000 in exchange for 10% equity.
The current valuation of this moment drink during the Shark Tank show was $2 million, in just one year. According to LinkedIn, this company was launched in 2019.
Moment Drink brought its company to a $2 million valuation in just 1 year. This company Belongs to the food and beverages services industry and its official headquarter is in New York, New York.
No harmful ingredients have been used in this drink, when it is drunk, it gives a feeling of meditation.
It contains a mixture of L-theanine and reset with Ashwagandha, L-theanine which is found in natural green tea. This nootropic helps in increasing the alpha brainwaves. You must have experienced it when you meditate, it relieves stress and improves mental health.
Ashwagandha which is an Ayurvedic root is found in India. One study has found that its adaptogen boosts brain function, lowers cortisol levels, and helps fight stress.
Today's stress is a major problem and at this moment drink is used to solve it.
What Is Moment Drink?
Moments Drink is an all-natural, botanical beverage for the mind, focus, and stress relief. After drinking it, it feels like meditation.
This drink is made using natural ingredients that include L-theanine, and Ashwagandha. It is made from the concept of Completely Ayurvedic. Ayurvedic is a means through which any disease of the human body can be cured.
This drink is healthy because it does not contain harmful ingredients like caffeine, added sugars, artificial flavors, junk, etc.
The things that have been used in the drink are completely clean and useful, for this has been proved by a lot of research and science.
This drink comes in different types of Flavored including blood orange, spiced mango, tulsi lemon, cherry hibiscus, blueberry ginger, hibiscus dragon fruit, kiwi chlorophyll, lychee mint, cherry Chaga, and orange thyme.
Moment Drink Shark Tank Update
| | |
| --- | --- |
| Company Name | Moment Drink |
| Founder | Aisha Chottani and Faheem Fajee |
| Product | all-natural, botanical beverage for mind, focus and stress relief |
| Asked For | $200k for 10% Equity |
| Final Deal | No Offer |
| Shark | No Shark |
| Episode (Shark Tank USA) | S12 E6 |
| Air Date | Nov 20, 2020 |
| Business Status | In Business |
| Net Worth | $3.2 Million *estimated |
Moment Drink Contact Details
| | |
| --- | --- |
| Website | Visit Website |
| Social Media | Linkedin |
| Place | New York, United States |
Who Is The Founder Of Moment Drink? – Aisha Chottani and Faheem Fajee Shark Tank
The founder and CFO of Moment Drink are Aisha Chottani & Faheem is its CEO. Aisha and Faheem have done a lot of research for this with hundreds of ingredients from all over the world.
In his kitchen, he mixed a thousand experimental batches, But he was looking for Health, Nutricious and Delicious which he found successful through Moment.
This formula of his was made from natural ingredients and through this alpha brainwaves increase and reduce stress.
Faheem is a serial entrepreneur from South Africa. When he was 10 years old, he was doing a T-shirt selling business on a roadside, this was his first business. His last startup was funded by Google and was selected as South Africa's best startup.
Earned a Bachelor's degree in Business Science in Economics, Statistics and Finance from the University of Cape Town. He is certified by the Chartered Financial Analyst Institute.
Aisha who grew up in the Middle East of South Asia worked in Supply Chain and Logistics Expertise for 10 years.
After spending 2 weeks in business in South Africa, she left and met Fahim. After that, she started her MBA studies at Harvard Business School.
She did her studies BS in Finance, Economics, and Social Sciences from Lahore University of Management Sciences in Pakistan.
Moment Before Shark Tank
Founder Aisha & Faheem started this business in 2019 and it started growing slowly after that during 1 year, its growth started increasing very much.
Between 2019 and 2020, this company's valuation went up to $2 million, which is a surprising thing.
No harmful ingredients are used in this product of Moment Drink, all the ingredients are Ayurvedic.
He imports the flowers for his drink from different countries. Hibiscus Dragon Fruits from South East Asia, and its different flavors Hibiscus petals, Dragon Fruit, Black Cherry, and Ceylon Cinnamon Aata.
Rooibos Blood Orange from South Africa and its different flavors are Rooibos Tea, Blood Orange, and Thyme.
Tulsi Lemon of Pakistan and its Different Flavors Meyer Lemon, Tulsi/Holy Basil, and Cardamom.
Available in Moment non-GMO, non-carbonated, caffeine-free, fat-free, sugar-free, Keto-friendly. It gets extra 9-15 calories.
The moment has received the Beverages Industry's Premier Award, The BevNET New Beverages Showdown 2020. He had accepted the Prestigious Amazon Launchpad program. They get 1% of all sales going to mental health non-profits.
The moment was the number one selling flavored water on Amazon. This company has achieved success in a very short time.
Did Moment Get a Deal on Shark Tank?
Moment's founders Aisha & Faheem gave a great presentation on Shark Tank, their salary was $200,000 for 10% equity.
When Moment started, it made $15,000 in sales in the month itself, in which its growth is 400%. By 2020, this company has generated sales of $1.5 million.
Aisha said they sell for $1.69, excluding shipping. Its making cost is 90 cents and the per can charge 80 cents as shipping. There is a customer acquisition cost of $20.
This business is working on the current subscription model and one time.
Mark Cuban Said He sees what they are trying to accomplish but finds it's going to be a challenge. So because of this, he is not ready yet to invest in this business.
Kevin O'Leary praised this drink after testing it, He likes this product but he is not able to prepare himself to invest in it right now.
Lori Greiner said that she is not ready for the subscription part of this business, due to which she cannot invest in it.
Daymond John said that its potential is good but a lot of challenges are going to come with it. So he is out of this offer.
Blake Mycoskie said that he liked the charitable aspect of this company, but he believed that the drink could not replace the actual meditation/yoga.
The moment did not get any deal in Shark Tank though it is a successful company.
What Happened To Moment Drink After Shark Tank?
Moment's debut was quite a bang, this company sold $1.5 million in only 1 year, but it has not received funding from Shark Tank.
After the release of this episode, there are many people who started buying this moment's drink to test it.
After the promotion on National TV, the popularity of this company increased and there are many people who started knowing about it.
After Shark Tank, this feature was done on many new channels. According to the report of July 2021, the sale of this company has crossed $5 million.
The moment was running in the United States only and is currently expanding internationally.
Where Can Buy Moment Drink?
This moment drink, which can also be called a meditation drink, works to reduce your stress, says the founder.
If you want to buy it, then it will be available both in retail and online. Some retail stores in the United States have made this drink available.
You can buy this drink online from Amazon, and their official website drinkmoment.com.
Buying an 18-pack through their website will cost $50 while the subscription model will cost $42, saving $8 per month.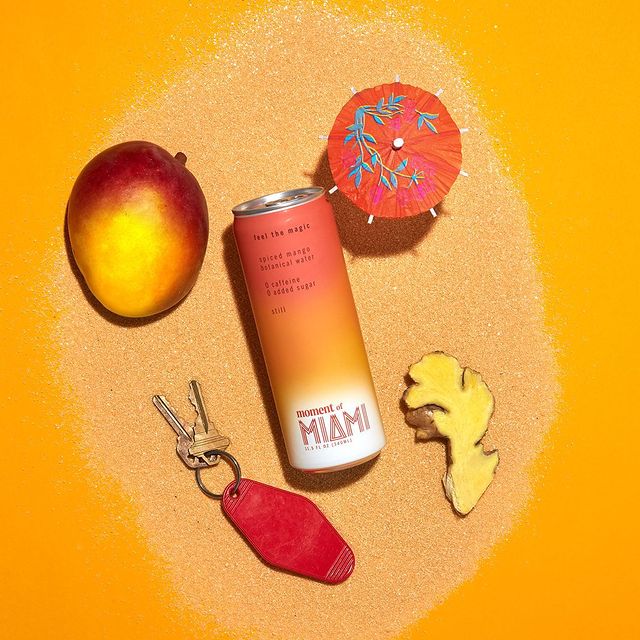 What Is Moment Net Worth?
This company did sales of $5 million in 2021, and now this Moment Net Worth is $3.2 million, it is in 2022.
This company is expanding its product internationally, in the coming time it will be able to cover the entire United States.
Is Moment Still In Business?
Yes, the moment drink is still popular, many people are switching their drinks to it, it reduces stress.
After appearing in Shark Tank, this company was covered by many media channels, including The New York Times, Glamour, and Forbes.
Information related to their product is getting updated daily on social media too, they currently have 16.1k followers on Instagram.
Images Credit: Amazon.com & drinkmoment.com