In This Article, I am Talk About Shark Tank India Judges Names, shark tank India investors, shark tank India sharks, shark tank India cast, etc. There are many people who want information about the judge of Shark Tank India, then in this article, we will give you this information.
After coming to Shark Tank India, many small startups will get the funding to grow in India. Whoever is about to start their new startup, they do not need to go anywhere else, they will easily get the funding through this show.
Many big founders and CEOs have been kept as judges in Shark Tank India, they will invest their money in small startups.
This Shark Tank India can bring a new revolution in India and its growth is visible in India.
Shark tank India Start Date
As you know, this show is starting on December 20, 2021, on Sony Live TV channel at 9 P.M night. If you are running a new startup or you have a new idea for a startup then you can go to this show.
| | |
| --- | --- |
| Channel Name | Sony Entertainment Television |
| Show Timings | Monday to Friday at 9pm |
| Running Time | 40-45 Minutes |
| Starting Date | 20 December 2021 |
| Language | Hindi |
| Country | India |
Shark Tank India Registration Process
To participate in Shark Tank India, you have to register, for that, we have told some steps which are mandatory.
Step 1 – First of all, you have to download their application from the Sonyliv website, you will get the banner of Shark Tank India registration on this website or app.
Step 2 – In order to participate in Shark Tank India, you have to fill in some mandatory things.
Step 3 – Complete your registration process by uploading the documents you need.
Step 4 – Congratulation you have participating in this show, we will call you.
Shark tank India Investors
The investor is called Indian Shark in the Shark Tank India show. In this show, investors will be founding valuable and problem-solving startups. Indian Entrepreneurs need to pitch their business idea to the investor by explaining the important things about their business and its feature plan. If the judge is impressed with the startup idea, he will invest, mentor, and guide the Indian Entrepreneur's startup.
Shark Tank India Judges Name
In this show, the founder, co-founder, and CEO of the popular company in India have been judged. These judges will give funding to grow small startups. The names of some judges in this Shark Tank India show are mentioned in the table below.
| | |
| --- | --- |
| Investors(Judges) | Profile |
| Ashneer Grover | founder and managing director of BharatPe |
| Vineeta Singh | CEO and co-founder of SUGAR Cosmetics |
| Peyush Bansal | founder and CEO of Lenskart |
| Namita Thapar | executive director of Emcure Pharmaceuticals |
| Anupam Mittal | founder and CEO of Shaadi.com |
| Ghazal Alagh | co-founder and chief mama of Mamaearth |
| Aman Gupta | co-founder and chief marketing officer at boAt |
So here is the information of all the judges of Shark Tank India.
1. Ashneer Grover, Founder & MD at BharatPe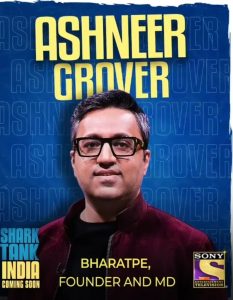 Who Is Ashneer Grover?: Ashneer Grover is an India entrepreneur and is the founder of Bharatpe Indian Online Payment Company. He had launched Bharat Pe in 2018, now it has become a unicorn startup, in the month of August this year, its valuation has been done at $ 2.5 billion.
Education: Ashneer Grover did his Alumnus of IIT Delhi. Tech in Civil Engineering degree and did MBA studies from IIM Ahmedabad. He has worked in many companies in his career including Kotak Investment Bank, Grofers, PC Jeweler Ltd and American Express.
Investments: Grover is a very good investor, he has invested in more than 55 startups. They have invested their money in many different technologies like Fintech to Health Tech to Auto Tech etc. In 2020, he invested in two company Rupifi & Yap. Till now he has invested in many startups like BIRA, Meddo, Nazara, IndiaGold etc.
2. Vineeta Singh, CEO and Co-founder at SUGAR Cosmetics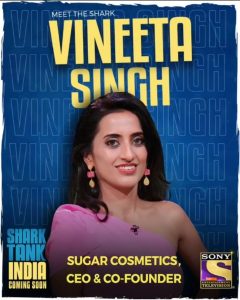 Who Is Vineeta Singh?: Vineeta Singh is the most popular Indian female entrepreneur. She is the CEO of the Indian cosmetic brand Sugar Cosmetics. She was born in a small family in Delhi. She did not take a job offer of 1 crore for her startup.
Education: She has done his B.Tech in Electrical Engineering from Madras and has studied MBA from IIM Ahmedabad.
Investments: Currently Sugar Cosmetics is one of the most popular makeup brand, quite a few people use the products of this brand. The brand value of this company is around ₹200 crores at present. She is the co-founder of Fab Bag, started in 2012. Apart from this, she is also the director of Quetzal Verify Pvt Ltd.
3. Peyush Bansal, Founder & CEO at Lenskart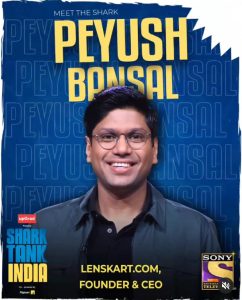 Who is Peyush Bansal?: Peyush Bansal is a Co-Founder, Chief Executive Officer, and People Officer World Most Successful And billion Dollar eyewear retail chain Company Lenskart. He was born in Delhi's middle class family on 26 April 1985, he has worked in many companies in his career, it includes Microsoft. He started his own startup in 2007, how ever it failed.
Educaions: After completing his bachelor's degree from McGill University, he did this from MPEFB Management Indian Institute of Management Bangalore.
Investments/Company: His achievement is huge, he won the Red Herring Top 100 Asia Award in 2012. He has invested $700k in Feedo as of August 2020 and has also invested in dailyobjects.com. Piyush Bansal started his own software startup Lenskart in 2010. Lenskart is currently valued at $2.5 billion.
4. Namita Thapar, Executive Director of Emcure Pharma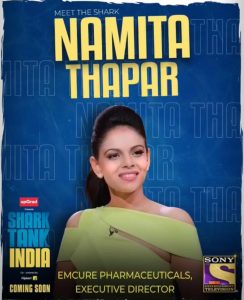 Who Is Namita Thapar?: Namita Thapar is a successful businesswoman of India Pharmacy Industry. She is the CEO and Founder of Incredible Ventures Ltd. Coming from this business family, his father was a very big businessman.
Educations: She has studied MBA.
Investments/Company: She has received many awards through his success, including the Economic Times 40 Under Forty Award. She became a part of "Champions of Change". Namita's father started Emcure Pharma in 1981, the valuation of this company's Pune farm is 418 crores.
5. Aman Gupta, Co-founder & CMO at BoAt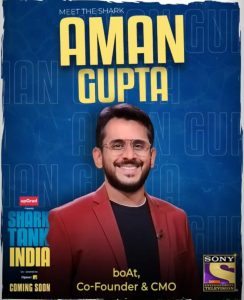 Who Is Aman Gupta?: Aman Gupta is the co-founder and co-founder of Indian electronic brand Boat, he had done many jobs in the beginning of his career. Aman is a successful businessman of India, he has grown his company very well.
Educations: After completing his Bachelor of Commerce from Delhi University. He did his Accounting and Finance degree from Institute of Chartered Accountants of India. In 2011, he completed his MBA from Kellogg School of Management.
Investments/Company: He has done many achievements in his career. On September 2021, he invested in WickedGud. Apart from this, it has also invested in Anveshan and 10club. He started the popular electronic brand Boat in 2015. This company manufactures many electronic products such as earphones, headphones, travel chargers, and rugged cables etc. The net value of this company is ₹704 crores.
6. Ghazal Alagh, Co-founder at chief MamaEarth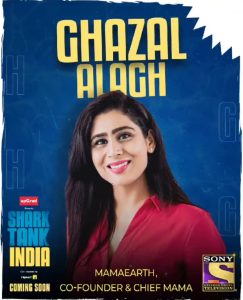 Who Is Ghazal Alagh?: Ghazal Alagh is India Female Interprener and is the Co-Founder of the most popular beauty brand company Mamaearth. She has done many things in his career, she will be seen as a judge of Shark Tank India.
Educations: She has done his BCA from Panjab University in 2010. She has done a summer intensive course at the School of Visual Arts. In 2013, she studied intensive course in Figurative Art from the New York Academy of Art.
Investments/Company: She has invested in many startups and has invested Rs.24.7m in Uvi Health on July 19, 2021. MamaEart was started in 2016 and manufactures skincare, haircare, and baby care products. The net worth of this company in 2020 is Rs. 115 Crores.
Social Media Account: Linkedin
7. Anupam Mittal, Founder at Shadi.com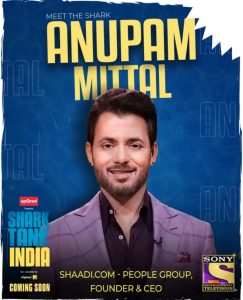 Who Is Anupam Mittam?: There are many people who would know Anupam Mittam, the founder of the online Indian wedding service Shaadi.com. Anupam is a multi-businessman, he has made his own startup Unicorn. Anupam used to come from a small family in Maharashtra, he has worked as a product manager for 4 years in Microstrategy.
Educations: He has studied commerce business at Boston College.
Investments/Company: Anupam, the founder of Shaadi.com, has taken this online wedding service startup to , Pakistan, and Bangladesh, Canada, the United Arab Emirates, the United Kingdom, the United States by starting it in India. He has made 47 personal investments. He has invested $330k in BurnCal. he has recent investment More Company Like Pre Seed Round in BurnCal, Seed Round in Bimaplan, Sees Round in Raise Financial Services, and Seed Round in Zingbus, Series A- Yojak in Yojak, Seed Round in Express Stores.
Social Media Account: Linkedin
Shark tank India Collaboration with Venture Catalyst and UpGrad
Venture Catalyst is a very large startup company in India which is known as India No1 Integrator Incubator. This company helps startups to get funding. It guides many startups on how to grow their business.
Upgrad is a global online education platform that is provided by different universities through UG and PG online. It is a billion-dollar startup that is a collaboration partner of Shark Tank India. This collaboration of Shark Tank India will give an opportunity to new startups to take their startups to the next generation and become large-scale business
FAQ Of Shark Tank India Judges Name
Who are Shark Tank India judges?
Here IS Shark Tank India Judges Name.
Ashneer Grover.
Vineeta Singh.
Peeyush Bansal.
Namita Thapar.
Anupam Mittal.
Ghazal Alagh.
Aman Gupta.
Who will be sharks in Shark Tank India?
Anupam Mittal, Founder, Shaadi.com – People Group; Ashneer Grover, Founder, and Managing Director, BharatPe; Vineeta Singh, CEO and co-Founder, SUGAR Cosmetics; Peyush Bansal, Founder and CEO, Lenskart.com; Namita Thapar, Executive Director etc.
How Shark Tank India Works?
Shark Tank is a popular show in which business owners pitch to investors for funding. The business owner charges money in exchange for some shares of his company so that he can grow his company.
What Is the Name Of Shark Tank India Host?
Shark Tank India is going to come to Sonyliv at 9 pm on December 20, so the host of this show is named Rannvijay Singha.
Can Shark Tank India Is Fake?
This is a reality show Shark Tank India actually gets funding for the business many small businesses that have taken funding from this show.
How To Watch Shark Tank India?
Shark Tank India will come on SonyLIV on 9th pam you will be able to watch this show on Sony.
If you want to go to Shark Tank, you have to register first.