DynoSafe is a temperature control lock box home delivery service. DynoSafe founder Rebecca Romanucci and her husband Eric Romanucci demanded $150,000 for 15% Equity from the sharks in Shark Tank Season 12 Episode 19.
Dynosafe delivers a wide range of items like Foods, Medicines, Clothes, Electronics & other essential items. It is an innovative startup that keeps the product secure between the buyer and the seller.
When Buyer orders a product at Dinosafe for example foods or medicine, by keeping it at a specified temperature and Safe, secure & fresh delivery is done.
In today's time, safety and security are not taken care of at the time of product delivery, this is a big problem. Due to this, the Buyer does not know how to find the right product.
Medicines and foods are sensitive things, it has to be kept at a specific temperature so that there is no problem with them. Sometimes the delivery service does not take care of this thing, due to which the medicines and food they get are not usable.
Ever since Covid-19 became a pandemic hit, people have been ordering online a lot. When he takes delivery of the product, he follows all the covid 19 precautions, especially he sanitizes the delivery package. But it doesn't matter much.
If it is the case that the product you have ordered comes in a box and has a lock whose password is known to both the buyer and the seller.
There will be no risk of any kind of virus and the product will be temperature controlled, safe & secure.
A company named Arizona Base DynoSafe was started in 2017 to deliver products with Safe, Secure & Temperature Controlled.
What Is DynoSafe?
Dynosafe is a Contactless, Safe, Secure & Temperature Controller product delivery service. It started in 2017 in Arizona.
Through this, people can accept secure deliveries at their homes.
When a user orders food or medicine, then that product is delivered to him at a specified temperature.
This Dinosafe works in a simple way. When a user orders a product online, a specific lock code is generated.
The ordered product is put in the Dynosafe lockbox and it is locked as well as its temperature is also fixed. When the delivery day arrives, a notification is sent to the user. After the delivery person comes to the user with the order in the lockbox, the code generated will have to be entered to open the lockbox.
After that, you can receive your order and use it in a secure way. Without the code, the lockbox will not be unlocked.
It delivers all things Foods, Medicines, Clothes, electronics, and other essential items.
To become a Retail Partner of DynoSafe, you have to visit its website, click Join the waitlist and complete the survey and click on the submit button.
| | |
| --- | --- |
| Company Name | DynoSafe |
| Founder | Rebecca Romanucci and Eric Romanucci |
| Product | Temperature Control, Safe & Secure is a door-to-door product delivery service. |
| Asked For | $150,000 for 15% equity |
| Final Deal | $150,000 for 25% equity + majority of board seats with one seat going to Mark Cuban |
| Shark | Robert Herjavec |
| Episode (Shark Tank USA) | Season 12 Episode 19 |
| Air Date | April 2, 2021 |
| Business Status | In Business |
| Net Worth | $480K *estimated |
| Website | Visit Website |
| Headquarters | Scottsdale, Arizona, US |
| Go To Amazon | Buy Now |
Another Shark Tank Pitch
Who Is The Founder Of DynoSafe?
Rebecca Romanucci is the Founder & CEO of Daynosafe and her husband Eric Romanucci is a board-certified colorectal surgeon as well as a Colonel in the US Army Reserve.
Rebecca was a former nurse and had been a registered nurse for 29 years. Rebecca holds several patents on Dynosafe, it's including "AI interaction with robotic/electric delivery devices, vehicles, and drones."
She has won many awards in the form of leadership. Apart from this, she is a Public Speaker, Educator, and Consultant.
Rebecca did her nursing studies at the Florida College of Nursing.
Eric has a 27-year military career and received the Bronze Star Medal for his wartime service. Apart from this, Eric commanded the Forward Surgical Team in Afghanistan.
Scott Degraeve is a Strategist and e-grocery industry expert of this company. He has 20 years of experience in the online grocery industry.
DynoSafe Before Shark Tank
Prior to DynoSafe Idea, Rebecca ran a Medi-spa business in the Dallas area, which was also her successful business.
This business idea came to him when she was running her Medi-Spa business and there is a product in it that is delivered to the people.
Some people called them and said that they had not received the product yet, due to which Rebecca was also losing a lot in her medi-spa business. To solve this product, he came up with this DynoSafe Safe & Secure Delivery business idea.
Rebecca had done a lot of research for this product before she built the prototype of this product within 4 to 5 years. It made this business idea a physical first prototype like its research.
After that, she also got different patents for Dynosafe, which includes AI interaction with robotic/electric delivery devices, vehicles, and drones.
This lockbox system is fully connected to the Internet and through the Internet, it collects and transfers data wirelessly.
The product was tested with major carrier companies FedEx, UPS, grocers, third-party logistics companies, restaurants, and others in Seattle, Washington, and Scottsdale, Arizona, and was successful.
Dynosafe is a member of the Association of Military Spouse Entrepreneurs.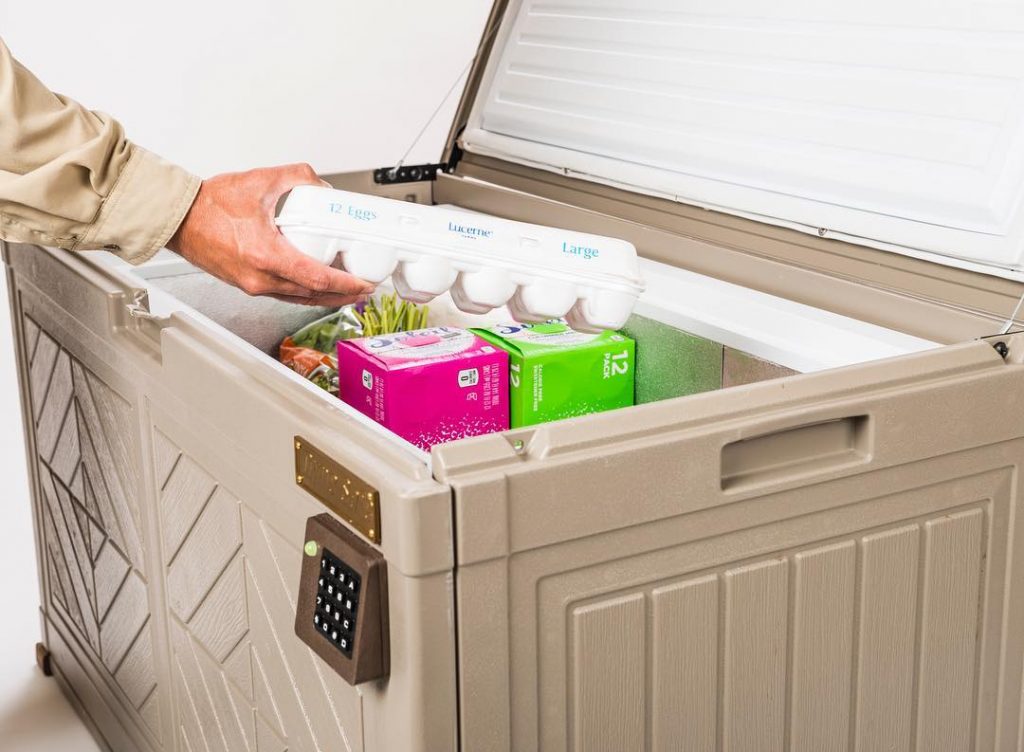 How Was The Shark Tank Pitch Of DynoSafe?
On April 2, 2022, DynoSafe appeared in Shark Tank Season 12 Episode 19 and this was its conversation with the sharks.
Rebecca & Eric enter Shark Tank and ask Sahark for $150,000 for 15% equity. Due to this demand, the valuation of Dynosafe is $1 million.
When Rebecca explained her business idea to Shark, her husband Eric supported her to complete the pitch.
The product was in the prototype stage at Shark Tank and was patented by Rebecca.
Daymond & Mark are out of this business deal. When Lori asked Rebecca how much money you have invested in it Rebecca said $500,000.
Lori said that she is very confused about this business idea, so she is still out.
Robert has an interest in the patent for this company, so his offer was $150,000 for 51% equity.
Kevin also made his offer. His offer was $150,000 for 40% equity.
Robert made another counter offer to Rebecca $150k for a 25% equity + a majority of board seats with one seat going to Mark Cuban
Rebecca agreed to Robert's second offer.
What Happened To DynoSafe After Shark Tank?
Robert is the 25% stakeholder of this Dynosafe company and he has the highest number of board members.
Robert has all the rights to run this company, he can take this business in a different model. Robert runs a cybersecurity business, he can grow this tech business well.
Currently, it is partnered with many retail stores including CES & Groceryshop. It works on the Dinosafe company subscription program.
Many media publications had featured Rebecca and her company Dynosafe, including 12 News, NewEgg, Patch, KTLA5 & Forbes.
DynoSafe Shark Tank Update
Dynosafe's Shark Tank episode aired on April 2, 2021, in which Robert signed a deal with the company.
This deal was not closed yet in August 2022.
This company has not become fully active in August 2022 and is still running on a pre-order basis.
Rebecca & Eric are currently in talks with various e-commerce companies and retail stores for a logistics partner.
We don't have much information at this time.
What Is The DynoSafe Net Worth?
Robert signed a deal with this company at a valuation of $600K and we expect DynoSafe net worth to be $480,000 right now.
Is DynoSafe Still In Business?
According to LinkedIn, the company's headquarters is in Scottsdale, Arizona working with 2-10 employees.
No such proof has been found related to DynoSafe business to know whether this business is still running or not.
Its website is live. But we analyzed its social media Instagram and Twitter, it is not active since April 2021.
Yes, DynoSafe is still in business as of August 2022