Spergo is a luxury designer clothing line and it tries to give a stylish look to the person through its designing clothes. Spergo Word is made by combining both "Sports" and "Heroes". The brand exclusively designs clothes to evoke the feeling of power, strength and courage.
Founder Trey Brown started this clothing brand in 2018 when he was only 12 years old. Trey is a normal kids and he started entrepreneurship at such a young age, Trey is deeply concerned about violence in his community and wants to do something to encourage him to follow their dream.
Trey is a multi-talented kid as he is a fashion designer, motivational speaker, and Instagram influencer all by himself.
At the time of Trey's birthday, he got $178 money and he bought 16 shirts with this money and took them to the local barber shop and salon to sell. Initially he was uncomfortable but he was successful in selling the product.
Whatever profit Trey made by selling the shirt, he started re-investing it and focused on growing his business. Trey started marketing his unisex clothing line through the Instagram social media platform and this got him a lot of sales. Founder Trey Brown's billboard was put up in Time Square.
Trey Brown and his mother Sherell Peterson both appeared on Shark Tank Season 13 Episode 5 and asked the sharks for $300,000 for 10% equity at a $3 Million Valuation.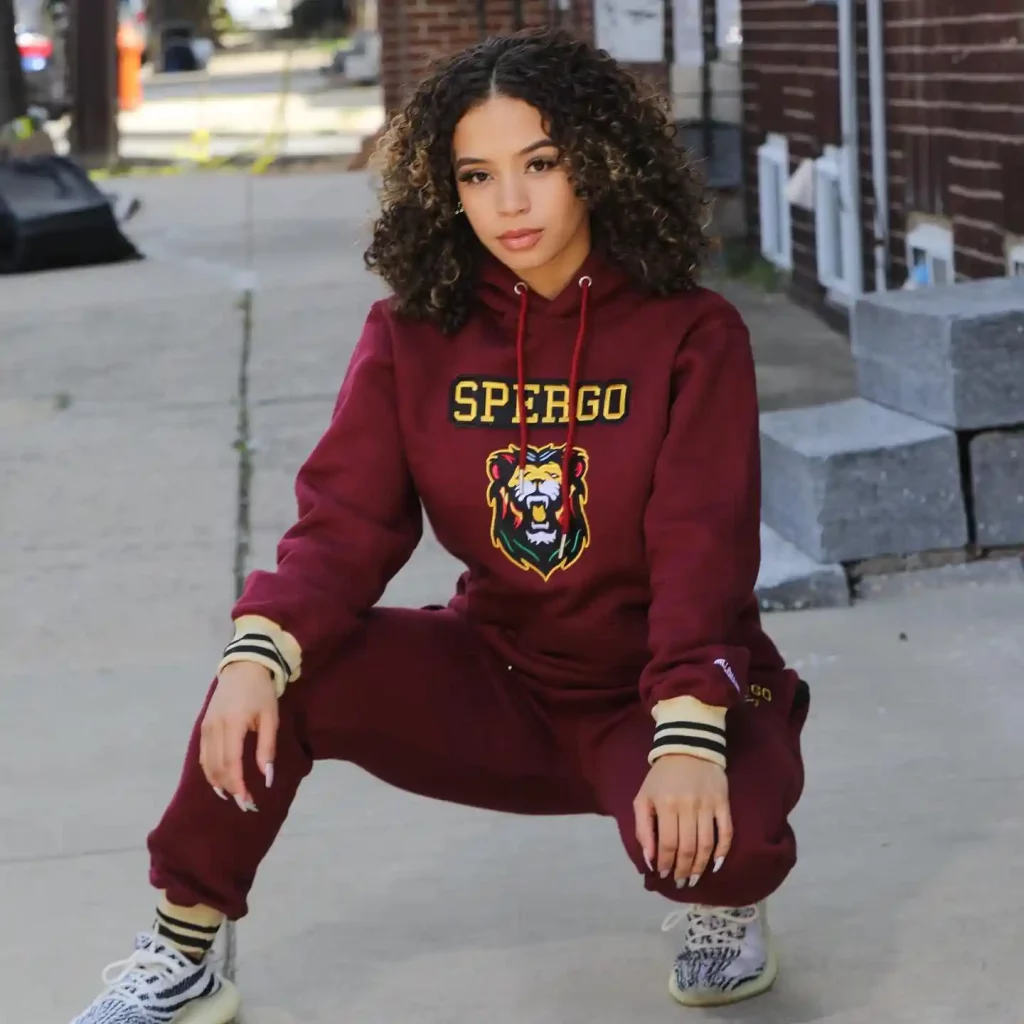 What Is Spergo?
Spergo is a unisex luxury designer clothing line and brand sells different types of designing outfits to men and women. It focuses on giving a sport and hero look to the customer through its clothes.
Spergo's official launch took place on "Martin Luther King Day" in 2018, and founder Trey was successful in selling his brand's products.
Many celebrities have also been spotted wearing the brand's lifestyle clothing such as Mill, Tierra Whack, Da Baby, Eric Thomas, Shaquille O'Neil, Charles Barkley, Grant Hill, Gherbo and Ed Mylett.
This brand sells Tshirt, Hoodies, Shorts, Sweatpants, Caps, Socks and many more products of different high quality material and design.
All these clothes products come within $12 to $100. The brand has physical stores in various supermarkets and retail outlets in the United States, including Neiman Marcus, Saks, Macy's, and many more big stores.
| | |
| --- | --- |
| Company Name | Spergo |
| Founder | Trey Brown |
| Founded | 2018 |
| Product | Unisex luxury designer clothing line |
| Asked For | $300k for a 10% equity |
| Final Deal | $300k for a 20% equity |
| Shark | Daymond John |
| Episode (Shark Tank USA) | S13 E5 |
| Air Date | Nov 5, 2021 |
| Business Status | In Business |
| Website | Visit Website |
| Headquarters | Philadelphia, Pennsylvania, United States |
| Lifetime Worth (Sales) | $6.5M *estimated |
| Go To Amazon | Buy Now |
| Watch On | Amazon Prime |
Another Shark Tank Pitch
Who Is The Founder Of Spergo?
Trey Brown is the founder and CEO of Spergo, and his mother Sherrell Peterson helps in this business.
Trey wants to give his friend an option through his brand so that he does not go on the path of violence. He hangs out with his friends mish mash of SPorts, hERoes and GO.
Spergo Before Shark Tank
This clothing brand was started in 2018 by a 12 year old boy. Trey who is the founder of this brand started this business with $178 and reached $1 million in sales within just 2 years.
This company had sold 30,000 units of the product in 36 months from the launch date and was generating a revenue of $200k every month.
On June 2020, when Trey was talking about his business journey in TheEllenShow, he was surprised to meet "Diddy". Trey received a $25,000 grant from the Sean 'Diddy' Combs. With this grant money, he opened his physical store.
He won a $200k grant in the 76ers Buy Black program. In the first year of starting the business, this company sold a product worth $40,000.
In 2019, this company sold $130K worth of clothes, in 2021 its sales increased to $745K, in 2021, this company has spent $1 million in projects.
How Was The Shark Tank Pitch Of Spergo?
Trey Brown and his mother Sherrell Peterson enter Shark Tank and ask the sharks for $300k for a 10% equity. Trey explains to Shark the reason behind starting his business and the meaning of his brand name.
The Leo sweat suit costs $21.50 and is sold for $170. He has 89k followers on his Instagram account and 71k followers on their company account.
So far in 2021, this company's total sale is $1.8 million. In 2018, this company made $40k in sales, in 2019, $130k in sales, in 2020, sales reached $745k, in 2021, so far, sales have been $938k.
This sales comes to them from e-commerce stores and pop-up shops. They get sales from 70% pos and 30% e-commerce.
Trey went to Barbara's shop to sell his products and found the phone number of "Mr. Sean "Diddy" Combs". "Mr. Sean "Diddy" Combs" posted the trey on his Instagram and it got 500,000 views in a day.
He got his first wholesale order, his first year in business. Many people started coming to his website and he also gained many followers. With this one promotion, he made a five figure amount in his bank.
The founder plans to do $2.2 million in total sales this year. So far this company's total profit is $313k, this is after paying itself.
Daymond John says that what will you do with this money, then Sherrell said that she will hire fashion designers, digital salespeople, web optimizers etc.
Daymond said that he is not sure that a partner is needed for this business. Lori Greiner says she is not the best partner for this business so she is out of it.
Kevin O'Leary says he is not a clothing guy and it is not his space so he is out of it. Robert Herjavec also decided to get out of this business. Mark Cuban made an offer for this business of $300k for a 25% equity.
Mark told Daymond that he would come with them but Daymond said no. Diamond said he would match Mark Cuban's offer. Trey counters Daymond for $300k for a 20% equity. Daymond saying was Absolutely.
Finalize: Daymond John Invest $300K in 'Spergo' for 20% equity.
What Happened To Spergo After Shark Tank?
Daymond invests $300k in this clothing brand in exchange for 20% equity in the brand. Daymond already owns a clothing brand and understands the industry very well.
After this episode of Shark Tank aired, the response of most people was very good. Many people had tweeted positive about this brand.
On November 2021, this company opened its new store in KOP Mall. This store is available at both King Of Prussia Mall and Pentagon City Mall locations.
This company's official Instagram account had achieved 100k followers on December 2021. In today's time, this brand has made an identity of its own.
Spergo Shark Tank Update
After the airing of this episode of Shark Tank, this company generated very good sales and most of the people said that it is an inspiration for everyone.
Within one week of the episode airing, this company had received around 1000 orders. The founder opened his store at the Pentagon City Mall in Arlington. By 2021, the company reached approximately $2.5 million in sales.
It is expected that in 2022 this company will reach $3 million in sales.
We're following Trey Brown with his company for further updates.
What Is Spergo Net Worth?
The company was valued at $1.5 million after Shark Tank, although the founder had demanded a $3 million valuation from the sharks. The sales rate of this company is growing very fast and sometimes this much growth is not right.
At present, the profit of this company is around 40%. This percentage is a very good thing for a clothing brand. After estimating the liabilities and assets, we think the Spergo worth to be in the range of $0.5 million to $1 million.
Is Spergo Still In Business?
Spergo premium clothing brand business is growing very well and founder Trey is an inspiration for every young people.
The brand has opened multiple physical stores at different places in the United States and most of its sales come from these stores.
This company is headquartered in Philadelphia, PA and employs approximately 10 to 50 employees.
Yes, Spergo is still in business as of December 2022.