Halloween Moments is a company that makes Pumpkin Glove Scraper Kits to make Pumpkin Empty for Halloween. This makes carving the Pumpkin with the glove very easy and it can be done in no time.
Pumpkin has an important role during Halloween, everyone uses Pumpkin to decorate their house.
In 2022 Americans plan to spend $804 million on Pumpkins alone during Halloween. This value increases every year.
To use Pumpkins, it is necessary to carve them properly, so for this people use things like knives, etc.
Using a knife on Pumpkins isn't that easy, so to solve this problem, Halloween Moments presents the Pumpkin Glove Scraper Kit. Kids can also easily carve Pumpkin through these gloves.
Halloween Moments appeared in Shark Tank Season 14 Episode 3 and asked Shark $300K for a 10% Equity at a $3 Million Valuation. This product is an easy way to cut a pumpkin to the right shape.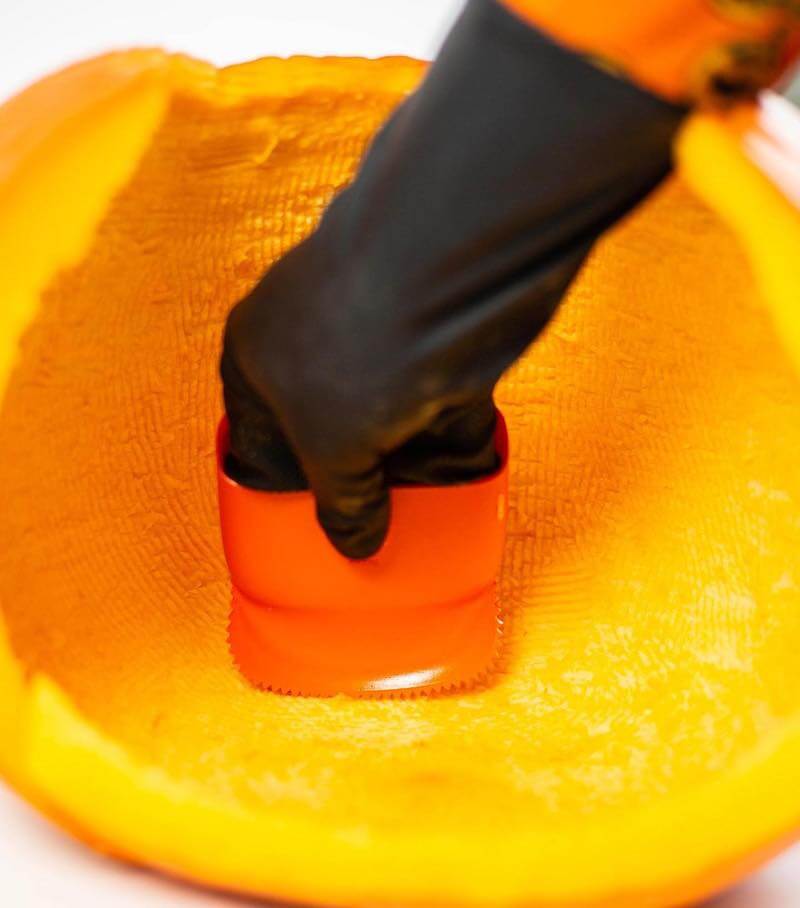 What Are Halloween Moments?
Halloween Moments is a company that makes Pumpkin Glove Scraper Kits that use to carve a Pumpkin very easily. This pumpkin glove is very comfortable and can be easily used by any kid or young person.
This Pumpkin Glove Scraper Cleaning and Carving Kit has a cutter on the top which cuts the inside part of the Pumpkin to the correct shape.
This glove uses a nylon sleeve and it protects the arm from pumpkin water. The glove's finger features a serrated aluminum blade with a sturdy, plastic scoop that helps in scraping the inside of the Pumpkins.
Both gloves and knives are dishwasher safe. This Pumpkin Glove Scraper Kit comes in different sizes Adult Pumpkin Glove, Adult + Kids Pumpkin Glove, and 2-Pack Adult Pumpkin Glove.
The price of this protective latex glove depends on the size is $14.99 USD to $19.99 USD.
Company Name
Halloween Moments
Founder
Darly Kay Braithewaite
Founded
2021
Product
Pumpkin Glove Scraper Kits
Asked For
$300K for a 10% Equity
Final Deal
No Deals
Shark
No Sharks
Episode (Shark Tank USA)
S14 E3
Air Date
Oct 7, 2022
Business Status
In Business
Website
Visit Website
Headquarters
New York, New York City, US
Lifetime Worth (Sales)
$110k *estimated
Buy and Watch
Buy Now
Amazon Prime
Another Shark Tank Pitch
Who Is The Founder Of Halloween Moments?
The founder and CEO of Halloween Moments are Darly Kay Braithewaite who comes from the Farmer family and has 4 Kids.
He does pumpkin craves with his family during the time of Halloween. When the top gets chopped off, we have to get the slimy out before craving. But his kids can't do it, so this is where the idea of ​​this product Halloween Moments came to Darly.
Halloween Moments Before Shark Tank
Halloween Moments provides Pumpkin Cleaning & Carving solutions. It is the motto of the founder of the company to provide a fun pumpkin carving experience that is quick, clean, and easy.
During Halloween, there are many people who face the pumpkin cleaning problem as it is a frustrating job.
This Halloween, there is a lot of frustration and tears while doing pumpkin carving because sometimes the finger gets cut during pumpkin carving.
Due to all these problems, the founder invented Pumpkin Glove Scraper Kits and the founder got a lot of orders for this product in the beginning.
The founder decided that he needed expert opinion if he wanted to grow his business, so he went to Shark Tank.
How Was The Shark Tank Pitch Of Halloween Moments?
Darly enters Shark Tank and asks Shark for $300k for a 10% equity. He pitched his product to Shark in a dashing manner. He explained to Shark very well about the need for his product. Darly became quite nervous during his pitch.
The entrepreneur had to tell Shark that he had made very good sales. From September 2021 till December 31, they sold $58,000. $52,000 as of Jan 2022 after 640 units sold.
One Kit costs the retail store $9.99 and sells online for $12.99 – $15.99. This kit is made for $0.78. The entrepreneur said that no one can compete with his product.
He has 2 more utility patents pending and is also a partner in this business. In this business, he has spent $850,000, which is a very high amount, and the sharks were surprised after hearing this.
Darly himself has invested $20,000 in this business and he has a 70% stake in the company. His second partner finances their business and most of the money it invests in this business.
Daymond John said that money is a weakness for you because if you keep making mistakes, then he is out of it.
Kendra Scott liked this product and will definitely buy this product but because this business is early for her, so she is out. Mark, Kevin, and Lori this $300k demand doesn't like to be valuable, they are out.
Finalize: Halloween Moments did not receive investment in Shark Tank.
What Happened To Halloween Moments After Shark Tank?
Shark liked this Pumpkin Glove Scraper Kits product but didn't digest the valuation of the company as it did not sell much. Apart from this, the entrepreneur has invested a lot in his company and he has not got the revenue accordingly.
Shark said that they will become a customer of this company because the sale of this kit is going to be very high during the time of Halloween.
There are many people who would definitely buy this product during Halloween time as it helps to cut the pumpkin in the right shape.
By January 2021, this company's total lifetime sales have been $110,000. Slowly their sales are increasing.
Many people have given their different opinions regarding the Halloween Moments product, and some of them had to say.
There are some people who have bought this Pumpkin Glove Scraper Kits product by going to the direct website after watching this episode of Shark Tank.
What's new on Halloween Moments
Last Update: August 3, 2023
Pumpkin Glove by Halloween Moments is a seasonal product and the demand for this product increases only during the Halloween season. We can say with confidence that the sales of this product will not be much in the present time.
August 2023, the company's social media was last active in November 2022. Much information related to this business is not yet available.
Halloween Moments Shark Tank Update
This business did not get any kind of investment in Shark Tank but Shark Kendra Scott said that she would definitely buy this product. Although this business did not get investment but got shark's opinion on how to run this business.
By January 2022, the sales of this company have been up to $110K and by the end of the coming year, it will do half a million in sales.
We're following Darly Kay Braithewaite along with their company for further updates.
What Is Halloween Moment's Net Worth?
This is a trending product, in the time of Halloween, and there are many people who use this product at the time of pumpkin cut. It is estimated that Halloween Moment's net worth is approximately $10,000. The sale of this product is going to increase a lot during the time of Halloween.
Note: This report is based on our research and data so far. In this, we are only estimating the annual revenue.
| | |
| --- | --- |
| Years | Annual Revenue |
| 2023 | TBD |
| 2022 | $50k *estimated |
| 2021 | $58k *estimated |
| | | |
| --- | --- | --- |
| Years | Funding Amount | Investor |
| N/A | N/A | N/A |
Is Halloween Moment Still In Business?
Halloween Moment solves the simple problem of getting a pumpkin cut. Its product Pumpkin Glove Scraper Kits are many people who will use it during Halloween.
A good marketing strategy is needed to grow this business and it also needs a lot of investment. After Shark Tank, this product has been featured on many media platforms including Studio5.
Yes, Halloween Moment is still in business as of August 2023.