Stakt Mat is a multi-purpose foldable fitness mat for extra support and comfort. Mat is important for yoga because through this yoga can be done properly. There are many mat manufacturing companies focusing on yoga, which is available in the market, but there are a few mats that are for multiple purposes.
This Stakt Mat has been designed keeping in mind the variety of practices. including sculpt, pilates, HIIT, and more.
This unique foldable design means a step stool, yoga block, meditation seat, and more. This mat provides much more comfortable for the user doing daily yoga and exercise.
In most cases, the rubber material is used so that while doing yoga, it can provide comfort to the user.
The mat is only for yoga but it is Stakt Mat used for step-ups, tricep dips, incline exercises, and more.
The inventors of this product are Taylor Borenstein and Millie Blumka, both yoga practitioners, who created mats for More rigorous Exercises.
Stakt Mat appeared in Shark Tank Season 14 Episode 3 and asked Shark for $100K for a 10% Equity at a $1 Million Valuation. This is a unique product that solves a lot of common problems related to yoga mat.
What Is Stakt Mat?
The Stakt Mat is a multi-purpose foldable fitness mat that provides 2x the comfort over the rest of the Mat. It is 2x thicker than the average mat and a lot of practice can be done in it including sculpt, pilates, HIIT, and more.
Due to being foldable, this mat can be easily carried anywhere. It can be used for many things like Plank, jumping, dance, lunge, balance, etc.
It comes in handy in different types of workout routines. These Shopstakt companies provide on-demand workout videos to their customers.
It is also very easy to clean this foldable mat, it can be cleaned using a hand towel, and wiped down with warm water, and oil-free soap.
The price of the Stakt Mat is $86 and this mat has been made available in the United States and Canada at the present time.
This mat is currently available in 3 colors Rosewater, Iron, and Seafoam. Its size is 10 mm thick, 69″ x 23.6″ flat 3″ and x 23.6″ folded.
Company Name
Stakt Mat
Founder
Taylor Borenstein and Millie Blumka
Founded
2019
Product
a multi-purpose fitness mat
Asked For
$100K for a 10% Equity
Final Deal
$100K for a 15% equity + a 75 cent royalty per unit sold until $100K is paid
Shark
Lori Greiner
Episode (Shark Tank USA)
S14 E3
Air Date
Oct 7, 2022
Business Status
In Business
Website
Visit Website
Headquarters
New York, New York City, US
Lifetime Worth (Sales)
$1.5M *estimated
Buy and Watch
Buy Now
Amazon Prime
Another Shark Tank Pitch
Who Is The Founder Of Stakt Mat?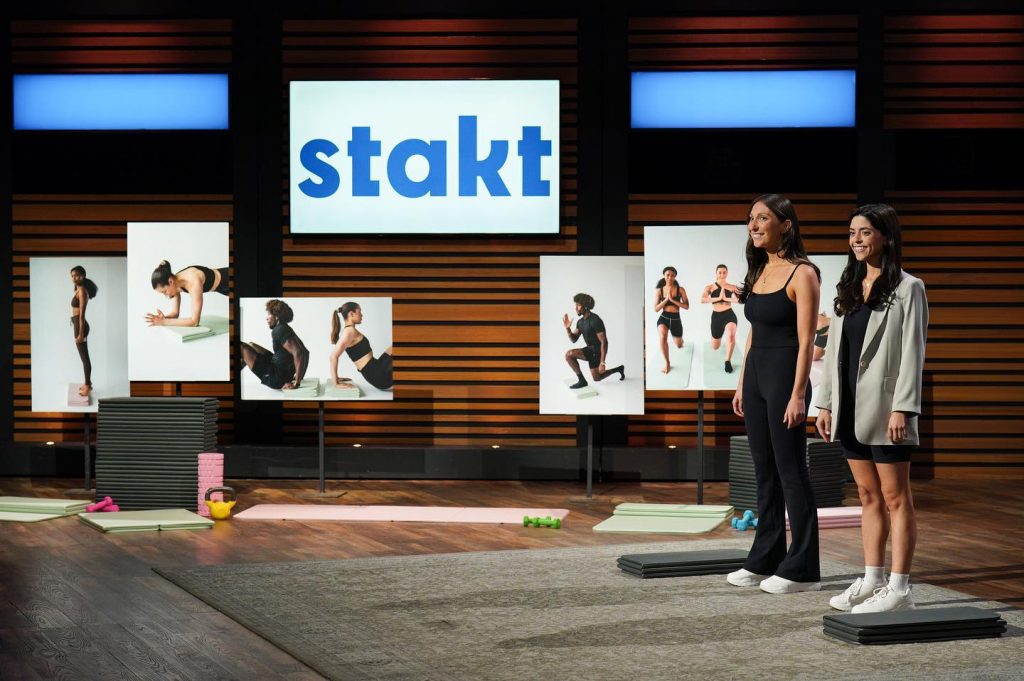 Taylor and Millie, both of them are very good business partners, partner, this is the best friend. There is a very good synergy between these two, although both of them come from different backgrounds.
Taylor Borenstein has studied B.S. in Marketing at Tulane's Freeman School of Business. Apart from this, she studied in Madrid, Spain at the Universidad Pontificia Comillas, School of Business and Economics.
She worked on the marketing team in different companies, including Abrams Artists Agency, ConvergeDirect, and Bloomberg LP.
She is currently working as the Product Implementation Team Leader at Bloomberg LP.
Millie Blumka completed her "B.S. in Psychology" from Tulane University. Studied Clinical Psychology at the Danish Institute of Study Abroad.
After her studies, worked as a salesman in SinglePlatform and Simplifeye. She worked as Director of Partnerships in SHOWFIELDS for 1 year.
Stakt Mat Before Shark Tank
Stakt Mat was developed by Millie & Taylor, the co-founders of this product, to provide multi-purpose comfortable support.
A few years ago, her lifestyle had completely changed, she was not able to go to the local gym and running path. She started working out at her home but her yoga mats were not that supportive, and adaptable.
They started searching for Mat to provide more support and flexibility but could not find them anywhere. To improve the workout, they invented Stakt.
The founder did a lot of research & design to create this product and also went and talked to people about the problems and solutions related to yoga.
first patent pending stackable fitness mat that features a unique, foldable design for greater support, flexibility, and mobility as you move.
Apart from all this, this mat is lightweight and highly compact and it is useful to use for tricep dips, planks, push-ups, lunges, and more.
Taylor and Millie both understand marketing very well, for the sales of their product, they collaborated with many fitness influencers yesterday.
When this product was launched, a video of it went viral on Tiktok, causing all the available stock to be sold out. The supply chain was completely ruined due to the global pandemic, due to which the items were not being shipped.
After the pandemic, the supply chain started functioning properly and the Stakt Mat was being shipped to the customer.
Millie & Taylor know they have to completely change their marketing strategy to grow their business, so it decides to get into Shark Tank.
How Was The Shark Tank Pitch Of Stakt Mat?
Millie & Taylor entered Shark Tank with their company and asked the sharks for $100,000 for a 10% equity at a $1 Million Valuation. Both of them explained their product to Shark and also told a lot of information about their business journey to Shark.
They tried to understand the shark, and how their "Mat" is completely different from the rest of the traditional "Mat". That's why they told the shark by doing a demo session.
This product's making cost is $14.9, the landing cost is $21.50, and the selling cost is $86. It is much more expansive. Sharks were impressed by the selling price of this product as it has a profit margin of more than 50%.
6 and half a month ago they made $110,000 and didn't invest the money in marketing. Mark Cuban, Kevin O'Leary, Daymond John, and Kendra Scott are out of the business deal.
Lori Greiner liked this business idea and decided that if he would offer it, Lori's offer was $100K for a 15% equity + $1 per unit sold until the $100K.
The entrepreneur countered Lori's offers of $100k for 20% equity. Lori also countered $100k for a 25% equity. The entrepreneur countered another $100k for a 22.5% equity. Lori said no.
The entrepreneur tried to counter Lori another $100k for a 15% equity + a 35-cent royalty per unit sold until $100K is paid then Lori made another counter of $100k for a 15% equity + a 75-cent royalty per unit sold until $100K is paid.
Finalize: Lori Greiner invested $100k in Stakt Mat for 15% equity + a 75-cent royalty per unit sold until $100K is paid.
What Happened To Stakt Mat After Shark Tank?
Stakt Mat didn't get a good response in Shark Tank, all sharks Does not interested to sign deals for this business, except Lori. The entrepreneur signed a royalty deal with Lori.
This business did a sale of $110k in just 6 months which is considered a very good sale but the price of the product is very high. It can be very difficult for normal people to buy this Mat.
Barbara Corcoran liked this business idea very much. She does daily morning workouts with her yoga mat, she doesn't think it will help her Joints.
Due to the price of this product being $86 on Twitter, many people have trolled it. People are sharing funny memes etc. about this product.
There are some Twitter users who are telling this product is good, and some of them had to say that some Twitter users.
Lori liked this mat the best and Lori has also shared it on her social media. There are many people who trust Lori, and because of them they will definitely buy this mat and see it using it.
What's new on Stakt Mat
Last Update: August 3, 2023
On May 2023, their mat products became available on the popular fitness shop site Equinox. Both Stakt and The Sculpt Society brands have launched a new workout mat "The Sculpt Society X Stakt Mat" and it cost $86. This item is available in single color Ice Blue.
Stakt Mat Shark Tank Update
Apart from Lori, no other shark was interested in the Stakt Mat. Lori invested in this business. Lori is a marketing expert and she knows the branding of the product very well, so she can definitely grow this business.
By October 7, 2022, the company had sold $110K in just 6 months. This is a very good sale in such a short time.
We're following Millie and Taylor along with their company for further updates.
What Is Stakt Mat Net Worth?
This is a unique and trending product that became quite viral on social media platforms like Instagram, TikTok, etc. On analysis, we think that the net worth of Stakt Mat can be up to around $350,000. This business is doing very well at the present time.
Note: This report is based on our research and data so far. In this, we are only estimating the annual revenue.
| | |
| --- | --- |
| Years | Annual Revenue |
| 2023 | TBD |
| 2022 | $1M *estimated |
| 2021 | $500k *estimated |
| | | |
| --- | --- | --- |
| Years | Funding Amount | Investor |
| October 2022 | $100K | Lori Greiner |
Is Stakt Mat Still In Business?
The Stakt Mat is designed for multiple workouts and it provides more support and comfort than the traditional yoga mat.
This mat is foldable and it is quite lightweight so that it can be carried with you anywhere. This 2-in-1 mat unlocks new levels of support, versatility, and potential for your daily movement.
October is Breast Cancer Awareness Month, and a Stakt Mat donates a portion of its sales to Northwell Health's Feinstein Institutes for Medical Research. This fund supports direct female breast cancer researchers.
This mat product has been featured by popular media publications such as Good Housekeeping and BuzzFeed.
Yes, Stakt Mat is still in business as of August 2023.