TheMagic5 is a custom swim goggles for men and women. This company claims that all swimmers will get the best swimming experience by wearing this goggle. Optimal Fitting Technology has been used to make these custom swim goggles.
The owners of this company, Bo Habber, Niklas(Nicholas Granet) and Rasmus Barfred, all three come from different professions. Together these three started trying to make Masure swimming goggle and with the help of Sonnichsen designer developed the first goggle.
This swimming goggle is completely different from other goggles because this company makes custom design goggle by scanning the user's face.
Swimming gear is a huge market, according to prnewswire, this industry will go above $10 billion from 2021 to 2026. As the population of people is increasing, similarly the market size of every industry is also increasing very fast.
TheMagic5 co-founders Bo Habber and Rasmus Barfred both appeared on Shark Tank Season 13 Episode 4 and asked the sharks for $500,000 for a 2.5% equity at a $20 Million Valuation.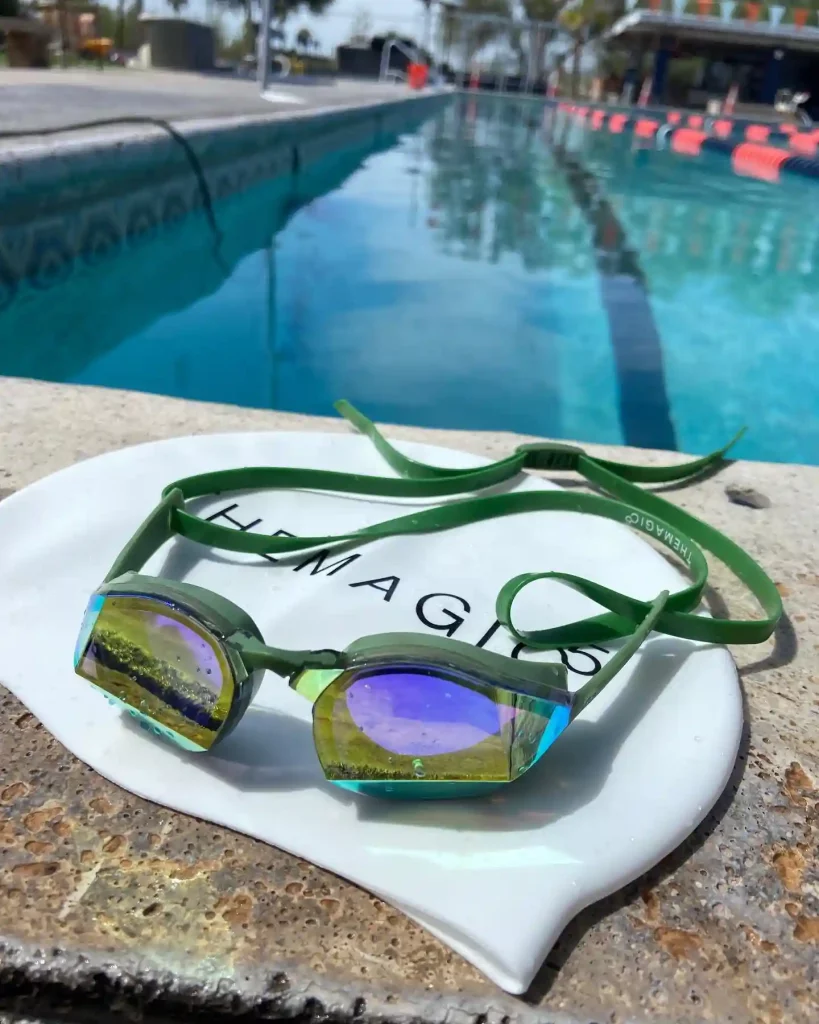 What Is TheMagic5?
TheMagic5 is a custom made swim goggle that has been manufactured using optimal fitting technology. In this technology, the user's face is scanned and on the basis of size, the robot designs a custom made swim google.
This will give the user that swim goggle perfect fit and there is zero chance of water leakage, and suction marks.
Due to this technology, this company claims that their Swim Goggles will provide better experience to everyone, whether it is men, women and athletics.
You can buy this swim google direct or as per fitting size. For fitting size, you have to download TheMagic5 on your Android or iOS. After completing your scanning process, you have to purchase Swim Goggles.
It depends on the price type and lens color of goggles can be from $55 to $98. This product is available on Amazon and the company's official website.
| | |
| --- | --- |
| Company Name | TheMagic5 |
| Founder | Bo Habber, Niklas(Nicholas Granet) and Rasmus Barfred |
| Founded | 2017 |
| Product | Custom Swimming goggles, made to measure |
| Asked For | $500k for a 2.5% equity |
| Final Deal | $1 Million for a 6.5% equity (each 3.25% equity) |
| Shark | Robert Herjavec and Mark Cuban |
| Episode (Shark Tank USA) | S13 E4 |
| Air Date | Oct 29, 2021 |
| Business Status | In Business |
| Website | Visit Website |
| Headquarters | Charlotte, North Carolina, United States |
| Go To Amazon | Buy Now |
Another Shark Tank Pitch
Who Is The Founder Of TheMagic5?
Bo Løje Haaber is the founder of TheMagic5 company, it is a software developer. Rasmus Barfred is the Co-Founder of the company and Nicholas Granet is the Head of Global Club Partnerships of the company.
Bo Løje Haaber
Haaber worked for 6 years in EG A/S after completing his MBA, Economics from Henley Business School. After this, he worked for many years in Silkeborg Data and Immediad A/S. He was the co-founder of nrgX Company from 2010 to 2018.
Rasmus Barfred
Barfred is a businessman and has done many businesses. After completing his Master of Science from Copenhagen Business School, he started Berlingske Media, a strategy consultancy.
After this he was the owner of nrgX Aps and BTMX P/S Company. In January 2019, he started a company called Custom Fit Technologies and he is still running it.
Nicholas Granet
Granet worked at Therabody as an Events Manager after completing his Bachelor's degree in International Business from UNLV Lee Business School. For more than a year, he worked as the marketing director at Boulder Cycle Sport.
He has done this work in USA Triathlon as a professional Triathlete for 5 years.
TheMagic5 Before Shark Tank
TheMagic5 company was launched in 2017 from home of Denmark. All three come from different backgrounds and Nicolas is a professional swimmer of the Danish national team.
Concerned with water leaks and fitting issues in swimming goggles, they together at Denmark House thought of making a custom made swim goggles.
In 2016, they developed their first custom made swim goggle. On September 16, 2017, they launched the Kickstarter campaign, this campaign was of 45 days and their goal was only $50,000. When this campaign ended on October 31, 2017, the company had raised $100,589 from 1,183 backers.
By February 2018, they had shipped all the products. In this, they had shipped the product to 50 countries.
This company has been featured in many media publications including The Today Show, Men's Health, Women's Health and many more.
By 2020, this product had got the approval of FINA and it is maintained on the company website that three swimming athletes wore The magic 5 goggles at the 2020 Tokyo Olympics.
This company's co-founder had applied in shark tank season 13 so that they could get funding with shark's mentor for company growth.
How Was The Shark Tank Pitch Of TheMagic5?
Bo Habber and Rasmus Barfred entered Shark Tank with their company Themagis5, asking the sharks for $500k for a 2.5% equity. Hearing this demand, the sharks started laughing because it makes the valuation of the company $20 million.
Rasmus said that this Google market size in the United States and Europe is $2.2 billion. They have had 40,000 customers so far and lifetime revenue of $3 million since launching in 2018.
The making cost of these goggles is $14 and it is sold for approximately $55. In this, their customer acquisition cost is $24. They have so far raised $1.5 million at a $9 million valuation.
When this business started in 2018, their revenue was $180,000. In 2019, their sales were $370,000. In 2020, their sales reached $1.2 million.
So far in 2021, their sales have reached $1.5 million. They manufacture some parts in China and customize them in Charlotte. They holds a utility patent on the fitting algorithm.
It uses advanced robotic technology to manufacture the product. This robot has been made by the owner of this company himself, which is controlled by software.
Mark Cuban offered $500,000 for a 7.5% equity in this company. Nirav Tolia and Kevin O'Leary combined to make an offer of $500K for a 5% equity + a $3 royalty until $1.5 Million is recouped.
Robert Herjavec said that his daughter is a world class swimmer and she is only 12 years old and her rank was in top 10 in the world. Robert has spent 18 years in swimming pools and has perfect knowledge of the market and his offer was $500k for a 5% equity.
Lori Greiner said that both Mark and Robert are tech person and that she should offer to join the deal with either of them. Lori and Robert put together an offer of $500k for a 6% equity.
Mark and Nirav have reduced their equity by 1% and offer $500K for a 4% equity + a $3 royalty until $1.5 Million is recouped. Robert says he'll stay with the 5% equity without Lori.
Kevin made another counter offer, Nirav & Kevin's offer is $500K for a 3% equity + a $3 royalty until $1.5 Million is recouped. Robert Herjavec says he wants the deal and offers $1 million for a 6.5% equity. Bo Habber and Rasmus Barfred accepted this crazy offer from Robert.
Finalize: Robert Herjavec Invest $1 Million in 'TheMagic5' for 6.5% Equity.
What Happened To TheMagic5 After Shark Tank?
Bo and Rasmus did a great presentation on Shark Tank and they also told that the market value of Goggles is $2.2 billion in the United States and Europe. The company has raised $1.5 million before Shark Tank, giving 16.5% of the $9 million valuation.
Robert signed a deal with the company at a valuation of $15 million. After this Shark Tank episode of themagic5, Mark Cuban approached Robert Herjavec to join the deal.
It is maintained on the company's website that Mark Cuban and Robert Herjavec have jointly invested $1,000,000 in this company for 6.5% equity ($500,000 for a $3.25% equity).
On October 19, 2022, this company launched a campaign on Kickstarter for the "World's Only Custom-fit Oculus Interface" product and the campaign went on for 36 days and the goal in this campaign was $35,000. This funding campaign was Unsuccessful, as of November 25, 2022, the company had raised $12,448 from 240 backers.
So far swimming athletes from different countries have used these goggles, this includes Matthew Grevers, Kasia Wasick, Jan Frodeno, Rudy Von Berg, Jeanette Ottesen, Daniel Bækkegård, Matt Hanson, Zane Grothe, Ben Kanute, Laura Siddall and Lauren Brandon.
Apart from all these, the THEMAGIC5 team includes Maja Stage, Miki Taagholt, Matt Russell, Likith Prema and Ekaterina Avramova Swimming Athletics.
After Shark Tank, this company's success report was aired in Shark Tank Season 14 Episode 5. In this, the sales report of this company has been updated after Shark Tank.
TheMagic5 Shark Tank Update
The TheMagic5 company got an investment in Shark Tank and within 24 hours of this episode airing, the company made $45,000 in revenue.
After Robert finalized the deal with this company, Mark Cuban asked Robert to join the deal with Robert. Robert and Mark both invested $1 million in the company for a 6.5% equity (3.25% equity each).
This company's After Shark Tank update came in Shark Tank Season 14 Episode 5 on October 21, 2022. It was disclosed that the company's sales have been $4.1 million by selling 85,000 goggles.
The website of this company is getting more than 1000x traffic and expanding into customizing VR headsets and bicycles for comfort.
The company has entered into a technology partnership with Canyon Bicycles so that it can focus on providing better rider experience.
The focus of this company is to expand in the future by using its technology to make gas masks, diving masks, face masks and glasses.
We're following Bo Habber, Niklas(Nicholas Granet) and Rasmus Barfred along with their company for further updates.
What Is TheMagic5 Net Worth?
TheMagic5 is a successful Shark Tank Company that is slowly expanding. It is the focus of the company to create products in different categories in the coming times.
The sales report of this company has come out on Shark Tank, in which it was told that this company has made a revenue of 4.1 million dollars. Estimating the assets and liabilities of the company, we think TheMagic5 to be worth $1.9 million.
In Shark Tank, this company asked for $20 million valuation but the deal was signed for only $15 million.
Is TheMagic5 Still In Business?
This Charlotte, North Carolina base company currently manufactures all of its products in the United States and they are also getting good profit margin on their sales rate.
Right now this company is focusing on making different products. On October 2022 the "Oculus Interface" (virtual reality Oculus headset) product was launched on Kickstarter.
It is shipping its products to almost all the countries, apart from this, this product is available on Amazon for the people of the world.
The headquarter of this company is currently in Charlotte, North Carolina and total 3-20 employees are working in it.
Yes, TheMagic5 is still in business as of December 2022.