Prime 6 is an eco-friendly, reusable, sawdust briquette charcoal product introduced in Shark Tank Season 12 Episode 6. Prime 6 founders Riki Franco and Oren Franco showed up at the Shark Tank show and asked for $200,000 at a $2 million valuation in exchange for 10% of their company's equity.
Prime 6 which is sustainable premium charcoal. Looking at some of the information related to this product, grilling food has been running for years. Those who are of old times say by burning food to survive, if any kind of disease happens in the food, then it gets destroyed.
Grilling food has been going on for years, there are many people who go for a picnic or any travel, then they use grilling to cook food.
Through grilling, people cook things like fish, chicken, vegetables, etc., and call it fun, its taste remains fresh.
In earlier times people used charcoal for grilling but after the advent of many electronic grilling machines, people are using it.
However, the test that is done in natural grilling is not the test that is done in electronic grilling. Many people believe that those who use charcoal for grilling can bring some of it into the food and it will spoil the food.
To solve this problem of charcoal, Prime 6 has launched Ek-Friendly, Reusable, Sawdust Briquettes Charcoal. This sustainable charcoal is made from hardwood sawdust which is completely safe in nature.
Barbecue Grill is a huge market which is very good for this product, however, there are many handy players who would have made this type of product.
What Is Prime 6?
Prime 6 is a sustainable hardwood charcoal briquettes product company based in New York City. According to LinkedIn, this company was started in 2018 and it is made of charcoal from Planet Wood.
It is uniquale-shaped charcoal made from hardwood sawdust by compressing it to turn slow-carbonized into dense charcoal.
Its hexagonal design allows air to circulate better, allowing more even cooking. It burns longer and hotter than other charcoals and leaves almost no ash.
This charcoal can be broken down into any size and shape that is comfortable with grills. This includes some grills like Kamado Joe & Green Egg, Plus it's sustainable for smokers, and pizza ovens.
This prime 6 charcoal lasts for a long time and it can also be used 7 times.
The smoke that is there works to bring a great taste to the grilled food and it is very good too. However, if charcoal is made from chemicals and bonding agents, then the smoke it has can have harmful substances if it goes into foods.
Lighting in Prime 6 Charcoal comes in 10 to 20 minutes and it is high density and lasts for more than 1 hour.
It is made of 100% natural wood, and you get no artificial addition, no smoke, no spark in it. This Sawdust Briquettes Charcoal is designed for outdoor only and not for indoors.
Prime 6 Shark Tank Update
| | |
| --- | --- |
| Company Name | Prime 6 |
| Founder | Riki Franco and Oren Franco |
| Product | eco-friendly, reusable, sawdust briquettes |
| Asked For | $200,000 for 10% Equity |
| Final Deal | $200,000 for 25% Equity |
| Shark | Kevin O'Leary |
| Episode (Shark Tank USA) | Season 12 Episode 6 |
| Air Date | November 20, 2020 |
| Business Status | In Business |
| Net Worth | $2 Million *estimated |
See This Moment Drink Shark Tank Update
Prime 6 Contact Details
| | |
| --- | --- |
| Website | Visit Website |
| Social Media | Linkedin |
| Place | New York, United States |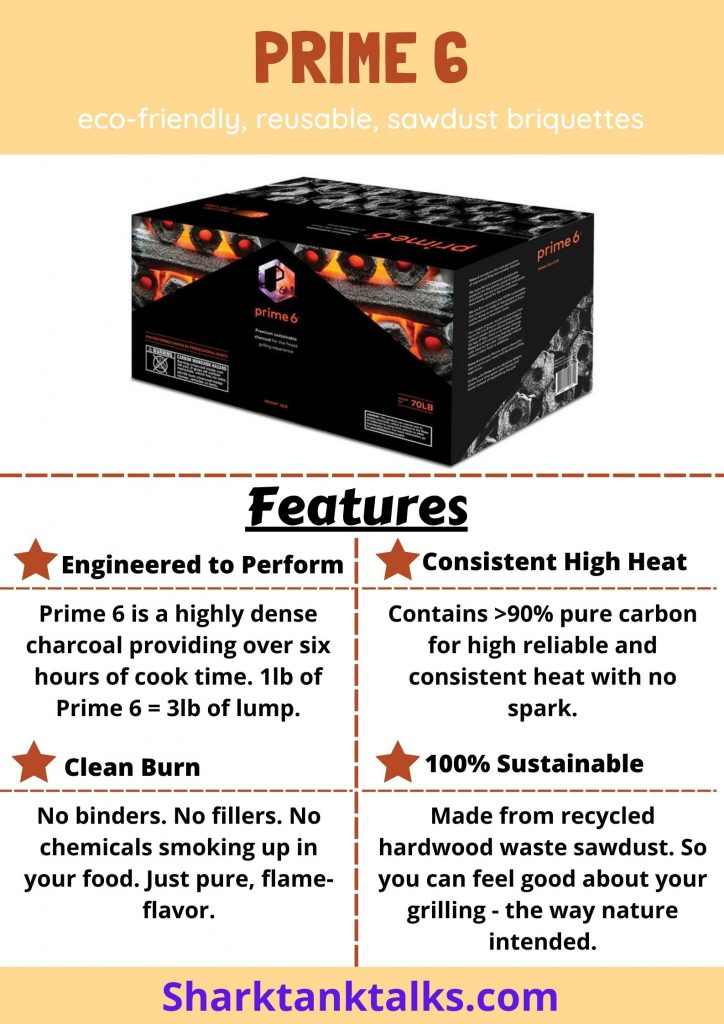 Who Is The Founder Of Prime 6? – Riki Franco and Oren Franco Shark Tank
This is the founder and CEO of Prime 6 company Riki Franco and the co-founder and COO is Oron Franco, both of them are couples.
Riki Franco did her Bachelor of Arts in Finance degree at IDC Hetzalia in Israel and Masters in Business and International Management from Columbia Southern University in 2012.
She used to work as a finance officer in Mexico and then in the New York City area. Presently she is working as a mentor at New York Base NUMA New York, German Accelerator Tech, and Entrepreneurs Roundtable Accelerator.
Oron Franco has studied Diploma in Culinary Arts from The International Culinary Center in New York City.
He is also a Professional Chef and for more than 6 years he has been the Director of Operations of The Private Chef NYC.
Prime 6 Before Shark Tank
In May 2019, Western Beef announced an agreement to be its exclusive partner for Prime 6 Sawdust Briquettes Charcoal.
It started in "New York City's BBQ Headquarters." His partner Western Beef's plan was to make Prime 6 charcoal available through the Instacart website.
Apart from this, Prime 6 is distributed along with Chef's Choice and Baldour's Two Foods Provider of Las Vegas, Nevada.
Prime 6 is also selling the product in popular marketplaces like Walmart and Lowes.
This Prime 6 is being used by some culinary professionals including Union Square Hospitality Group, Manhatta, and Star Restaurant Group.
Francos has told that she will donate 2 to 3 plants for every charcoal pack sold.
Did Prime 6 Get a Deal on Shark Tank?
Prime6 founders Riki Franco and Oren Franco asked Shark for $200,000 after coming to Shark Tank in exchange for 10% of his company's equity.
Riki told Shark about her product in a unique way and Shark liked it too. In this demo, she said all the things related to her product so that it would be easy for him to get funding.
Riki said in Shark Tank that her product actually cost 9 pounds at $18.99 retail price. That's 9 pounds equal to 30 pounds of ordinary charcoal.
The cost of making it comes to $3.39, there is a lot of margin in it. Their 22-pound pack is on sale at Walmart for $26.64.
Their 9 lb can be sold anywhere from $10.99 to $12.99.
Within 1 year of launching them, they had generated sales of $300,000. She had sold in food service, retail, e-commerce, etc.
Kevin O'Leary made his offer. His offer was $200,000 for 25%, saying he would help direct then get into the consumer route.
Lori Greiner said She feels it might be a conflict of interest for her. so she declined the offer.
Mark Cuban said that it is very exciting and very good but he cannot go into this deal because he has a deal with Instafire.
Blake Mycoskie said that if it does not make him feel so passionate, then he is out of it.
Daymond John says he is a professional griller and matches Kevin's offer of $200,000 for 25%.
But founder Franco decided to go with Kevin's offer of $200,000 for 25% equity.
What Happened To Prime 6 After Shark Tank?
After the $800k valuation deal in the Prime 6, the company saw a lot of change in sales and it also entered into contracts with many food services.
Due to the demand for this charcoal product, it has been made available on many platforms and there are many people who have bought this product for grilling.
Before Shark Tank, when he was a distributor of only a few food services, but now he has become multiple distributors, this includes Us Foods, Sysco, Wismettac, Baldor, Chees Choice, Fortune Fish &Gourmet, and PFG.
It is available in many retail and online markets including Dierbergs, Walmart, UNFI, Lowe's, Kroger, The Fresh Market, Piggly Wiggly, Safeway, Woodman's Markets, Alberstons, and FoodFCity.
At the present time, not much information has been received about its revenue, but it would have sold millions of dollars after 1 year from Shark Tank.
Where Can Buy Prime 6?
If you want to buy this Prime 6 Charcoal, then you can visit Walmart, Amazon or its official website online.
this is also available on some retail platforms are UNFI, Lowe's, Kroger, The Fresh Market, Piggly Wiggly, Safeway, etc.
What Is Prime 6 Net Worth?
When Prime 6 demanded in Shark Tank, the valuation of this company was $2 million, but after the deal with Kevin, the valuation went to $800k.
This company does not have any kind of liability, the founder of Shark Tank said and it is profitable. At present, this Prime 6 net worth can be around $2 million.
Is Prime 6 Still In Business?
Yes, Prime 6 is still doing business and their charcoal is being sold national as well as international. There are many people who are buying it for grilling.
It is manufacturing its product in the United States, however, its sales had come down drastically during the Covid19 pandemic.
Right now this Prime 6 is making a slow recovery, in the coming time, it may be able to do Internationally distribution.
Images Credit: Amazon.com & prime-six.com