XTorch is a reliable solar-powered flashlight & phone charger. It is used during emergencies and power cuts. XTorch appeared in Shark Tank Season 12 Episode 22 to seek funding. It is a simple electric product that works on the solar system.
The founder of this company, Gene and Keidy Palusky, got the idea of ​​this product due to a lack of electricity in a place in Africa, Equatorial Guinea. The couple met in 2001 while doing missionary work in the Dominican Republic.
Electricity has been a big problem for a long time, and much of rural area does not know how to get electricity. But the same metro area remains electric all the time.
Due to this problem, there are many people who are using solar systems in their houses so that they can light up their houses.
Due to lack of electricity, a lot of work is not known, in this, the most common issue is connected to the phone charge or light.
There are many such countries where there is still no electricity in some places, due to which people are facing many problems.
To solve the common problem due to lack of electricity, XTorch presents the convenience of light and phone charging. Through this, the phone can be charged without electricity, and the light works in the dark.
Gene and Keidy invested their savings of $300,000 to start this business, and within a few years, this business began to grow. But this company was not profitable before Shark Tank. So because of this, they asked the shark for $150,000 for 10% equity at a $1.5 million valuation.
During the pitch at Shark Tank, Robert was very interested in this product and he wanted to buy this XTorch Company completely but it did not happen.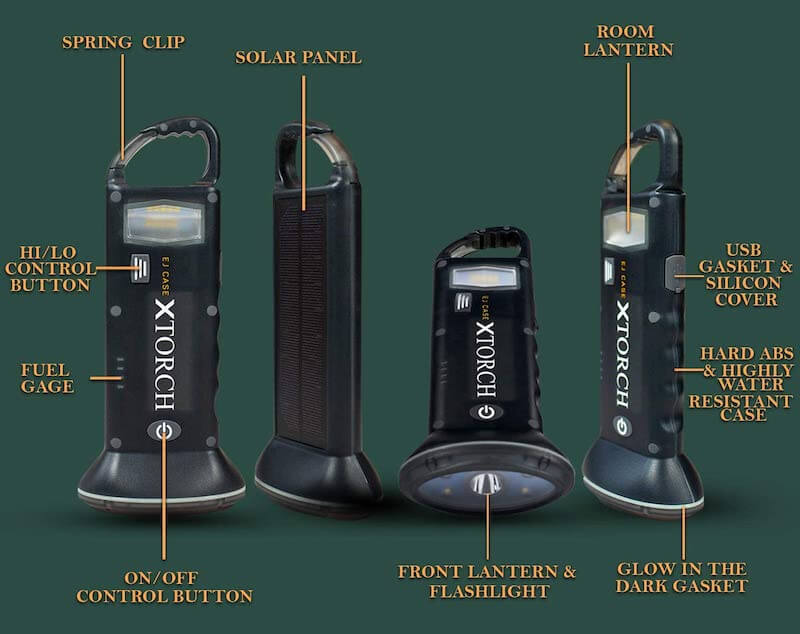 What Is XTorch?
XTorch is a rechargeable solar-powered flashlight and can be used anywhere. It has to be charged before use, which is automatically charged through the rays of the sun.
This product can be used anywhere indoors & outdoors etc. The special thing about this is that even if it keeps falling into the water or the ground again and again, nothing will happen to it.
It lasts up to 48 hours on a full charge in one go and saves the user $2,000 for the batteries. This solar-powered XTorch device has two flashlights and a charging cable on the side for connecting a "USB" cord.
If this light is used properly then it can last for 7-10 years without any maintenance. It is the best device for study, travel, night walks & camping.
The sun's rays or electricity can be used to charge this device. It has a 3000 mAh lithium-ion battery, its life is 7 to 10 years.
| | |
| --- | --- |
| Company Name | XTorch |
| Founder | Gene Palusky and Keidy Palusky |
| Founded | 2018 |
| Product | rechargeable solar powered flashlight |
| Asked For | $150k for 10% equity |
| Final Deal | No Deals |
| Shark | No Shark |
| Episode (Shark Tank USA) | S12 E22 |
| Air Date | April 23, 2021 |
| Business Status | In Business |
| Net Worth | $1.5 Million *estimated |
| Website | Visit Website |
| Headquarters | Minnesota, US |
| Go To Amazon | Buy Now |
Another Shark Tank Pitch
Who Is The Founder Of XTorch?
XTorch co-founders are Bob Sweat, Gene Palusky, and Keidy Palusky. They developed this product.
Gene Palusky graduated from Macalester College and went on to work Renovating Old Houses and Apartment Buildings.
Gene got the idea for ​​this product when he was working in development work in Equatorial Guinea, Africa, and The Dominican Republic. The Keidy handles the design, and marketing of this product.
Bob Sweat is the lead engineer of this device and tries to improve it.
XTorch Before Shark Tank
When Gene Palusky was working in Equatorial Guinea, Africa, The Dominican Republic, and other remote areas, there was a lack of lighting and power.
They got to see that there are many children who could study only when the sun came up and after nightfall, there was no arrangement of light.
Due to the lack of proper arrangement of power, the cell phone recharging costs are very high there. For any emergency, people's phones will not be charged.
When Gene talked with his wife Keidy about this problem, then she got the idea to make an XTorch device. Keidy is a schoolteacher and he started working in the design & marketing of this product.
This husband & wife developed this product in collaboration with engineer Bob by investing $300,000. In 2018, they made 1,500 torches, 1,200 were sold without profit and 200 torches were soldered for $60. Their sales doubled in 2019 and by 2020 their sales grew by 350%.
This XTorches company donates 25% of its profits to direct charity. In 2018, this company provided 1000 XTorches for the education of school children of Compassion International, Haiti.
According to StarTribune article, "Our business model states that we will have revenue around $200,000 this year," Gene Palusky said. "And double that yearly to total revenue of $3.2 million by 2024."
How Was The Shark Tank Pitch Of XTorch?
Couple Gene Palusky and Keidy Palusky enter Shark Tank with XTorch and ask the sharks for $150,000 for 10% equity. They told the story behind the development of this product.
The entrepreneur told Shark that the product costs $18.50 to make and sells for $55.95. They took a few minutes to tell the shark his backstory.
This company has sold a total of $53,000 from 2019 to 2021 so far. They do not have a patent for their product. They do not have a patent for their product.
Mark, Kevin & Daniels have opted out of this business offer. Robert is still there and he wants to buy this whole company.
Robert offered the entrepreneur $400,000 but the entrepreneur countered with $1 million. In the meantime, Lori became out with this.
Robert made another offer of $500,000 to which the entrepreneur countered with $750,000. In the end, Robert opted out of this offer.
Finalize: XTorch did not receive any deals in Shark Tank.
What Happened To XTorch After Shark Tank?
Starch did not get the deal in Shark Tank, although Robert wants to buy this company completely the negotiation between Gene and Robert could not be done properly.
This company's most of focus remains on doing charity and it donates 25% of its profit to charity. Because of this people also liked this product a lot.
When this episode aired, in a few weeks this company sold 1400 units and they did not even have much stock left. During the first month of the Shark Tank episode, this company did very good sales.
The price of this product is $49.95 in September 2022 and still, this company is not profitable. However, this product also got very good sales on Amazon.
During the Russia & Ukraine war on April 2022, this company sent XTorch to Ukrainian refugees.
Just a couple of days left to send an XTorch to Ukrainian refugees!

From now until April 30, you can purchase an XTorch for just $30 which will be distributed by Operation Blessing to Ukrainian refugees in Poland and Ukraine.
On May 2022, this company partnered with Jerry's Hardware so that the charity can get more promotions due to this product sale.
XTorch Shark Tank Update
The Shark Tank episode of Storch did not put that much impact on this company, this company was able to sell 1400 units in a few weeks after Shark Tank.
their most-of-order came on both Amazon and his website. This company works in collaboration with many National & International Charity Organizations.
The annual revenue of this company is $1.5 million. More information than this has not been provided by this company yet.
What Is XTorch Net Worth?
This company gives 25% of its profits to charity and at present XTorch net worth is $1.5 million.
Is XTorch Still In Business?
The XTorch product is getting a very good response on Amazon. People can buy this national & international anywhere.
More than 80% of people have given a 5-star rating to this product on Amazon and they find this product very useful.
Many media publications have featured this company's charity work, this includes Southwestjournal, StarTribune, Gadget Hints, Best Camp Kitchen, Edina, Kare, Gear Junkie & many more.
Yes, XTorch is still in business as of October 2022.