Jiggy Puzzles Appeared in "Shark Tank" Season 12 Episode 22 is a company that showcases the unique arts through its puzzles. Jiggy Puzzles focuses on designing the arts of female artists in a puzzle frame. There is some unique art to be seen in all the puzzles of this company.
Every product of Jiggy Puzzles reflects some thought and it makes people stress-free. People love solving puzzles very much and people play puzzles to refresh their stressful life.
Although most of the puzzles in the market are simple, there is not much creativity in them so people can be attracted. To solve this problem, Jiggy Puzzles Company is presenting its creative art design puzzles.
The founder of this company, Kaylin Marcotte, asked sharks for $500,000 for 5% equity in Shark Tank. However, after negotiation, Mark Cuban invested $500,000 in this company in exchange for 15% equity. Mark is a good business partner for Kaylin Marcotte.
The puzzle company had made a good impact on Shark Tank and generated sales of $2.25 million in 2019. This is a huge revenue for this company which it has made. Due to the unique art design of the puzzles, people like to buy them.
What Are Jiggy Puzzles?
Jiggy Puzzles is a puzzles worth framing company based in New York City. It mainly gives the shape of the puzzle to the creative arts of the female artist so that the user can enjoy playing the puzzles.
So this company makes art design puzzles for different types of occasions and sells them to the people. If you look carefully at each of the arts of these puzzles, some social message is shown in a creative way.
Along with making the player who plays these puzzles happy, it also frees stress, etc. Along with puzzles, the company also designs frames made of puzzles.
When the player solves the masterpiece puzzle, if he wants to frame it, he can use JIGGY Glue to connect each piece of the puzzle together.
This company offers JIGGY Puzzle Club Membership, The benefit of this is that you will be provided with an exclusive 500pc puzzles every month, its monthly price is $29.
As of now, this membership is available only for those domestic US customers. This membership can be paused, skipped, and canceled at any time before your order ships.
The puzzle collection will cost in the range of $29-$49. This product is available on Amazon, you can buy it through Amazon.
| | |
| --- | --- |
| Company Name | Jiggy Puzzles |
| Founder | Kaylin Marcotte |
| Founded | 2015 |
| Product | Jigsaw puzzles submitted by local female artists from around the world |
| Asked For | $500k for 5% equity |
| Final Deal | $500k for 15% equity |
| Shark | Mark Cuban |
| Episode (Shark Tank USA) | S12 E21 |
| Air Date | April 23, 2021 |
| Business Status | In Business |
| Net Worth | $1.3 Million *estimated |
| Website | Visit Website |
| Headquarters | New York, US |
| Go To Amazon | Buy Now |
Another Shark Tank Pitch
Who Is The Founder Of Jiggy Puzzles?
Kaylin Marcotte is the Founder & CEO of Jiggy Puzzles Company. Kaylin is a Marketing Specialist & Entrepreneur.
Kaylin completed her B.A., Political Science Major, Economics, and Psychology Minors from Barnard College.
After her studies, she did an internship at Weil Gotshal and Manges and was a Political Consulting Analyst for 2 years at CGK Partners.
She was a Business Strategy & Change Management Consultant for 1 year in IBM Company. In December 2013, she joined New York base theSkimm News Magazine as Director of Marketing and Community.
In 2017, she left her News job and started her own marketing company called Village Strategies.
Became the co-founder of the Project Plastic company in 2018. On November 2015, she started JIGGY Company.
Jiggy Puzzles Before Shark Tank
Kaylin Marcotte, who was running multiple startups, had to face a lot of problems to run it, due to which she felt stressed. However, when she used to come home after completing all her work, she used to play with puzzles to be stress-free.
While playing the puzzles, she realizes that these puzzles are quite simple and it is not giving that much fun.
She did research in the market for the design of the puzzles but all the puzzles she was getting were outdated designs.
After much searching, when she could not find a creative design, she decided to make her own puzzles.
She approached a female artist from New York City to design the puzzles. She started the sales of her Desgan puzzles at the time of 2019 Christmas, when Covid-19 hit, her sales grew 550% like a skyrocket.
There were a lot of sales from March to April, but this product got out of stock. Two months after that, she got re-stocked and started selling.
How Was The Shark Tank Pitch Of Jiggy Puzzles?
Founder Kaylin Marcotte entered Shark Tank with Jiggy Puzzles and asked Shark for $500,000 for a 5% equity. She explained her product and how this business has a social impact.
The Sharks liked Kaylin's pitch and the Sharks asked for information on their own business sales reports In 2019, this business did sales of $2.25 million.
This company has not taken any loan or debt so far, they have come to the shark tank so that the business can manage its growth.
Robert did not like this business so much and he dropped out of it. But Kevin liked the business and offered him $100,000 for 15% + a $400,000 loan at 10% interest.
Kaylin had to do a business deal with Mark but Mark wants 15% equity in this business.
Finalize: Mark invested $500,000 in Jiggy Puzzles in exchange for 15% equity in the company.
What Happened To Jiggy Puzzles After Shark Tank?
The sales of Jiggy Puzzles grew very fast after Shark Tank, which happened during their Covid-19. This company provides unique design puzzles and people are happy to solve these puzzles for their stress-free.
This Shark Tank platform has been very good as free marketing for business and After becoming an investor in this business, Mark Cuban also worked on growing its sales.
The highest record-breaking sales of this product came during the COVID19 pandemic. Because during the pandemic, their sales grew because people were in one place and they did not have much work to do.
That's why people started using different types of things and also increased their skills. Because of this people started buying this designing puzzles. Because they were getting to see some new things in every puzzle.
Because of this, the sales of this puzzle business had grown to a great extent, since when the pandemic went, people started doing their work. They are not getting time to solve the puzzles.
As a result of this, sales were not sustainable, so this business launched the subscription model Puzzles Club. Like this subscription model, the user can avail of the package on a Monthly, Quarterly & Yearly basis they will be provided with an exclusive 500pc puzzle every month.
With this subscription model, the customer will be associated with this business for a long time and the customer will continue to get creative puzzles every month.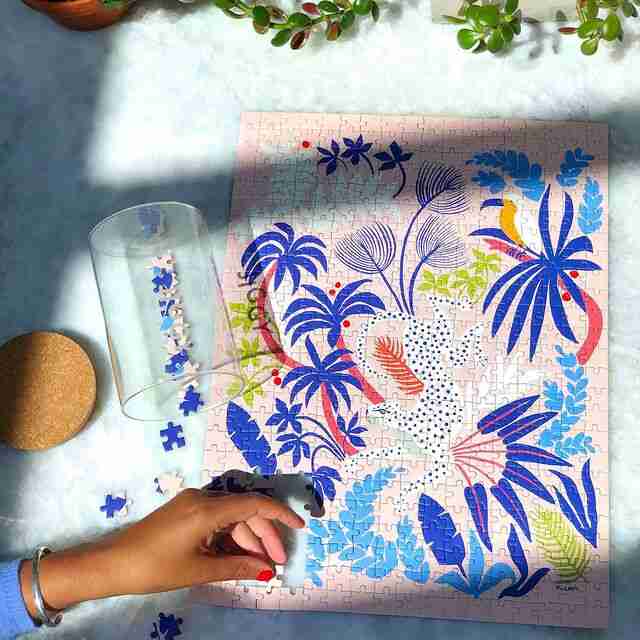 Kaylin & his puzzles business has been featured by many media publications, the main one being Today, Good Morning America, Entrepreneur, New York Post & CNN.
Jiggy Puzzles Shark Tank Update
After Jiggy Puzzles finalized the deal with Shark Tank, many people who had watched the Shark Tank television show bought this product. In a few months, it generated very good sales for the company.
It is as of August 2022 that Mark has not yet closed his deal with this business. By November 2021, this company had generated revenue of $4 million.
What Is Jiggy Puzzles Net Worth?
After looking at the business last year's revenue and the number of visitors to its website, we things Jiggy Puzzles Net Worth is $1.3 million. At the time of the 2019 Pandemic, this company had generated very good revenue. How much revenue this company has generated in 2022 has not been disclosed.
Is Jiggy Puzzles Still In Business?
The current business position of Jiggy Puzzles is not doing so well. Because it is not very active yet regarding marketing.
Looking at the official Instagram account of this business in August 2022, it is found here that no one has posted after June 24, 2021.
Completely this business's Instagram profile is Deactivate. No new posts or videos are being uploaded. However, this business was getting a very good response on Instagram.
The founder of this business, Kaylin is running multiple businesses, so she may not be getting much time for this business.
This business is still active till September 2022 and the stock of its products is available.
Yes, Jiggy Puzzles is still in business as of October 2022