Are You Looking Altor Smart Helmet Shark Tank India Update? Altor is an Indian startup manufacturing smart helmets for two-wheelers. Altor Smart Helmet was featured in Season 1 Episode 9 of Shark Tank India for funding. Altor is an innovative startup of 2021, which will take the experience of two-wheelers a step further in the coming times.
This Altor Smart Helmet will enhance the experience of two-wheeler driving and will work to prevent bike accidents through technology. In India, many people die every day due to two-wheeler accidents. So with this Altor Smart Helmet maybe some improvement can be brought in these things.
What is Altor Smart Helmet?
Altor Smart Helmet is an automotive industry startup that originated in 2018 in Bangalore, Karnataka. This is India's first smart helmet that can take the upcoming two-wheeler market to the next level.
In simple language, this Altor Smart Helmet is a kind of connected mobility key for the connected generation.
So many things can be done through this smart helmet of India like Connectivity, Touch Gesture, Audio Navigation, Google Assistant, Accident Detection, Ride Analysis & Isi Certified.
There is a lot of technology in this smart helmet, there is a technology in it that gives you information before the accident. It is strong enough to help keep your head safe after an accident.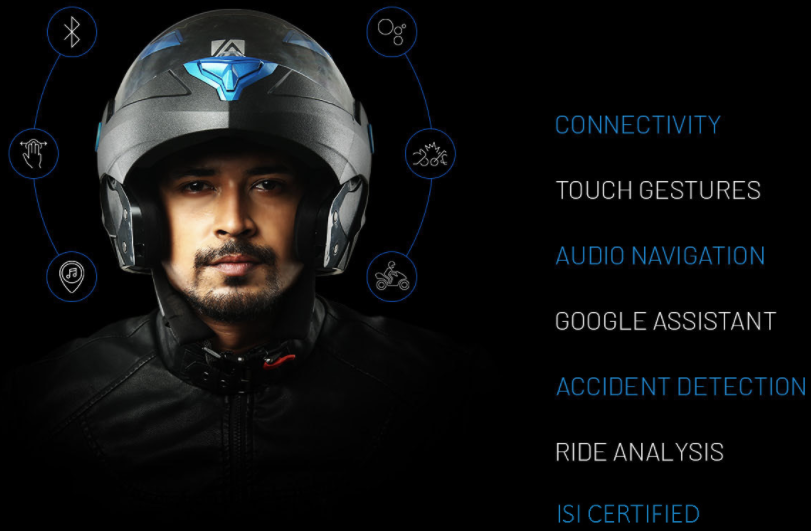 In this helmet, there are things like a speaker, microphone, Swipepad, switch, sensors, etc. If you are driving and you want to listen to the song, then you can listen to music in it. It has a sensor that automatically makes the helmet strong after an accident to keep the head safe.
| | |
| --- | --- |
| Company Name | Altor Smart Helmet |
| Founder | Shamik Guha, Sayan Tapadar, Muhammad Bilal Shakil, and Anirban Datta Gupta |
| Business | Connected mobility for a connected generation |
| Asked For | ₹50 Lakhs for 5% Equity |
| Final Deal | ₹50 Lakhs for 7% Equity |
| Shark | Namita Thapar & Aman Gupta |
| Episode (Shark Tank India) | S1 E9 |
| Business Status | In Business |
| Valuation | ₹10 Crores *estimated |
| Website | altorsmarthelmet.com |
Who Are The Founder of Altor Smart Helmet?
So this is Shamik Guha, Sayan Tapadar, Muhammad Bilal Shakil, and Anirban Datta Gupta, the founder of Altor Smart Helmet Startup.
Altor is a combination of software and hardware, this helmet provides protection before the accident to the driver through vehicle data. So this founder has started this startup imprisoned in a lot of research and experiment.
Who Is Investor of Altor?
Altor is a revolutionary startup, everyone would be ready to invest in this startup. The investment that a lot of investors have done before this startup was launched in the market properly.
This brand is running under the name Pressus Technologies Pvt Ltd. In this, Venture Catalysts, KIIT TBI, India, And IIIT Hyderabad, India have invested. Altor has raised a total of $158K in funding.
🤑);- Revamp Moto Mitra Shark Tank India Update
How Much Deal Did Altor Get in Shark Tank?
Altor is one such innovative startup that can completely change the experience of driving a two-wheeler in the times to come. It has been liked a lot in Shark Tank India. The founder asked for a deal of ₹50 lakhs in exchange for 5% equity of his company in Shark Tank India.
What Happened To After Shark Tank India?
The founder has already planned to grow his startup after coming to Shark Tank India. Before moving to Shark Tank India, there were a lot of pre-orders for Altor, its pre-book value is ₹999. He will spend the investment money on marketing his manufacturing in Altor.
Is Altor Still In Business?
Altor is currently in business, this business is going to grow a lot in the coming times. The world has a need for this product, so it can be quite a success in the coming times.