Boarderie is a company that offers Direct-to-Consumer ready-to-eat pre-arranged, catering-quality Cheese and Charcuterie board. It is the first brand in recent times to provide catering-quality cheese and charcuterie boards nationwide.
The original name of this business is Cheeseboarder in 2020. The company says that their expert team provides the highest-quality, artisan inspired ingredients in their boards.
The Chessboarder & Boarderie Company was started in 2020 by Aaron Menitoff and his wife Julie Menitoff. In August 2020, Rachel Solomon became the Partner and CEO of The Boarderie.
Before cheese board business, they was running a successful catering and events business but after Covid19 pandemic hit, their business was shut down.
At the time of pandemic, their Cheeseboarder business started growing very well and they started shipping their products directly to the consumer.
Boarderie owners Aaron Menitoff and Rachel Solomon appear on Shark Tank Season 14 Episode 7 and demand $300K for a 5% Equity at a $6 Million Valuation from the shark.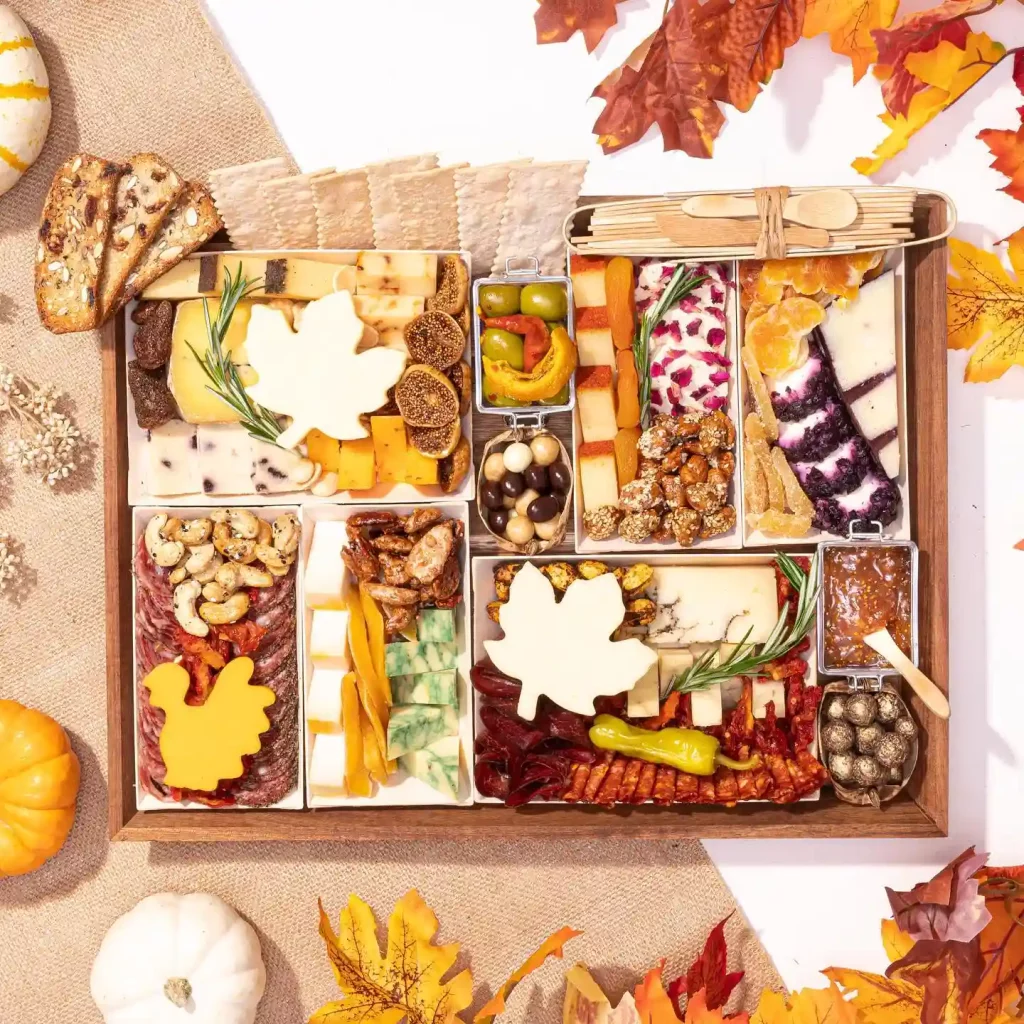 What Is Boarderie?
Boarderie is a business that offers pre-arranged, catering-quality Cheese and Charcuterie boards. All their ingredients are of organic and high quality and their expert team imports them from all over the world.
Each of their boards have different types of artisan cheeses, meats, nuts, dried fruits, jam, olives and crackers etc.
Along with selling its products to direct consumers, it also does big corporate gifting business. Their board includes cheeses and cured meats from Italy, France, England, Spain, Turkey, Canada, Croatia and the United States and more!
The Boarderie boards are made from high quality acacia wood and are also reusable. As of November 2022, this product is only shipping in the United States.
Prices for each board vary, but this Nov 2022 Ciccetti Cheese & Charcuterie Board is priced at $129.00 and contains 15 artisan ingredients.
| | |
| --- | --- |
| Company Name | Boarderie |
| Founder | Aaron Menitoff and Rachel Solomon |
| Founded | 2020 |
| Product | direct to consumer cheese board business |
| Asked For | $300K for a 5% Equity |
| Final Deal | $300K for a 9% Equity |
| Shark | Lori Greiner |
| Episode (Shark Tank USA) | S14 E7 |
| Air Date | Nov 18, 2022 |
| Business Status | In Business |
| Website | Visit Website |
| Headquarters | West Palm Beach, Florida, United States |
| Go To Amazon | Visit Now |
Another Shark Tank Pitch
Who Is The Founder Of Boarderie?
Rachel Solomon is the CEO & Partner of Boarderie as well as a financial analyst. Aaron Menitoff is the Founder and CEO of Boarderie & Cheeseboarder & Wellington Hospitality Group.
Rachel Solomon:
Solomon interned at Gooroo, CBRE and J.P. Morgan while pursuing her Bachelor's degree in Economics and Psychology from Barnard College.
On July 2018, she did the job of analyst in the Citi for 2 years, left this job in 2020 and became a partner & CEO in Boarderie.
Aaron Menitoff:
Aaron is a professional chef and has completed his Associate of Arts – AA, Food & Beverage Management, Culinary Arts degree from the Florida Culinary Institute.
In 2004, he became the President of Wellington Hospitality Group and in 2020, he started Cheeseboarder & Boarderie.
Boarderie Before Shark Tank
This cheese board business was started in 2020 by Aaron Menitoff, Julie Menitoff and Rachel Solomon.
Aaron and Julia had been running their catering company in Palm Beach, Florida for 20 years and their business was successful. Meanwhile, they made celebrities clients like Bruce Springsteen and Prince Harry.
After the pandemic hit, their catering business was completely closed. Angel and Rachel then teamed up and worked on the idea of ​​making and delivering catering-quality cheese boards. This idea was discussed with Aaron and Julie, and in October 2020, Boarderie was born.
According to Wptv, Boarderie has shipped 60,000 boards by November 2022 to individual customers and businesses, including some tech companies.
The Firm has 4 Partners namely Aaron Menitoff, Rachel Solomon, Julie Menitoff and Angel Jerez. At present, this company is growing very well nationwide.
The founder decided to come to Shark Tank to grow their business so that they can get investment as well as expertise from sharks.
How Was The Shark Tank Pitch Of Boarderie?
Aaron and Rachel enter Shark Tank with their company and ask the sharks for $300k for a 5% equity at a $6 Million Valuation. Both of them introduced their product by giving an example of an old style gift box.
Aaron told that his product comes in three sizes, small, medium and large. The shark found the taste of this food very fresh.
Aaron told that if the order comes in midnight, then he starts packing it fresh the next day and ships it in the same day. This shipped package gets next day delivery.
To do all this, they have a 15,000 square foot production kitchen in Florida. The making cost of this product is $91, the wholesale price is $154 and the retail price is $229.
Aaron told Shark about his business idea, how the catering business was completely shut down due to the COVID-19 pandemic. While telling this, Aaron had also become quite emotional.
After struggling for 9 months, he started his e-commerce business. After this, he made his product available in different retail stores, including Williams Sonoma and Doordash.
Their sales went up to $1.8 million in the last year 2021 and this year in 2022 they launched their product at Costco. In this year 2022, their sale has so far been $4 million and they has made $400,000 profit in it.
Rachel reported that their website had made $30,000 in sales just one month after it was launched. In the first few weeks, their customer acquisition cost was $40 to $60.
Rachel and Aaron own 75% of this business and 25% are outside partners. So far She has invested $750,000 in it. Till now total $2 million has been invested in this business.
Robert Herjavec said that he is not much impressed with him, that's why he is out. Mark Cuban declined to invest in the business, but Kevin O'Leary made an offer of $300k for a 17.5% equity.
Rachel said that they is taking the investment so that they can increase their inventory. Barbara Corcoran said that this business is going to be a lot of cash and she will offer $300K Cash + $300K credit line for a 15% equity.
Lori Greiner said she would make an easy offer. Her offer was $300k for a 13% equity. Rachel countered Lori with 8% equity but Lori said she would stay at 13% equity, then Rachel countered Lori with another 10% equity.
Then Lori countered with 12% equity, Mark Cuban offering $300k for a 10% equity. After Mark's offer, Lori countered with 9% equity. Aaron and Rachel sign a deal with Lori Greiner.
Finalize: Lori Greiner invested $300K in "Boarderie" for for 9% equity.
What Happened To Boarderie After Shark Tank?
Aaron and Rachel convince Lori Greiner to invest in Shark Tank. Lori invests 300k in this Cheese & Charcuterie Boards business in for 9% equity.
For this business deal to be complete, a lot of negotiation started between the entrepreneur and the shark. But in the last this deal became final.
The company's valuation reached $3.3 million after the deal was finalized in Shark Tank. The entrepreneur said that they would make a revenue of $4 million in 2022.
There are many users on Twitter who are sharing their opinion about this company. One of them says that entrepreneurs have invested a lot of capital in this business.
Lori shared a video of the Boarderie product on Twitter and says it is the best gift for the holiday season.
Rachel & Aaron shared a video on their business Instagram handle on November 20, 2022, More than 100,000 visitors visited their website within 2 days of their episode of Shark Tank airing. They had received a lot of orders in these 2 days and They will deliver all these orders before Thanksgiving.
Boarderie Shark Tank Update
Aaron and Rachel appeared in Shark Tank with their company and told the sharks all the details about their business idea. They also gave information about the sales report of their business so that it would be easy to get investment.
The company did sales of $1.8 million in 2021 and is projecting to do $4 million in 2022. Their profit from these sales could be as much as $400,000.
We're following Aaron Menitoff and Rachel Solomon along with their company for further updates.
What Is Boarderie Net Worth?
The price of cheese board is more than $100 and according to this company must be making a very good profit. Guess the assets and liabilities of the company, we think the Boarderie net worth to be around $1.1 million to $1.8 million.
Is Boarderie Still In Business?
It has been a very short time since this business started, but in this time this business has been successful to a great extent.
The owner of this business was running a catering business earlier also and had made many clients. The clients of the old business have come to this new business.
This company's headquarters is in West Palm Beach, Florida, United States and 50 to 100 employees are working in it.
Yes, Boarderie is still in business as of November 2022.