Collars and Co is an apparel brand that makes polo shirts and dress Collars. Every shirt from this brand is super comfortable and the collar looks very nice and perfect. Because of this, many people like the clothes of Collars and Co.
Their shirts do not use buttons in the bottom line like the rest of the brand's shirts. Founder Justin Baer did not like that he had to wear shirts inside sweaters and jackets every day while going to work in NYC.
Because of this, he used to feel uncomfortable, hot, and in pain all the time and he had to dry clean his expansive dress shirts. Keeping this in mind, the founder created Polo Shirts and Dress Collars.
It is the company's goal to provide high-quality clothing for men and women not only to make the look good but also to make them feel good.
Justin Baer appeared in Shark Tank Season 14 Episode 6 with his company Collars and Co and demanded $300K for a 4% Equity at a $7.5 Million Valuation from the sharks. Justin is a Professional Businessman and he has been doing business for the last +21 years.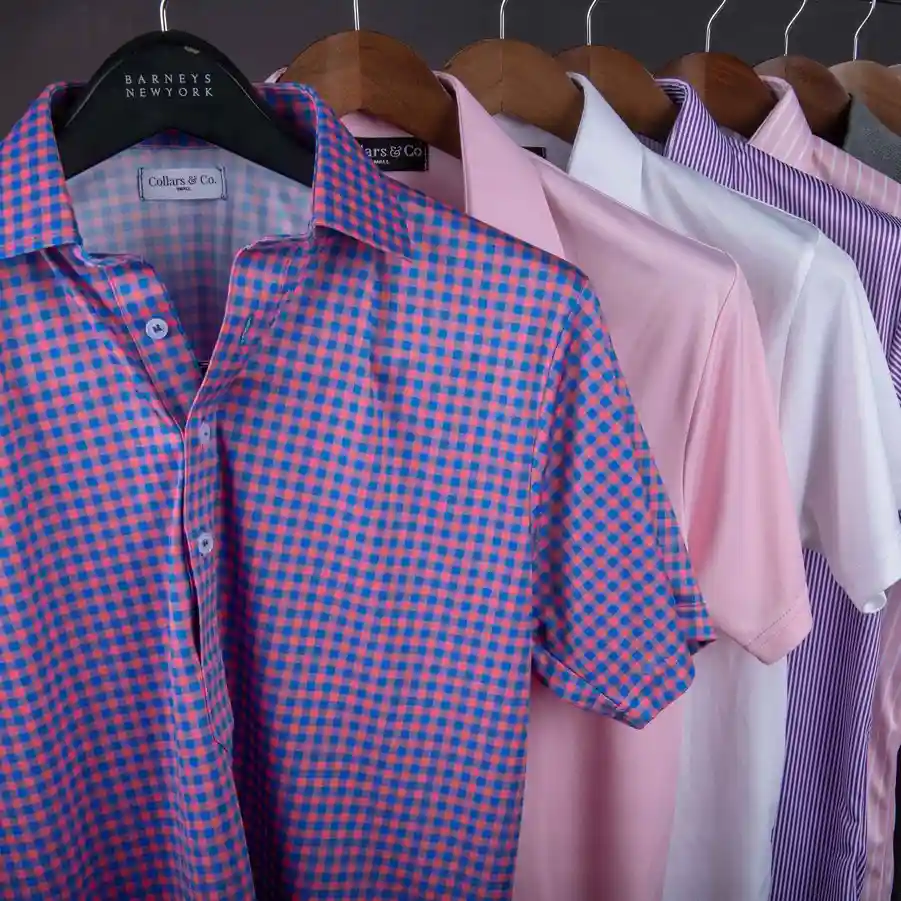 What Is Collars and Co?
Collars & Co is an apparel brand manufacturing polo shirts and dresses Collars. These luxe linen polo and polo-type shirts are made and currently, they have 16 colors available.
Apart from this, their shirts have different types of collars, this includes Semi-Spread Collars, English Spread Collars, Button Down Collars, and Cutaway Collars.
It does not only sell shirts, it sells sweaters, underwear, belts, and other accessories. Recently introduced Long Sleeve Semi-Spread Collar Polo Shirts priced at $72. Their shirts range in price from $64.99 to $74.
| | |
| --- | --- |
| Company Name | Collars & Co |
| Founder | Justin Baer |
| Founded | March 2021 |
| Product | Combination of the Dress Collar Polo |
| Asked For | $300K for a 4% Equity |
| Final Deal | $300K for a 10% equity + a $700k line of credit |
| Shark | Mark Cuban and Peter Jones |
| Episode (Shark Tank USA) | S14 E6 |
| Air Date | Nov 11, 2022 |
| Business Status | In Business |
| Website | Visit Website |
| Headquarters | Bethesda, Maryland, United States |
| Lifetime Worth (Sales) | $14.2M *estimated |
| Go To Amazon | Search on Amazon |
| Watch On | Amazon Prime |
Another Shark Tank Pitch
Who Is The Founder Of Collars and Co?
Justin Baer is the founder and CEO of Collars & Co., as well as Justin, is the founder of MemberText Company.
Justin started The Cure Card, LLC company while studying 'BS, Marketing & RE Finance at New York University.
Apart from this, he has run 5 other companies, this includes CharityHappenings.org, Check In Easy, TeachingProAcademy.com, MemberText, and Collars & Co.
Collars and Co Before Shark Tank
Justin started Collars & Co Company in 2021 and got orders for 500 shirts at the start of the business. The video of a shirt of this brand had become quite viral on Tiktok Because many people have ordered these shirts from this brand.
Justin created an account for his company on Tiktok and Justin made a video of his product with his 7-year-old daughter and iPhone on April 2021. He uploaded that video to his company's Tiktok account. He made $40,000 in revenue in the first month of the video's release.
In October 2022, this company has almost +68k followers on its Tiktok account. In the month it increased the sales of the company by 40%.
The founder had to face a lot of challenges too, but the biggest issue was the supply chain. Due to the Covid-19 pandemic, the supply chain was completely closed, due to which Justin had to suffer a lot.
Justin Baer decided he needed investors if he wanted to grow his business, so he chose the Shark Tank show.
How Was The Shark Tank Pitch Of Collars and Co?
Justin entered Shark Tank with his company 'Collars & Co' and asked Shark for $300,000 for a 4% equity. The sharks were surprised to hear Justin's demand. Justin told Shark all the details about his clothing brand and convinced Shark to invest in his company.
Justin started the company in the last year 2021, so far (November 2022) he has sold 92,000 shirts for $5.4 million.
All these sales have come through direct-to-consumer and online. Their profit margin is 20% net. Justin says that because of his marketing, he has been able to sell so much. Justin is a marketing expert and he has run more than 5 companies before.
Lori Greiner says that this is a very good business and is going well, but she is not the right investment for it. But she will buy these clothes, at present she is out of it.
This product has a making cost of $15 and is sold for $65 to $75.
Kevin O'Leary really liked this business and made an offer of $300k for a 10% equity at a $3 Million Valuation.
Justin immediately told Kevin, no and he also says that there is no other investor in his business. Peter Jones said that it is the clothes that will be out of fashion in the coming year but Justin said that he does not think it will happen.
Peter Jones also made an offer of $300k for a 10% equity which was Kevin's offer. But Justin still holds on to his old offer of 4% equity.
Mark Cuban teamed up with Peter Jones to tell Justin that he would give $300k + $700K line of credit but how much equity would he get? Justin said 5% equity.
Mark, Kevin, and Peter also decided to opt out of the deal. Justin countered all the sharks for $300k for a 7% equity but refused.
Mark Cuban and Peter Jones made their final offer of $300K for a 10% equity + a $700k line of credit, which Justin accepted.
Finalize: Mark Cuban and Peter Jones invested $300K Cash + a $700k line of credit in the company "Collars and Co" in return for 10% equity.
What Happened To Collars and Co After Shark Tank?
Justin surprised all the sharks by telling them about the valuation of his company after entering Shark Tank. Justin also gave information about his 1-year sales report which is worth $5.4 million.
There was a long negotiation between the shark and the entrepreneur in this business deal. Because entrepreneurs were not ready to give 10% equity in their companies.
However, in the last, the entrepreneur agreed to 10% equity, and Mark Cuban and Peter Jones became the partners of this business. The company's sales spiked up to 100% after this episode of Shark Tank aired.
There are many Shark Tank viewers on Twitter who consider these shirts to be a very good product. A Twitter user says he has 3 "Collars and Co" shirts and loves them.
This company has launched a new outerwear collection. The new collection was introduced by brand ambassador New York Giant Tiki Barber and Golf Champ Sir Nich Faldo.
Mark Cuban had an interview with Complex on December 2022, in which Mark went wearing a shirt of the Collars & Co brand.
Collars and Co Shark Tank Update
Justin pitched well after entering Shark Tank with his company and also told the shark how his video had become viral on Tiktok. Justin is a professional businessman, he has been doing business for years.
Mark Cuban and Peter Jones invested in this clothes business, and founder Justin also needs a good mentor to grow this business. This episode of Shark Tank was re-aired on May 5, 2023. In it, Justin claims to have reached $14.2 million in lifetime sales.
From the time this episode aired to May 5, 2023, the company had sold $8.7 million. After the company grew, they moved to a 20,000 sq. ft warehouse. They started the women's clothing line but due to the demand, it was sold out in just one week.
This year the goal is to open physical stores in Virginia's Tyson's Corner Center malls, Georgetown and Bethesda Row. They have partnered with Hire Heroes USA to hire Military Members, Veterans, and Military Spouses.
We're following Justin Baer along with their company for further updates.
What Is Collars and Co Net Worth?
The start of this business was very good, however, like all the businesses during the pandemic, this business also went down. After the Pandemic, Justin also tried a lot to grow his business. We think Collars and Co worth will be around $10 Million.
Is Collars and Co Still In Business?
For the time being, Justin is focusing only on Men's lifestyle outlook, but his feature plan is that he will soon bring clothes for women.
Each of their premium shirts falls in the mid-range and the founder says that their products are dedicated to providing a completely premium and expansive look.
This company is headquartered in Bethesda, Maryland, United States and the founders manufacture their products from third-party suppliers.
Many big media publications have featured this company, it includes Forbes, GQ, Men's Health, Fast Company, Golf Digest, WWD, and many more.
Yes, Collars and Co are still in business as of May 2023.