Buckle Me Baby Coats Is a Company that Appeared in Shark Tank Season 12 Episode 7, This company manufactures a variety of coats for kids that are fitted with a car seat. The founder of this company, Dahlia Rizk, demanded $100,000 from Shark in exchange for 10% equity of her company, then the valuation of this company was $1 million.
Before Buckle Me Baby Coats Is Invented It's A Stroy That You Need To Know. When Founder Dahlia became a mother, he realized that it was not taking any care towards the safety and comfort of the child in child car seats.
Every parent knows that for the safety of their children, they put neat things in their car seat so that their child can sit properly in the seat.
They also know that the seat should stay at the rear and be connected to the automobile's seat belt system.
This car seat can be adjusted for a specified number of children, for the safety of the children, many things have to be taken care of in the seat.
The National Highway Traffic Safety Administration (NHTSA) and the American Academy of Pediatrics had given this warning that the regular cuts which are used in this car seat are unsafe. If ever the car crashes, it compresses the regular jackets, it can also be very difficult to get out of the grip of the seat.
There will be many such parents who must have experienced that their child is not able to sit in the seat properly because he did not get comfortable.
But even after this, the parents ignore all these considering it as a minor thing and they do not know how much risk it can be for the children.
Looking at all these problems, the idea came to Dahlia Rizk that he would design a coat that would follow all these safety guidelines.
After it applied for a patent on its design, it spoke to a number of coat manufacturers who were interested in it.
It is mentioned on the founder's website that this was organized by him by the local New Hampshire Child Passenger Safety Technicians (CPSTs), it was physically examined by him And it turns out that this coat is a safety option.
This coat has been tested against a sleeping bag rated for -15 degree weather. Dry ice and a handheld heat loss device were taken to test the coat, in which it was found that this coat is better than the sleeping bag. It kept heat for 1 minute, 5 minutes, 10 minutes, and 20 minutes more than sleeping.
What Is Buckle Me Baby Coats?
Buckle Me Baby Coats, which is a startup based in Londonderry, NH according to LinkedIn, this startup was started in 2016. Taking care of pure safety, this company manufactures the coat seat which attaches to the car seat.
These Buckle Me Baby Coats have been designed keeping in mind some important problems. As you guys know, those who sit in the car seat wearing a coat during the winter find them very comfortable in the seat.
Sometimes it becomes so tight that babies start crying in it and a great danger can arise in it. So the traditional winter coats do not fit properly with the car seat and kids come out of it.
In view of many such problems, Buckle Me Baby coat has come up with its solution. When children are made to sit in this, then flips have been given on the font, it has to be attached properly and it will be useful in keeping the children safe.
Once the children are tied, the flip of the coat has to be turned over and it will keep the children safe and warm.
It is made for kids in a variety of designs and starts from $69 to $149.
Buckle Me Baby Coats Shark Tank Update
| | |
| --- | --- |
| Company Name | Buckle Me Baby Coats |
| Founder | Dahlia Rizk |
| Product | coat that allows easy access to car-seat buckles |
| Asked For | $100,000 for 10% Equity |
| Final Deal | $100,000 for 20% + 30% of licensing deals |
| Shark | Daymond John |
| Episode (Shark Tank USA) | Season 12 Episode 7 |
| Air Date | December 4, 2020 |
| Business Status | In Business |
| Net Worth | $2.1 Million *estimated |
See This Katamco Toilet Timer Shark Tank Update
See This Holiball Shark Tank Update
Buckle Me Baby Coats Contact Details
| | |
| --- | --- |
| Website | Visit Website |
| Social Media | Linkedin |
| Place | Londonderry, NH, United States |
Who Is The Founder Of Buckle Me Baby Coats? – Dahlia Rizk Shark Tank
Dahlia Rizk is a self-mom living in New Hampshire, she has 3 kids and two cats, and dogs. She invented these car seat coats to make kids safe and parent's life easy.
Buckle Me Baby Coats works to save children from the fear of car crashes, it has also been tested in which it has proved to be safe.
This is the founder and CEO of the company, Dahlia Rizk, she studied Bachelor of Arts from Rutgers University – Newark, Earned a master's degree from the University of New Hampshire.
She has as a director of a company named Choice Counseling of Londonderry, it has been more than 15 years of working with them.
In 2016, she started a company named Buckle Me Baby Coats.
Buckle Me Baby Coats Before Shark Tank
The risk of a car crash in the winter climate is very high, if the cuts and car seats are intertwined, then this danger can be avoided from causing major damage.
Buckle Me Baby started in 2016 and run a Kickstarter campaign on January 27, 2017, in which her goal was $5,000, but In March 2017, he raised $6,088 in funds from this campaign.
This campaign of his is going very well and 50% of its goal has been reached in just five days and 71% within the first week. When this campaign closed on March 29, 2017, it raised $6,088 from 48 backers.
Founder Dahlia designed and tested sample products from three different manufacturers for the product design.
This Buckle Me Baby coat is designed in such a way that it covers the entire body of the child and keeps it securely tied to the car seat.
This coat gives a different kind of warmth (Toasty, Toastier, and Toastiest) and it is also coming in different colors.
These Coats have been donated to some organizations, this list includes New Hampshire Girls, New England Pediatric Care, and Nuday Syria.
Did Buckle Me Baby Coats Get a Deal on Shark Tank?
Dahlia Rizk, the founder of Buckle Me Baby Coats, asked for $100,000 after joining Shark Tank in exchange for 10% equity.
During the Shark Tank episode, Dahlia had a very good presentation about her product. Shark especially wants to know about her sales report because on the basis of this she will be funding this startup.
The cost of making these Coats ranges from $14 to $15 and it used to be on sale in 2020 for $59.99 and then $129 but in 2022 its price has gone up from $69 to $149.
In the last three years of 2020, she had sold $700,000, in 2019 she had sold $500,000. Dahlia has done all this by herself and has not taken any kind of funding.
75% of this Coat is sold on the website and Amazon Marketplace and 25% is sold in the Big Box store.
Dahlia estimated that her sale could be up to $1.3 million in 2020, The torus supply chain of Covid 19 Pandemic was completely closed, due to which she also had a lot of trouble.
Dahlia holds this company's utility patent, in addition to the foundational patent, which means the first patent is for the coat design for the car seat. Apart from this, she has also registered a trademark.
Kevin said that if I invest $100,000 in this, then how can you give me a return. Dahlia will invest it in distribution and marketing, spending $8,000 to $10,000 in advertising every month.
This advertising cost depends on the platform and may cost per customer from $15 to $18. They also have a 50% margin left by combining the landing cost and advertisement cost.
Lori Greiner used to say that Dahlia does not need a partner, so you can do it alone, so she is out of this deal for this reason.
Mark Cuban had to say in this business deal that this is not the right area for him, so accordingly he cannot invest in it now.
Barbara Corcoran said that she would help Dahlia to sell her business and achieve its Goal. So her offer was $100k for 20% Equity.
Meanwhile, Kevin O'Leary jumps into the middle and tells Dahlia that you should listen to all the offers, I have a brilliant offer too. Kevin said that I do not need much equity in this business, my offer is $100K for $2 per unit until $300K is recouped + 2.5% equity.
Daymond John also wants to invest in this business, so he also gave his offer of this $100K for 20% of the traditional business + 30% of the licensing business.
Dahlia was told by Barbara that I have invested in Apparel Company Comfy, it has already made business in three years, in this, There has made $250 Million in Sales.
Dahlia made a counter offer to Barbara of $100k for 15% equity but Barbara declined the counter offer.
Dahlia did the same counter offer to Daymond on the same evening but it has 30% off the licensing business and will remain the same.
Finally Dahlia accepted Daymond John's offer of $100K for 20% of the traditional business + 30% of the licensing business and the deal was completed.
What Happened To Buckle Me Baby Coats After Shark Tank?
Buckle Me Baby Coats got the deal in the episode of Shark Tank, which made the founders very happy.
Kevin, Daymond, and Barbara offered him in Shark Tank, however, Daymond's offer was accepted in it.
This product solves the major problem related to children, So when this episode was released, many parents started ordering it for their kids.
In the last few weeks after the show aired, she had received so many orders that his inventory ran out and she started taking pre-orders.
According to a report of May 2022, this company has generated annual revenue of $6 million. In 2021, it received the Product of the Years Awards by Creative Child Magazine.
Where Can Buy Buckle Me Baby Coats?
If you want to buy Buckle Me Baby Coats, then it is available in retail shops and online on Amazon. In this, its price has been fixed regarding size and design. This product will be available on Amazon with a good discount.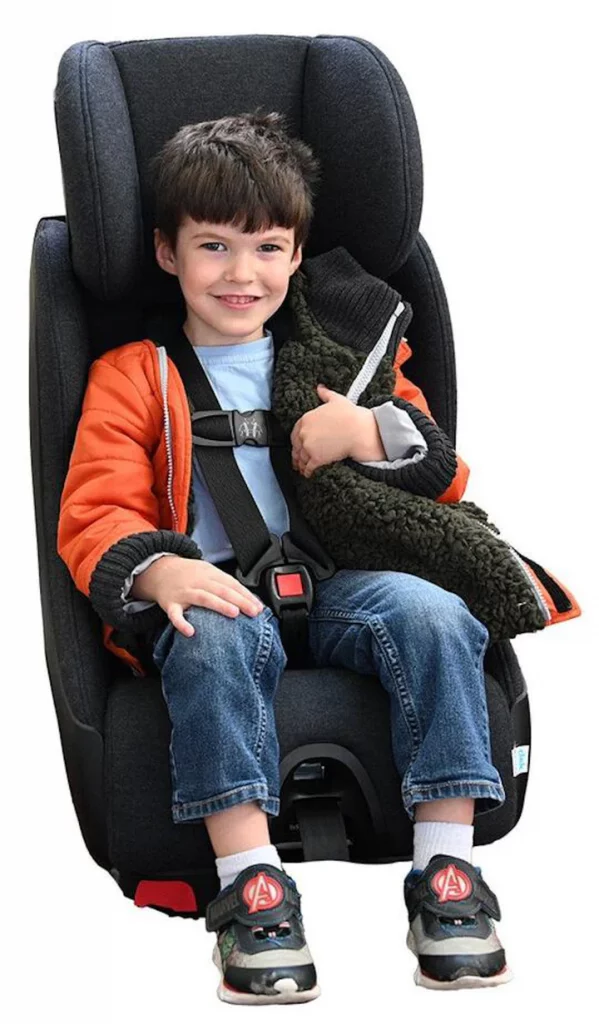 This product is rated 78% by Buyer 5 stars on Amazon because it solves the problem correctly.
What Is Buckle Me Baby Coats Net Worth?
Talking about Buckle Me Baby Coats Net Worth, then its net worth can be up to $2.1 million. This investment was signed in Shark Tank at a valuation of $500K. But in May 2022, this company boosted its net worth by making an annual revenue of $6 million.
Is Buckle Me Baby Coats Still In Business?
Yes, Buckle Me Baby Coats This company is doing very well in July 2022 as well. In the middle of 2022, it had annual sales of $6 million.
In 2018, it was named the winner of the FedEx Small Business Grant Contest. In 2019, this company has also received the National Parent Product Awards.
It has received multiple awards. After Shark Tank, the founder increased the size of her product.
Images Credit: Amazon.com & bucklemecoats.com