ChessUp is a AI base electronic device which teaches chess game at professional level. This is a type of smart chess board which works to increase the game level of the player. When the player goes to play their move in this smart chess board, then this board highlights all the possible moves in green, blue and red colors.
Green represents the best moves, Blue represent the mistake and red colored represent the wrong moves in this chess game.
There is a beginner who does not know how to play chess game, this ChessUp teaches him how to play chess game by giving color highlighted instructions.
This AI smart chess board helps every chess player whether you are a beginner or an experienced chess player and this smart chess board does not play for that.
According to the report of United Nations website, about 605 million adults play chess and 70% of these adults are from UK, Germany, Russia, India.
There are many people who like to play and watch the game of chess, even though some people do not know how to play this game properly.
ChessUp is developed by co-founders Adam Roush, Jeff Wigh and Justin Farrell to make chess easier for people who don't know chess.
Adam Roush and Jeff Wigh appeared on Shark Tank Season 14 Episode 9 with their product ChessUp for investment and asked the sharks for $300K for a 5% equity at a $6 Million Valuation.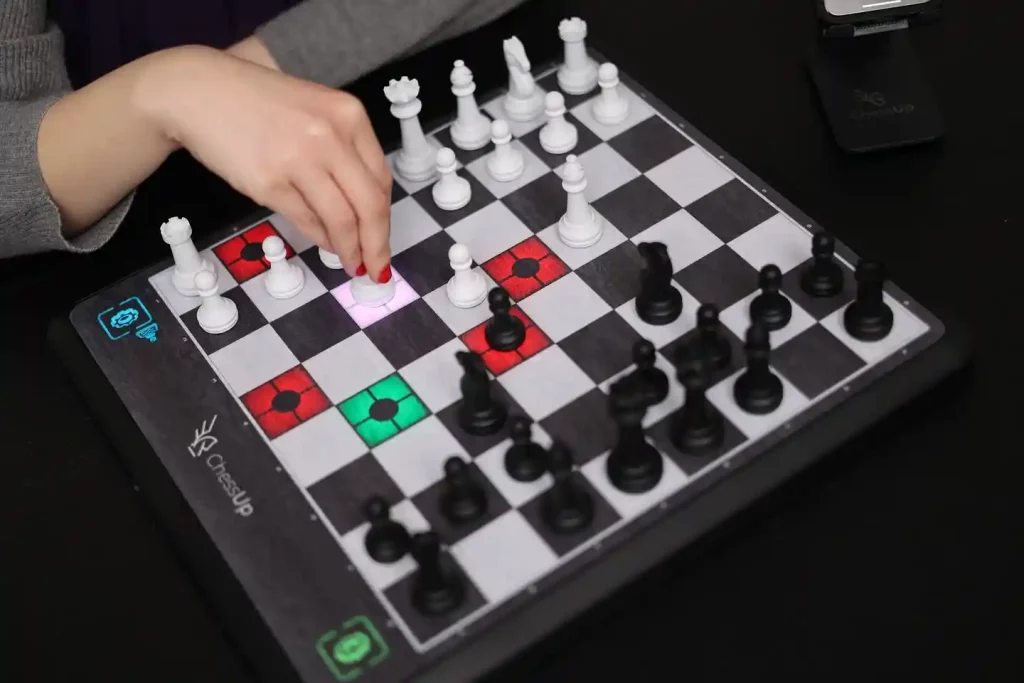 What Is ChessUp?
ChessUp is a AI base smart electronic device that serves to learn chess. This board suggests different possible moves to the player by highlighting them in green, blue and red colors.
Red is a wrong move, blue is a mistake and green is a very good move. When you touch any piece on top, it will be highlighted in these three colors, when the move is done, then its color will be closed.
If you are a beginner then this board will treat you like a beginner and if you are an expert then it will treat you like an expert.
It supports online and on-board, when the opponent plays a move online then it gets highlighted in this board. So you can also play your move by playing your opponent's move.
Through Chessup's mobile app, you can analyze all your preview moves and strategies. In this board you can increase and decrease your chess level to play.
The price of this product is $299 and you can buy it from Amazon e-commerce site.
| | |
| --- | --- |
| Company Name | Bryght Labs |
| Founder | Adam Roush, Jeff Wigh and Justin Farrell |
| Founded | 2020 |
| Product | Learn Chess through AI smart device. |
| Asked For | $300K for a 5% equity |
| Final Deal | $300K for 5% equity + pay back 3% of every sale until paid back 1.5 times $450,000 |
| Shark | Lori Greiner |
| Episode (Shark Tank USA) | S14 E9 |
| Air Date | Dec 9, 2022 |
| Business Status | In Business |
| Website | Visit Website |
| Headquarters | Overland Park, Kansas, United States |
| Lifetime Worth (Sales) | $31 Million *estimated |
| Go To Amazon | Buy Now |
| Watch On | Amazon Prime |
Another Shark Tank Pitch
Who Is The Founder Of Bryght Labs?
The three co-founders of Bryght Labs Company are Adam Roush, Jeff Wigh and Justin Farrell. The idea of ​​this smart chess product came to Jeff Wigh while he was playing chess with his daughter.
Jeff Wigh
Wigh is the co-founder and CEO of the company as well as an expert in research and development. He started this company after completing his MBA from Massachusetts Institute of Technology.
He has worked in various companies over the years including Allegro MicroSystems, LLC, Herzog and Garmin International.
Adam Roush
Adam Roush is the Co-Founder and Chief Design Officer of Bryght Labs, a company and he complete his B.F.A from The University of Kansas. For 6 years, he worked as a product architect at Garmin.
Justin Farrell
Farrell is the company's co-founder and chief technology officer and has served as a senior design engineer at Garmin for nine years.
These three co-founders met while working in a company.
ChessUp Before Shark Tank
ChessUp is an innovative product of Bryght Labs and this company was started in 2020. The three co-founders of the company, Adam, Jeff and Justin met together when they were working at the Garmin company.
Bryght Labs' focus is to build STEM teaching games. These three co-founders want to create a new identity through their gaming startup company.
The co-founder launched a Kickstarter campaign for the ChessUp product on Mar 16 2021 with a goal of $30,000. This campaign was closed on Apr 22 2021 and they generated $1,703,168 from this campaign.
It was very challenging for the CO-founder to work in this product. The CO-founder has already signed an agreement with the supplier for the manufacture of the product and the prototype has also been finalized.
How Was The Shark Tank Pitch Of ChessUp?
Adam and Jeff both enter Shark Tank and ask the sharks for $300k for a 5% equity. Both of them gave a video session to Shark about their "AI Base Chess Board" and explained how the product is works.
The retail price of this product is $399 and its landed cost is $120. Robert Herjavec says that why this chess board is slow, the chess speed can be increased. Jeff told Robert through a video that fast chess can be played with this board.
Jeff reveals that they raised $1.7 million funding through Kickstarter. Apart from the Kickstarter revenue, they have made over $400K in sales so far without spending money on advertising.
Barbara Corcoran says "This is the business I can do nothing for you", so that's why she's out. Jeff said that 50 million people play chess online and more than 600 million people play chess all over the world.
Mark Cuban says that this Chess market is not big enough for him, so that's why he is out. Jeff said the sales number this year is going to be $1.4 million.
Kevin O'Leary said it's a complicated cap table right now and a complicated structure, so he's out of it.
Lori Greiner says if she invests $300K in this instead of 10% equity how will she get her money back, Jeff said we can do a royalty deal.
Jeff offers Lori a royalty deal of $300K for 5% equity + pay back 3% of every sale until paid back 1.5 times $450,000. Lori said she would do the deal.
Finalize: Lori Greiner invests $300k in ChessUp for 5% equity + pay back 3% of every sale until paid back 1.5 times $450,000
What Happened To ChessUp After Shark Tank?
Adam & Jeff gave a very good presentation in Shark Tank and tried to convince the sharks for investment. Mark, Kevin and Barbara all three sharks refused to invest in this business.
Lori made royalty deals with this business and was successful in getting the business invested in Shark Tank. In the coming time, this "AI base Chess Board System" will help every chess player to improve their skills.
Jeff is brother-in-law of Twitter user "Amanda Landes Adkins", it tweeted
Woohoo! I am so proud of @BryghtLabs and my brother-in-law Jeff Wigh. Awesome you got a deal with the amazing #SharkTank @LoriGreiner … love that you built ChessUp for families wanting to learn with built in AI. #Entrepreneur

Amanda Landes Adkins
As of February 2023, we have not yet received any information about this business. Jeff Wigh, the founder of Bryght Labs Company, is working on growing this business.
ChessUp Shark Tank Update
Co-founders Adam Roush and Jeff Wigh entered Shark Tank and pitched their product to the sharks in a very simple way. Both of them gave a lot of information about their product's specialty and AI to sharks, so that they could get funding. Jeff had said that in 2022, the revenue of their product will go up to $1.4 million.
We're following Adam Roush, Jeff Wigh and Justin Farrell along with their company for further updates.
What Is the Net Worth of ChessUp?
This smart AI base chess board makes learning chess the easy way. There are many beginners who can learn chess through this board. This company had generated a very good amount of crowdfunding on Kickstarter, the co-founder had disclosed about their company revenue in Shark Tank. After analyzing all the things, we think that the worth of Bryght Labs Company will be $1 million to $2.5 million.
Is Bryght Labs Still In Business?
Bryght Labs is the parent company of ChessUp Products and this company was launched in 2020 with a focus on making STEM Teaching Games products.
The Co-Founder worked hard for 18 months to build the ChessUp product. Many people have bought this product through Kickstarter and most people liked it very much.
Bryght Labs is a tech startup company headquartered in Overland Park, Kansas, United States and employs a total of 6 people including the Co-founder.
Yes, Bryght Labs is still in business as of February 2023.
frequently asked questions
Where is Bryght Labs located?
Bryght Labs is located in Overland Park, Kansas, United States.
How much is ChessUp worth?
ChessUp's worth is estimated at $1 million to $2.5 million.