Wad Free is a wad preventer for bed sheets. This product keeps the sheets safe from Tornado Wad, Hostage-Taker Wad, Twisted and balled-up in the Washing machine and Dryer. It helps in cleaning and drying the sheets properly.
This "Wad Free" product easily unrolls each sheet, allowing it to be cleaned in the washing machine and dried in the dryer. Everyone faces the issue of Sheet Wad when trying to wash or dry their sheets by putting them in the machine.
To solve this issue, Cyndi Bray has introduced "Wad-Free". This product is made for prevent to sheet wad. Cyndi talks with her friend about the sheets balling-up issue all the time. Most women are facing this problem.
To solve this problem, Cyndi decides to find a solution herself. Although Cyndi did not come from an engineering, product development, and manufacturing background, But through her hardboard, In 2020 she Launch "Wad Free" to solve this problem.
Founder Cyndi Bray appeared on Shark Tank Season 13 Episode 5 for her company Brayniacs LLC and asked the sharks for $200,000 for a 5% equity at a $4 Million Valuation.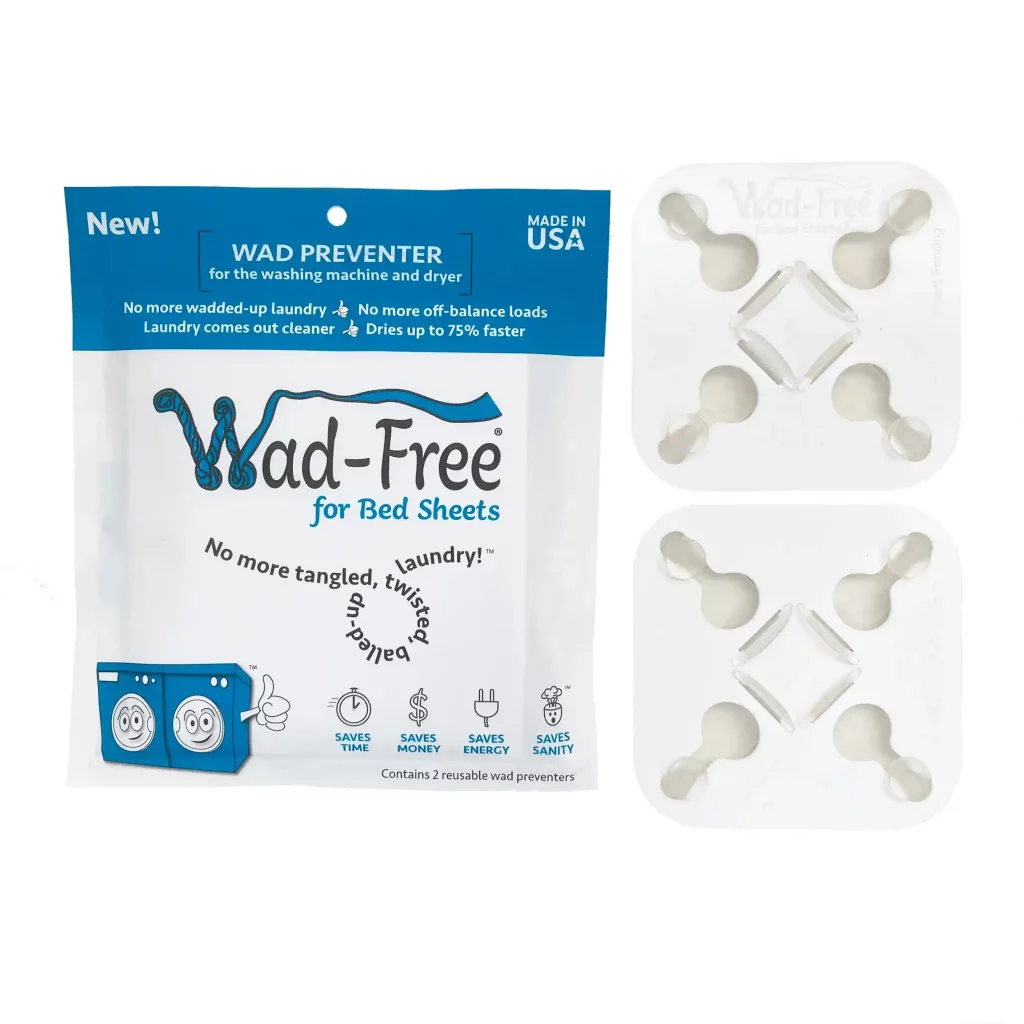 What Is Wad Free?
Wad free is a wad preventer product for bed sheets. Through this, Sheet Wad can be stopped in the machine, sheets can be cleaned and dried properly.
This product is made from a variety of plastic materials, but the base is made using recycled polypropylene. You will not find any kind of latex, PVC, BPA, or phthalates in this.
This product will be 4 inches square in the corners, it helps to hold the 4 corners of the sheet. The sheet dries 77% faster with this product, moreover this product is made in usa.
Wad Preventers cost $19.99 each pack, with two Wad free. This product is also available on Amazon.
| | |
| --- | --- |
| Company Name | Wad-Free by Brayniacs LLC |
| Founder | Cyndi Bray |
| Founded | 2020 |
| Product | Wad-Free for Bed Sheets is the first-ever Wad Preventer |
| Asked For | $200k for a 5% equity |
| Final Deal | $200K for a 10% equity + a royalty of $1.50 until $1 Million is paid |
| Shark | Kevin O'Leary |
| Episode (Shark Tank USA) | S13 E5 |
| Air Date | Nov 5, 2021 |
| Business Status | In Business |
| Website | Visit Website |
| Headquarters | Denver, Colorado, United States |
| Lifetime Worth (Sales) | $3.5M *estimated |
| Go To Amazon | Buy Now |
| Watch On | Amazon Prime |
Another Shark Tank Pitch
Who Is The Founder Of Wad Free?
Cyndi Bray is the founder of Wad Free Product and Brayniacs LLC Company. She completed her MBA from the University of Illinois Chicago after completing her Bachelor of Arts from Michigan State University.
Her specialist is in advertising and graphic design. She was running her own company for 20 years but stopped working in 2005 because her husband had a brain tumor.
Wad Free Before Shark Tank
This new invention was done by Cyndi in June 2020 to solve the sheet wad issue which has been battling for years.
Cyndi background was not in engineering, product development, but she was able to design the first-ever Wad Preventer model into a computer.
She made different versions and gave the prototypes to her friends and family so that they could get feedback. This product really started working, all the people gave positive response about it.
Found immediately started the trademark and manufacturing process of the product, so it took about 14 months from the inception of the product to its launch.
This business was launched at the time of Pandemic, that time is very difficult for startups to sustain but this business was successful.
This business needs a proper marketing strategy to grow, so sharks can definitely help in this.
How Was The Shark Tank Pitch Of Wad Free?
Cyndi Bray entered Shark Tank with her company Wad Free and explained her business to the sharks. Cyndi told the problem and solution to the shark through a demo session and then asked the shark for $200k for a 5% equity.
Kevin O'Leary's question is related to this, Kevin said that he sleeps naked, after hearing this everyone started laughing, Kevin said that he has bought an expensive Egyptian cotton, can Egyptian cotton be damaged by this? Cyndi had to say in this that if used properly then it will not be damaged.
The product was launched in June 2020 and has sold a total of $513,000. The sale came from their own website, Amazon, Walmart and The Grommet.
The landed cost of each product is $3.50 and she offer free shipping which costs them $3.50. The retail price of this product is $18.99. In this, her net profit is 38%. She has a utility patent that will be issued next week.
Mark Cuban said that he does not have this problem because he rarely washes his sheets, he is not a sheet washer and it's not for his so he's out of it.
Robert Herjavec said that he does not understand this market, so he will not be able to help in it, so he is out of it.
Kevin O'Leary made an offer for this business of $200K for a 10% equity + a royalty of $1.50 until $1 Million is paid. Daymond John said that he is not able to relate to this product then he is out of it.
Lori Greiner Says It's A Genius Product That Can Make Millions and his is a product that can be Up-sell with Better Bedder. Lori's offer was $200k for a 25% equity which was completely different from Kevin's offer.
Cyndi counters Lori with 10% equity. Kevin modified his offer with 5% equity. Lori said that she cannot go up to 10% equity but she can stay in 20% equity. Cyndi says "Lori, I love you", but she accepts Mr.Wonderful deal.
Finalize: Kevin O'Leary Invest $200K in 'Wad Free' for 10% equity + a royalty of $1.50 until $1 Million is paid.
What Happened To Wad Free After Shark Tank?
There was a fight between Lori and Kevin to invest in Wad Free. In this Daymond said "Shark fight, shark fight". After a lot of conversation, Cyndi agreed to Kevin's offer.
Over 1000 Wad Free products were shipped within the week that this Shark Tank episode aired. All the products went out of stock within just a week. This product was back in stock on Nov 20, 2021 at Amazon, Wadfree.com, and The Grommet.
This company was featured on todayshow on April 7, 2022. Cyndi did a startup life show with Ande Lyons in which she talked about her business journey.
Best response this product got on amazon. This product has got a rating of 4.1 out of 5 on Amazon. The founder is planning to ship her product to Northern Ireland.
Wad Free Shark Tank Update
After a few weeks of this episode of Shark Tank airing, this company had made sales of almost thousand of dollars. This company is solving a real common problem that everyone faces, so the sales of this product are going like a rocket.
Wad-Free for Bed Sheets Product Enters Top 10 Finalists of Coolest Thing Made in Colorado Contest, This was announced by the Colorado Chamber of Commerce on October 2022.
In December 2022, we have not yet received any information whether Kevin has closed the deal with this company or not.
We're following Cyndi Bray along with her company for further updates.
What Is Wad Free Net Worth?
The sales of this company are very good and it is running profitable at present. Millions of people came to know about this product because of Shark Tank show and those people have bought this product. Looking at the sales of the company, it is spiking its growth.
In Shark Tank, this company had asked for a deal in $4 million valuation. So we calculated this by estimating the assets and liabilities of the company and we think Worth of "Wad Free" can be $400k to $1.2 million.
Is Wad Free Still In Business?
Cyndi is an inspiration woman for every person because she has solved a common problem with her hard work and knowledge.
The product made by them has become successful and there are many people who are using this product. In December 2022, the price of this "Wad Free" product has increased to $19.99.
The headquarter of this manufacturing company is in Denver, Colorado and total 1 to 10 employees are working in it.
This company has been featured in many media publications including HGTV, Reader's Digest, Huffpost and many more.
Yes, Wedfuly is still in business as of December 2022.