Incredible Eats is an edible cutlery that we can use to eat foods and soups and can also eat the cutlery. This cutlery comes in different designs, shapes and flavors and is 100% vegan and dairy free. This product is an alternative to plastic cutlery and can play an important role in reducing plastic waste.
Dinesh Tadepalli, the founder of Edible Cutlery Company, who is an engineer, made this product from cookies base material. Apart from this, this product is completely gluten free and organic.
Small plastic products cause a lot of damage to the entire environment, such as plastic utensils. According to a report, Americans use 561 billion individual plastic utensils every year, and these items are not easily recycled.
There are many restaurants and ice cream shops that provide single use plastic spoons with their foods. This spoon is thrown away after using it once. This is a very serious problem for people and the environment.
Some companies try to make plastic alternative products. Similarly, a California-based company called Incredible Eats is focusing on making edible cutlery.
Founder Dinesh Tadepalli appeared on Shark Tank Season 13 Episode 3 with his company Incredible Eats and asked the sharks for $500,000 for a 7% equity at a $7.1 Million.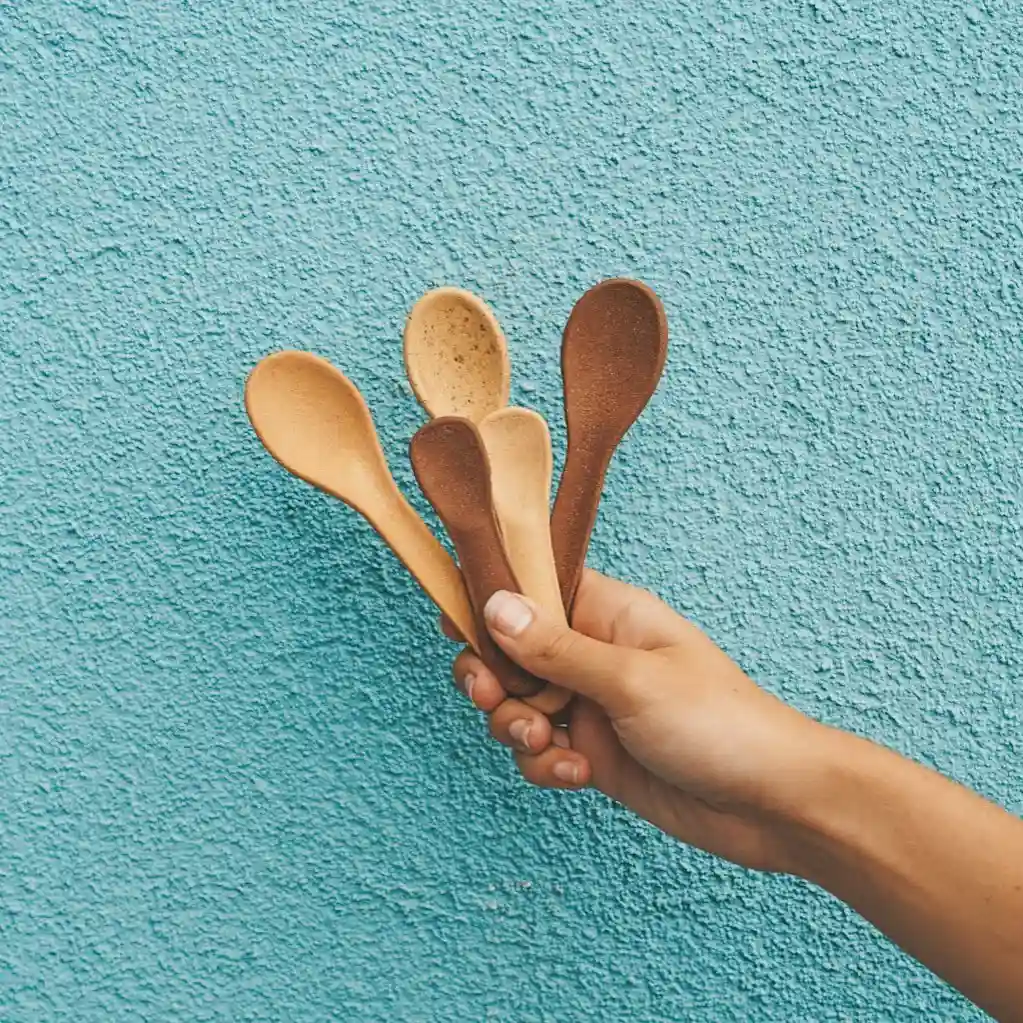 What Is Incredible Eats?
Incredible Eats is a brand that manufactures lines of edible cutlery using organic, vegan, gluten free and cookie ingredients. Along with eating foods and ice cream with this cutlery, the cutlery is also eaten.
Wheat, oats, corn, chickpeas, and brown rice are mainly used to make this product. This product has a shelf life of 6 months. This spoon can keep its shape for 30 – 45 minutes in hot soup and cold dessert.
Edible spoons come in different flavours, this includes Vanilla, Black Pepper, Chocolate, Oregano Chili and many more.
You will also find the same edible Sporks in different flavours, this includes Vanilla, Oregano Chili, Black Pepper and many more.
Apart from this, this company also sells bags, the price of Incredible Bag V2 is $9.99. Spoons range in price from $9 to $25 and sporks range in price from $9 to $25. This product is available on Amazon and the official website of the company. Each box pack contains 15 single spoon and sporks.
| | |
| --- | --- |
| Company Name | incrEDIBLE Eats |
| Founder | Dinesh Tadepalli |
| Founded | 2018 |
| Product | Edible cutlery which will work to replace plastic cutlery. |
| Asked For | $500k for 7% equity |
| Final Deal | $500k for 15% equity |
| Shark | Lori Greiner |
| Episode (Shark Tank USA) | S13 E3 |
| Air Date | Oct 22, 2021 |
| Business Status | In Business |
| Website | Visit Website |
| Headquarters | Milpitas, California, United States |
| Lifetime Worth (Sales) | $11M *estimated |
| Go To Amazon | Buy Now |
| Watch On | Amazon Prime |
Another Shark Tank Pitch
Who Is The Founder Of Incredible Eats?
Dinesh Tadepalli is the Co-Founder and Chief Spoon Seller of Incredible Eats Company. This business idea was started in 2018.
Dinesh is an electrical engineer. He studied Bachelor of Engineering from Anna University and then studied M.S, Electrical Engineering from University of Southern California.
After completing his studies, he worked as a Staff Design Engineer in SanDisk for 1 year. After this, he worked as a ASIC Design and Implementation Engineer in Altera for 2 years.
In 2018, he became an angel investor in Kulfy, India's best gif generation and micro content platform.
Currently he is working as a SoC Design Manager in Intel Corporation along with running his own company.
Incredible Eats Before Shark Tank
This business idea came to the founder when he went to eat ice cream with his daughter and saw there that plastic spoon is being used in ice cream.
So from this one moment the founder thought to make such a product which can be used in ice cream and can also be eaten.
After a lot of thinking, Incredible Eats was born in 2018. Once the product was made, the founder sold his house to fund his business.
This company sells its edible cutlery to restaurants, ice cream shops etc. This product is manufactured in Vadodara (Gujarat), India and shipped to different countries like United States etc.
This is the feature plan of the company, they will make edible forks, knives, straws, cups, chopsticks etc. in the coming times.
Co-Founder Dinesh Tadepalli applied to Shark tank for the investment of his business and made him partner with Shark.
How Was The Shark Tank Pitch Of Incredible Eats?
Dinesh entered Shark Tank with his company Incredible Eats and asked the sharks for $500K for a 7% equity. Dinesh gave full details about his business journey to Shark and also shared his sales reports.
Lori liked this product very much and said that she would definitely buy this product. The making cost of the spoon is $0.10 and it is sold for $0.20. So far this company has sold $1.2 million spoons within 2 years.
In this sale he made $170,000. In 2019, it was fully working on B2B food service. In 2020, when Covid-19 hit, the food service business was completely closed.
After this, Dinesh spent a lot of time, read 6 books and made his own product packaging and built his own website so that he could sell it in B2C.
Barbara Corcoran had to say that it is quite challenging and she is not sure that it is practical enough to fly. So that's why she's out.
Daniel Lubetzky said $170k lifetime sales isn't worth the $7.1 million valuation, so he's out as an investor. The co-founder says that he has not spent any money in marketing.
Kevin O'Leary said that this is a brilliant idea and he likes the engineer, but the valuation of this company is not making any sense. This led to Kevin offering $500,000 for a 35% equity.
Mark Cuban liked this business very much and said that this product can reach every grocery store, restaurant, ice cream shop etc. Mark made an offer of $500k for a 20% equity.
Lori Greiner also liked the business and made an offer of $500k for a 15% equity. Meanwhile, Daniel also made an offer of $500k for a 25% equity.
Dinesh counters Mark, Daniel, Lori and Kevin for $500k for a 12% equity but all the sharks say no. Meanwhile Mark is out of it. After this, Dinesh accepted Lori's offer.
Finalize: Lori Greiner Invest $500K in 'Incredible Eats' for 15% Equity.
What Happened To Incredible Eats After Shark Tank?
This company's shark tank journey was very good, all the sharks liked this business idea very much and all the sharks except Barbara made the offer.
This is a unique business idea to replace plastic cutlery. The co-founder told in Shark Tank that he has replaced 1.2 million plastic spoons.
Before this episode of Shark Tank aired, this company raised an investment of $ 200k from Big Idea Ventures in the seed round on April 19, 2021.
After this episode aired, people on Twitter said that this is a good business idea. On October 2021, Mayor TJ Cawley meets CO-founder Dinesh Tadepalli.
An interview of Dinesh was out on the 9and10news on November 2022, in which he has told that he has replaced 5 million plastic spoons so far.
Dinesh says that he will launch his product in Canada by the end of 2022. In January 2022, this edible cutlery company has teamed up with Dippin' Dots beaded ice cream brand to provide its edible cutlery. This grocery store company is available in 50 states and 7 countries.
Incredible Eats Shark Tank Update
CO-founder Dinesh pitched very well in Shark Tank and the sharks liked it very much. Dinesh had signed a deal with Lori. After Shark Tank, this company got a lot of orders and to fulfill this order, it hired many employees.
Although Dinesh had already made the manufacturing equipment to make the product, due to which he did not face much problem.
Dinesh is currently focusing on expanding his business internationally and he is in talks with a largest Ice Cream retailer, Airline and Fast Food Company. By November 2022, this company would have done sales of almost $1 million.
We're following Dinesh Tadepalli along with his company for further updates.
What Is Incredible Eats Net Worth?
The growth rate of this company is going very well and they are focusing on making new edible cutlery products. Dinesh says that he wants to take his product to every ice cream, soup, dessert etc. In the present time, the worth of Incredible Eats can be approximately from $0.6 million to $0.8 million. The valuation of this company in Shark Tank was $3.3 million.
Is Incredible Eats Still In Business?
This is a brilliant business idea to replace single use plastic spoons. The focus of this company is that they will make cutlery items plastic free.
In today's time, people are liking this type of product because it is delicious, healthy and eco-friendly. Many startups have been made on making this same product.
This product is available on Amazon and many people have bought this product. People have shared different opinion on amazon some say it is delicious and some say it is very hard.
The headquarter of this company is in Milpitas, California, United States and total 10 – 50 employees are working in it.
Yes, Incredible Eats is still in business as of December 2022.