Copper Cow Coffee is a Vietnamese coffee that is easily made without any additional equipment. This coffee is completely organic and no extra ingredients are added to it. Copper Cow Coffee Appeared in Shark Tank Season 12 Episode 25.
By making coffee in an authentic way, the taste of coffee is very good and it is also good for health. The second most popular Vietnamese coffee exporting country in the world is Vietnam. Their coffees are exported all over the world, especially in the United States.
This copper cow coffee business focuses on Vietnamese coffee. Its founder, Debbie Wei Mullin, is a Vietnamese-American who was born in California.
Debbie loves all things Vietnamese culture and most of all she loves sweet, creamy treat Vietnamese coffee. This is a simple dark-roasted coffee with sweetened condensed milk.
Debbie asked Sharks for $600,000 for 4% equity at a $15 Million Valuation to grow her coffee business around the world. Robert Herjavec had a lot of negotiations with Debbie, and finally, Robert invested in the business.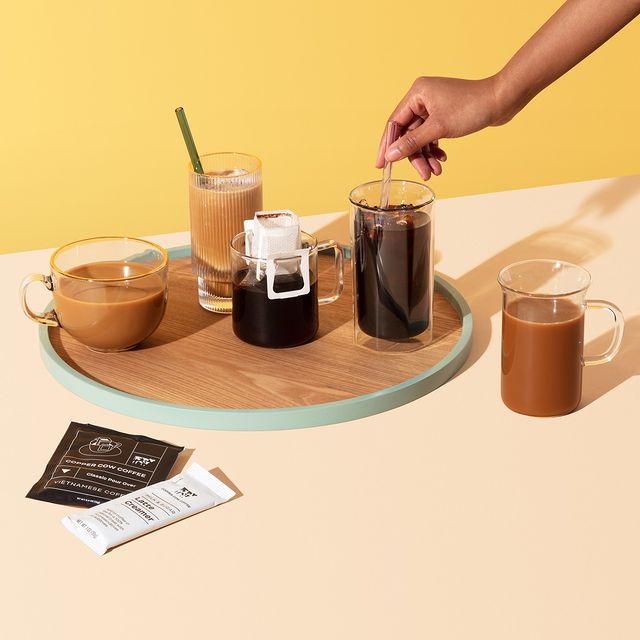 What Is Copper Cow Coffee?
Copper Cow Coffee is a Vietnamese coffee business that offers the perfect coffee shop experience in terms of coffee. Their Vietnamese coffee is completely pure, and no extra things are added to it. This coffee is made completely black-roasted.
The special thing about Copper Cow Coffee is that through this, a Sustainable coffee can be made anywhere in a few seconds.
To make coffee from this, it is simple to take "pour over" it has to be opened, and grab the biodegradable filter placed in it has to be set up in the coffee cup.
This biodegradable filter will contain different types of coffee (Classic Black, Vanilla Coffee, Churro Coffee, Salted Caramel, Lavender, Decaf, etc.), hot water has to be added to it and this instant coffee will become a complete coffee.
When it is brewed, then add copper cow creamer to it, it also comes in different flavors (Classic Creamer, Mocha Creamer).
This creamer has not added any kind of preservatives and lastly, the coffee has to be allowed to circulate through the spoon. So now it has become a perfect Vietnamese coffee.
This business also sells teas and Lattes along with Vietnamese coffee.
Copper Cow Coffee Lattes: Best Brews Latte Sampler, Pumpkin Spice Latte, Classic, Mocha, Churro, Vanilla, Salted Caramel, Raspberry Mocha, Ginger, Lavender & Classic Decaf.
Copper Cow Coffee Teas: Thai Iced Tea, Chai Tea Latte & Matcha Tea Latte.
5 Tea packs cost $18, 5 Lattes packs cost $18, 8 crammers cost $8, and 8 filter coffee packs cost $16.00.
| | |
| --- | --- |
| Company Name | Copper Cow Coffee |
| Founder | Debbie Wei Mullin |
| Founded | 2017 |
| Product | Vietnamese coffee pour over set |
| Asked For | $600k for 4% equity |
| Final Deal | $600k for 8% equity |
| Shark | Robert Herjavec |
| Episode (Shark Tank USA) | S12 E25 |
| Air Date | May 21, 2021 |
| Business Status | In Business |
| Net Worth | $1.1 Million *estimated |
| Website | Visit Website |
| Headquarters | Los Angeles, California, US |
| Go To Amazon | Buy Now |
Another Shark Tank Pitch
Who Is The Founder Of Copper Cow Coffee?
The funder & CEO of Copper Cow Coffee is Debbie Mullin, a Vietnamese-American born in California. But she likes Vietnamese culture and coffee very much.
After completing her Bachelor of Economics at the University of California, Berkeley, she was a Research Assistant for 1 year and 6 months at the Urban Institute.
She completed her MCP, Urban Studies and Planning at the Massachusetts Institute of Technology.
She was a Senior Program Officer at The Asia Foundation for 2 years and 8 months. For many years she also worked at the World Bank.
In 2014, she started the Wei pantry which is the nationally distributed Vietnam all-natural heritage food line.
Started Copper Cow Coffee Company in Los Angeles in January 2017.
Copper Cow Coffee Before Shark Tank
Copper Cow Coffee focuses exclusively on organic Vietnamese coffee and tea. This company has partnered with Vietnam's Best Farms, through which they can get coffee in the United States.
Vietnam is very popular for its coffee and tea and its coffee is exported all over the world. Debbie is working to spread her Vietnam Culture and Foods to the whole world.
Debbie is a Vietnamese-American citizen, she was born in California. Her grandmother had moved to the United States in 1975. Debbie has grown up with this Vietnamese coffee and has been drinking Vietnamese coffee since childhood.
So that's why Debbie loves Vietnamese coffee so much. Vietnamese coffee packs quite the punch. It uses Robusta beans, it has 35% more caffeine than common Arabica coffee beans.
Debbie did her first business in 2014 but it was not a successful business. But she did not give up and she himself faced all the challenges of the business.
After the pandemic hit, it had a deep impact on the entire business, even the beverages industry could not escape it. The sales of all the businesses went down in a single stroke.
Debbie used to generate revenue from different channels, but after becoming the pandemic hit, he started focusing on grocery and eCommerce.
This Copper Cow had more than 3000 stores national and international. In 2020, her eCommerce business model did quite well. Even during the Pandemic, she generated millions of dollars in revenue.
From the very beginning of the business, Copper Cow was focused on providing a better sofa hence making the product available in different supermarkets including Nordstrom's, Bloomingdale's, Walmart, Whole Foods, and Sprouts Farmers Market.
According to a Crunchbase report, Copper Cow raised $1 million in the angel round in 2017, and $2 million on December 4, 2018 seed round.
The founder of this company, Debbie, decided that she should take the help of sharks so that she can grow this business fast.
How Was The Shark Tank Pitch Of Copper Cow Coffee?
Debbie Wei Mullin entered Shark Tank with the Copper Cow and asked the Sharks for $600,000 for 4% equity at a $15 Million Valuation, much to the Shark's surprise. Debbie shared the story of her Vietnamese coffee and also explained the process of making coffee.
She started this business 4 years ago when she left her job at The World Bank. This product went on sale in 2017, each box has a making cost of $3.10 and a selling cost of $15.
Lori really liked the packaging of this product, although this technology is already running in Japan. This premium coffee with a premium price.
In 2017, her product was made available in 1000 stores and her total sales are $4 million. They did sales of $170,000 in 2017, $500,000 in 2018, $1.6 million in 2019 and $2 million in 2020 so far. Their margin out of these sales is 70%. 80% of sales come online and 20% from retail.
In 2019, her sales were $1.6 million but in this, her loss was $1.4 million. Raised $2 million in a seed round in 2018 and currently has $1.5 million in cash in the bank. She raised $1.5 million in another venture round at a $15 million valuation.
Lori said that she liked the idea but she is out. Debbie believes she will lose $700,000 this year. So far her profit has been $120,000. Next 6 months she plans to do $3.5 million in sales and she's planning to make $500,000 in profit.
Debbie At present it is a 40% shareholder of the company. Kevin says that it has come down due to high raising. Kevin says that this is quite an expensive bet, so he is out.
If Robert believes this is a real deal, he will make an offer of $600,000 for 8% equity at a $7.5 Million Valuation. Debbie counters Robert for $600k for 4.5% plus a 1% advisory share. But Robert is still associated with 8% equity, so Debbie agrees to Robert's offer.
Finalize: Robert Herjavec invested $600k in Copper Cow Company for 8% equity.
What Happened To Copper Cow Coffee After Shark Tank?
Robert signed a deal with the Copper Cow Company. This $15 million valuation company did the deal at a $7.5 million valuation. The shark believed about this business that it has raised more funding than this business did not need.
This coffee can be made in both Vietnamese style and American styles. It works on a subscription and normal basis. If the user buys coffee on a subscription basis, then she gets more discount.
In September 2022 it is not taking international orders and shipping the product only to the United States.
It also takes orders in Hospitality and Wholesale. All their ingredients are natural, in this, they do not use any kind of harmful things.
This company has partnered with many retail stores in the United States. In that retail store, this company orders coffee wholesale.
This product is available in 2,323 retail stores across the United States by September 2022. Different retail stores in different cities include Thrive Market, Nordstrom's, Bloomingdale's, Walmart, Whole Foods, and Sprouts Farmers Market.
This Vietnamese coffee company has raised $11.5 million from 13 investors in 6 funding rounds as of May 4, 2021.
The company raised $8.5 million in funding from 8 investors in its last funding round on May 4, 2021, from 8 investors. The lead investor in this was The Arborview Capital, Cultivian Sandbox Ventures.
This August 2022 this company launched a new product Pumpkin Spice Latte. According to some sources, this company's annual revenue is $3 million till this October 2022.
This company's coffee product is being discounted at the time of Halloween 2022, the 'Halloween Mystery Treat Bag' is priced at $17.
Copper Cow Coffee Shark Tank Update
After the Copper Cow Coffee Shark Tank episode aired, not many charges have come for 1 year. In 2021, the company's annual revenue was around $1 million and profits were very low.
This product has been made available in the most popular retail stores in the United States as well as Hilton Hotels. This company has raised a lot of funding in the series A round and seed round.
This company's annual revenue is estimated at $3 million in October 2022.
What Is Copper Cow Coffee Net Worth?
This company is currently running with very little profit. If we talk about Copper Cow Coffee's worth, then it will be around $1.1 million.
Is Copper Cow Coffee Still In Business?
This Vietnamese coffee company is available in major supermarkets in the United States, due to which the sales of this product are also getting very good.
Vietnamese coffee is in demand all over the world and the world's second coffee export country is Vietnam. Vietnam exports billions of dollars worth of coffee every year.
Copper Cow Add your own creamer to this Vietnamese coffee and make its taste even better. This gives a very good taste to the coffee.
This is a private company, the headquarters of this company is in the Greater Los Angeles Area, West Coast, Western Us.
This company has 11-50 employees working now. The business was featured by several media publications including Forbes, The New York Times, BuzzFeed & WSJ.
Yes, Copper Cow Coffee, Inc is still in business as of November 2022.