Everything Legendary is a vegan, high-quality, gourmet, plant-based burger. Everything Legendary appeared in Shark Tank Season 12 Episode 15 and asked Shark for $300,000 for 10% equity.
This vegan burger company's valuation was reported on Shark Tank at $3 million. Many different types of veggies and foods are used in this Vegan Brugger, after which its taste becomes delicious.
This vegan burger business was started in 2019 by three friends from Washington DC. It is promoting the Black community toward healthier eating.
There are many people who eat Burger, and most of the people make Burger using unhealthy ingredients. Due to these higher rates of blood pressure, heart disease occurs.
These three friends have brought their burger business to solve this problem. Duane Myko, a partner in this business, grew up with Vegan. His mother used to make his meatless meals every day which were made from plant-based foods.
Duane likes to eat burgers and he saw in the market that whatever vegan burgers come are tasteless. After that, he decided that he would add flavorful to nutritious plant-based foods.
He started the Legendary Burger with two of his friends, Chef Jumoke Jackson (aka "Mr. Foodtastic") and Danita Jones.
Plant Base Vegan Burger is a very large and competitive industry. However, the growth of this industry started a few years back. The global market size of this industry was estimated at $2.7 billion in 2020.
What Is Everything Legendary?
Everything Legendary is a plant base Vegan burger in Washington, DC. The recipe used in this Burgers tastes very good in the meat, though it is not actually meat.
Protein, coconut oil, two types of paprika, dried herbs, dried citrus, and a broth are used at home to make this food. It is truly a plant base burger and it is also soy-free and gluten-free.
This is the Legendary Burger that comes in four variants, it is included a classic burger, a burger infused with cheddar cheese, a burger infused with cayenne pepper cheese, and a burger infused with pepper jack cheese.
This vegan burger is available in three sizes, 4, 8, and 16 packs.
To make this burger delicious, he has his own special ripe that is Vegan Shiitake Burgers, Spicy Guac Burgers, and Smokin' Hot Vegan Tacos.
| | |
| --- | --- |
| Company Name | Everything Legendary |
| Founder | Jumoke Jackson, Duane Myto, Danita Claytor |
| Founded | 2019 |
| Product | High-Quality, Gourmet, Plant-Based Burgers |
| Asked For | $300k for 10% Equity |
| Final Deal | $300k for 22% Equity |
| Shark | Mark Cuban |
| Episode (Shark Tank USA) | S12 E15 |
| Air Date | Feb 26, 2021 |
| Business Status | In Business |
| Website | Visit Website |
| Headquarters | Lanham, Maryland, United States |
| Lifetime Worth (Sales) | $50M *estimated |
| Go To Amazon | Buy Now |
| Watch On | Amazon Prime |
Another Shark Tank Pitch
Who Is The Founder Of Everything Legendary?
Duane Mayko is a founder of Everything Legendary Company is, he got the idea of ​​this product through his mother's plant base meals. He earned his degree from Morgan State University in Baltimore, Maryland.
Danita is a strategist, she has very good knowledge about healthy eating. Danita completed her graduation from Bowie State University in Bowie, Maryland. She used to work with Young People as an Educator and Cheerleading Coach so she has knowledge of healthy eating.
Jumoke is a chef, he loves cooking very much.
Everything Legendary Before Shark Tank
Everything Legendary Company was launched in 2019. In the early days, local grocery stores and restaurants in the Washington area were selling their burgers very well.
When covid 19 came, he completely stopped selling in his lockle store etc. To solve this problem, he thought of switching his business model to a eCommerce, direct-to-consumer business model.
After that, he started taking orders in his country through Burgers Online and started delivering them too.
Regarding this business, the team says that they should spread this vegan burger all over the country in the shortest possible time.
Did Everything Legendary Get a Deal on Shark Tank?
Jumoke, Duane, Danita, the co-owner of Everything Legendary, joined Shark Tank and asked the sharks for $300K in exchange for 10% equity.
Their 4 pack burger costs $20 and they sell it for $45. The 8 pack they have costs $40 but they sell it for $75. Their profit margin in the online model is 53%.
This burger's price is 30% more than the rest of their burger competitors. But Duane said that it is a premium plant base product and its high quality ingredients are used.
There are 250 calories in each of their burgers, which the sharks were surprised to hear.
When it started in June 2019, they had sales of $165,000. They had lost a few months of sales during the time of Covid 19 and till now their provide is of $53K.
He did not do any kind of digital marketing advertisement etc. for the sales that came to him. Their burgers were so tasty that they got these sales because of word of mouth.
Barbara Corcoran used to say that your price defence is a big challenge, you should work in it, because of this it is out.
When he started this company, he had invested $17,000, after that $30,000 through credit card, total $47k is invested in it.
Kevin O'Leary says that the valuation of this business is too high, no profit will be made in it, due to which he is out.
Mark Cuban made his offer of $300k for 25% equity because it would take a lot of work to be successful.
Duane countered this offer of Mark of 20% equity but Mark countered it and called it 22% equity and the deal was completed.
What Happened To Everything Legendary After Shark Tank?
Mark signed the deal with Everything Legendary and Mark will help it grow the business and work in marketing etc.
According to a report of November 2021, this deal with Mark has been closed. After the episode aired, he partnered with a co-packer so that he could produce 400,000 Burgers every day.
This burger has been made available in 310 targeted stores in different states of United States, it includes Washington D.C. area, Southern California, the Chicago region and New York City.
This list includes many grocery stores in the United States such as Giant Food, Safeway, Acme, Target, Ralphs, and Kings Food Markets.
According to some reports, this company has generated $10 million revenue by 2021. The company did great business when this episode aired, with Jackson giving an update on his Facebook $250,000 in sales.
This company's success rate was shown in Shark Tank Season 13 Episode 11. The episode did $1.7 million in sales within just 7 months of airing.
The Burgers team estimates that they will do $28 million in sales by the end of 2022.
On February 2022, the company has raised a $6 million funding round in a series funding round from two investors CircleUp Growth Partners,General Mills' 301 Inc.
After getting new funding, he also launched new products for this company like vegan boneless wings, sausages and breakfast patties.
This product of theirs is currently available in ,500 retail stores in the United States, it includes Target and Publix.
The owner's goal is that they will be available in 5,600 retail locations in the United States by the end of 2022.
What's new on Everything Legendary!
In March 2023, their products expanded from 310 Target stores to 1,000 stores nationwide. In April 2023, they had a deal with the Kroger retail chain, which listed their products at 1,000 Kroger stores in 15 states.
The domain of the official website of this company has been changed (Eatlegendaryvegan.com to Golegendary.com).
On May 2023, they have partnered with Bowie State University to provide Vegan Burger and Taco Bar to the students.
Everything Legendary Shark Tank Update
Everything Legendary got successful funding in Shark Tank. Mark Cuban joined the company as an investor. The sales of this company skyrocketed after this episode of Shark Tank aired.
We're following Jumoke Jackson, Duane Myto and Danita Claytor along with their company for further updates.
How is the Everything Legendary going?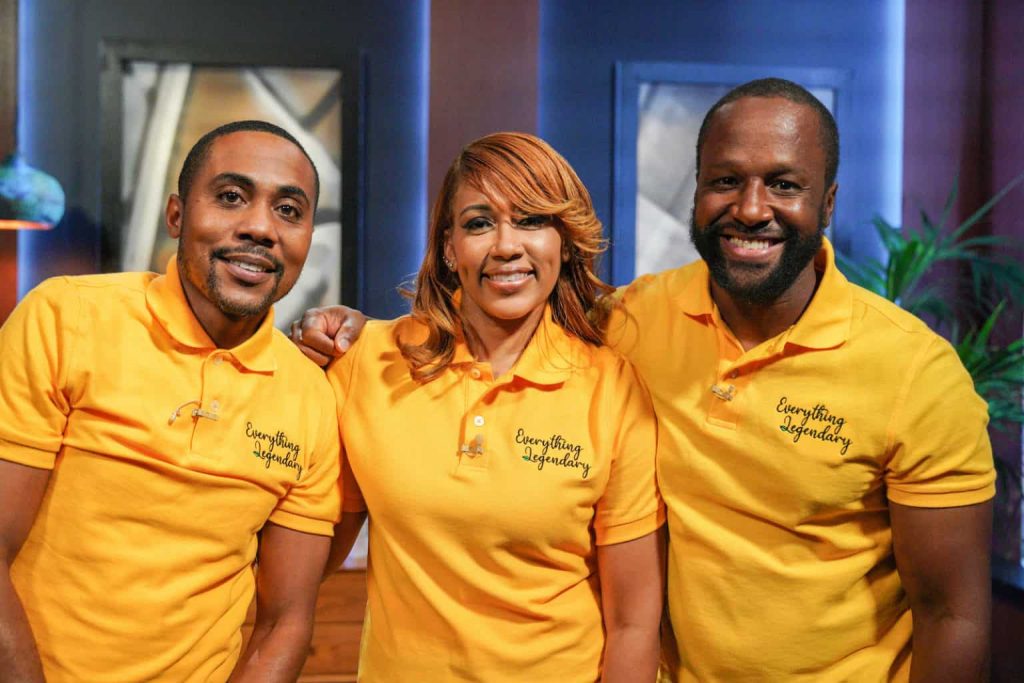 When Everything Legendary was started, they did not do any paid marketing for their product sales. Most of his sales came through word of mouth. Their burger was so tasty that people automatically started promoting this product.
After signing the business deal with Mark, the growth of this company became much better, he did a lot of good sales.
By the end of 2022, he is looking to sell $28 million. With all the good things happening, Jackson's ex-wife "Renee E. Warren" filed a case against him in court over money.
We analyzed the website of this business, their website is getting more than 13,000 visitors every month.
They are getting good sales from both online and retail stores. The funding he had taken, he has spent very well in marketing, he currently has 37.1k followers on his Instagram.
What Is The Net Worth of Everything Legendary?
Mark signed a deal with this company at a valuation of $1.3 million. Last year this company did very good sales. Looking at its sales and current valuation, Everything Legendary Worth can be $60 million.
Is Everything Legendary Still In Business?
The team of this Vegan PlantBased Burger says that they will soon expand to the whole of the United States and then go to International.
With the help of Mark, the growth of the Everything Legendary company has been very good, Mark has guided this business with good help, after which he was able to sell so well.
We expect this company to become the largest vegan burger brand in the United States in the coming few years.
Yes, Everything Legendary is still in business as of May 2023.