Better Bedder has a giant headband for the mattress. It helps in the perfect fit of the bed sheets on the mattress and holds the sheet at the Mattress corner. This headband wraps the mattresses completely so that the sheet can be held.
Better Bedder founders Judy Cannella Schott and Nita Friloux Gassen came to Shark Tank to ask for funding for their company. The founders demanded $150,000 from Shark in exchange for 10% of the equity as part of the company's $1.5 million valuation.
Bed sheets are definitely used in every mattress so that the mattress is not messy and the BEd looks perfect. Before sleeping, we lay the sheets well on our mattresses, but after getting up from sleep, the sheets get messy again.
We have to lay the sheet on the mattress in a proper way every day before sleeping at night and after waking up. Due to doing this work daily, the human gets irritated.
Making a Bed is a challenging task for many people. Not because he is lazy, but because there are many people who are in different circumstances, due to which they are not able to make their beds.
Seeing this problem, Nita went to different stores to solve it, but she did not find any such thing. She decided that she would solve the problem herself, so Nita bought a shaving machine. But she did not know how to run it, so she started learning with the help of YouTube videos.
They soon developed a portable giant "headband" that could hold sheets across the edges of mattresses.
The size of the home bedding market is huge, it also has a lot of competition. It is difficult for a new startup to survive in this.
But this better bedder is a niche product of the home bedding industry which is made for specific work.
What Is Better Bedder?
The Better Bedder Mandeville, Louisiana, United States base is a giant headband for mattresses. According to LinkedIn, this company was launched in August 2018 and this product was invented by Nita Gassen.
This giant headband holds the sheets in the four corners of the mattresses so that the bed does not have to be made again and again.
This giant headband avoids making the sheets messy and we can hold things like books, phones, etc. on the side of the portable headband.
The Better Bedder uses cotton, polyester, and spandex and has quilted padding on the sides. It comes according to the size of different mattresses, it can be washed in the machine.
Currently, it comes in 5 sizes that are.
Twin 38″ x 75″
Full 54″ x 75″
Queen 60″ x 80″
King 76″ x 80″
Cal King 72″ x 84″
Better Bedder Shark Tank Update
| | |
| --- | --- |
| Company Name | Better Bedder |
| Founder | Judy Cannella Schott and Nita Friloux Gassen |
| Product | Giant Headband for Your Mattress that Keeps Bed Sheets in Place |
| Asked For | $150,000 for 10% Equity |
| Final Deal | $150,000 for 18% Equity |
| Shark | Lori Greiner |
| Episode (Shark Tank USA) | Season 12 Episode 15 |
| Air Date | February 26, 2021 |
| Business Status | In Business |
| Net Worth | $2.9 Million *estimated |
| Website | Visit Website |
| Address | New Orleans, Louisiana, United States |
| Go To Amazon | Buy Now |
Another Shark Tank Pitch
Who Is The Founder Of Better Bedder?
Nita Gassen is the Inventor and Co-Owner of Better Bedder Company. Judy Schott is the Chief Operating Officer of the company.
Nita did her schooling at The University of Southern Mississippi, after which she worked as a legal secretary at State Farm Insurance for 10 years.
Gilsber worked as a sales manager in an insurance company for 14 years. Nita started Better Bedder Company in 2018. In 2021, she and two companies launched Better Babble and Better Bookoo.
Judy studied accounting with a Bachelor of Science from the University of New Orleans. She completed her Juris Doctor degree from Loyola University New Orleans College of Law.
Worked as an attorney at the Cleveland Barrios Law Firm for 10 years. She was Director of Professional Liability for 16 years at Gilsbar.
Since 2013, she is working as the Chief Operating Officer of Gilsbar Insurance Company.
Better Bedder Before Shark Tank
For a few years after the inception of Better Bedder Company, Nita had to face many challenges. The biggest challenge in this is finding a good manufacturer.
She was in contact with several manufacturing companies in the United States to make this prototype giant headband.
This company is a small startup, so they did not have to manufacture many products, but many manufacturing companies refused due to fewer units.
After that, the founder went to a small sewing shop in Mississippi, New Orleans, and asked them to make this product. Since that sewing shop was near her house, she also found it easy to get changes in that product.
Better Bedder was featured at the Cajun Palms RV Show in Breaux Bridge, Louisiana on 11/21/20. This product got a lot of positive feedback in the local farmers' markets.
Did Better Bedder Get a Deal on Shark Tank?
Better Bedder owners Nita & Judy asked Shark $150K after coming to Shark Tank in exchange for 10% equity of their company.
Now in this article, we will know what happened to Nita & Judy with Shark and about the sales report.
The making cost of this product is $33.50 and its average sales price is $63.50 and it is manufactured in the United States.
Judy revealed in Shark Tank and has sold a total of $476,000 so far. By the end of 2020, the sales are happening fast enough to do $1 million sales.
They have not done any kind of expansive marketing or they have paid any influencer. She himself made Facebook with Ads for this product, and after that, she received this sale.
Kevin O'Leary says that this bed skirt is not business for him, so that's why he is out of this business.
Mark Cuban also refused to invest in this business because he said that this business is not perfect for him.
Barbara Corcoran is interested to invest in this business, she said that she will be able to do this business with publicity and Will brings its cost up to $20. Her offer was $150k for 20% equity.
So in the meantime, Lori came in and offered $150,000 for 25% Equity but with this, she would help her get Into QVC.
Daymond John also matched this offer of Lori.
Both these ladies counter-offered 3 Sharks for $150k for 18% equity. Both Lowry and Barbara agreed to this counter offer.
But Nita & Judy signed a deal with Lori. But Barbara moved to 15% equity and Lori remained in the same 18% equity yet Nita & Judy signed the deal with Lori.
What Happened To Better Bedder After Shark Tank?
Lori hasn't closed the deal with Better Bedder yet. Lori's website still has this company listing. Lori has made many businesses grow and he has achieved similar success in this business as well.
A few months after the episode aired, this bed skirt business had sold 40,000 units of its product.
Lori said that he would bring this product to "QVC". We tried searching for this better bedder on "QVC" but we couldn't find it.
Lori put her PR team into marketing this business so that it could grow. I hope Lori will help Gassen to take this business to the global market.
A new update was released regarding this business in Shark Tank Season 13 Episode 14. In this, she said that the day after the episode of Better Bedder aired, $157,000 worth of product was sold.
By the end of 2021, their lifetime sales were $2 million. With the help of Lori, this product was listed in 3000 Wal-Mart stores.
She is currently looking to make expand in hotels, RVs, and the senior community and she is hopeful that the product will reach worldwide soon.
Lori says she will do $20 million in sales by 2023. By July 2022, this company's lifetime revenue has been $6 million.
How is the Better Bedder going?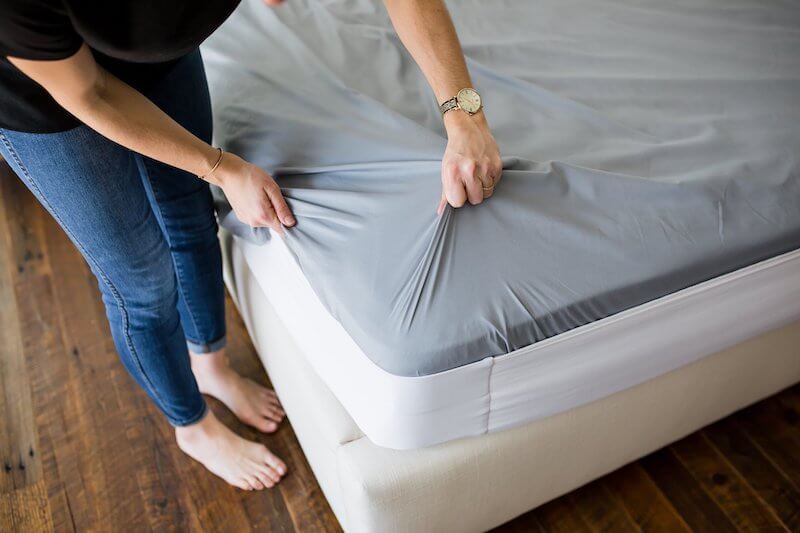 With the help of Lori, Better Bedder is growing very well, with the business projecting to make $20 million in sales by 2023.
In the initial time, this business had a lot of problems with respect to manufacturing, supply chain, and productivity.
The price at which he used to make the product earlier, has probably come down now. Looking at the current price of the Giant Headband is coming between $29.99 to $49.99.
This shows that the making cost of this product and other additional charges have come down.
Lori is still with the business and helping it grow. They have given a very professional look to their website.
This giant headband product has now become available on Amazon as well, if you want, you can buy it through Amazon.
What Is The Better Bedder Net Worth?
This company is growing very well in July 2022. We estimate the Better Bedder net worth to be $2.9 million. When this business deal was signed with Lori, the valuation of this company was $833k.
Is Better Bedder Still In Business?
Yes' In July 2022, the business of Better Bedder is going very well, with the help of Lori, the Gassen has grown this business well.
Gassen is currently working full time in this company but we are still Judy with this company or not.
We looked at Judy's LinkedIn account where no information about the Better Bedder company has been shared.
We hope that this company will be able to expand all over the world in the coming years.
Content Photo Credit: Amazon.com & getbetterbedder.com