GRIND Basketball is a portable basketball training machine. GRIND Basketball appeared in Shark Tank Season 12 Episode 23 to raise funding. This machine is useful enough for a basketball player to practice alone.
This portable basketball training machine is mounted under the basketball backboard and its net surrounds the basketball backboard. When the basketball falls inside this net, the machine pushes it back so that the ball goes back to the player.
With this portable machine, any one person can easily practice basketball, he does not need any other person. Through this, time is saved and there is no frustration in taking the ball again and again.
This Grind Basketball Company was created by Thomas Fields in March 2020 after his dream of becoming a player in Division 1 ended. Thomas suffered two torn ACLs in his sophomore and junior years and a torn meniscus in his senior year.
The idea of ​​a good business comes only in a difficult situation which happened with Thomas, he developed the product to solve his problem.
Thomas asks Shark for $250,000 for 5% equity at a $5 Million Valuation to grow his company and take this portable basketball training machine to all basketball players.
This $5 million valuation is a huge amount for the company, although Mark & Barbara signed a deal with this company at a $1 million valuation.
A portable basketball training machine is in demand by every basketball player, however, due to most of the machines being expensive, the player cannot afford them. However, the Grind Basketball Machine comes at an affordable price compared to other machines.
The journey of making this machine Thomas Fields' story motivated every person that any person can do anything if he wants.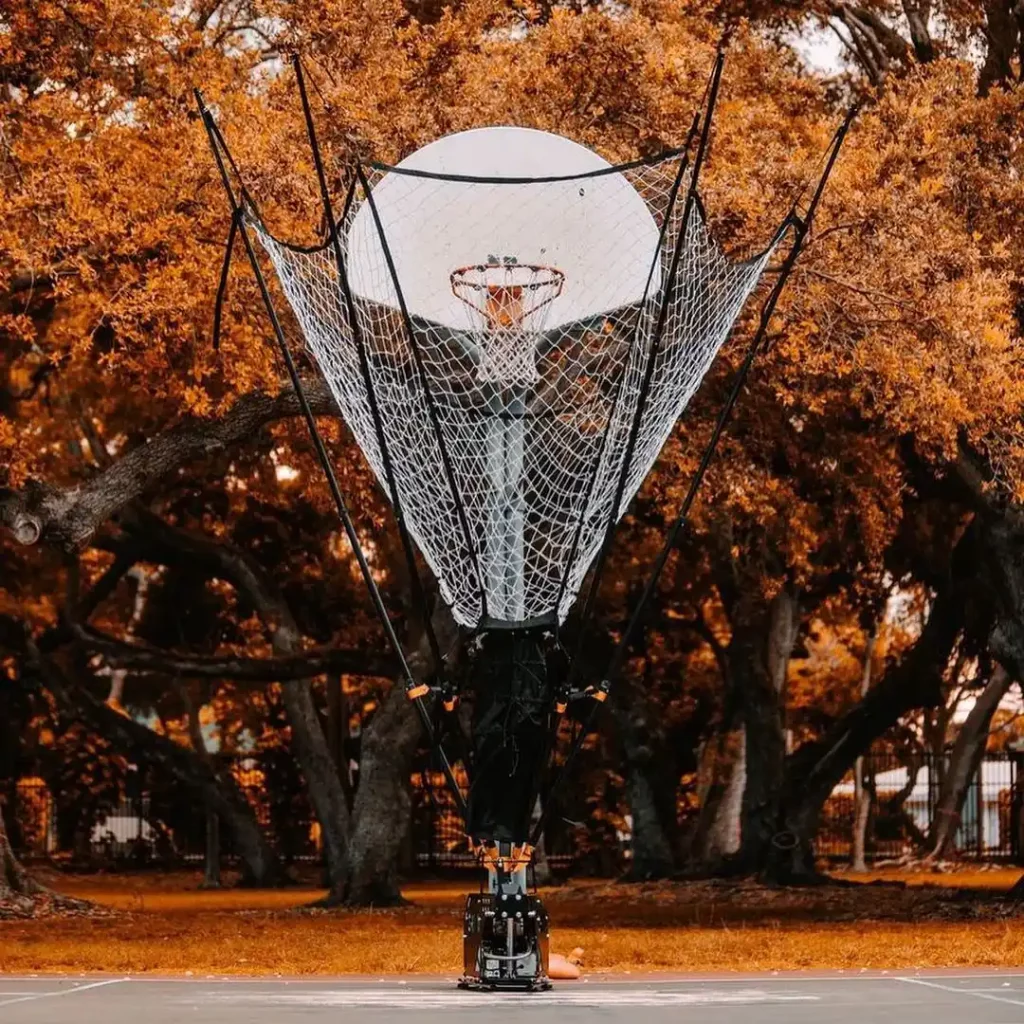 What Is GRIND Basketball?
Grind Basketball is a portable basketball training machine. This machine is designed to improve the game of basketball players.
With the help of this machine, players can improve many things in their catch-and-shoot efficiency, footwork, balance, explosion, follow-through, creativity, and basketball IQ.
There is a 12-foot net around this machine that holds the ball and does pushback. Its net is so big that it catches both missed shots and perfect shots.
The player can move and throw the ball on the basketball backboard and this machine collects it and passes it back to the players in 3-4 seconds.
Since this machine is portable, it can be taken anywhere in your car and it takes only a minimum of 90 seconds to set up. The weight of this machine is approx 110 lbs. It is known for catching 500 shots every hour.
This machine Runs through a U.S. standard electrical outlet and does not have any kind of battery.
To make this machine advanced, Thomas Fields is working on upgrading it, he says that this machine will be able to calculate missed shots.
The Grind Basketball Machine is only available on their website and costs $1,995.
| | |
| --- | --- |
| Company Name | GRIND Basketball |
| Founder | Thomas Fields |
| Founded | 2020 |
| Product | portable basketball training machine |
| Asked For | $250k for 5% equity |
| Final Deal | $250k for 25% Equity |
| Shark | Mark Cuban and Barbara Corcoran |
| Episode (Shark Tank USA) | S12 E23 |
| Air Date | May 7, 2021 |
| Business Status | In Business |
| Net Worth | $1 Million *estimated |
| Website | Visit Website |
| Headquarters | Houston, Texas, US |
| Go To Amazon | Buy Now |
Another Shark Tank Pitch
Who Is The Founder Of GRIND Basketball?
Elite high school basketball player Thomas Fields is the founder & CEO of Grind Basketball Company. Thomas created this company because of torn ACLs, which would not give him much trouble in bringing basketball.
Thomas completed his accounting studies at the University of Houston, C.T. Bauer College of Business. He completed the Success Initiative Program at MIT Sloan School of Management.
When he was in college, he worked for Red Labs Startup Accelorator for 1 year at Redlabs. He was a board member for 3 years at Texas Base TXRX Labs.
In March 2020, he started his Grind company, and in June 2021 started a sports accelerator named Techstars.
GRIND Basketball Before Shark Tank
The Grind traces the journey of founder Thomas to the "NBA" dream behind the start of the basketball company, although Thomas's "NBA" dream did not succeed in his career.
Thomas loved playing basketball in his 2nd grade and participated in the high school varsity team in the 8th grade.
He got a good response from the college recruiters because of his game and he came on the list of state rank top 20 players.
Thomas aspires to be the best basketball player and his dream came to an end when he got injured. Thomas suffered two torn ACLs in his sophomore and junior years and a torn meniscus in his senior year.
He used to go to his high school gym every morning "at 5 A.M" to practice his game so that the game could be perfected. Because there they were getting the machine.
The price of a basketball training machine was so expensive that a common man could not afford it. Keeping this in mind, he decided to build his own portable basketball training machine for a small amount of money.
In 2014 Initially, he made prototypes of this product, after that when he felt that it had become a perfect prototype, then he built the real machine.
Thomas Decided in Shark Tank to get funding from sharks in order to grow his company.
How Was The Shark Tank Pitch Of GRIND Basketball?
Thomas Fields entered Shark Tank with his company, Grind Basketball, and asked the Sharks for $250,000 for 5% equity at a $5 million valuation. He told his story and gave a demo session of his product.
Thomas called Mark to use this product, Mark failed 2 attempts to bowl the ball but on the 3rd attempt, he threw the ball.
The retail price of this machine is $1,495 & making cost $977 but its replacement machine costs more than $6,000.
Thomas started this business with only $15,000, this money he got from YMCA, Shoveling mud, etc.
This company started on March 2020, and in just 5 months this company made a presold $215,000. He got it through his e-commerce website.
Kevin found this product cool but it is out, Lori also opted out, Alex didn't like the price & margin and he is out. Mark says it has challenged the company's valuation & margin.
Thomas told Mark that he can negotiate because he believes that this company can easily become from $5 million to $10 million.
Mark & ​​Barbara offered $250k for a 30% equity. Thomas counter-offered Mark & Barbara $300k for a 25% Equity, saying it would easily be a $10 million valuation in a few years.
After That Mark countered $250k for a 25% equity. Thomas agreed to this offer.
Finalize: Thomas signed a deal with Mark & Barbara for $250k for a 25% equity.
What Happened To GRIND Basketball After Shark Tank?
The Grind Basketball Company signed a deal with Mark & ​​Barbara in Shark Tank and it turned out to be a very good deal. When this episode aired, its sales also increased a lot. It is taking pre-orders and it has grown to a great extent.
After Shark Tank, this company launched a new chili, in which they sell printed T-shirts, hoodies & shorts, etc.
This company was featured by many media publications, this includes CNBC, Forbes, Techstars, The Hustle, Business Journal & many more.
Forbes has included Thomas's name in the list of Forbes 30 under 30 for 2022. This is a huge success for Thomas' business.
In September 2022, this company is working towards upgrading its product, so they need a CTO, Mobile Software Engineer & Ios/android Developer.
GRIND Basketball Shark Tank Update
Mark & ​​Barbara has not closed the deal with Grind Basketball in September 2022.
After Shark Tank, this product got a positive response from the people. This company sold $215,000 of preorders when it was launched, just because of word of mouth.
After this episode aired, his order number increased further. Thomas had $1 million preorders by 2021. He says that he has delivered 80% of the preorders so far.
According to some sources, Grind Basketball has raised $1 million in the seed round. This machine is priced at $1,995 in September 2022.
At present, this machine is being shipped only to the United States.
What Is GRIND Basketball Net Worth?
This company's worth has just increased Grind Basketball's net worth is $1 million. The price of this machine has also been increased.
Is GRIND Basketball Still In Business?
This is a portable basketball training machine for basketball players and it is more than 50% less than other machines. It provides more features than the rest of the machine.
When Thomas pitched this product to Shark Tank, it used to power it through an electric cord. It will work only when the current goes to it for power.
However, the founder is going to add a battery system to this machine so that this machine can be used anywhere on electricity.
Many videos of this basketball training machine have been uploaded on Tiktok, in which children were seen playing basketball for this machine.
On September 5, 2022, 150k visits come to its website every month, out of which 10-20% of people would have bought the product. Recently it has completed 10.2k followers on Instagram.
The headquarters of this company is presently in the Greater Houston Area, Southern Us.
Yes, GRIND Basketball is still in business as of September 2022.