Lucy Drawing Tool is a drawing tool by which the artist can draw any picture without having to look at it again and again. The special thing about this drawing tool is that such a technology has been used in it, it helps the artist to concentrate on Our drawing.
The founder and CEO of Lucy Drawing Tool are Les Cookson, and he brought one of his products, the Carsik Bib, to Shark Tank in 2011, but didn't get the deal.
This startup of Les Cookson did not get funding but he did not agree yet he came up with his new startup in Shark Tank Season 13 Episode 19 04/08/2022 to get funding.
Cookson has just brought his original business, LUCIDArt, to Shark Tank. The product that the artist sees is the reflection of the thing that the artist wants to draw on the paint board.
The founder says that this Lucy drawing tool is the latest version of the classic camera lucida of the 19th century.
What Is Lucy Drawing Tool?
Lucy Drawing Tool is a Lincoln, California, United States-based company started in 2005 It becomes a reflection of anything or photo to help the artist draw. Through this drawing tool, the artist can improve his drawing and he will get the confidence through this tool that he can draw anything.
It is a simple tool that does not require electricity, a computer, etc. Because it provides a virtual image of the thing in front of you whose you want to draw.
This is a portable device, you can take it with you anywhere. In this, you do not need to add any kind of addiction things.
| | |
| --- | --- |
| It Is | It Is Not |
| Use it in your art studio | No Plugs |
| Take it outside | No Batteries |
| Show it to a friend | No Electricity |
| Travel with it | No Computers |
| Easy to Use | No Dark Room |
The Lucy is completely built in the United States apart from fiberglass-infused polycarbonate and shatterproof optics.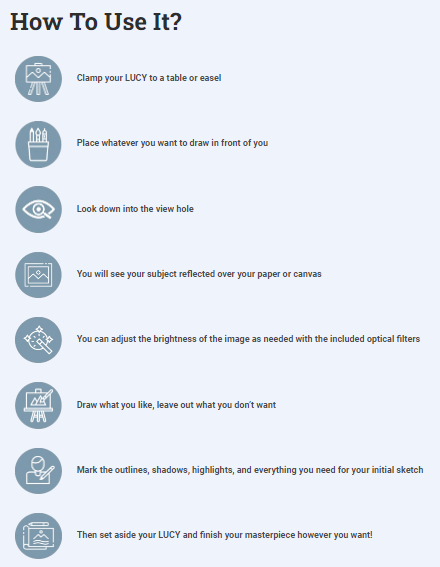 This device is perfect for everything, in this you can do your work by spending once.
| | |
| --- | --- |
| Company Name | LUCIDArt |
| Founder | Les Cookson |
| Founded | Nov 2005 |
| Product | drawing tool that projects images for you to trace over |
| Asked For | $300k for 10% equity |
| Final Deal | $300k for 15% equity |
| Shark | Daymond John |
| Episode (Shark Tank USA) | S13 E19 |
| Air Date | Apr, 8 2022 |
| Business Status | In Business |
| Website | Visit Website |
| Headquarters | Lincoln, California, United States |
| Lifetime Worth (Sales) | $6.3M *estimated |
| Go To Amazon | Buy Now |
| Watch On | Amazon Prime |
Another Shark Tank Pitch
Who Is The Founder Of LUCIDArt?
This is the founder and CEO of LUCIDArt Les Cookson, who started this company in 2005. Before bringing this product to Shark Tank, he introduced the brand named Carsik Bib to Shark Tank in 2011.
Since August 2010, Cookson has been the Vice President of Practical Industries. His journey is going to inspire a lot to build the LUCIDArt brand.
LUCIDArt Before Shark Tank
LUCIDArt California Base is a company that manufactures the Lucy Drawing Tool. This is a drawing tool preferred by the artist, many artists use this tool.
To make a good and good-looking sketch, the artist is getting a lot of benefit from it. There are many buyers who have bought this product, they are liking this product very much.
Did LUCIDArt Get a Deal on Shark Tank?
Les Cookson, the founder of LUCIDArt, gave a great presentation on Shark Tank, the shark liked it.
It is a problem-solving product and helps the artist to make a good drawing, thereby developing the skill of the artist.
The founder demanded $300,000 from Shark in exchange for 10% equity in his company and Shark knew about its sales before investing in this product.
Shark Daymond John invested an amount of $300,000 in this business in exchange for 15% equity of the company.
What Happened To Lucy Drawing Tool After Shark Tank?
Lucy Drawing Tool became popular on National TV after Shark Tank and many people liked this product when they started watching it.
It helps in deriving an easy product for the artist. Anyone who is not a professional artist who loves to make art can make it
This is a product coming at an average price, its price is also very high, anyone can buy it. Many viewers shared their opinion about this product on Twitter.
Daymond John had signed this deal with Les and even after months have passed, he is associated with this business.
Les has soldered these drawing tools, optical toys, and hand-built replicas to artists, universities, and museums all over the world.
he also got offers from television and film production companies to supply this product of his own, it is involved in Walt Disney, Warner Bros., 20th Century Fox, and Paramount Pictures.
Cookson has launched his "The Lucy Drawing Course" and is charging around $37 for it. In this course, the user will get 14 video lessons.
Lucy Drawing Tool Shark Tank Update
Cookson explained his product very well in Shark Tank and the sharks liked it very much. Daymond invested in this company to take this unique tech product forward.
In December 2022, we have not found any such evidence to know that Daymond has closed the deal with this company. After Shark Tank, this company has launched some new products, these include Watercolor Paint Ste, 25-Piece Drawing Kit and many more. We do not have the exact revenue information of this company yet.
We're following Les Cookson along with his company for further updates.
Where Can You Buy Lucy Drawing Tool?
To buy this Lucy Drawing Tool online, you can go to its official website and marketplace Amazon. You will get it very cheap and lowest price on Amazon.
Currently, its three variants are Lucy Mini, Lucy Flex, and Lucy Pro. Its price is $59.00, $97.00, $277.00 including discount etc. Different devices have different features.
This is a USA-made product, in which 1-year warranty is given and also 30 days money-back guarantee is available.
What Is The Lucy Drawing Tool Net Worth?
Lucy Drawing Tool was valued at $2 million after getting an investment in Shark Tank. The founder had asked Shark for a $3 million valuation but this could not happen.
This product is made in the United States but it is shipped all over the world. This product is available on Amazon and many people have bought this product.
Is Lucy Drawing Tool Still In Business?
This business is growing slowly. This startup, which originated in California, is slowly spreading its product all over the world.
There is a lot of need for it in schools, colleges, and institutes, people who want to do art. This will help the new artist in designing art.
We checked in December 2022, since April 8, 2022, this company's social media Instagram account is not active. According to Cookson Linkedin account, he is still working full time in this company.
According to Similaweb's December 2022 report, 117k people are visiting "drawlucy" website every month. 39% people are searching and 34% people are visiting direct website.
Yes, Lucy Drawing Tool is still in business as of December 2022.