Peekaboo Ice Cream founder Jessica Weiss Levison appeared in Shark Tank Season 12 Episode 8 and asked the shark for $800,000 for 8% Equity. Peekaboo is a natural ice cream brand that manufactures ice creams using high quality healthy vegetables.
Ice cream is one such thing that everyone likes, there is no one who does not like ice cream. Although up to 50% sugar is used in normal ice creams, there are many ice cream brands that are made sugar-free.
Ice cream can be eaten every day no matter what the season is Summer, Winter & Monsoon People like it all the time.
If we analyze this industry, it is found that in 2021 its global market value was US$ 71.52 billion. It is estimated by experts that by 2029, the value of this industry can reach USD 104.96 billion.
Ice creams are made with different flavors and ingredients as the taste of the people is different. If we talk about Vegetable Ice Cream, then it is made using only vegetables, and sugar is used to bring sweetness.
Peekaboo ice cream is also made from a vegetable. According to Linkedin, This vegetable ice cream was Official Re-Launch by Jessica in 2019.
We know in detail how Jessica created this company and what were the reasons behind it. Jessica loves ice cream and because of this, she started her business in this ice cream industry to become a better ice creamer.
We will learn more about Jessica's relationship with this Peekaboo Ice Cream Company.
What is Peekaboo Ice Cream?
Peekaboo Ice Cream is a premium, organic ice cream from the food and beverages manufacturing industry filled with hidden vegetables. The base of this vegetable ice cream company is in Miami Beach and this is where it started.
Children love ice cream, but ice cream causes a lot of diseases and its artificial ingredients are also used. As much as the parents want not to give ice cream to their children, the children insist that they have to eat ice cream.
To solve this problem, Peekaboo Ice Cream has come up with Nutritious Veggies Ice Cream, It is full of traditional ingredients. Kids don't like eating broccoli if the same thing happens with ice cream they would love it.
This vegetable ice cream is made Gmo and Gluten-Free and organic California cow's milk has been used in it.
This ice cream also contains hidden veggies of all the flavors like Vanilla with Hidden Zucchini, Strawberry with Hidden Carrot, Mint Chip with Hidden Spinach, Cotton Candy with Hidden Beet, Chocolate with Hidden Cauliflower, Unicorn with Hidden Zucchini, Cookie Dough with Hidden Zucchini, Strawberry sorbet with hidden tomato and Mango sorbet with hidden squash.
If it Compare Peekaboo Ice Cream with other ice Cream then it makes a difference which is mentioned in this image below.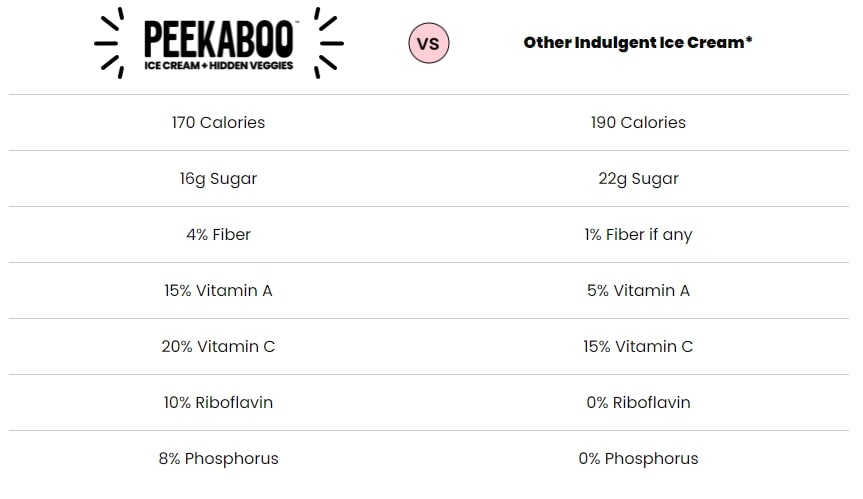 | | |
| --- | --- |
| Company Name | Peekaboo Ice Cream |
| Founder | Jessica Weiss Levison |
| Product | premium indulgent ice cream with hidden vegetables |
| Asked For | $800k for 8% Equity |
| Final Deal | No Offer |
| Shark | No Shark |
| Episode (Shark Tank USA) | S12 E8 |
| Air Date | Dec 11, 2020 |
| Business Status | In Business |
| Website | Visit Website |
| Headquarters | Miami Beach, Florida, United States |
| Go To Amazon | Buy Now |
See This Buckle Me Baby Coats Shark Tank Update
Who Is The Founder Of Peekaboo Ice Cream?
Jessica Weiss Levison is the founder and CEO of Peekaboo Ice Cream, a super-premium ice cream brand made from organic veggies.
Jessica Levison loves ice cream, she likes to eat ice cream in her daily life, but saying ice cream daily can also cause illness.
Jessica earned a BA in Business Administration degree from the University of Michigan and made her JD in New York Law School in 2005.
Jessica Weiss started her career in Aid Service of Broward County, Inc. Working as Staff Attorney.
After this, she was a contract attorney in Beloff | Parker | Jacobs for 1 year. She has been running the Florida Base Serendipity Creamery Company for 14 years.
As Jessica loved ice creams, she decided to run a full-time ice cream business. Ever since Jessica started running this ice cream business full time, she grew this business very well through her idea and effort.
Peekaboo Ice Cream Before Shark Tank
Parents are concerned about their children and are Ensure about their children's healthy diet. Jessica had decided that she would make her ice cream business organic and delicious so that kids would not have any kind of health issues.
To make an ice cream good, it is necessary to have vegetable ingredients in it. She attended the Ice Cream Short Course at Penn State.
She studied science and technology so that she could play an important role in making ice cream.
Jessica did not like ice cream only, she keeps experimenting with the flavor of this ice cream in it. Through this experiment, she has made flavors of ice cream with different types of veggies.
Peekaboo Organics does not claim that it cannot replace the quality of Vegetables with this ice cream.
The design of the Peekaboo cup is of premium quality and it looks great. The customer buys this ice cream only after looking at its Cup design.
Their stores are available in different states of America, including Whole Foods, Safeway, Kroger, and Many More. If you want to buy Peekaboo online then it is also available on Amazon.
In 2020, its new Variant Vegan Ice Cream option was introduced. Ever since the inception of this company, Covid 19 Pandemic was started and in its turn, they had a lot of trouble in their inception.
Did Peekaboo Get a Deal on Shark Tank?
Jessica Weiss Levison, the founder of Peekaboo Ice Cream, gave a great presentation on Shark Tank, which Sahar also liked. The founder demanded $800,000 from Shark in exchange for 8% equity in her company.
This episode of Shark Tank was recorded in Season 11 in 2018 and it was released in Season 12 on 12/11/2020.
In 2020, this Peekaboo Ice Cream used to be available in 900 stores across the United States, After 2020, Jessica believed that she would make this product available in 3000 stores.
Since the company was started, it has generated sales of $450,000 within a year. The founder said that she would generate $2.6 million in sales by the end of 2018. As it is available in Whole Foods, Safeway, ShopRite, and Weis Markets, this place attracts a lot of people.
Mark had to tell Jessica how much she Raised, So answering this, Jessica said that she raised $1.2 million in the initial round of 2018. It raised this funding at a $5 million cap valuation.
Till 2018 they have generated total sales of $5 million till now.
Barbara Corcoran, after listening to Jessica's pitch and understanding her feature plan, agreed to not fund this business.
Kevin O'Leary says when you reach $50 million the ice cream space is small, and the big players will crush you. Because of this, he is out of this offer.
Robert Herjavec Says He's Very Impressed By Jessica's Business But he is not able to digest that in 10 years this business has made $10 million worth. So because of this, he is out of the business offer.
Mark Cuban also refused to accept the offer, teaching Jessica as a business guide.
Lori Greiner said that she likes this business Jessica but she does not like this ice cream has lower-calorie options. So Lori made her offer to Jessica an $800K loan at 6% interest for 1 year for 5% equity.
Entrepreneur Jessica refused Lori's offer. Meanwhile, Kevin made up his mind that he would invest in this company, his offer was an $800K loan at 9% interest + 8% equity with non-covenants on what she does.
Entrepreneur Jessica said that she was interested in the equity partner and not in the loan, due to which Kevin's offer was rejected.
What Happened To Peekaboo Ice Cream After Shark Tank?
Peekaboo Ice Cream, which is an ice cream made from vegan wedgies, was featured by the big magazine behind Shark Tank.
Forbes, while featuring Peekaboo, said that it is an impressive process that solves real problems. After that, this company also got a very good response in Good and Today Magazine.
Jessica said that after Shark Tank, she would cover 3000 stores in the United States, including Kroger, Safeway, Whole Foods, Bristol Farms, Lazy Acres, Shop-Rite, Amazon, and more.
In July 2021, this company generated annual revenue of $3 million, however, due to the Covid19 pandemic, it was not able to generate $5 million in revenue in 2021.
In November 2022, this ice cream has been sold out on its online website, apart from this it is also not available on Amazon.
Peekaboo's official Instagram account "@eatpeekaboo" has not been updated since December 27, 2021. Although the website of this ice cream brand is still live.
Peekaboo Ice Cream Shark Tank Update
Peekaboo didn't get any kind of investment in Shark Tank but after Shark Tank this business sold very well. This ice cream was available in many big supermarkets, including Wholefoods, Bristolfarms and many more.
This ice cream has been out of stock in November 2022 and since December 2021 this ice cream has not had any activity on all social media platforms.
We're following Jessica Weiss Levison along with their company for further updates.
Where Can Buy Peekaboo Ice Cream?
Peekaboo Ice Cream is available in over 3000 beverage stores across the United States. Apart from this, it is being sold on its website as well as on Amazon and it has different flavors. It comes with a two-pack of 8 ice creams on its website Classic Sampler, Twist Sampler It costs $60.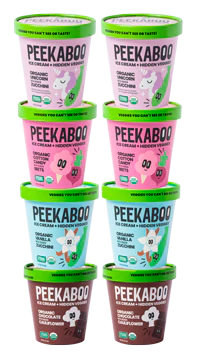 What Is Peekaboo Ice Cream Net Worth?
Looking at its 2021 $3 Million Annual Revenue report, it seems that Peekaboo Ice Cream's net worth could be $1.4 million. This vegetarian ice cream company did not get a deal in Shark Tank but it did grow its sales after the episode.
Is Peekaboo Ice Cream Still In Business?
There is a lot of competition in the ice cream industry, there are big players in it who are engaged in increasing their business.
But the surprising thing is that Peekaboo Ice Cream has become a $10 million worth company in just 10 years.
This Peekaboo Ice Cream goes to retail and supermarket stores as well as hotels, events, and restaurants.
Peekaboo should grow its digital identity as this ice cream can be easily communicated to the customer online.
Yes, Peekaboo is still in business as of November 2022.