Proper Good is a natural food company that offers the tastiest and most convenient 90-second meals. Their meals are ready to eat and are prepared in just 90 seconds. It does not even require a fridge to keep the meals fresh, as their meal shelf is stable for about 8 months.
This company uses natural ingredients to make each of its meals. That's why founders Chris and Jennifer claimed that their products are plant-based, ketogenic, gluten-free, and dairy-free.
To grow a natural food company, it becomes very important to disclose your natural ingredients, Seeing which people will come to buy that product.
In today's time, all people keep working more time to improve their lifestyle, so they do not get time to make their own meals.
Because of this, people ask for meals from outside and say, most of the meals do not have proper nutrition, so sometimes there is a disease.
To solve this type of problem, Proper Good presents Plant Base, Keto Friendly Natural Foods which are made in just 90 seconds.
According to the report of Indiatimes, more people die from eating junk food than those who do not die from smoking.
Junk food is easily found everywhere, due to which people eat it. Slowly many startups are being formed which are based on Natural Foods.
Proper Good is such a startup that can provide people with foods full of nutrition without spending much time. The company appeared in Shark Tank Season 13 Episode 2 and asked the Sharks for $400k for a 10% equity at a $4 Million Valuation.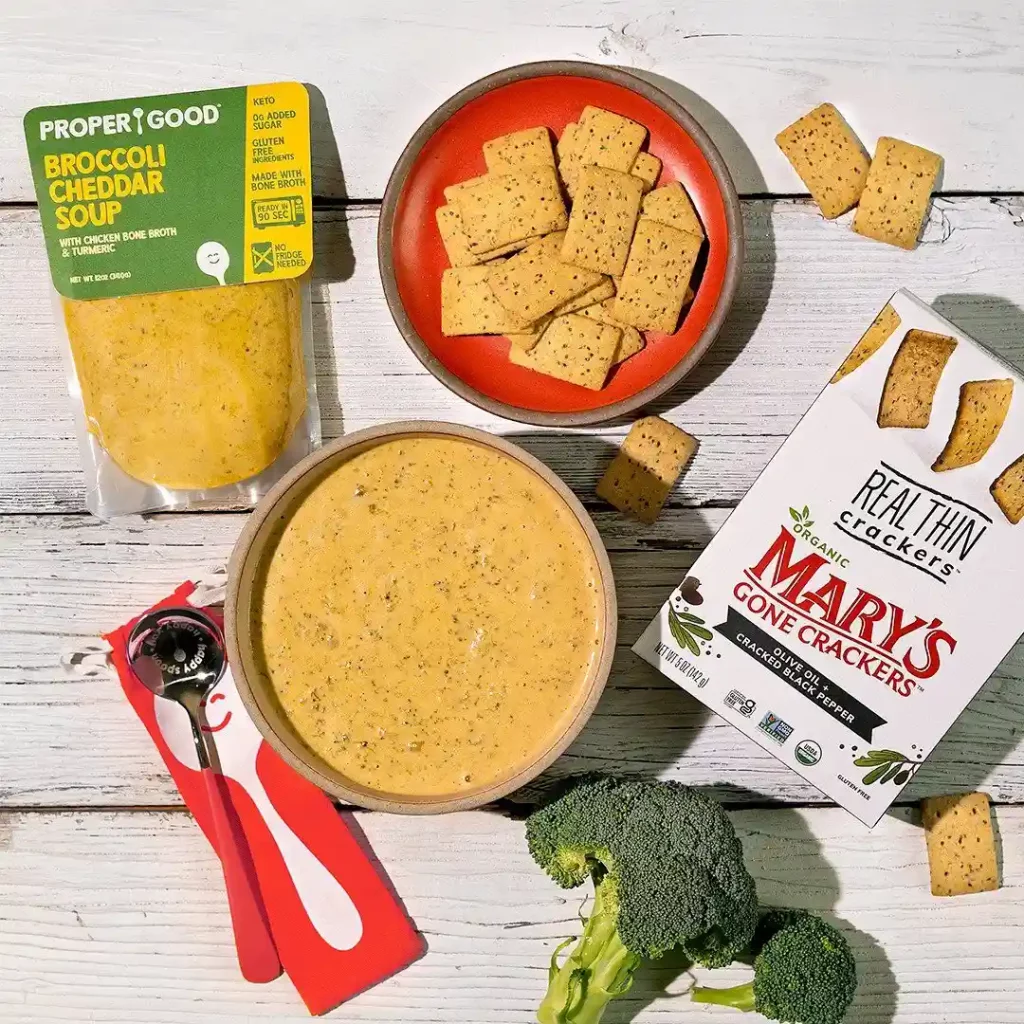 What Is Proper Good?
Proper Good is a plant-based, keto-friendly natural foods company that delivers meals made in 90 seconds to people's homes. All types of their meals are plant-based, ketogenic, gluten-free, and dairy-free, which are capable of providing proper nutrition to human health.
Due to their food being dairy free, they use coconut milk in their food. The company offers a variety of meals including Soup, Chili, Bone Broth, and Grains.
All these meals are completely vegan, so this product is perfect for vegans to 'eat' daily. The shelf life of their foods is 8 months, so there is no need to keep these foods in the fridge.
It provides the facility of home delivery. When the user gets the delivery of the food, then the food can be made 'eatable' by heating it in the microwave for 90 seconds.
The Proper Good Bundle Pack comes with a beautiful box and contains 12 meals and costs $31.94. All the food products of this company are also available on Amazon. They are providing a 20% ​​extra discount on purchasing the product through their subscription model.
| | |
| --- | --- |
| Company Name | Proper Good |
| Founder | Chris Jane and Jennifer Jane |
| Founded | 2020 |
| Product | tastiest and most convenient 90-second meals |
| Asked For | $400K for a 10% equity |
| Final Deal | $400K for a 20% equity |
| Shark | Mark Cuban |
| Episode (Shark Tank USA) | S13 E2 |
| Air Date | Oct 15, 2021 |
| Business Status | In Business |
| Website | Visit Website |
| Headquarters | Bozeman, Montana, United States |
| Lifetime Worth (Sales) | $12M *estimated |
| Go To Amazon | Buy Now |
| Watch On | Amazon Prime |
Another Shark Tank Pitch
Who Is The Founder Of Proper Good?
Proper Good is a Bozeman, Montana, United States base company, according to LinkedIn, it was started in 2020 by co-founders Christopher Jane and Jennifer Jane.
Christopher Jane
Chris is the CEO & Co-Founder of the company. Before this company, he started Montana Max Company in 2012. He did his 'MBA' from Stanford University Graduate School of Business.
He has a lot of experience in marketing with Entrepreneurship because he has been doing this for many years.
Jennifer Jane
Jennifer is the 'Founder & CMO' of this company. She was the Chief Marketing Officer & Founding Partner of Montana Max. She did her Bachelor of Science from the University of Plymouth.
Proper Good Before Shark Tank
Chris Jane and Jennifer Jane are both brother and sister. For many years, both of them have been doing their business together. After doing business for so many years, they had a very good understanding of business.
Chris & Jen came up with this business idea when they were working on one of their projects and didn't have enough time to cook from scratch. They also do not like to eat outside as it is not healthy and is quite expensive.
Due to solving this problem and finding ready-to-eat natural food, Proper Good Company was born.
The founder's goal for this business idea was that he would create a company that would provide proper meals using natural ingredients.
Chris and Jen needed an investor for their business so they decided to go to Shark Tank Because Shark Tank is a good platform for the growth of their company.
How Was The Shark Tank Pitch Of Proper Good?
Chris Jane and Jennifer Jane entered Shark Tank with their company Proper Good and asked Shark for $400k for a 10% equity. These siblings pitched their business idea to Shark in a unique way and it was liked by Shark as well as viewers.
Jennifer told Shark that her company's best seller product is Red Pepper Meatball Soup. Tested their food from all the sharks and they liked this food test very much.
One average product between these costs $7 and includes free delivery. In the subscription model, the cost of their meals goes up to $5.99. The cost of a single Food pouch ranges from $2 to $2.50 and has a gross margin of 65%.
This business was launched in April 2020 and by the end of 2020, they have made sales of $556,000. In this year 2021, They are going to do million-dollar sales soon. All their sales come directly in consumer mode.
Daymond John liked Chris and Jane's presentation but did not like soup, so he is out. Lori Greiner loves this business and its sales have grown very fast during the pandemic, But this business is still in the early stage for him, so she could not invest in it.
Peter Jones asked the founder about the profit of their company, the founder said that they is currently losing money. This includes approximately $550,000 gross margin and $300,000 net margin.
The company has raised $2 million in money and has net $300,000 from its $1.1 million sales. Their customer acquisition cost is approx $32. Every month they lose about $80,000.
Kevin O'Leary likes this product and idea but cannot invest in it as the Customer Acquisition Cost and Lifetime value of this company are not right.
Mark Cuban decided he would make an offer so his offer was $400,000 for a 25% equity. Mark said that he can easily take this business to $25 million in 3 to 4 years. Jennifer counters Mark's 20% equity Mark said yes.
Finalize: Mark Cuban Invest $400K in 'Proper Good' for 20% Equity.
What Happened To Proper Good After Shark Tank?
All the sharks refused to invest in the proper good because the customer acquisition cost of the company was not profitable. But Mark Cuban decided that he would invest in this business and within 3 to 4 years it would take $25 million in sales.
Chris and Jennifer's proper English accents were very much liked by the viewers of Shark Tank and it has become a favorite part of them in Shark Tank.
After Shark Tank, this company launched some of its new products, it includes Chana Masala Curry, Lentil Dahl Curry, Basmati Ricechoc, Pb & Banana Overnight Oats, Apple Cinnamon Overnight Oats, and Many More.
On December 2021, this company added the oatmeal product line, increasing its product list.
The company shared a post on its Instagram on August 25, 2022, saying that it has donated 10,000 meals to wellfare.org.
On October 15, 2022, this company completed 1 year of taking investment from sharks in Shark Tank.
There are currently three important members in the Proper Good Company, their names are Christopher Jane, Jennifer Jane, and Madeena Khan. 'Madeena' is the outbound sales manager of this company.
Proper Good Shark Tank Update
Mark Cuban has invested in this Proper Good Company. Mark is a very good investor and mentor for this business. Mark will try to grow this business by using his marketing skills and experience.
People liked this episode of Shark Tank very much and this company also got very good sales after Shark Tank. The entrepreneur had projected that they would do millions of dollars in sales by the end of 2021.
This is 100% sales direct of the company and this is a good thing but for more sales, one will have to switch to the retail model as well. According to some reports, this company is running on a $2 million sales track in October 2020.
We're following Chris Jane and Jennifer Jane along with their company for further updates.
What Is Proper Good Net Worth?
This year the sales data of this company is much better than its last year and it is also growing properly. To make the company more revenue, it does not have to be limited to its website, it is necessary to be available on the rest of the online e-commerce marketplace. At present, Proper Good Worth is approximately $0.9 million to $1.4 Million.
Is Proper Good Still In Business?
Founders Chris & Jennifer are slowly focusing on growing their business and have recently introduced many new products. Investor Mark Cuban is helping to grow this business through his contact.
Many media publications have covered the success story of this company, including Forbes, askmen, Reader's Digest, Spoon University, and many more.
By checking the reviews of the people who buy this product on Amazon, it is found that most of the people have liked the flavor and ingredients of this product.
This company's headquarter is in Bozeman, Montana, United States and a total of 2-10 employees are working in it.
Yes, Proper Good is still in business as of June 2023.