MuteMe has an illuminated physical color-changing mute button for online meetings and classes. It's quite easy to mute your virtual conversations using this MuteMe device so that outside noise doesn't interfere with your online conversations.
This mute device looks like Alexa and Google Home but is only used for muting and is Windows & Mac compatible.
This is a unique innovative product that can be very useful during the time of the Pandemic, in-office meetings, children's classes, etc. Whenever you want, you can mute your conversation with a simple click.
This MuteMe device works in all virtual conversations. According to an Owl Labs study, there are 16% of companies globally are working fully remotely.
According to a trusted source, by 2025, 36.2 million Americans would prefer to work remotely. Work from home is a new trend going on after the Pandemic, there are many companies whose expenses have also been reduced a lot.
In Work for Home online, there are video call meetings through Zoom, etc. This MuteMe will come in handy to mute your voice instantly.
Parm Dhoot(CEO) and Tye Davis (CFO) joined Shark Tank with this MuteMe company and asked for $200,000 for 10% equity at a $2 Million Valuation from the Sharks. However, this company did not get investment in Shark Tank.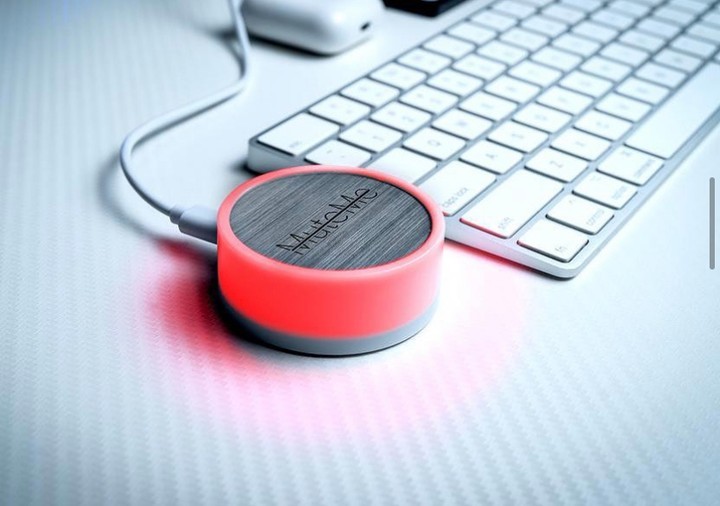 What Is MuteMe?
MuteMe is an illuminated button that mutes your voice in one click online meeting and class. Due to this, your voice and background noise are not able to go in the online meeting and the meeting ends without any confusion.
The slogan of the device is Never heard or say "you're on mute" again. This mute device is developed using hardware and software technologies.
The device integrates easily with many popular conferencing applications such as Zoom, Webex, Teams, Skype, Google Meet, and many more.
It is compatible with Windows, Macs, and Linux and is considered good enough for remote work. It works with different types of microphones. It can be connected to the computer via USB, Wired, Bluetooth Headsets, and Airpods.
After using this device with a computer, you will have to download the MuteMe Software, after that it will be able to work properly.
In this device, you get 8 programmable colors, stainless steel, and a USB Type-C port. This device comes in three different versions MuteMe, MuteMe Mini, and MuteMe – Custom Engraved. Its price also varies from $39, $19.99, and $49.
You can buy this mute device through Amazon and its website.
| | |
| --- | --- |
| Company Name | MuteMe |
| Founder | Parm Dhoot(CEO) and Tye Davis (CFO) |
| Founded | 2020 |
| Product | illuminated physical color-changing mute button |
| Asked For | $200K for a 10% equity |
| Final Deal | No Deals |
| Shark | No Sharks |
| Episode (Shark Tank USA) | S13 E2 |
| Air Date | Oct 15, 2021 |
| Business Status | In Business |
| Website | Visit Website |
| Headquarters | Sacramento, California, United States |
| Lifetime Worth (Sales) | $2.1M *estimated |
| Go To Amazon | Buy Now |
| Watch On | Amazon Prime |
Another Shark Tank Pitch
Who Is The Founder Of MuteMe?
This is the 5th member of MuteMe company whose names are Parm Dhoot, Tye Davis, Handeep Dhoop, Brittany Davis, and Pavan Purewal. Together they started this company in 2020 due to their unique idea.
Parm Dhoot is the CEO and Co-Founder of this company, he has just studied BS in Business Administration and Management and has worked in Human Resources, tech wizard, and an inveterate tinkerer for a long time.
Tye Davis is a CFO and Co-Founder of this company, he has studied MA in Communications and has been Manager of Technical Marketing in a Software Corporation.
Handeep Dhoop is a COO and Co-Founder of this company, She has a Ph.D. in Chemistry and is the author of Tinker Toddlers Books. Her book is about Machine Learning, Artificial Intelligence, and Interplanetary Travel.
Brittany Davis is a CMO and Co-Founder of this company, She has studied Mass Communication / Media and is an entrepreneur running her three businesses herself.
Pavan Purewal is a CSO and Co-Founder of this company, he is a Lead Software Engineer and has studied BS in Mathematics and Computer Science.
MuteMe Before Shark Tank
California Base This MuteMe company was started in 2020 when many people were concerned with the screen-to-mute buttons issue.
It was the time of the 2020 Covid19 Pandemic, and there are many people who used to attend office meetings by staying at their homes but this online conversation is also facing problems.
Most of the household atmosphere is not quiet, outside noise is very irritating during the meeting. Although the mute button is given in the platform through which the meeting takes place, there was no instant solution for this.
4-year-olds also started attending their live classes through virtual meetings but children do not know how to mute/unmute quickly.
So MuteMe was born to solve this problem. This is an easy solution to mute/unmute in one click. This co-founder team used their brains to prototype this product and on October 2020, the final product was ready.
They launched their crowdfunding campaign on Kickstarter on December 2020 and raised $154,795 on January 2021 from 2,985 backers. They also launched a successful crowdfunding campaign on IndieGoGo on January 2021, in which they raised $289,075.
The product was shipped to 8,000 customers for the first time on May 2021. By June 2021, MuteMe was available in 1000+ stores nationwide. By the end of June 2021, they have filled all the pre-orders and their inventory is out of stock.
A new product MuteMe Mini prototype was made on July 2021 before coming to Shark Tank. They started marketing and advertising this product and they also got a very good sale from it.
This company needs expert opinion along with funding to grow, then the entrepreneur decided Shark can help them.
How Was The Shark Tank Pitch Of MuteMe?
Parm and Tye entered Shark Tank with their company MuteMe and asked Shark for $200k for a 10% equity at a $2 Million Valuation. They explained the need for this product to the shark very well.
Right now this product has a retail price of $39 and a making cost of $11.62. These real sales are only $61,000 excluding crowdfunding, this sale is from their website. It is in every staple store in the last 4 weeks but they have sold only 150 units in it.
Mark had to say to the entrepreneur about this product, it is a funny product but you do not know how to sell, so because of this, he is out. Kevin also got out of this business.
Daymond John decided he would make an offer. His offer was $200k for a 50% equity. Although the entrepreneur did not like this offer, Daymond said that if he does this work then he needs 50% equity.
Peter tells Kevin that he offers us Daymond but Kevin said No, I hate this. Lori also got out of this. Daymond and Peter also got out of it.
Finalize: MuteMe did not get a deal on Shark Tank.
What Happened To MuteMe After Shark Tank?
MuteMe did not get the deal in Shark Tank and on top of that, the company's product also had to face a lot of humiliation from Peter & Kevin. This product had become a joke in Shark Tank.
After Shark Tank, this company launched a Kickstarter campaign for its next product, MuteMe Mini. The goal of this campaign was set at $10,000 but it raised an amount of $28,289 from 581 bakers by May 2022.
Many people have not received their packages yet, so this company is slowly shipping the product. According to the Kickstarter company page, they shipped all their MuteMe minis orders on May 01, 2022.
Remember: Just because a deal isn't made, doesn't mean the product isn't good, or won't be successful. Best of luck to the guys at MuteMe – Go out there and prove us wrong!!

Daymond John
This product was featured at the 2022 International CES Tech event. This product was on the No1 in New Releases In Mac Accessories on Amazon on August 25, 2022.
MuteMe Shark Tank Update
After the Shark Tank episode of MuteMe aired, we feel that there will not be much difference in their sale as this device is expensive. However, the profit margin of this product is quite good.
This company was able to sell it even after not getting investment in Shark Tank. By November 2022, this company has done total sales of $1 million.
We're following Parm Dhoot(CEO) and Tye Davis (CFO) along with their company for further updates.
What Is MuteMe Net Worth?
This is a unique product that makes online conferences easy, Shark Daymond said that it is a very good product. We think that MuteMe net worth can be around $430,000 as of now. We expect this company to grow more in the coming time.
Is MuteMe Still In Business?
MuteMe did not get investment in Shark Tank but it was able to increase its organic sales to some extent. Many office workers and parents will buy this product.
This product is currently available on Amazon and 54% of people have rated this product 5 stars on Amazon. A Similar product like this is available on Amazon.
According to the company's website, they ship the product internationally but international shipping rates will apply.
MuteMe is headquartered in Sacramento, California, and has about 5-10 employees working it.
Yes, MuteMe is still in business as of November 2022.