The SparkCharge Shark Tank Season 12 Episode 1 featured an ultra-fast portable charging unit for electric cars. It is a portable charging device specially developed for electronic cars. The founder of SparkCharge has asked for 6% equity of his company in Shark Tank for $1 million. There is a huge amount demanded by a startup in ABC shark tank,
As petrol and diesel are disappearing, this is a big problem for the vehicle as the vehicle runs through it. However, there is a lot of damage to the environment from petrol and diesel.
So it was the introduction of the electric vehicle due to saving the environment and shortage of petrol, diesel, etc.
The electric vehicle has become a rage in the biggest countries of the world. We have a list of only those countries where the maximum number of electronic vehicles are being sold to him. This is the data for 2020.
1. Norway (74.8%)
2. Iceland (45%)
3. Sweden (32.2%)
4. Netherlands (24.9%)
5. Finland (18.1%)
6. Denmark (16.4%)
7. Switzerland (14.3%)
8. Portugal (13.5%)
9. Germany (13.5%)
10. Luxembourg (11.4%)
11. France (11.3%)
12. Belgium (10.7%)
13. UK (10.7%)
14. Austria (9.5%)
15. Ireland (7.4%)
16. China (6.2%)
17. US (2.3%)
In the United States, 2.3% of those who own a car are using an electronic vehicle. The electronic vehicle is driven after charging, after charging, there is some limitation in it, after which the cars stop running.
The car has to be recharged to start again. If we look at some figures, the electronic vehicle global market value in 2020 was $163.01 billion.
Charging the same electronic vehicle requires an electric vehicle charging station, which would have a market value of $6.97 billion in 2021. It is a growing market industry and its growth has just started.
What Is SparkCharge?
The SparkCharge, launched in 2017 in Somerville, Massachusetts, is an ultra-fast portable charging unit designed exclusively for electric cars. The start of making this product took a long time but it was launched in 2017 and people liked it a lot after its launch.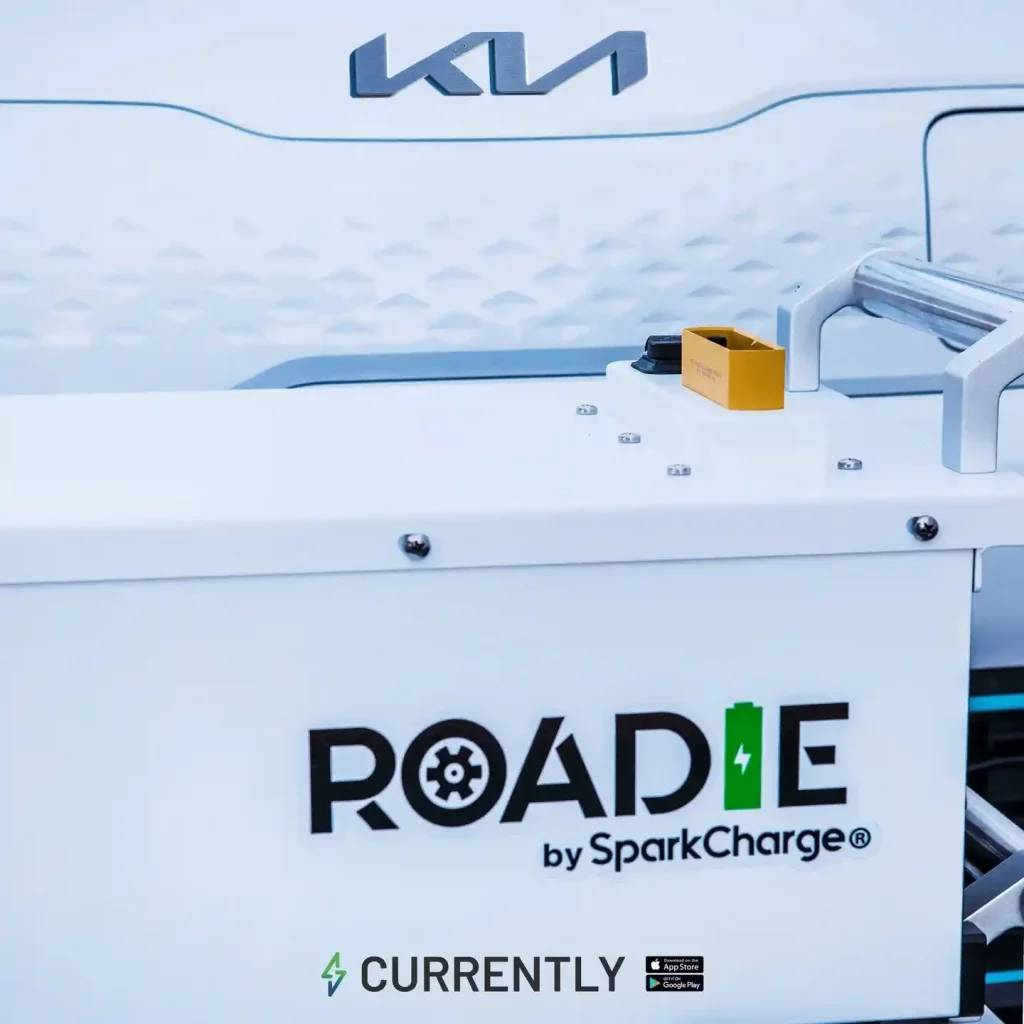 This startup provides mobile EV charging services in some cities of the United States like Los Angeles, San Francisco, San Jose, Dallas, etc. He has not yet gone international and is engaged in growing his business in the United States.
It provides the service of its mobile charging unit around the 1-mile range of its area. They have developed a mobile application to locate the mobile charging unit service center.
Through this app, Clint can find out where is the running center of SparkCharge.
Their mobile EV charging is portable and charges your cars very fast. So far, they have delivered 1,500 EVs of charging to electric vehicle owners.
🤑);- Hug Sleep Shark Tank Update
| | |
| --- | --- |
| Company Name | SparkCharge |
| Founder | Chris Ellis And Josh Aviv |
| Product | Ultra-Fast Portable Charging Unit For Electric Cars |
| Asked For | $1 Million For 6% Equity |
| Final Deal | $1 Million For 10% Equity + 4% Advisory Shares |
| Shark | Mark Cuban And Lori Greiner |
| Episode (Shark Tank USA) | Season 12 Episode 1 |
| Business Status | In Business |
| Net Worth | $30 Million *Approx |
SparkCharge Contact Details
Who Is The Founder Of SparkCharge?
This startup was started in 2017 and its co-founders are Chris Ellis & Josh Aviv. Aviv is the founder as well as the CEO of this startup, apart from this he is a data scientist.
He had worked in some technology startups many years ago, after which he got the idea to make this startup.
Christopher Ellis is the co-founder and CTO of this company. He has a degree in Electrical Engineering. He has a lot of knowledge of battery management systems.
Joshua Aviv got this idea during his college time, so he did a lot of research before starting this startup and thought about its feature scope.
SparkCharge Before Shark Tank
SparkCharge was doing a great job even before Shark Tank, they marketed their product very well. This portable electronic charging device of theirs can be taken anywhere as it is quite small.
Due to it being portable, it becomes very easy to carry it anywhere and also saves the user's time. Due to this, the growth of the business would have been substantial.
His dream is to become the world's first mobile ultra-fast charging network. He has also received many awards due to his work.
Did SparkCharge Get a Deal on Shark Tank?
Chris Ellis And Josh Aviv, founders of SparkCharge, pitched their product to Shark quite well in Shark Tank.
This product of theirs can become quite big in feature So, in view of this, the founder of this startup has asked for $1 million in exchange for 6% equity of his company in Shark Tank.
It is a revolutionary startup and sharks Mark Cuban And Lori Greiner have shown their interest in this startup. So Shark invested $1 million in this business for 10% equity but with that Shark needs 4% more as advisory shares.
| | |
| --- | --- |
| Mark Cuban | $500,000 for 7% Equity |
| Lori Greiner | $500,000 for 7% Equity |
| Two Shark | $1 Million for Eatch 14% Equity |
| Company Valuation | $10,000,000 *Approx |
What Happened To SparkCharge After Shark Tank?
After coming to SparkCharge Shark Tank, this startup has started showing very good growth. This startup has received funding of $1 million which they need for further growth and survival.
The way in which growth of electronic vehicles is increasing, in the same way, the growth of charging truths for charging this electronic vehicle is also increasing.
With the amount he got during the funding of Shark Tank, he is investing in growing his manufacturing unit and marketing it. After Shark Tank, queries have started coming in to get distributors from every city in the United States. Many clients have joined their service.
This company signed a deal with "Allstate Insurance" to promote Roadie for mobile charging service ordered and paid for via a new app. His rollout has been done in Chicago, Los Angeles, San Francisco, and San Diego.
SparkCharge has raised a fund of $49.6 million from 16 investors in 8 funding rounds till July 2022. In this, he has 5 lead investors.
This year in 2022, Founder and CEO Josh Aviv received the Entrepreneur of the Year New England Program Awards.
According to the CrunchBase report, on June 20, 2022, this company had taken funding of $100K from LG Nova.
It raised $23 million in a Series A round on May 24, 2022, from 7 investors from Pendulum Holdings, and Tale Venture Partners.
SparkCharge is currently providing Wave Charging Lastly, Anywhere. This company has partnered with Hertz, Uber, Kia, and Ford.
In June 2022, SparkCharge raised another $100,000 in funding from LG Nova. On July 6, 2022, this company announced that they will deliver free EV charging through their current app.
This August 2022, SparkCharge has expanded to more than 12 cities in California.
SparkCharge Shark Tank Update
SparkCharge is the most popular company to put in Shark Tank, which has made its valuation millions of dollars. Mark & ​​Lori had a deal with this business but now the deal of this company with Lori has been closed.
But Mark's deal with this company has not been closed yet. On March 2021, Mark became the board of directors of the company.
This company started EV charging in Chicago, Los Angeles, San Francisco & San Diego, but will be available in 12 cities of California on August 2022.
On July 2021, the company urgently partnered with the coming roadside assistance provider.
On November 2021, this company generated $5 million in annual revenue.
What Is The SparkCharge Net Worth?
Talking about SparkCharge net worth, we think the current net worth of this startup can be $30 million. After getting funding from Shark Tank, the valuation of this startup was $10 million.
It is growing very well right now, they can get to see a lot of good success in the coming time. We do not have proper information about Chris Ellis Net Worth And Josh Aviv Net Worth yet.
The demand for electric vehicles is increasing more and more and it is projected to reach $350 billion by 2023. The business of electric vehicles is huge and it is necessary to have the facility of charging for electric vehicles.
How was the experience in Josh Aviv Shark Tank?
Josh Aviv revealed many things about shark tan during one of his interviews. He told that his experience was very good in the shark tank and he got to learn many things from sharks.
Shark told the founder a lot of information about how to grow this business which is a very good thing. After getting funding from the founder, Shark also got mentorship to build this startup.
🤑);- BootayBag Shark Tank Update
How was the experience in Christopher Ellis Shark Tank?
Christopher Ellis's experience in Shark Tank was very good and he got to know a lot from sharks. This is electrical engineering and they have made a significant contribution in making this product, which is growing as a very big company.
Is SparkCharge Still In Business?
SparkCharge is currently engaged in growing its business and they have become quite a competitor of this startup.
So we will know in the feature whether this startup moves forward or is acquired by a big company.
This company is growing very well and recently this company has raised $23 million in funding. The demand for EV chargers is going to increase in the coming few years and the growth of this charging company is also going to increase.
The company's headquarters are currently located in the Greater Boston Area, East Coast, New England. According to Crunchbase, so far this company has raised a total of $49.6 million.
Founder Josh Aviv was speaking with President Joe Biden at the White House in August 2022.
Next, we will give you information about the SparkCharge startup.