Bunch bikes are electrically powered cargo bikes with a basket attached. Bunch Bikes founder Aaron Powell appeared in Shark Tank Season 12 Episode 18 and asked the Sharks for $250,000 for 10% equity.
Bunch Bikes is an innovative product that offers the convenience of traveling in even the smallest of spaces at once.
There are many advantages of this bike, first, it is associated with nature. Because no kind of things has been used much in it which can harm the environment.
Where the car cannot go, this small family bike rides comfortably and also gets a chance to experience nature.
These Bunch Bikes are great for family vacations which bring the family closer to each other while enjoying the fun.
Bunch Bikes was introduced by Powell during his trip to Denmark in 2016, during which he fell in love with cargo bikes a lot.
Powell believed that these cargo bikes were good enough for every family to travel together and make happy memories.
Throughout the summer, Powell used to travel with his daughter on this bike like a local. This bike also created a very good memory of his family.
After this, Powell liked the concept of cargo bikes so much that after coming home, he made cargo bikes, after a few years, Bunch Bikes was born.
Powell had done a lot of research before making this bike but he could not get this bike at an affordable price.
This cargo bike is similar to a bicycle but has 3 wheels. The front two wheels handle a large cargo box and the rear one is for movement. That's 4 comfortable seats in the cargo box. If space is needed, that seat can also be removed.
According to some reports, this bike is currently being manufactured in Holland and it is the best electric-powered cargo bike in this market today.
Electric bikes and cargo bikes are quite popular all over the world. This bike is mostly used for logistics and delivery tasks. Because this makes the work easy and time can also be saved.
What Is Bunch Bikes?
Bunch Bikes are electric cargo bikes with baskets for the whole family to ride. These powerful cargo bikes make traveling with family easy on any rough road.
These bunch of bikes has been made in different types of models. As of now, it has 4 models The Original, The K9, The Preschool & The Mini.
The first model was the original which is up to 4 kids and the seat can be removed for space. It has a 350 lb load limit given the 500w electric motor. Its price for 2022 is $3,999.
Designed for The K9 dogs, it gets doors at the front through which the dog can enter the cargo box. In this cargo box, two big dogs can come. Its price in 2022 has been kept around $3,999.
The Preschool has 2 benches and can accommodate up to 6 kids. It has a front door for easy loading. Its price in 2022 is $ 4,499.
Bunch Bike – Mini is for a child of 4 to 7 years. To give power, it does not have any kind of electronic battery or motor, the size of its box is "12 x 16".
Except for the mini bike, all its cargo bikes have a 48v 13.6ah battery which is from Samsung 35e cells, it can go 35 miles on a single charge.
| | |
| --- | --- |
| Company Name | Bunch Bikes |
| Founder | Aaron Powell |
| Product | bikes with baskets for the whole family to ride |
| Asked For | $250,000 for 10% equity |
| Final Deal | $150,000 loan + 100,000 15% equity |
| Shark | Barbara Corcoran |
| Episode (Shark Tank USA) | Season 12 Episode 18 |
| Air Date | March 26, 2021 |
| Business Status | In Business |
| Net Worth | $2.4 Million *estimated |
| Website | Visit Website |
| Headquarters | Dallas-Fort Worth Metroplex, Texas, US |
| Go To Amazon | Buy Now |
Another Shark Tank Pitch
Who Is The Founder Of Bunch Bikes?
The founder & CEO of Bunch Bikes is Aaron Powell, a resident of the Dallas-Fort Worth metroplex.
According to LinkedIn, this company's official launch was in March 2017.
Beau McDermott is the Public Relations Manager of this company and he was associated with it in August 2022.
Sarah Johnson is the Chief Operating Officer of this company and he was associated with the company on August 2021.
Prior to joining this company, Johnson worked at Specialized Bicycle Components, Minnesota RollerGirls, and Quality Bicycle Products.
Bunch Bikes Before Shark Tank
When Aaron Powell was a teacher in a high school in Dallas, he sold his car and bought a bike, which he used to visit. After this, he started an e-commerce jewelry business through which he was able to travel.
The founder said that when he built his first Urban Tribe cargo bikes, the price was $1,379 and $1,862 with Pre-order price discounts.
Powell got the most inquiries for his product from Canada, then his Canadian shipping cost was $350.
Powell said that he had no plans to go to a retail store and sell his bike. That's why he took the help of social media, Instagram Twitter &, etc.
It also joined the "Mr. Money Mustache forum" for marketing. This bunk bike was promoted by the Mr. Money Mustache Twitter account. Due to this promotion, Powell received some orders for his bikes.
Bunch Bikes was launched in 2017. For a few months after that, when Powell gave his opinion to the people, this product had a good response from many people.
The founder changed his marketing strategy as there are some users who wanted to take a test drive of the bike before buying it.
So he talked to some bike dealers in the United States and started giving test drives of his cargo bikes which include Portland, Oregon, San Francisco, Los Angeles, Chicago, New York, Minneapolis, Denver, Phoenix, and Austin, Texas.
According to bizjournals, the demand for this bike had increased a lot during Covid-19. Powell said his business was bootstrapped when it was launched, after which he invested $85,000 in funding from his own saving.
In today's time, electric bikes and cargo bikes are so popular that they are being used in every city.
Most of the food delivery company Domino's, Pizza Hut & Uber Eats, etc. are using electric bikes. Due to this, they do not have to spend much money on delivery.
UPS, Amazon, and DHL are using cargo bikes for logistics delivery in different cities.
Founder Aaron Powell had already acquired information about this industry and he also knew the need for it.
When the Covid-19 pandemic hit, Powell had received a lot of orders for his cargo bikes. Due to a lack of proper roadmap and strategy, they were unable to deliver a lot of orders.
They had good orders coming in but one problem was the production. Due to a lack of capital amount, he was not able to manufacture the product.
Bunch Bikes Direct works on a consumer business model. Powell did a lot of preparation before the funding came in Shark Tank.
How Was The Shark Tank Pitch Of Bunch Bikes?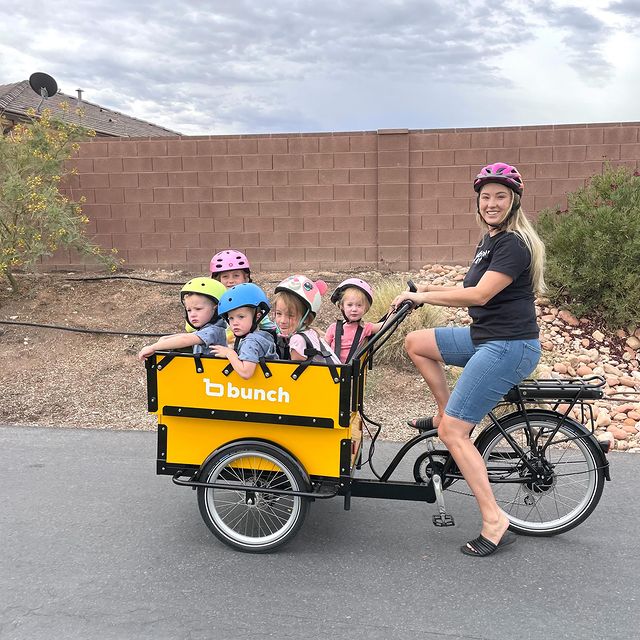 Note This is information from the Shark Tank pitch that took place on March 26, 2021.
Aaron Powell asked Shark for $250,000 for 10% equity in his company Bunch Bikes in Shark Tank. This demand was made at the $5 million valuation of Bunch Bikes Company.
Powell explained all the positive things about this electric cargo bike in Shark Tank and told how useful this bike can be for adventure.
The original bunch of bikes is sold at retail for $4,295 and their premium quality bikes are priced at $6,000. The making cost of the $6,000 bike is $2,917.
The founder says he paid off all his student loans by selling off his jeweler business for $300,000 to start this business.
After that, he had some money left, out of which he invested $85,000 in building these electric cargo bikes.
He did sales of $2.7 million in total till 2021. In 2018, he did sales of $285,000 in total. In 2019, he had sold $1.1 million. 2020 Mom was projected that he would make $2.2 million in sales.
All the sharks refused to invest in this business but Barbara liked this business very much.
Barbara offered this business $250,000 for 40% equity. But Aaron countered the offer with $100,000 + a $150,000 loan for 15% equity.
In this counter offer of Aaron, Barbara agreed.
What Happened To Bunch Bikes After Shark Tank?
Barbara signed the deal with Bunch Bikes Company as a successful investor and she also guided Aaron Powell on how to grow this business.
Powell has already been a business person, he used to do an e-commerce jewelry business for a few years. He has very good knowledge of product research and marketing. He used this skill to grow these cargo bikes and increase their sales.
The price of this bike is very high, most middle-class families are not able to afford this price range. But this company focuses on premium quality, so they are not able to reduce the price much.
Before Shark Tank, Powell's biggest problem was production for this company, now it has been solved after getting funding.
Currently, he is focusing on the whole of the United States, in the coming years, he will start shipping to countries like the UK, Canada, etc.
They won't be able to cover most of the United States unless it reduces its shipping costs. The shipping cost of cargo bikes as of August 2022 is $199 each.
Robert and Kym Harjavec shared a post of bunch bikes with their kids on Instagram. Robert approaches Barbara. He wants to sign a 50/50 deal with this company.
"Bunch Bikes" shared a post on Instagram Robert was seen riding this cargo bike with his twins.
" Robert came into the deal! We got 2 sharks!! "I may not have been in the Tank this week – but I'm a big fan of @bunchbikes , so I called @barbaracorcoran up and said LET ME IN ON THIS DEAL ! ! The first time a deal has been done by a shark NOT on the panel ! I love Bunch Bikes , my kiddos love Bunch Bikes , even the dogs love them ! Great product , great team behind the vision. Excited for what's in store!"
Bunch Bikes is providing test drive facilities in 82 different cities of the United States to give more marketing and demo of their product to the people.
Regarding this, Powell believes that until the customer does not take a test drive of the product, he will not be able to understand the experience of these bikes.
This strategy of his seems to be proving to be very positive for him as well. In 2021, this company had sales of about $4 million.
In 2021, this company also achieved the E-Bike Awards from Bicycling Magazine. The EBR Bikes review website has also featured this.
Bunch Bikes Shark Tank Update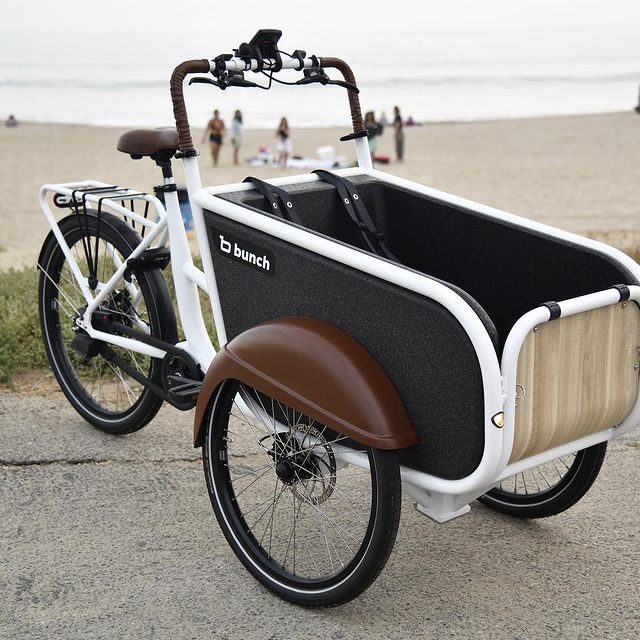 Powell pitched some brilliant ways to get Bunch Bikes funding in Shark Tank. However, except for Barbara, not all sharks found this business to be investable.
The price of this bike is very expensive but the founder says that they are providing premium quality due to which the price becomes so high.
In 2020, this company did sales of $2 million, after that Aaron was expecting that he would do $4 million in sales by 2021.
The company reappeared with its success stories in Shark Tank Season 12 Episode 5. It was told that Robert has signed a deal with this company.
After the original air date, its sales got a boost and they did sales of $1.8 million then.
In 2021, this company signed a deal with Lucca & Livvy Beverages Company, as a result of which they got $2 million in orders.
What Is The Bunch Bikes Net Worth?
Currently Bunch Bikes Net Worth Can Be $2.4 Million. The valuation of this company is going to grow in the coming few years. Recently they have started selling bikes in the beverage industry.
Is Bunch Bikes Still In Business?
Bunch Bikes was started with a capital amount of $85K but now it has become a company worth one million dollars.
In the electric cargo bike category, it can become a competitor for the big brand. Most of the customers in this rank higher than the middle class as the price of these bikes is very expensive.
He has a warehouse in Denton, Texas, and operates it. The headquarter of this company is in Denton, Texas.
According to LinkedIn, 11-50 employees are currently working in this company, this employee is being given all kinds of facilities.
These bikes are marketed on social media and YouTube etc. In August 2022, he has 10.7k followers on Instagram and 159 subscribers on YouTube.
Yes, Bunch Bikes is still in business as of August 2022 and its annual revenue is $4 million.