The Saas Bar Appeared in Shark Tank India Season 1 Episode 23 is a soap brand that claims to make vegan luxury soaps. The founder of the SaaS bar has demanded ₹40 lakhs in exchange for an 8% share of his company in Shark Tank India.
According to a 2019 report, it is worth 34.09 billion global, there are many big brands in this field that are still active. Soap is a profitable business The founder started this brand through his marketing skills and unique product.
What Is The Saas Bar?
The Saas Bar Mumbai base is a soap startup, this startup idea was started from home in 2019 and it became quite popular after seeing it. This startup makes homemade soap, which smells like a delicious dessert. they have several types of cocoa and shea butter, SLS and paraben-free, and with skin-safe colorants and bio-degradable glitter.
They have a lot of fragrances like lilac, rose, black raspberry vanilla, spearmint, Argentina lemon, peony, and more. It looks like cupcakes, donuts, eclairs, macarons, popsicles, ice lollies.
Seeing this product once does not tell that it is a soap, it is felt by taking it in your hand. No harmful chemicals are used in this, natural ingredients are used in this.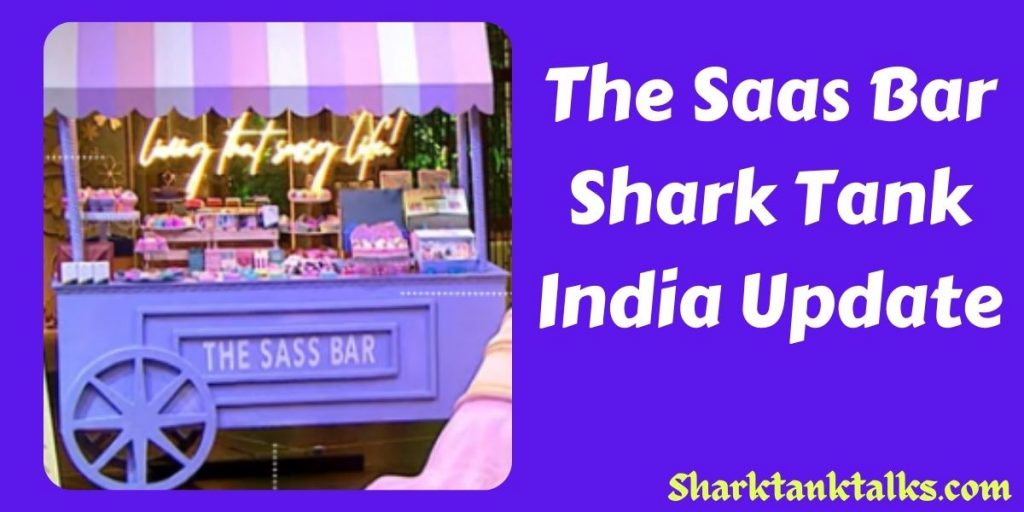 The average price of this soap product is more than Rs.250.
The Saas Bar Shark Tank India Update
| | |
| --- | --- |
| Company Name | The Saas Bar |
| Founder | Rishika Nayak |
| Business | Sustainable, environmental-friendly, paraben-free, vegan luxury soaps |
| Asked For | ₹40 Lakhs for 8% Equity |
| Final Deal | ₹50 Lakhs for 35% Equity |
| Shark | Anupam Mittal and Ghazal Alagh |
| Episode (Shark Tank India) | Season 1 Episode 23 |
| Business Status | In Business |
| Net Worth/Valuation | ₹1.43 Crores |
| Website | Visit Website |
Who Is The Founder Of The Saas Bar?
The name of the founder of The Saas Bar is Rishika Nayak Shetty, who belongs to a middle-class family in Mumbai. Rishika has done her Bachelor of Business Administration from Northumbria University. After that, she completed her master's degree from Istituto Marangoni, London.
After his studies, she had worked in many companies, after that she decided to start her own business.
The Saas Bar Before Shark Tank
The Saas Bar had become a successful business before Shark Tank entered India. Founder Rishika started from his home in 2018 with an investment of 25,000, he started marketing through social media. This handmade soap brand has claimed that they have 10,000 customers and 15% of the return customers come.
It sells approximately 3,000 soaps every month. These skin and hair care products are chemical-free. He has many competitors in the market like Juicy Chemistry, Vaanya Soap Co, Fiducia Botanicals, and Bon Organics.
What Happened To The Saas Bar In Shark Tank India?
The SaaS bar company's sales started growing after being featured on Shark Tank India. Rishika Nayak, the founder of Shark Tank India, shared the sales report of his company, her monthly sale was ₹6 lakhs.
After Shark Tank India, its monthly sale went from ₹10 lakhs to ₹20 lakhs and it is still growing. Right now she has launched many new products, recently she launched Bath & Body product with SKU.
The Saas Bar Gets Deal In Shark Tank India
The Saas Bar founder has pitched quite rightly in Shark Tank India, the sharks loved his pitch. Founder Rishika has asked for ₹40 lakhs in exchange for an 8% share of his company in Shark Tank India. Anupam Mittal and Ghazal Alagh are showing a lot of interest in this business and they have some rules about investing in this startup. Both of them have finalized this deal for ₹50 lakhs in exchange for 35% equity.
Next, we will give you information about The Saas Bar startup.