HooVu Fresh is a traditional Flower Delivery Business. This business deals in variety of fresh flowers and incense Agarbati on Subcription. They have partnered with the local farmer and as soon as the flowers are harvested, this company delivers the flowers to its customers.
The founders of Huvu Flower Business, Rhea Karuturi and Yeshoda Karuturi, both started this business in 2019 in Bengaluru, Karnataka.
As of January 2023, the brand is available in Bangalore, Hyderabad and Mumbai and their products are listed in various supermarket chains.
These include Big Basket, Jio Mart, Haiko and many more. Recently it has become available in Hyderabad base Ratnadeep retail store.
Founders Rhea Karuturi and Yeshoda Karuturi appeared in Shark Tank India Season 2 Episode 1 with HooVu Fresh and demanded ₹80 Lakh for a 1% equity at a ₹80 Crores Valuation from the shark.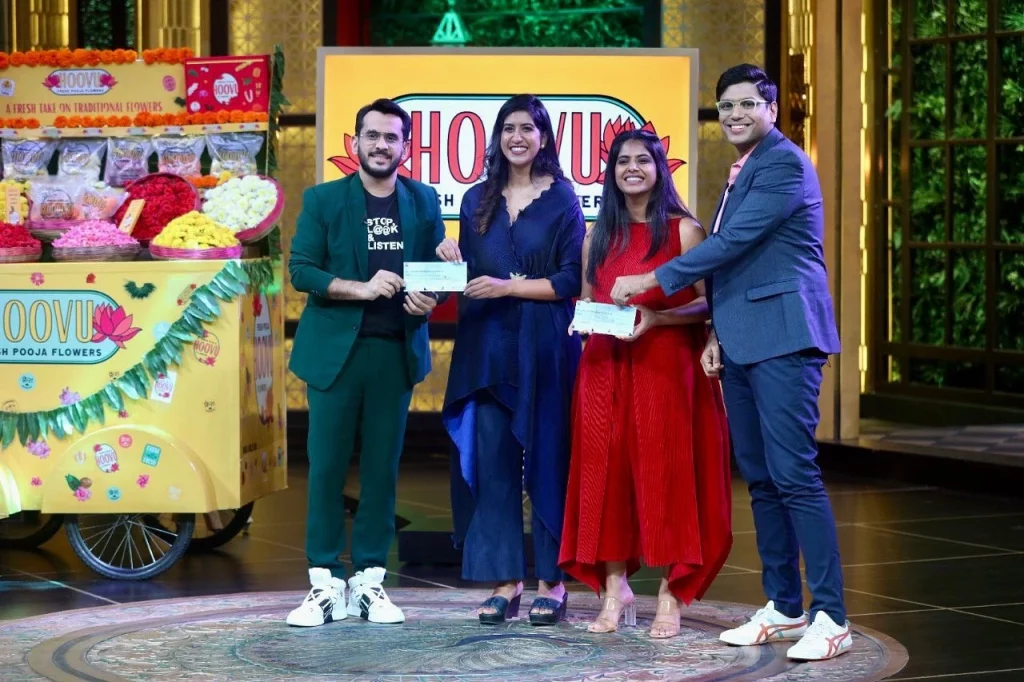 What Is HooVu Fresh?
HooVu Fresh is a flower business that delivers fresh flowers to customers with its unique packaging techniques. They do all kinds of flower delivery related to Pooja.
Along with flowers, it also sells screensavers and AGARBATTI etc. The shelf life of a normal flower is 2 to 3 days, but this company claims that the shelf life of their flowers is 15 days.
The price of their flowers ranges from ₹40 to ₹100. You can buy these flowers from Big Basket, Haiko, Amazon, Milk Basket etc. stores or online platforms.
| | |
| --- | --- |
| Company Name | HooVu Fresh |
| Founder | Rhea Karuturi and Yeshoda Karuturi |
| Founded | 2019 |
| Business | A Fresh Take on Traditional Flowers |
| Asked For | ₹80 Lakhs for 1% equity |
| Final Deal | ₹1 Crores for 2% equity |
| Shark | Aman Gupta and Peyush Bansal |
| Episode (Shark Tank India) | S2 E1 |
| Air Date | Jan 2, 2023 |
| Business Status | In Business |
| Website | Visit Now |
| Headquarters | Bengaluru, Karnataka, India |
| Lifetime Worth (Sales) | ₹20 Crores *estimated |
| Go To Amazon | Buy Now |
| Watch On | Amazon Prime |
Another Shark Tank Pitch
Who Is The Founder Of HooVu Fresh?
The Co-Founder & CEO of HooVu Fresh Company is Yeshoda Karuturi and another Co-Founder & CTO is Rhea Karuturi. These two co-founders are sisters.
Yeshoda Karuturi
Yashoda is an Accountant and has worked part time in many companies like Techstars, Blume Ventures and many more. On April 2021, she founded the Sahayagya Foundation.
Rhea Karuturi
After completing her Bachelor of Science from Stanford University, Rhea joined this flower business with her sister.
How Was The Shark Tank Pitch Of HooVu?
Rhea and Yashoda both entered Shark Tank India and explained their fresh flower business to Shark. They asked the sharks for 80 lakhs for 1% equity.
They told that the flower industry in India is worth ₹2.5 lakh crores but still there are not many big brands in this industry. The shelf life of their flowers is 15 days.
Currently the company is present in 8 cities in India and has fulfilled a total of more than 2 million orders till January 2023. They have associated with 300+ temples and 500 flower farmers for flowers.
Sharks were surprised to hear the company valuation of 80 Crores of the founder. They did flower business because their family business was in floriculture.
In the beginning of the business, they started with 10 per pack, but to give a premium look, they sell 40 to 100 per pack. They increase the shelf life of flowers by controlling moisture, bacteria etc. through the machine. Right now 60 employees are working with them.
In the first month of August 2022, they had reached ₹1 Crores sales. They sell their flowers on different types of E-Commerce market places like Big Basket, Zepto and many more.
Recently they have started supplying flowers to the temple. There is no competitor at present. In August they sold ₹1.1 crore, in July they sold ₹50 lakhs and in June their sales reached ₹45 lakhs. Their average sales per month ranges from ₹60 to ₹65 lakhs.
By the end of 2023, they are projecting to do ₹10 crores total sales. The total sales for the financial year 2022 is ₹5 Crores.
Namita Thapar and Vineeta Singh offered ₹40 lakhs for 4% equity and ₹40 lakh debt for 12% interest at a ₹10 Crores valuation.
They had raised ₹3.5 Crores investment in Seed round from Sauce.vc at ₹50 Crore valuation. They Raised $120k Investments From Techstars.
Anupam Mittal said that he cannot match on the valuation of ₹50 crores, then he is out. Aman Gupta and Peyush Bansal offered ₹1 crore for 2% equity at a ₹50 Crores Valuation.
Namita and Vineeta changed their offer to ₹50 lakhs for 1% equity plus ₹30 lakhs debt @ 12% intrest rate at a 50 Crore Valuation. Rhea and Yashoda accept Aman and Peyush's offer.
Finalize: Aman Gupta and Peyush Bansal invested ₹1 Crores in "HooVu Fresh" for for 2% equity.
What Happened To HooVu Fresh After Shark Tank?
HooVu Fresh got a deal in Shark Tank India. Both Aman and Peyush invested in this flower business at a valuation of 50 crores.
Aman will help in marketing and branding this business and Peyush will handle its backend like manufacturing process. Both these sharks will try to grow the sales of this business.
The founder of the company had a projection that by 2023 end they will do ₹10 crores sales. It is expected that both these sharks will try to reach this projecting amount.
Many people on Twitter shared their opinion on the pitch of both these women, Most people found this business very interesting.
HooVu Fresh tweeted on its official Twitter account saying
Thank you so much, Sharks, for investing in our pitches! We at #Hoovu look forward to working with you with your encouragement and support! #SharkTankIndia season 2 is streaming now on Sony LIV and Sony Entertainment Television.

hoovufresh
What Is HooVu Fresh Net Worth?
This company had sought investment in Shark Tank at a valuation of ₹80 crores, but the deal was finalized at a valuation of ₹50 crores. Currently HooVu Fresh is worth 50 crores. We do not yet have the exact estimate of the net worth of this company.
Till now there is no such big brand in India which is focusing on flower industry, this is the first brand of India.
Is HooVu Fresh Still In Business?
This company is selling its products at an average price and the founder says that this is their premium price. This brand's Flowers is also available on Amazon.
This company was featured in major media publications like YourStory and The Hindu. Both the female founders are running this flower business very well.
The headquarter of this startup company is in Bangalore, Karnataka, India and total 60 people are working in it.
Yes, HooVu Fresh is still in business as of January 2023.
frequently asked questions
Who Invested Hoovu Fresh In Shark Tank India?
Aman Gupta and Peyush Bansal invest in Hoovu Fresh Company in Shark Tank India.
Who founded Hoovu Fresh?
Hoovu Fresh founded by Rhea Karuturi and Yeshoda Karuturi.