Flasky Flowers is a bouquet holder as well as a beverage container. Any drink can be added inside this flask product and flowers are attached on it, Which does not show that there are beverages inside this bouquet.
This is a unique product that was invented by Kelly (Moynihan) Brusalis. Kelly is a hairstylist as well as a mother to her seven children.
Kelly works as a part-time hairstylist, so she hairstylishes brides and bridesmaids to enhance the wedding experience.
Kelly noticed that the bridesmaids, who have to hold the flower in their hand, are unable to drink properly because of this. To solve this problem, Kelly invented her own Flasky Flowers product.
Through this product, the bridesmaids can hold 'flowers' in their hands and drink by adding beverages like cocktails etc.
Kelly and her husband Ryan Moynihan appeared on Shark Tank Season 13 Episode 3 with their company Flasky Flowers and asked the Sharks for $50,000 for a 10% equity at a $500K Valuation.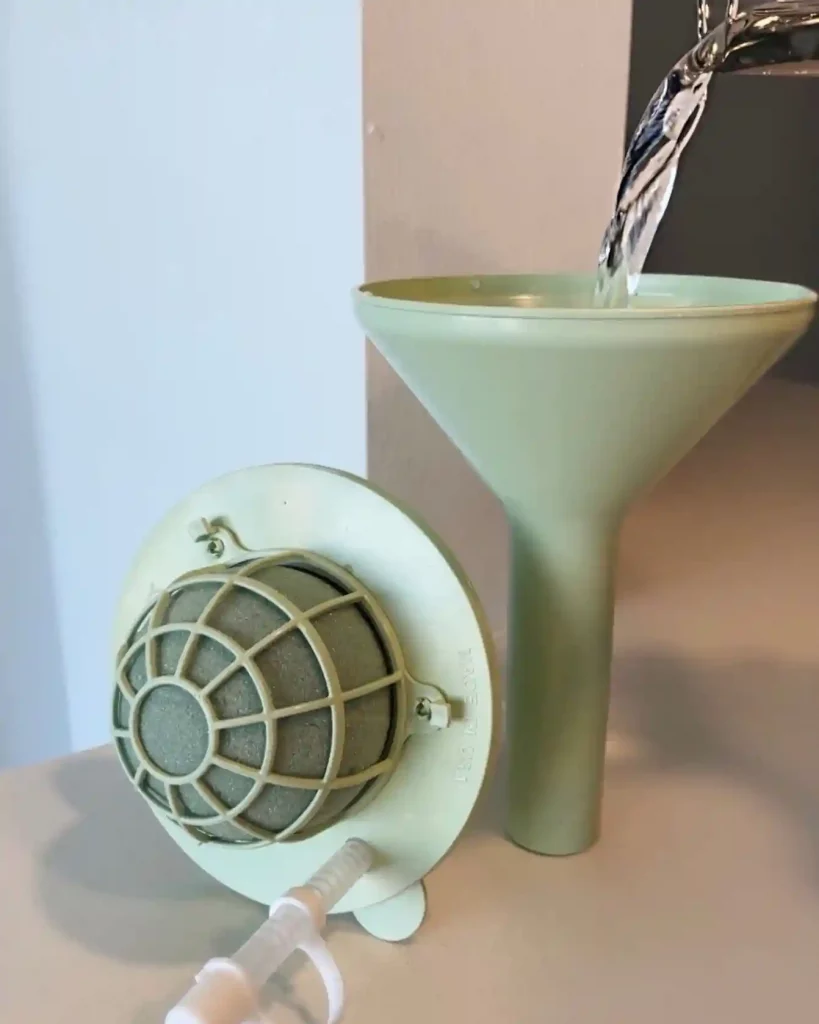 What Is Flasky Flowers?
Flasky Flowers is a bouquet holder and also has the space to store the beverages. It is an innovative product that enhances the wedding experience.
Fresh flowers can be decorated very well in this product. The top part of the flask is covered with dry foam and artificial flowers can be used in it.
The top part of this product can be opened and the drink is added to it and then the flowers are added. No one will be able to recognize it, there is a drink inside it.
There is a flexible straw on the outside which is hidden inside the flowers and is not visible to anyone. Each Flasky Flowers Bouquet Holder is Re-usable. You can buy this product on the online platform Etsy.
| | |
| --- | --- |
| Company Name | Flasky Flowers |
| Founder | Kelly Moynihan and Ryan Moynihan |
| Founded | 2017 |
| Product | bouquet and beverages holder |
| Asked For | $50k for a 10% equity |
| Final Deal | $75K for a 30% equity |
| Shark | Mark Cuban, Kevin O'Leary and Lori Greiner |
| Episode (Shark Tank USA) | S13 E3 |
| Air Date | Oct 22, 2021 |
| Business Status | In Business |
| Website | Visit Website |
| Headquarters | Delray Beach, Florida, United States |
| Go To Amazon | Buy Now |
Another Shark Tank Pitch
Who Is The Founder Of Flasky Flowers?
Kelly Moynihan is the Co-Founder and CEO of Flasky Flowers Company and her husband Ryan Moynihan is another Co-Founder of the company. Together these two are running this company.
When this business idea came to Kelly, her husband left his job so that he could take care of their 7 children. After that they also sold their house.
Flasky Flowers Before Shark Tank
Kelly is a mother of 7 children and a part time hairstylist. She styles the hair of the bride and bridesmaid at wedding events.
Kelly came up with the idea for this flasky product after looking at the bridesmaid bouquet at in wedding. After that she made a prototype through her baby bottle.
Kelly & Ryan patented this product and took a photo of it to develop the first Flasky Flowers product from the manufacturer.
For marketing, Kelly & Ryan had introduced their product in many bridal shows, after which their sales showed a good growth.
In 2020, they decided that they would come to Shark Tank, but they could not come because their child had to have open heart surgery. But they finally came in Shark Tank Season 13.
How Was The Shark Tank Pitch Of Flasky Flowers?
Kelly and Ryan entered Shark Tank with their company Flasky Flowers and asked the sharks for $50,000 for a 10% equity. The founder explained their product completely and explained how it works. Apart from this, she also told how she got the idea of ​​this product.
Their total lifetime sales are $21,000. It sells for $20 and costs $1.77 in making, plus this product is 100% made in the United States.
All their sales come online. Kelly told that they sold their house for money in their business and Ryan quit his job to take care of the 7 kids. Kelly had invested $60,000 in this business.
The wedding industry completely crashed in 2020 due to the Covid-19 pandemic. Lori Greiner decided to make the offer. Her offer was $75k for a 20% equity. Kevin, Mark and Lori together made an offer of $50k for a 30% equity each of 10% equity. This husband and wife agreed to this offer.
Finalize: Lori Greiner, Kevin O'Leary and Mark Cuban Invest $75K in 'Flasky Flowers' for 30% Equity.
What Happened To Flasky Flowers After Shark Tank?
This unique business idea got a deal in Shark Tank, although the sales of their product were not so good but the margin of the product was very high. All the sharks were impressed by this product.
Entrepreneur has 7 children and they started this business by leaving their job and selling their house which is a big risk.
The business journey of an entrepreneur is very emotional. But the product they have invented creates a funny moment in the wedding.
After Shark Tank, many people tweeted their own opinion related to the company on Twitter, One of them said this Flasky Flowers People is super irresponsible.
We think this company's sale must have doubled from its lifetime sale after Shark Tank. Hope to see this business in the feature. Extra 20% off discount is running on this product's official website till November 23, 2022.
Flasky Flowers Shark Tank Update
After Flasky Flowers got the deal in Shark Tank, people would get different response. Some people said that this product is not good and some said it is a great product.
In October 2022, it has been 1 year since the company was appeared to Shark Tank and in the same time the price of this product has increased by $25.0.
There is no evidence about whether Mark Cuban, Kevin O'Leary and Lori Greiner have closed the deal with the company in November 2022. Kelly & Ryan have been active on their business during this Black Friday sale.
What Is Flasky Flowers Net Worth?
After Shark Tank, not much information about this company has been available yet. Nothing accurate has been found about its annual revenue as well. We estimate Flasky Flowers net worth to be around $0.3 Million to $0.5 Million.
Is Flasky Flowers Still In Business?
We do not see this company growing very well. At present, you can buy this product only on its website and Etsy. After Shark Tank, this product has not been available on Amazon as well.
We do not think that entrepreneur is more active in this business. Not many people are visiting this product's website.
Most of this product comes from online website but it is not coming right now, We hope that the most selling of this product would have been redirected to other places.
Yes, Flasky Flowers is still in business as of November 2022.