Turbo Trusser is one of the kitchen gadgets which truss a chicken and turkey well. Turkeys and Chicken can be Truss Quickly and Effectively with These Kitchen Gadgets. Turbo Trusser Appeared in Shark Tank Season 14 Episode 2 to get funding from sharks.
Most people all over the world like to eat turkeys and Chicken on different occasions by trussing. According to some reports, in the United States alone, 87 million turkeys are eaten on Thanksgiving, Christmas, and Easter.
Most people like to eat turkey after trussing because it tastes great. To truss a chicken and turkey, some correct process has to be followed which takes a lot of time.
So to solve this problem, Turbo Trusser presents Kitchen Gadgets for Chicken and Turkey. It trusses turkeys and chickens quickly and effectively.
The inventors of this product are Brian Halasinski and Kirk Hyust who have been facing this problem for a long time. They developed this product using their skills.
According to a report, about 8 billion chickens are eaten every year in the United States. This data keeps on increasing year after year according to the population. This turbo trusser kitchen gadget can be a good product for chicken and turkey lovers.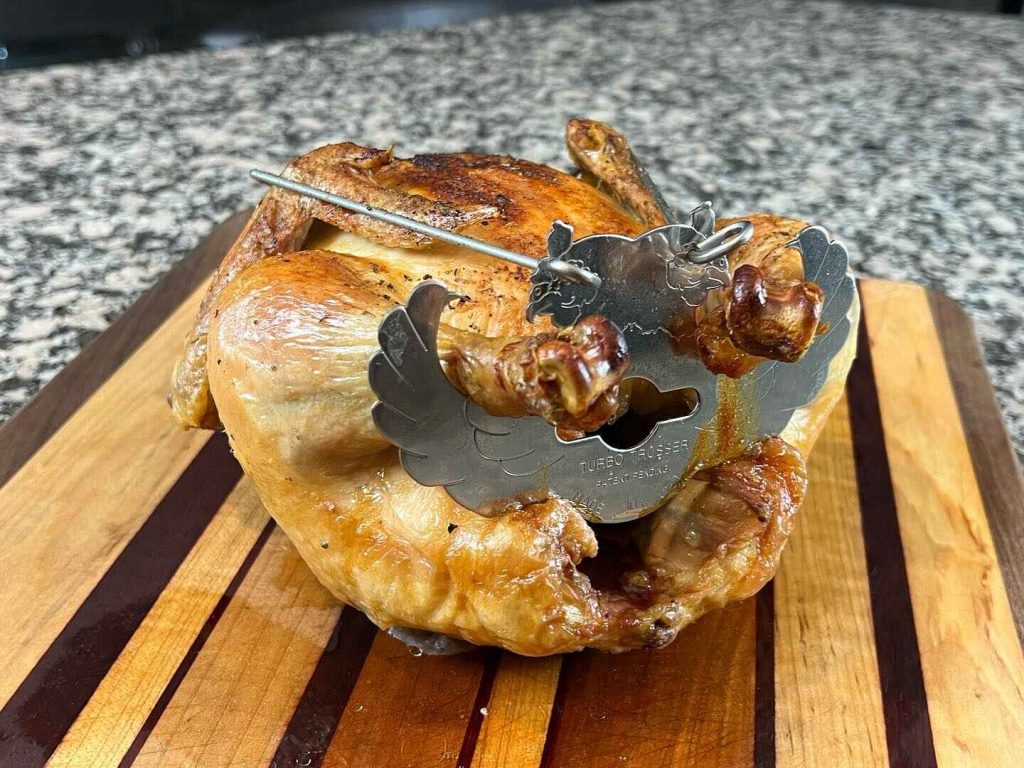 What Is Turbo Trusser?
A Turbo trusser is a kitchen gadget used for trussing chicken and turkey. This gadget is a metal plate to which two legs of chicken and turkey are attached and it also has two metal hooks that secure the wings.
This turbo trusser is completely safe and suitable for ovens, smokers, roasters, grills, rotisseries, and deep fryers. This product is dishwasher-safe stainless steel and has been designed according to chicken and turkey.
Chicken Turbo Trusser Gadgets are used for all kinds of recipes like Oven Roasted, Smoked/Grilled, Rotisserie, and Duck.
Turkey Turbo Trusser Gadgets are used for all kinds of recipes like Traditional, Smoked, Deep Fried, and Rotisserie.
This Turbo Trusser Gadgets for Chicken and Turkey is available on Amazon along with its website. The price of these gadgets is $14.99.
| | |
| --- | --- |
| Company Name | Turbo Trusser |
| Founder | Brian Halasinski and Kirk Hyust |
| Founded | 2021 |
| Product | The Turbo Trusser is a rapid trussing device |
| Asked For | $100K for a 10% equity |
| Final Deal | $100K for a 33% equity +a royalty of $1 per unit in perpetuity |
| Shark | Kevin O'Leary |
| Episode (Shark Tank USA) | S14 E2 |
| Air Date | Sep 30, 2022 |
| Business Status | In Business |
| Website | Visit Website |
| Headquarters | Canton, Ohio, US |
| Lifetime Worth (Sales) | $3.1M *estimated |
| Go To Amazon | Buy Now |
| Watch On | Amazon Prime |
Another Shark Tank Pitch
Who Is The Founder Of Turbo Trusser?
Brian is the President of Turbo Trusser LLC Company. He comes from a background in product development and bringing innovative products to the retail market.
Apart from this, he has also been a medical salesperson. After doing a business degree from Kent State University, he studied MBA from Malone University.
Kirk is Vice President of Turbo Trusser as well as Vice President of product development for Hall of Fame Innovations, LLC. Kirk graduated from the Culinary Institute of America.
Brian and Kirk do their regular jobs and at the same time, they are also running this company.
Turbo Trusser Before Shark Tank
According to LinkedIn, Turbo Trusser LLC company was started in 2021 by Brian and Kirk together. Their aim was to be able to truss chicken and turkey well.
Both of these friends grew up in the Ohio Rust Belt and also started their own companies. They design and manufacture this product in Northeast Ohio.
After the product was made, they launched its website, initially, it used sold in the United States. In the beginning, they sold 10,000 units and from this, they made $100,000.
In 2021, they applied for an online show, in which their product became a hit in the market, in which they sold $50,000 in a few months.
Brian said he had sold $65,000 within 90 days of his product's launch.
This product has 75 retail stores in the United States and Canada. Apart from this, this product is shipped in Germany, Italy, Chile, Australia, Canada, England, Scotland, etc.
Entrepreneur Brian & Kirk's two times it has been applied to Shark Tank the first time it didn't go but the second time it did. These entrepreneurs have come to Shark Tank to take their product sales to the next level.
How Was The Shark Tank Pitch Of Turbo Trusser?
Brian & Kirk entered Shark Tank with a Turbo Trusser and asked the Sharks for $100k for a 10% equity at a $1 Million Valuation. The entrepreneur tried to impress the shark by wearing a chicken and turkey suit so that they could get an investment.
They gave a complete demo session about their product so that the shark could understand the need for this product. The Entrepreneur called Kevin to learn how to use this Turbo Trusser on a chicken.
In their last order, the making cost of their product is $3.7 and it is sold for $14.99. Within 8 to half months, the sale of this product is $90,000, and 60% of sales have come through their website. 20% of the sale is from their distributor so they have 3 distributors at 75 stores.
Robert, Mark, and Lori did not find this business investable and if they did not like its sales, then they are out of this reason.
Kevin says it has potential but it has a lot more work to do, so he made an offer of $100K for a 33% equity +a royalty of $1 per unit in perpetuity. Entrepreneur countered 25% equity but Kevin said no.
Brian & Kirk accepted Kevin's offer.
Finalize: Kevin invested $450K in Turbo Trusser for 33% equity.
What Happened To Turbo Trusser After Shark Tank?
Almost all the sharks went out of this business because they did not like this product and its sales that much but Kevin signed the royalty deal. The total sales of the product were not so impressive that Shark would have liked it.
This company has sold for $90K till September 30, 2022, and some of its retail stores are available in the United States and Canada.
After this episode aired, many Twitter users shared their personal opinion.
The entrepreneur shared their experience after Shark Tank by releasing a video on Twitter. They said in the video that they are excited to work with Kevin.
Twitter user @eyesoftexas said "I rarely buy products I see on #SharkTank but I'm buying one of those #TurboTrusser — I have never felt like I was trussing my chickens and turkeys correctly!" after watching this episode of Shark Tank.
There are many people who are showing interest to buy this Turbo Trusser then this product will easily make thousands of dollars in sales.
Turbo Trusser Shark Tank Update
Kevin became the mentor and investor of Turbo Trusser Company. Entrepreneurs will try to grow their businesses with Kevin's guidance. This company did not sell so well and it will be one year for the company by the end of 2022.
We're following Brian Halasinski and Kirk Hyust along with their company for further updates.
What Is Turbo Trusser Net Worth?
This is a simple kitchen gadget that is built only for turkey and chicken. These gadgets are shipped to most countries of the world. If we talk about Turbo Trusser Net Worth then it can be $50,000.
Is Turbo Trusser Still In Business?
For many years, people have been eating turkey and chicken by truss because it tastes very good. It is eaten more on most occasions such as Thanksgiving, Christmas, and Easter.
The sales of these trusser gadgets are also very good during this occasion. Most of the sales of this product come from retail stores.
This product has got very good reviews on Amazon, although not many people have bought this product from Amazon.
This company headquarters is in Canton, Ohio, and a total of 2-10 employees are working in it. The inventor is currently running this business part-time.
Yes, Turbo Trusser is still in business as of November 2022.