Stealth Bros & Co is a company that manufactures luxurious Dopp kits for people so that they can carry their medical supplies like injection needles and sharps waste. This company founder Braxton Fleming appeared in Shark Tank Season 14 Episode 2 to seek funding from sharks.
There are many people who take daily medicine to improve their life or to cure their diseases. Therefore, wherever they go, they must carry medical/personal necessities things with them because it is their daily work.
A lot of care has to be taken in carrying medical-related things with you. Because all these things are sensitive things. Also, the waste that is left after using the medicine also has to be stored cleanly.
The most dangerous is injection. Because it is used once, if its needle is put in another person, it can cause infection.
To solve this type of problem, Stealth Bros presents a Luxurious Dopp kit. This kit is used for medical/personal necessities like travel and personal storage at home. It is completely safe as well as stylish.
This company's founder Braxton is a transgender male, he needs weekly hormone injections. It was a look for stylish storage to store injections and their associated accessories. Due to this, this business was started by Braxton from his basement.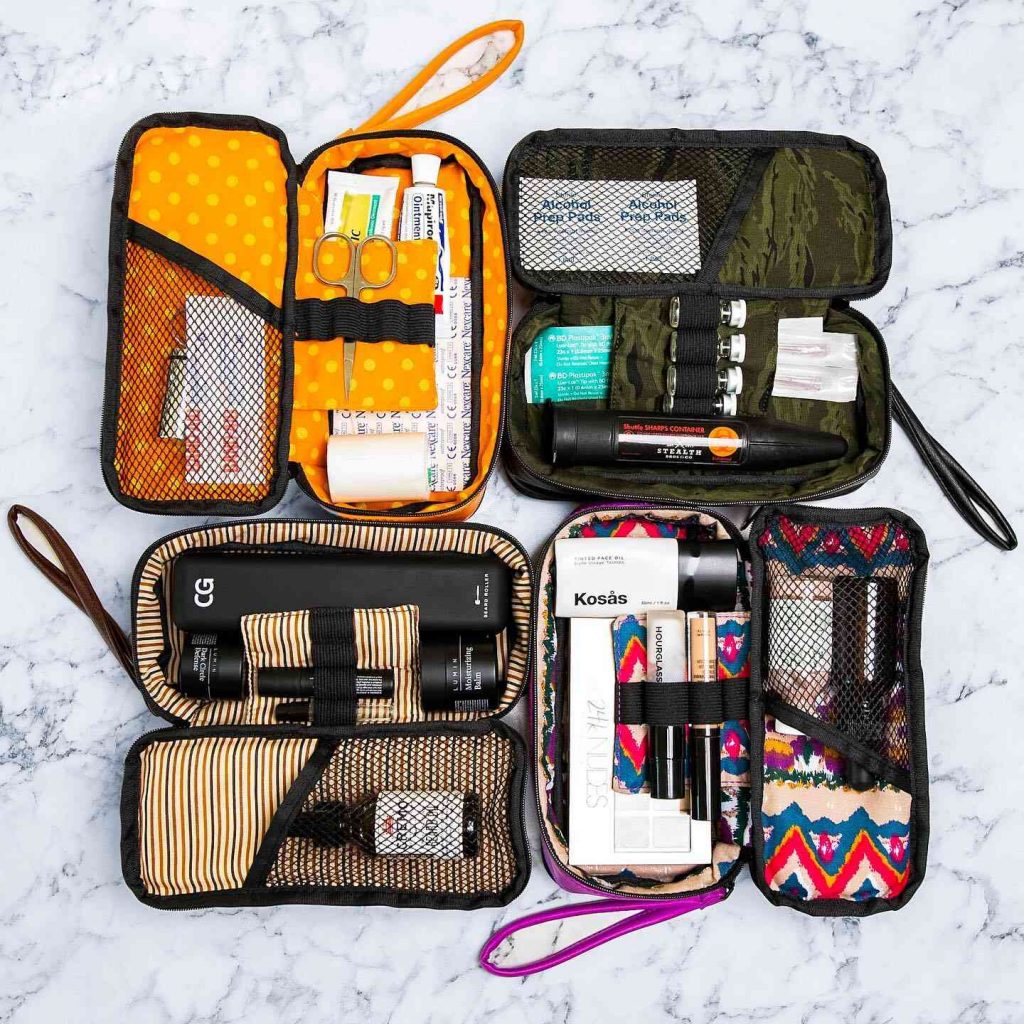 What Is Stealth Bros & Co?
Stealth Bros & Co is a company that manufactures Luxurious Dopp Kits where medical supplies like injections etc. can be stored. It also stores needles and other waste after injections are used.
It is also an Innovative, convenient, and stylish injectable storage for the transgender, diabetic, IVF, and other personal/medical communities.
With this, the Jr Dopp Premium Leather can store all the medical supplies separately and it maintains a proper position.
This sharps shuttle container is designed to hold sharps. Each Sharp Shuttle can store about 20 needles. Its size is 16×4.5cm.
The sharps container is also designed to hold the sharps waste. Multiple needle tip end syringes fit in each container.
Dopp Premium Leather, Sharp Shuttles, and Sharps Container are priced at $34, $4 & $10. You can buy this product from its official website.
| | |
| --- | --- |
| Company Name | Stealth Bros & Co |
| Founder | Braxton Fleming |
| Founded | December 2017 |
| Product | luxury Dopp kit for medical/personal necessities |
| Asked For | $200K for a 15% equity |
| Final Deal | $200,000 for 20% equity |
| Shark | Barbara Corcoran and Mark Cuban |
| Episode (Shark Tank USA) | S14 E2 |
| Air Date | Sep 30, 2022 |
| Business Status | In Business |
| Website | Visit Website |
| Headquarters | Mays Landing, New Jersey, US |
| Lifetime Worth (Sales) | $2.7M *estimated |
| Go To Amazon | Buy Now |
| Watch On | Amazon Prime |
Another Shark Tank Pitch
Who Is The Founder Of Stealth Bros & Co?
The founder and CEO of Stealth Bros & Co are Braxton Fleming who is a transgender male. He started this company in December 2017.
He has also done his LPN, Adult Health Nurse/Nursing from Kean University. At present he is married and he is the father of three.
Stealth Bros & Co Before Shark Tank
Braxton started this company in 2017 because he is a transgender male, so he had to take weekly hormone injections. But they did not have proper storage in which they could store these injections or other medical accessories easily.
Braxton did a lot of searching on the internet for proper storage but he did not find any solution for it. After this, he decided that he would make his own container that is stylish as well as easy to carry.
This company has been certified LGBTBE by Nglcc. In 2018, the Stealth Bros Support Fund was established by the company for the LGBTQIA community.
This was helped in 2022 by giving $500 to Two Individuals through its fund in Gender Affirming Finances, and GAHT materials.
Braxton decided to come to Shark Tank so that he could grow his business with the help of sharks.
How Was The Shark Tank Pitch Of Stealth Bros & Co?
Braxton entered Shark Tank with his company, Stealth Bros and Co, and asked the Sharks for $200k for a 15% equity at a $1.3 Million Valuation. This is a company with a decent valuation in Shark Tank. Braxton told Shark about his story which is going to inspire many people.
Braxton told Shark that he found out about being a transgender male six years ago. Shark also checked out their luxury Dopp kit. Braxton explained everything about his product to Shark so that he could convince Shark to invest.
All these products are sold online and their growth is organic through social media influencers. Braxton said that the year to date is currently a sale of $110,000. In the last year 2021, their sale was $ 147,000, so in the present time, 40% has happened.
The making cost of the Dopp Kit bag is $5.8 and it is sold for $34, which is a pretty good margin. Lori said it's a huge margin. Braxton himself manages this business, he started it from his basement.
Lori Says, I think that it is kind of the perfect kit and I love what you're doing for the community I don't think you need a partner I don't always say that I rarely say it I think you should run this I think you should take all the profit and I think you should grow step by step and you're going to have a wonderful business and reap what you sow and for those reasons, I am out.
Robert said that this business is not for him, then he is out. Barbara Corcoran understands this business and she also understood the need for this product she made an offer of $200K ($100K on Credit line a $100K Cash) for a 20% Equity.
Mark decided that he would join Barbara, and they together offered $200K ($100K on Credit line a $100K Cash) for a 20% Equity at a $1 Million Valuation.
Braxton counters 18% but Mark refuses. Braxton agreed to Barbara & Mark's offer without any other counter.
Finalize: Mark & Barbara invested $200K ($100K on Credit line a $100K Cash) in Stealth Bros & Co for 20% equity.
What Happened To Stealth Bros & Co After Shark Tank?
Stealth bros got a successful deal in Shark Tank Shark Mark and Barbara said they would take the business to the next level. Shark also loved Braxton's business story and this product is also solving a real problem.
The Shark Tank lover loved Braxton's business. There are many people who are saying thanks to Braxton and his company because their product is solving a real problem.
many Shark Tank viewers congratulated Braxton after he got an investment in Shark Tank from sharks. Many people are also telling this episode of Shark Tank as their favorite episode.
Braxton shared a video on his company's official Twitter account @stealthborosco in which he said "How do you feel being the First Black Transgender Man on 'Shark Tank'?"
In this, he also became very emotional while telling about his feelings. Barbara tweeted, "I love what Braxton is doing. 150% genuine through and through".
Shark Daniel Lubetzky also had a tweet, on this pitch he had to say,
After Shark Tank, the sales of this product are going to be very high because there are many people who saw this product in Shark Tank, and they liked it very much. People also made many tweets on Twitter about this company and also congratulated Braxton on his Instagram.
After Shark Tank, he received a thousand dollar order and he gave an update about it on Instagram.
Stealth Bros & Co Shark Tank Update
Stealth Bros & CO got a very good deal in Shark Tank. Mark & ​​Barbara invested $200k in this company. People who watched Shark Tank also liked this product and people believed that this product is solving a real problem.
Mark even told Braxton that he would grow the business with Barbara and try to take it to a good position.
We believe that this luxury Dopp kit product would have reached thousands of dollars in sales. Their sales track is running at $110,000 as of Sep 30, 2022.
Braxton announced on Instagram on October 4, 2022 his product is available in more than +3,000 stores nationwide, including CVSpharmacy, CVShealth and many more.
What Is Stealth Bros Net Worth?
It has been many years since the company has been running, but through its website, they will get very less sales because the website is not getting many visitors. We think the Stealth Bros' net worth could be around $450,000.
This company had signed a deal in Shark Tank at a valuation of $1 million. This company has got a good partner, mentor, and investors like Barbara & Mark.
Is Stealth Bros & Co Still In Business?
Braxton, due to his problem, created a product that would help people who want to store medical supplies as easily as injections.
There are many people who are carrying this container with them when they go for travel, workout, or other work. Because this container is safe and stylish which will keep their medical supplies safe.
There are many people who are sharing their opinion by updating videos or photos on social media after buying this product.
Yes, Stealth Bros & Co is still in business as of November 2022.