Plufl is a company that created the world's first human-sized dog beds for humans and it appeared in Shark Tank. This product is designed to provide maximum comfort and security to ensure good sleep.
This company claims that this product helps them to get relief from stress, exhaustive, and anxiety. This is the right place to rest the napping product, according to the company.
According to United States Health Department data, in the past year, 19.1% of adults were victims of anxiety disorder, males were 14.3% and females were the most victims of 23.4%.
Last year 74% of people were going through stress due to Covid 19 pandemic, out of which 33% were suffering from extreme stress.
To get relief from stress, doctors mostly recommend doing meditation, as well as they ask to sleep well. It is very important to have a comfortable bed to sleep well, so to solve this problem, Plufl presents a Human Size Dog Bed for Humans.
Yuki Kinoshita and Noah Silverman, co-founders of this Human Size God Bed for human Company, started this company in 2021. Although both of them graduated from the University of British Columbia in 2022.
Yuki and Noah both entered Shark Tank Season 14 Episode 5 with 'Plufl' and asked Shark $200,000 for a 10% Equity at a $2 Million Valuation.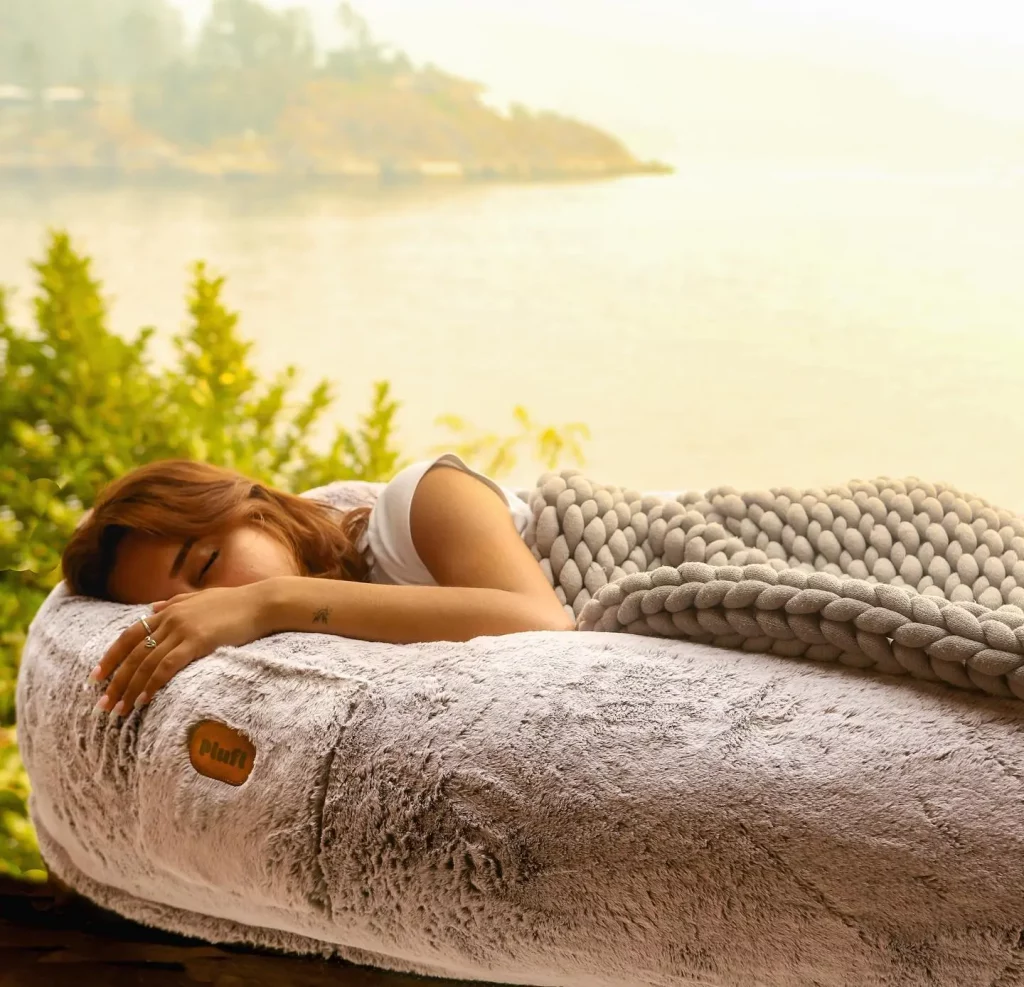 What Is Plufl?
Plufl is a human-size dog bed-style design bed that is meant for human beings. The inventor's claim is that this bed provides relief from stress, exhaustive, anxiety, etc. Hence the design of the Bed is like a dog bed.
These Plufls are made from orthopedic memory foam. There is a pillow border all around, the advantage of this is that by keeping the head in it, one can sleep comfortably.
It can be easily stored and transported and is an easy-to-remove, pet-friendly, machine-washable cover.
'The Plufl: The Original Dog Bed for Humans' is available in two colors, Arctic Gray and Biscuit for $499. It is currently running on pre-order, the order will be shipped on January 2023.
| | |
| --- | --- |
| Company Name | Plufl |
| Founder | Yuki Kinoshita and Noah Silverman |
| Founded | 2021 |
| Product | human-size dog bed for human |
| Asked For | $200K for a 10% Equity |
| Final Deal | $200k for a 20% equity |
| Shark | Mark Cuban and Lori Greiner |
| Episode (Shark Tank USA) | S14 E5 |
| Air Date | Oct 21, 2022 |
| Business Status | In Business |
| Website | Visit Website |
| Headquarters | Seattle, Washington, United States |
| Go To Amazon | Buy Now |
Another Shark Tank Pitch
Who Is The Founder Of Plufl?
The co-founders of Plufl Company are two friends Yuki Kinoshita and Noah Silverman, both of whom built this business while studying at the University of British Columbia
Yuki Kinoshita
Yuki comes from an International Economics background and did an internship for 3 months at Accenture. Apart from all this, he is the Labs batch 8 founder of the League of Innovators.
Noah Silverman
Noah also comes from International Economics and is also the Labs batch 8 founder of the 'League of Innovators. Noah worked part-time at Talentspace as a Business Development & Strategy Analyst for 1 year.
Plufl Before Shark Tank
It is an innovative product running on a unique concept. Founders Noah and Yuki, of them, started their startup during college.
This human-sized dog BEd for human business was launched in 2021-end, however, this business has not taken much time yet.
Plufl is the World's First Dog Bead for Humans and the founder has a story behind its origins. Both these college students wanted to take a nap on their campus but they could not find a comfortable place anywhere.
One day he saw that a big dog was sleeping comfortably on the dog bed in his local college coffee shop. From this incident, he got the idea of ​​this 'Plufl' product.
Together these two college students made the prototype of the product and manufacture some sample products.
In April 2022 They launched a successful Kickstarter campaign with a goal of only $25,000 but as of May 2022, they have raised $290,657 from 799 backers.
They did 50 beta-testers to understand the product properly and they got a positive response from the people.
A roadmap was shared by the entrepreneur, which describes how this product was made. In August 2021, work was done on the design and concept of this product.
This product will start shipping to the customer in Nov 2022. Right now this product is going on Pre-order.
Yuki and Noah must have thought that if they want to grow this business then they need an investor, then Shark Tank is a good platform for this.
How Was The Shark Tank Pitch Of Plufl?
Yuki and Noah entered Shark Tank with their company 'Plufl' and asked Shark for $200k for a 10% equity. Both of them explained to Shark about their product Human Size Dog Bed for Human and told how comfortable it is.
Yuki & Noah invited the shark to try this product, Robert & Mark napped on the bed and saw it and liked it a lot. When the entrepreneur told that the cost of this Bed is $399, all the sharks were surprised to hear this.
The making cost of this product is $140. They have got sale through Kickstarter and their manufacturing process is going on in October 2022.
Kevin is interested in this business so he thinks the entrepreneur's demand for $200k for a 10% is not worth to him, So Kevin's offer is $200k for a 30% equity.
At present, this product is new in the market, so they have a provisional patent and are currently working on utility and design patents. They filed trademarked on our name.
Robert says that this dog is bed for human, so if it is not for him then he is out. Emma Grade said that she did not understand this product and she is not able to know who are the people who will buy this product, so she goes out.
Mark Cuban and Lori Greiner together made an offer of $200k for a 20% equity, Mark said he had invested in a business called Hug Sleep.
Both countered Mark & ​​Lori offer of $200k for a 15% equity but, Mark & ​​Lori said no. After some talking, both of them finalized the deal with Mark and Lori.
Finalize: Mark Cuban and Lori Greiner Invest $200K in 'Plufl' for 20% Equity for Each.
What Happened To Plufl After Shark Tank?
Some sharks liked this product in Shark Tank and some did not understand it. Because this is a new product and this type of product is not available in the market, apart from this, the genuine customer of this product has not yet become.
Although this product is unique, it is very good for providing comfort as well as entertainment. This product had become quite viral in social media and people wanted to buy it but right now the manufacturing process is going on.
Many people have shared their opinion after this product feature in Shark Tank, so here are the opinions of some Shark Tank viewers.
Twitter User Lance Becvar Said, Plufl, great offer, Lori and Mark, congrats.
This product is going on Pre-order as of October 22, 2022, the founder said that they will start delivering the product from November-December.
Several popular media publications have featured the company, including Fallontonight, Good morning America, Nypost, & Thedodo.
Plufl Shark Tank Update
Plufl Shark Tank Episode Original aired on 21 October 2022. Started this company, it has not completed only 1 year till 2022. This business has not sold any other than Kickstarter till October 2022. Its product follows a very unique concept but the problem is that it does not have any data other than pre-orders.
Mark & ​​Lori invested in this business even after not having real customer sales data and they will try to grow this business.
We're following Yuki Kinoshita and Noah Silverman along with their company for further updates.
What Is Plufl Net Worth?
The dog bed is a very good product for humans and it is the first company in the world which is making dog-sized and shaped beds for humans. According to the Advance Sale report, Plufl's net worth can be as much as $150,000.
Is Plufl Still In Business?
This is a very good business idea by Yuki and Noah and this Bed is becoming very popular on the internet. In the present time, it is such a company that is working on it.
This product became very popular on social media whether it was Instagram or Tiktok. This product has 13.2k followers on its Instagram handle.
This product accident has become more viral on the Tiktok platform, which no one can guess. Its video garnered +8 million views, +1.8 million likes, +60k shares, and +10k comments.
At present, the headquarter of this business is in Seattle, Washington, United States.
Yes, Plufl is still in business as of November 2022.