Chill Systems is a lightweight, eco-friendly, portable beverage chiller. This company's co-founders Chase Mitchell and Brian Bloch brought in Shark Tank Season 12 Episode 17 and asked the Sharks for $150,000 for 15% equity.
Through chill systems, beverages i.e. drinks, beer, etc., are chilled anywhere. Due to it being portable, it can be taken with you anywhere.
While going to a party in the forest with friends or family, we take drinks with us. To keep the drink cold, we use an ice box which is quite heavy.
It takes two people to place and lift the ice box, but it works like a chill systems ice box and is lightweight.
According to LinkedIn, this company was started in 2016 by two college friends Chase Mitchell and Brian Bloch after leaving their jobs.
Chase has spent a lot of time at Google in a long-chill career as a sales associate. Brian has worked in a variety of finance positions, in which he has worked in Apple Finance.
Brian is also an Entrepreneur. He owns an Elbay Endeavors startup, a management consulting firm. His experience in this business worked in building the Chill Systems business.
This cooler itself is a rigid tube with a freezing material (think blue ice) inside it. This cooler comes in different colors and designs.
The special thing about this company is that they sell insulated cooler bags with the same no-ice technology.
These products come with such a stylish design which is no cooler, no ice, and no problems.
The owner needed funding to grow Chill Systems, That's why he launched a successful Kickstarter campaign and raised $53,172 in August 2018.
After this funding, they started shipping the product till Christmas but some backers have not got holiday time.
As we can see from Chill Systems' website now this product is out of soak and it is not available on Amazon also till August 2022.
None of the sharks were willing to invest in these chill systems. All the sharks opted out of this business offer.
What Is Chill Systems?
This chiller is made from recycled materials along with freezing gel has been used inside it. Due to this, it acts like a wall and becomes an Ice chamber.
This chiller is a lightweight, sturdy beverage cooler that can be carried anywhere as it is also portable.
In this, we can keep beer, wine, spirits, soda, coffee, sports drinks, kombucha, etc. cold for up to 6 hours.
Before using this chill system, you have to freeze this chiller the whole night.
In the same chill, you can add your favorite drink like beer, wine, spirits, soda, etc. One thing to note is that the chill can hold three 12-16 oz cans and a 750-ml wine bottle can be stored side by side.
The chiller will keep the drink cold for up to 6 hours.
The Chiller stays cold for up to 24 hours when used with the insulated Adventure Pack or Picnic Tote.
Adventure & Picnic has two insulated bags to keep drinks cold.
Picnic bag size is 7.50″ L x 15.00″ W x 15.25″ H, 2.2 lbs. It can keep drinks chilled for up to 24 hours plus Wine Cups, Snacks, tablets & Picnic Blanket can be brought in this bag.
The Adventure Bag will fit 6 cans and 2 wine bottles + chiller and is 6.50″ L x 8.00″ W x 16.50″, 1.4 lbs in size.
Both these chilling bags cost $49.95.
| | |
| --- | --- |
| Company Name | Chill Systems |
| Founder | Chase Mitchell and Brian Bloch |
| Product | lightweight eco-friendly, portable beverage chiller |
| Asked For | $150,000 for 15% Equity |
| Final Deal | No Deal |
| Shark | No Shark |
| Episode (Shark Tank USA) | Season 12 Episode 17 |
| Air Date | March 12, 2021 |
| Business Status | In Business |
| Net Worth | $250K *estimated |
| Website | Visit Website |
| Headquarters | Los Angeles, California, US |
| Go To Amazon | Buy Now |
Another Shark Tank Pitch
Who Is The Founder Of Chill Systems?
The Co-Founder & CEO of Chill Systems Company is Chase Mitchell and its Co-Founder & CFO is Brian Bloch.
Chase Mitchell is a native of Southern California. He has studied business administration at the University of Southern California.
When he was growing up in college, Google appointed him as a campus ambassador for Minor in Web Technologies.
After graduation, he worked as a small business sales intern at Google and then moved to account manager.
He worked in marketing campaigns for Apple Inc.
Brian was born in Georgia and later moved to Los Angeles. He earned a B.s. in Business Administration from the University of Southern California.
He joined the Apple company as a finance marketing person.
He has been a finance analyst in many of Apple's campaigns, including iTunes, Apple Watch, and Apple Media Products.
Brian has traveled the world for 27 years, having visited (32 states, 25 countries, and 6 continents).
In 2008, it started a finance company named Elbay Endeavors, this company provides information about finance and investment.
Chill Systems Before Shark Tank
According to LinkedIn, this Chill Systems company was started in 2016 but it started selling in 2018.
Chase got the idea for ​​this unique product when he was in college. He went to the Bluegrass Festival in San Francisco's Golden Gate Park and their people were struggling to pull one of the heavy coolers.
Seeing this problem, Chase & Brian decided to create a portable chiller that did not use ice and gel packs to cool the drink.
Chase had to face a lot of problems regarding this business at the initial time, especially with regard to funding.
Brian is a finance analyst and thought of crowdfunding for this business.
In August 2018, he ran a successful kickstart campaign in which he raised $53,172 in funding from 473 backers.
Chase and Brian are associated with the non-profitable organization water.org to donate 3% of their profits to help prevent the global water crisis.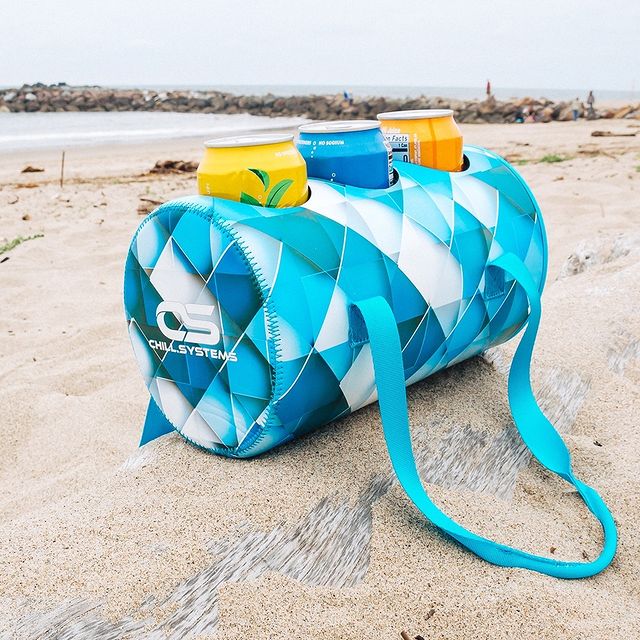 How Was The Shark Tank Pitch Of Chill Systems?
Chase & Brian had asked the Sharks for $150,000 for 15% equity for their company, Chill Systems.
Before this, he told Shark a lot about his traditional cooler and bag of ice.
He has revealed in Shark Tank, so far his sales are $111,000. The making cost of this product is $18.
Kevin found this business idea bad. No shark was ready to invest in this business.
What Happened To Chill Systems After Shark Tank?
Chill Systems did not get any deals in Shark Tank, as according to Shark it is not a feature of the business idea.
When this episode of Shark Tank was released on National TV, he got some sales from it but not much. However, we do not have its report.
After the pitch at Shark Tank, Chillsystems was featured by several media publications including Yahoo Sports, NBC, BuzzFeed, and Inc.
This company has launched its product U.S. & Canada and is shipping in both places it has not started international shipping yet.
We visited Chill Systems' website in August 2022, that website is showing this product is out of stock and Also it is not available on Amazon.
Chill Systems Shark Tank Update
Chill Systems episode was aired in March 2021 and after this episode came there are many people who visited this website.
We don't think that the sales of this product would have increased much as Shark Kevin says this is a bad business idea.
This is a Chillsystems product out of stock on its website in August 2022 but insulated bags are available now, you can buy them if you want.
Authorize Revenue Data is not available yet.
What Is The Chill Systems Net Worth?
Chill Systems Net Worth can be approx $250K at present time.
Is Chill Systems Still In Business?
Chase & Birne is associated with the Chill Systems business and has shown this business running on LinkedIn.
Chase has mentioned his last date in this company in his LinkedIn profile as Jan 2022. We do not know whether Chase is associated with this business or not.
But Chase joined Coinbase Company in January 2022 as Partner Success Senior Associate.
According to Brian Bloch's LinkedIn in August 2022, he is still associated with this business. He has been working as a full-time services business analyst at Apple since July 2021.
it's hard to say, Chill Systems is still in business as of August 2022