Busy Baby is a silicone mat that prevents baby's toy accessories from falling on the surface. A Busy Baby mat doesn't allow accessories to be diverted and it keeps the kids focused on their game. Busy Baby Mat appeared on Shark Tank and asked for $250,000 for 5% equity from the Sharks.
Beth Fynbo is the inventor of this product, who came to Shark Tank out of a desire for funding to take her company to the next level.
When children play, they throw spoons and toys, etc. on the floor, which remains in danger of getting germs, etc.
After the throw, the survivors start crying so that they can get the spoons and toys again, This responsibility falls on their mother and son to pick up the spoon and toys and give it to the child.
The child does this every time because he enjoys doing this, it increases the work of the parents.
For this problem, Busy Baby mat presents its product which is made of silicone, it has spoons and toys which do not fall down.
Beth got the idea for this product when she went to lunch with her friend A child throws spoons and toys with her mother in a game on the floor.
The Busy Baby is a food-grade silicon mat with suction cups that will stick to any smooth surface.
It has been completely designed keeping in mind the safety of the child, as sometimes the leftover pulls it through its teeth.
Beth started this business with her younger brother Eric in 2017. Beth needed funding to grow her business, so launched a Kickstarter campaign in October 2018, although it was unsuccessful.
What Is Busy Baby Mat?
Busy Baby Mat One solution is to keep children safe from things like Gerns etc. this is a silicone suction placemat for babies and toddlers with adjustable tethers for toys and teethers.
When children throw things like spoons and toys on the floor, then this silicone mat does not allow them to fall on the floor.
Because it is Spoons and Toys, it sticks like rubber on a silicone mat. It is made of high-quality, 100% food grade, FDA-approved silicone that is BPA, BPS, PVC, and Phthalate free.
Along with being flexible, there is no risk of fungus, mold, and bacteria, and it is microwave and dishwasher safe.
In this, things like toys, pacifiers, sippy cups, etc. can be encrusted and it keeps away germs.
This product is meant for 5-18 months old babies but can be used by 3-year-olds also. This teether and training spoon is for 3 months to 2 years old.
It has suction cups in each corner and It comes in different sizes. The size of a mini mat is "3 x 11". It will fit in travel trays and small high chairs.
Before using this mat, it has to be cleaned and safe, for this, boiling in 1/3 vinegar and 2/3 water will have to be done.
This silicone mat comes in a variety of designs and sizes, with "The Ultimate Busy Baby Bundle" costing $65.55 Including (Busy Baby Mat, Busy Baby Mini Mat, Busy Baby Bottle Bungee, Busy Baby Toy Bungee, Busy Baby 2-in-1 Teether & Training Spoon).
| | |
| --- | --- |
| Company Name | Busy Baby Mat |
| Founder | Beth Fynbo |
| Product | The Busy Baby Mat is a Silicon mat that's absolutely wonderful for babies 5-18 months old |
| Asked For | $250k for 5% Equity |
| Final Deal | No Deal |
| Shark | No Shark |
| Episode (Shark Tank USA) | S12 E16 |
| Air Date | March 5, 2021 |
| Business Status | In Business |
| Website | Visit Website |
| Headquarters | Oronoco, Minnesota, United States |
| Lifetime Worth (Sales) | $1.5M *estimated |
| Go To Amazon | Buy Now |
| Watch On | Amazon Prime |
Another Shark Tank Pitch
Who Is The Founder Of Busy Baby Mat?
The President and Founder of Busy Baby LLC Company are Beth Fynbo, a resident of Oronoco, Minnesota.
Beth started this company in 2017 along with her younger brother Eric.
Beth earned a Bachelor of Science, Business Management degree from Minnesota State University, Mankato.
At the same time, she was working as a broadcast journalist for US Army, after working for 10 years, left the job in 2006.
After that, She was a Public Affairs Outreach Specialist in the National Guard Bureau for 10 months.
She worked as a Management Analyst in Alutiiq Company and Then she did her Master of Business degree from Colorado Technical University-Online.
After her business degree, she worked at Cardinal Health for 7 years and held the position of Enterprise Account Manager for 5 years.
Eric Fynbo is the Vice President of this company and he is working full time in August 2022.
Eric worked at Target Company for 5 years after studying Secondary Education and Teaching at Minnesota State University, Mankato.
Worked as a store manager at Dick's Sporting Goods in Woodbury, MN. Leaving this job in 2021 to work full-time at Busy Baby LLC.
Busy Baby Before Shark Tank
Beth & Eric launched the Busy Baby Mat Kickstarter campaign in October 2018 with a goal of $45,000, but the funding was unsuccessful.
On October 11, 2018, they raised only $13,144 in funding from 185 backers. Some people have commented positively on the Kickstarter campaign, they liked this product very much.
Beth shared that she received a winning amount of $3,000 from the Bunker Labs organization. She received this award as the winner of the pitch competition.
The company has also received Mother's Choice Awards Honoring Excellence, as it was an excellent product in the children's category.
She participated in the annual Minnesota Cup competition, in which Busy Baby Mat won $25,000 in awards.
According to Forbes Magazine, this product is the "Best Gifts for Babies and Toddlers".
Beth has made this product available on Amazon as well as some other retail stores to increase the sales of this product.
How Was The Shark Tank Pitch Of Busy Baby?
Inventor Beth Fynbo brought her company, Busy Baby, to Shark Tank and raised $250,000 for 5% equity from the shark.
Beth pitches Shark Tank through her business journey and sample products.
They have a patent for their two product and their sales are quite good. Many parents have bought this for their children.
Each unit has a making cost of $6 and a selling price of $24.99.
In 2019, their total sales were $ 97,000. She went on to sell Pandemic in 2020 for $20K in January & February. Their sales started dropping in March.
Beth told Shark Tank that her sales so far are $323,000, but she expects to make $900,000 by the end of 2020, in which her profit is $200k.
Mark liked this product very much but said that because this baby market is unique and specific, he is out of this offer.
Lori made an offer of $250,000 for 20% of the equity. Beth counter-offered 10% but Lori stayed at 20%.
Robert said that Lori's offer is good, but he will not be able to offer it, he is out.
Daymond says that he cannot go into the baby products space at present, so he is out.
Kevin calls her a Rockstar because it's tough to launch a baby product He cannot invest in it.
Beth counter-offers Lori with 15% and less than that she can't go. Lori moved up to 18% equity but Beth is on her 15% equity, so the deal didn't work out.
What Happened To Busy Baby After Shark Tank?
When the Shark Tank episode of Busy Baby aired, people very much liked this person and were curious about it.
Along with being a unique product, it is used to solve the problem of parents, Parents want to keep their child safe and this product is used to fulfill that need.
Beth got millions of dollars in sales after Shark Tank, besides this company was also featured by many media publications. This includes Buzz Feed, Forbes, and Pregnant Chicken.
After getting the Navoba certification, his distribution grew very well. It is available in many supermarkets and kid's toy retail stores.
This product has become available on the handshake platform in August 2022 at the wholesale price.
She has published many videos on YouTube but "Busy Baby Mat – Meal Time, Play Time, Anytime!" The video became her most viral and It get 256k views.
This product is currently available on Amazon. Their Busy Baby Silicone Placemat product has got a 5K rating with a 75% 5 stars.
Busy Baby Shark Tank Update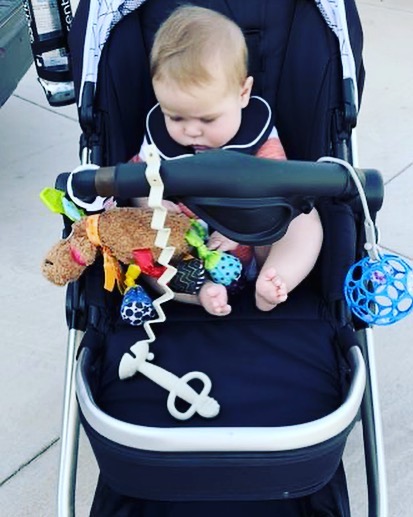 Beth, the founder of Busy Baby, didn't get funding for Shark Tank, Because Lori didn't want to go below 18% equity, And Beth didn't want to go above 15%.
When this Shark Tank episode was released, 6000 units were sold within two days.
Sales of one month were done in only two days, it would not be wrong to call it the record for highest sales in Shark Tank.
after a few months, she also developed a baby spoon and a smaller mat to fit high chairs.
In 2020, she did sales of $1 million and she had projected that by 2021 she would take $4 million of sales.
We are expecting that it will have generated annual revenue of $4 million by August 2022.
Beth revealed on her blog that she has spent 10+ years of her life traveling. She did a lot of solo business and pitch competitions that earned him a total of $100,000 prize money.
What Is The Busy Baby's Net Worth?
This company was valued at $5 million in Shark Tank. The sad part is that this business did not get funding. After Shark Tank, this company did millions of dollars in sales. At present, Busy Baby's net worth can be $1.5 million.
Is Busy Baby Still In Business?
Busy Baby donated $25,000 to feed 281 children. Different types of donations have been made for the education and feeding of children.
busybabymat website is currently taking orders and they have added many different types of products.
Talking about its YouTube channel, that channel had not grown much yet, although YouTube is a very good way to bring sales.
If those YouTube videos go viral, then more than 100 sales can come from them.
The baby industry market size is very small, there is a competitor in this industry too, and social media marketing is needed to grow the business.
Her Instagram account has grown quite well because she remains active on Instagram every day. This is 27.8k followers on the Instagram account in August 2022.