Creation Nation is an organic Cookie Mix & Protein Bar. It prepares different types of delicious nutritious snacks using homemade recipes. Creation Nation (Balls Bars Bites) Appeared To Raise Funding in Shark Tank Season 12 Episode 23.
Creation Nation founder Karen Nation had asked Shark for $300,000 for 12% equity. However, Shark did not find this deal investable and he got out of it. Mark told Karen that much work is yet to be done in this.
Karen Nation is currently a Certified Sports Nutrition Specialist and loves to eat a healthy, balanced diet and prepares it for her clients. She Makes special care of nutrition in all your recipes. It is made by hand.
Karen had moved towards a healthy diet at a young age and she learned to make healthy foods in her kitchen. From here she learned to make different types of food recipes. After a lot of experimentation, she was able to make healthy cookie mix & protein bars full of nutrition.
The story of this entrepreneur has been filled with motivation. She grew up in a foster home. She used to focus a lot on a healthy diet since childhood.
As she got expertise in a healthy diet, she gave it to her friends and clients to test, they liked this recipe very much. It started the Creation Nation company in 2014 to give people a better protein diet.
The global protein supplement market size is huge and the industry is growing rapidly every year. Many big companies are making their hold in this industry. It is estimated that the global market value of this industry is USD 22.11 billion in 2022.
What Is Creation Nation?
Creation Nation is a gluten-free, organic superfoods company that makes cookie mixes, and protein bars for healthy diets. In 2014, this company was started by Karen Nation. So that people can provide "blah" Protein Bars and Alternative Protein Bars.
This is the world's first Protein Bar & Bite mix that can provide Homemade cookies Test to people.
This company manufactures different types of certified foods, these include Keto Certified, Vegan Certified & Paleo Certified.
Creation Nationa consciously selects each ingredient for taste, purity, and nutritional value: Organic protein & superFoods, NonGMO, gluten-free, soy-free, and preservatives-free.
It uses premium, wholemeal ingredients for its recipes which include California Almonds, Brazil Nut Powder, Cocoa, Coconut, Flaxseed Meal, Gluten Free Oats (Purity Protocol), Pea Protein Isolate, Whey Protein Concentrate & Monk Fruit.
Their protein bar mix comes in a variety of flavors, including Oat Chocolate, Coconut Vanilla, Protein Balls, Protein Balls & Cookies & Vegan Paleo Keto.
The price of their protein products ranges from $6.99-$54. The rest of the protein product comes at an affordable price.
Available on Creation Nation Multiple Platforms Includes Walmart stores, Whole Foods, Hyvee, Albertson's, and other smaller grocers & such also amazon.
| | |
| --- | --- |
| Company Name | Creation Nation |
| Founder | Karen Nation |
| Founded | 2014 |
| Product | organic Cookie Mix & Protein Bar |
| Asked For | $300k for 12% equity |
| Final Deal | No Deals |
| Shark | No Shark |
| Episode (Shark Tank USA) | S12 E23 |
| Air Date | May 7, 2021 |
| Business Status | In Business |
| Net Worth | $1 Million *estimated |
| Website | Visit Website |
| Headquarters | Los Angeles Metropolitan Area, California, US |
| Go To Amazon | Buy Now |
Another Shark Tank Pitch
Who Is The Founder Of Creation Nation?
Creation Nation, No-bake Protein Bite Mixes is the Founder & CEO of Certified Sports Nutrition Specialist Karen Nation. The nation has studied BA, Economics from UC Irvine.
With college studies, she has licenses & certifications in EcoBroker and Sports Nutrition.
After her certification, she joined Teles Properties in 2003 as Realtor, EcoBroker. In 2014, she started her company Food Creation Nation.
Creation Nation Before Shark Tank
When Creation Nation was started, this company was moving forward by focusing on giving people a fast healthy diet food.
Founder Karen Nation did a lot of things to grow this company. Because they knew that the protein bars that people are swearing by in today's time are made from poor-quality ingredients and unhealthy processes & preservatives.
The founder was very much interested in nutrition foods since childhood, so she did the certification as a nutrition specialist.
One thing it noticed in the industry is that all the Protein Bars & bites out there are expansive and their taste is "blah", high in sugars, preservatives, and poor quality ingredients.
He decided to solve this problem would make her own recipe. She gave this recipe to her nutrition clients & friends to try out and they liked it a lot.
This is where this company started. In 2016, this company received the Best New Category Innovation Awards.
She had decided to go to Shark Tank and ask for Shark's help to grow her company.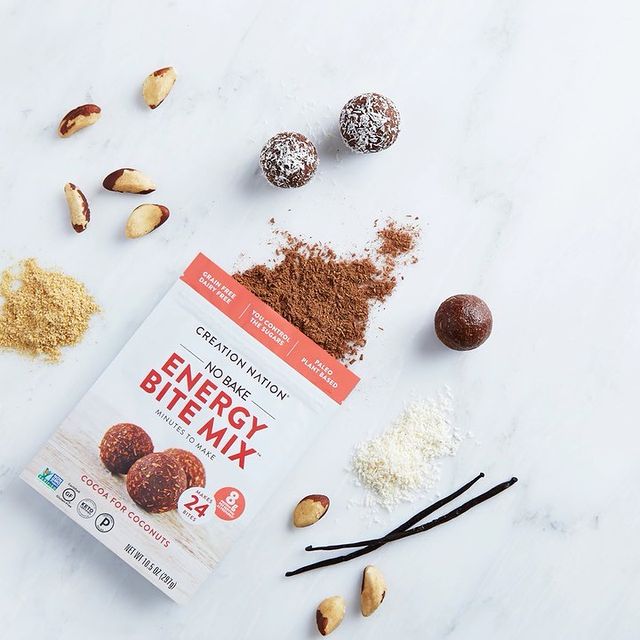 How Was The Shark Tank Pitch Of Creation Nation?
Founder of Creation Nation, Karen Nation enters Shark Tank and asks Shark for $300,000 for 12% equity. She told her story to the shark as well as gave information about her product.
Their product costs $2-$3.50 to make and retails for $7-$11. Last year she had sales of $500,000.
All the sharks got out of this business deal.
Finalize: Creation Nation didn't get a deal in Shark Tank.
What Happened To Creation Nation After Shark Tank?
The Creation Nation did not get a deal in Shark Tank, but the company was able to expand its business to different locations in the United States.
The founder had an issue with the co-packer, which she told in Shark Tank, it is now Solvay. She has partnered with her nearest co-packer. Hope they do not face any problems in the coming time.
This product is available on online shops Amazon, Thrive Market, etc. in September 2022. This product is available in +200 cities in the United States.
This company donated 20% of the sales on June 28th and August 18th to support foster care kids. On June 28, 2021, Karen Nation donated this on the day of her birthday.
Many media publications had featured this product, including food business news, Trend Hunter, Women's Health, Founder Made, PopSugar, BuzzFeed & many more.
Creation Nation Shark Tank Update
The Shark Tank episode of Creation Nation aired on May 7, 2021, although the company did not receive any funding but received a lot of orders.
This company listed its product on different platforms such as Albertson's Hyvee Stores, Whole Foods, and around a dozen smaller grocery chains.
From these places, this company gets a very good order of Cookie Mix & Protein Bar. We expect this company's annual revenue to be $1 million.
What Is Creation Nation Net Worth?
Creation Nation's net worth will be $1 million. This has not been disclosed by the company about more information sales.
Is Creation Nation Still In Business?
This company has made its product available at the most popular stores in the United States, through which the chances of increasing the sales of this product are high.
Although this Protein Bite Mixes company is doing very little social media advertising, we have not shown any Ads from this company this month.
Most of the sales of this product come from third-party platforms like Amazon, Whole Foods & other retail stores.
It takes orders on the official website of the product in two models by One-time purchase & Subscription.
Yes, Creation Nation is still in business as of September 2022.